This summer has been one of the hottest on record, and it doesn't look set to stop now!
For a lot of people, the first port of call is air conditioning. But aircon is absurdly expensive. Is a smart fan, that can be adjusted on the fly and cycles fresh air through your home, possibly be a better option for a lot of people!
Top Pick
Quick Version! the #1 smart fan in 2022 is the Princess Smart Fan. The app is great, it's easy to use and it pumps out enough cool air for small or larger rooms. See it at Amazon.
The UK's Best Smart Fans in 2022
"Excellent quality smart fan with a really well-made app"

Alexa & Google Compatible

Princess 2-in-1 Heater and Fan


4 heat and 10 cool programs
What we look for when picking out the 'best' fans in this category.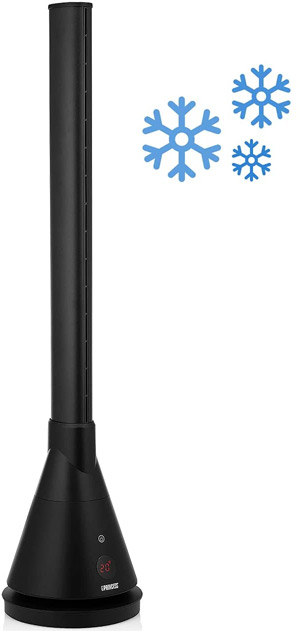 How good is the app? One definite downside to some smart fans is they get bundled with a generic Chinese app that's hard to use and unintuitive. Smart tech is all well and good but the app should be fast, responsive and look sleek and sexy.
How noisy is it? While you're never going to find a fan that's 'silent' (despite what the product webpage or box might have you believe) there are some that we'd class as erring on the annoying side. Lower DB's are a must if it's for an office or living room.
Is it energy efficient? Another thing that's easy to overlook, especially if the fan is on the cheap side is how efficient with power the fan is while running. Smart fans generally use less power than normal ones but it's still something we look into.
Oscillation range – There's no fun if your smart fan only blows air out at one spot and you constantly have to mess around with it. This is a rare problem as most of the fans we've seen rotate automatically, cooling our entire room down.
Can you shout at it? Alexa and Google Assistant are great ways to control fans without reaching for your phone or the remote. Any good modern smart fan should work with the major voice assistants and, ideally, have more commands than just 'on' and 'off'.
How sleek and sexy is it? While not the most important thing with any good fan, this is smart tech and you don't want some old-school lumbering beast that you have to kick out of the way when company comes around. There are some incredibly well-designed fans you can buy in 2022.
Thermostats and timers – One of the best uses for smart tech is how easy it is to set up things like timers. Something that can be a real pain in the butt with a remote. We also like fans that will kick in when the room temperature rises above a certain heat, saving power and keeping you cool.
Top fans so far in 2022
We've looked at smart heaters in our previous post but now it's time to take a look at some of the UK's top cooling gadgets; fans you can control with your smartphone.
Best General: Princess Smart Fan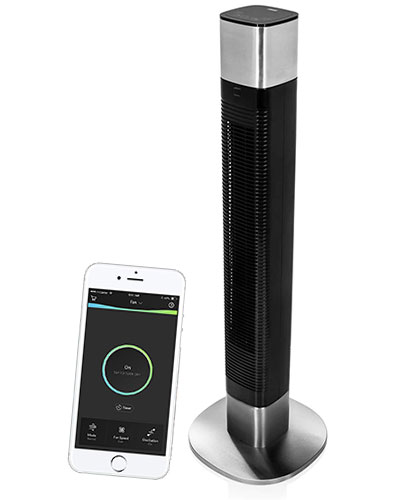 Out of every fan on our list, the Princess Smart fan offers what we think is the best value and balance of features for most people. It's essentially just a high-quality tower fan with smart features built-in, which should be precisely what you're looking for.
The square tower design is sleek and modern, standing at just over a meter tall, with a silver body. The base is reasonably wide, which keeps it stable, but does take up a reasonable chunk of floor space.
The fan runs at 50W, and has 3-speed settings, standard, natural, and sleep, giving you options for all times of the day. It has a wide 80-degree range of oscillation and a timer that can be set for up to 8 hours.
Controls are also incredibly intuitive, handled through low profile top buttons, with all settings displayed through a cute little LCD that's easy to read at a glance. In terms of smart features, the Princess fan uses the Homewizard Smart App, a third-party app used by many smart appliances.
It's fully compatible with both Android and iOS, as well as linking into your home smart set up via Alexa or Google Assistant. Factor in the low price, not much more than a standard tower fan, and you end up with a product that will slot easily into almost any home.
Check Current Amazon UK Price
---
Best Pedestal: AirGo Smart Fan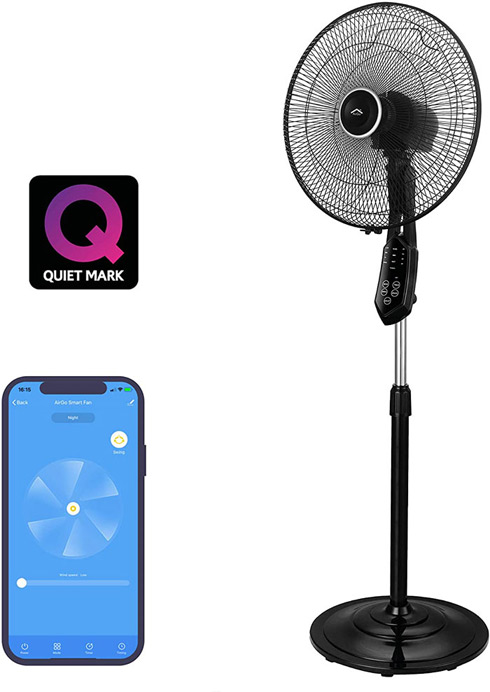 While we tend to prefer the more modern and slightly more efficient designs of tower fans, the greater power and airflow of a pedestal fan definitely still has a place in a lot of homes.
The AirGo Smart Fan was supposedly the UK's first smart pedestal fan, so has some serious heritage to build on. It's also Quiet Mark approved, making this one of the quietest fans on the market for its 55W power rating.
Both of these things are great, as they mean you're getting a powerful but unobtrusive fan that can easily sit in the corner of your room and won't overpower conversation or late-night TV watching!
There are 3-speed settings, a timer that can be set for up to 8 hours, and a scheduling mode, letting you set up your fan to turn on, for example, half an hour before you get home.
The smart features are extra impressive. The fan uses GeoSmart Pro for app control, with Android and iOS, and links into Alexa and Google. On top of scheduling, you can also set the fan to a temperature-controlled mode, automatically kicking it in when a room gets too hot.
Factoring in everything, including the wide range of control modes and the relatively low price, the AirGo is the best pedestal fan we've found.
Check Current Amazon UK Price
---
Best Energy Saving: Igenix Smart Tower Fan

By far the lowest wattage fan on our list, and one of the lowest wattage fans we've ever seen, the Igenix smart tower fan runs at a ridiculously low 25 Watts, meaning it costs on average just over £10 to run this thing for an entire year of normal use.
Despite that, this fan runs at 8 speeds with 3 flow options, oscillation features, and sleep modes. Controls are very simple, with a top-mounted LCD panel, and the Smart Life app lets you control the fan using any Apple or Android smartphone. As well as Alexa smart controls.
The Igenix is also slightly cheaper than many smart fans, and it's the cheapest on our list. It does have slightly fewer options, and it's probably not the most powerful, but the low cost and even lower running cost is a huge draw and could be the deciding point.
Check Current Amazon UK Price
---
Best Battery Smart Fan: Duux Whisper Flex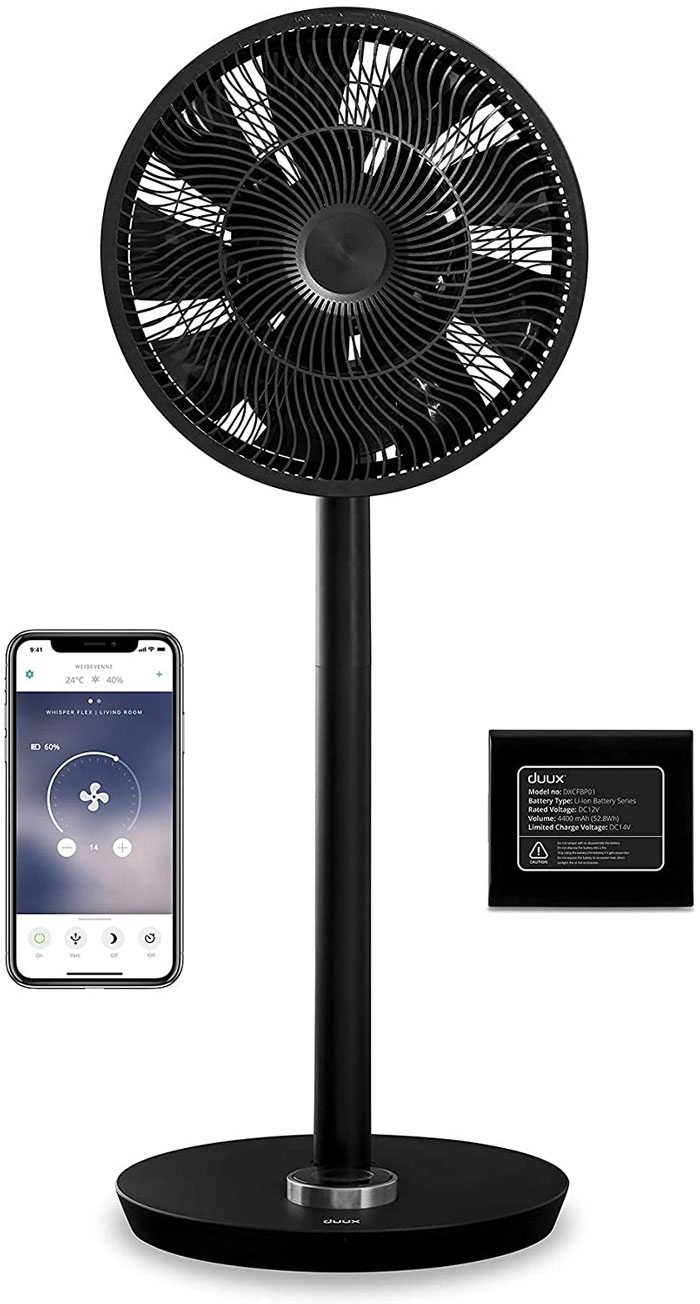 If you regularly move around your home, you're going to need a fan that can easily follow you from room to room. The Duux Whisper packs an internal battery that gives it up to 18 hours of rechargeable power
The second pedestal fan on our list, the Duux Whisper Flex differentiates itself by the internal battery, which lets this fan operate for up to 18 hours without being plugged into the mains.
The fan itself is a high power, with double rotor blades that pump out a lot of air while staying whisper quiet, from as low as 13db up to 50db. It can be adjusted in height so it can be placed on a desk or set up on a floor, and has vertical as well as horizontal tilt, giving you a huge variety of options when it comes to set up.
Controls are simple, using the built-in speed control on the fan, the remote control, or the app, compatible with any modern device. There are 26-speed settings, a seriously wide variety, as well as the usual variety of function modes, including night settings.
So why is this not our top choice, because this is basically the best-bladed fan on the list? Simple. Price.
While the Duux Whisper Flex is a fantastic smart fan, it's a little more expensive than the standard smart fans on our lists. But if you're looking for an amazing pedestal fan and you have a budget to match, then you'll love this.
Check Current Amazon UK Price
---
Best Bladeless Smart Fan: Princess 2-in-1 Smart Tower Fan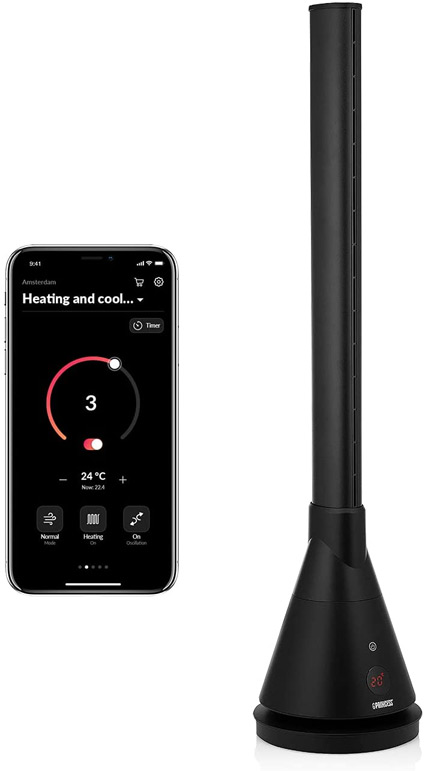 Here's a nifty invention and something that's a bit different from the other fans on our list.
The Princess smart fan can either heat your room or cool it down depending on what you need, which is great for countries where the temperature drops down during the night and you need a little extra warmth.
And it puts out a fair bit of heat too. You'll likely find yourself turning it off as it really does warm things up – even things like garages or drafty garden offices.
You can get this in black or white and it has a design that blends into the corner in a way the tower or pedestal fans don't. In short, it looks very sleek and modern.
You have four different heat settings and 10 speeds. Despite its slim appearance, you can heat or cool spaces up to around 50m square.
You get a decent little remote with it, but it's more likely you'll want to give the app a go as it's got more depth and makes setting timers super-easy. Want your room to cool down before you get in there? It's easy to do using the app you get. There are some good Amazon reviews for this one too.
On the downside, it's one of the more expensive fans and if you don't need one that will heat as well, you could save money with one of the others on our list.
Like a lot of other fans on our list, it's got a respectable 80° range of air.
Princess's fan is easy on the eye, heats and cools equally well and is extremely well made. If it's in your budget range, definitely give this one a second look.
Check Current Amazon UK Price
---
Smart Fan Buyer's Guide
What exactly is a smart fan?
A smart fan is relatively simple to describe. It's literally a fan that can be controlled through Bluetooth, using your phone or other devices.
Some smart fans link into smart home setups, like Amazon's Alexa, or Google Nest, letting you adjust speed and other options through voice commands, and some even have the option to read ambient temperature and humidity and adjust as necessary.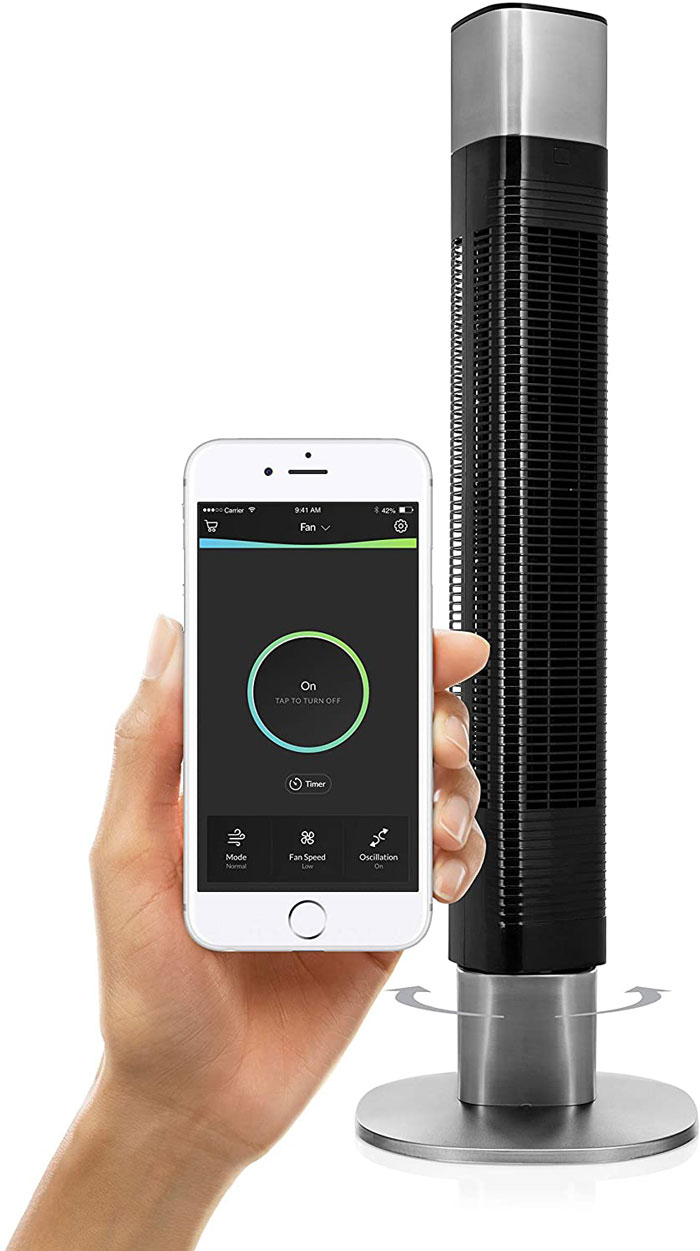 Why would anyone want a smart fan?
At first, the benefits of a smart fan seem relatively small, but the more you dig in, the more they seem like a really smart choice.
Money-Saving
First is the money-saving aspect. Smart fans can save you a lot of money, especially if you're currently using air conditioning, but even if you're not and relying on conventional fans.
Obviously, a smart fan is more expensive than a standard, non-smart fan, but it's a reasonable investment once you factor in the costs and savings.
Smart fans save you money by regulating their usage. A fan isn't particularly expensive to run, but the costs add up over time. By reducing the time that your fan is on, or running at high speeds
Convenience
The convenience of a smart fan takes two forms.
Firstly, the fact that you don't have to get up to adjust it. This might just seem like an excuse for laziness, but it's also invaluable as a time saver if, for example, you're working and don't want to keep getting up to adjust the airflow in your office.
That same convenience can also make smart fans perfect for the elderly, or anyone who has lowered mobility due to illness or other factors, allowing them to control the temperature in their home without unnecessary strain.
Finally, a lot of smart fans let you link the app and control it from anywhere that has a Wi-Fi connection, letting you regulate the temperature of your home on the commute from work, or when you're getting up first thing in the morning.
What are bladeless fans and are they worth it?
Bladeless fans can have a lot of benefits over standard fans, including lower running costs, lower sound output, and safety aspects because of no moving parts, great if you have pets or small children.
Bladeless fans also have multiple other benefits that you might not have considered. Some fans have an ionisation filter, which sterilises the air as it passes through, as well as a HEPA filter that removes 99% of particulates out of the air, great for hayfever and people who might have breathing issues.
The downside of bladeless fans? Cost. Bladeless fans are a lot more expensive than regular fans, and it's up to you to decide if there is enough benefit here to justify that.