As the world rolls into the new year, everyone is more concerned about their long term health than ever.
And a big way that you can keep yourself and your loved ones healthy is through nutritious, filling food. Air fryers have been around for a little while now, but in the last couple of years, sales of the appliance have exploded, as more people realise that you can have all of the flavours of deep-fried food, with none of the downsides.
Turns out you really can have your cake and eat it too. And when people are considering smart air fryers, one name comes up again and again. The COSORI smart air fryer.
So what is the COSORI smart air fryer?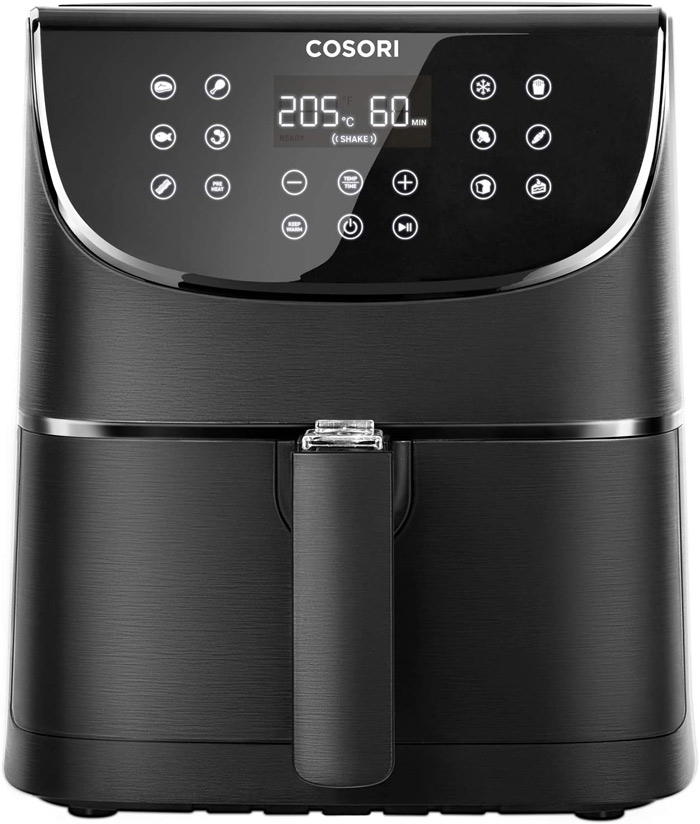 COSORI is a brand that focuses on smart indoor appliances, but they're particularly known for their range of air fryers. Combining a great list of features with easy to use smart controls, great results cooking a huge range of food, and a surprisingly budget price, COSORI fryers compete with some of the biggest names in food, including Philips, Tefal, and others.
There are several air fryers in COSORI's range, but this guide is focused on the 5.5-litre smart model, which exemplifies the best parts of COSORI's product lines, with enough capacity to feed a whole family, a whole bunch of smart features, at a great price point.
Breaking down the COSORI smart fryer features list:
At first glance, the COSORI smart fryer looks like almost every other high-quality fryer on the market, and this is a good thing. Because in terms of performance, it equals or exceeds a lot of them.
Built around the framework of COSORI's existing air fryer range, which won a prestigious Red Dot design award, their smart fryer takes what works, and improves it with a comprehensive range of smart features.
Sleek, black and smart looking, the fryer itself looks and feels great. It's roughly cubic, about 30cm (12 inches) to a side, and weighs just over 6.5kg, meaning that it's easily portable, but still, quite a hefty block that's going to take up a solid chunk of your kitchen counters.
The entire bottom half is dominated by the 5.5L basket, which can hold a good amount of food and is powered by a 1700W heating element. The top half is all controls, a suite of touchscreen digital buttons that let you select what you're cooking from a list of over a dozen regular recipes if you decide not to use the app. This display switches off when the fryer isn't in use, which lets it fade into the background of your kitchen.
This control suite gives you a list of 13 built-in, one-button functions, with the option to program in your own settings if you really need it. (A lot of homes probably won't need to do this. Which is a good thing as it can take a little while to adjust from a high temperature to a low one, a little bit annoying.)
Overall, though, impressions are great. Everything feels solid, is dependable and tough, as well as simple enough to use even if this is your first fryer. COSORI also partner with multiple environmental charities like WeForest, and One Tree Planted, giving you another good reason to feel great about your purchase.
Performance and set-up: How does it cook?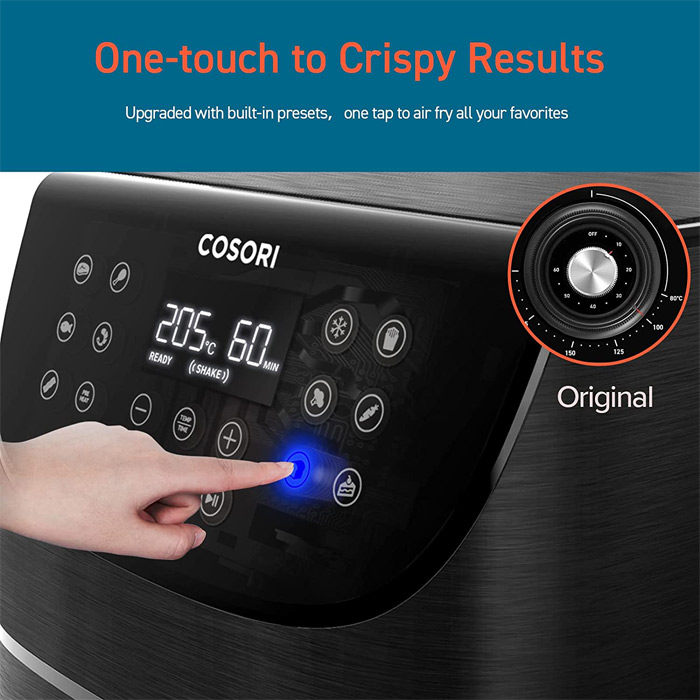 For best results, COSORI recommend preheating your fryer for around 3 to 5 minutes, depending on the temperature before cooking. This is just good advice in general, and no matter which smart air fryer you end up buying, we'd always recommend doing this. The end result is always cooked much more evenly, and the food that comes out will be tastier and crunchier, with a consistent finish. This might add a few minutes to cooking time, but the results are more than worth it.
To use the fryer, you set the temperature and timer either with the app or on the fryer itself, press the preheat button, and then let the fryer do the rest of the work. (there's a running theme here)
Once the fryer is preheated, remove the internal food basket, place your food inside, slot it back in place, and restart the fryer.
Like a lot of air fryers, the COSORI smart fryer doesn't have any way to move the food when it's inside the cooking area. This means if you're cooking a lot of food, for best results, you should remove the food halfway through the cooking process and give it a good shake, to make sure that everything is cooked evenly.
The COSORI actually gives you a warning halfway through the cooking time, letting out an audible beep and putting up some words on the control panel, a feature that we absolutely loved, because it's easy to forget when you're cooking for several people. But you can always turn this off if it's not something you're looking for.
The fryer itself has a 5.5-litre food basket. This is enough for four portions of chips, or meat portions for your average two adult, two-child family.
When cooking, the fryer itself stays at a reasonable temperature. Many fryers can get incredibly hot in operation, risking burns if you touch the body when it's cooking. While the COSORI fryer still gets warm, you're not going to hurt yourself if you nudge this. Most importantly, the handle of the fryer consistently stays at room temperature, so it's always comfortable to hold, no matter how long you've been cooking.
Food results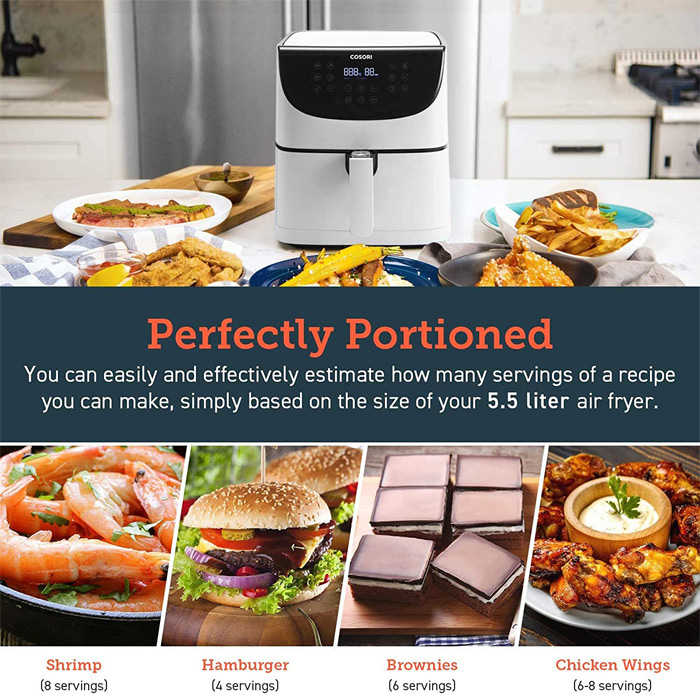 In our opinion, the COSORI air fryer is the perfect thing for meat. The cooking basket is perfectly sized for a large steak, or a big chicken leg or breast.
When it comes to breaded foods like chicken nuggets and scampi, air fryers are also a great choice, as the end result tends to have a lot of crunches, with crispy breadcrumbs and a moist inside.
If you're buying an air fryer just for chips, we might point you elsewhere. Sometimes, chips come out great, with a crisp, well-cooked finish, especially if you're cooking french fries. But sometimes, especially if you're cooking a big batch, half the chips are a little overcooked and some are undercooked. But this isn't an issue with this fryer, it's more a general thing that all air fryers face.
Our recommendation if you're cooking chips in an air fryer is either to shake them really well or cook less than the basket takes for a nice, even finish.
How easy is the COSORI fryer to clean and store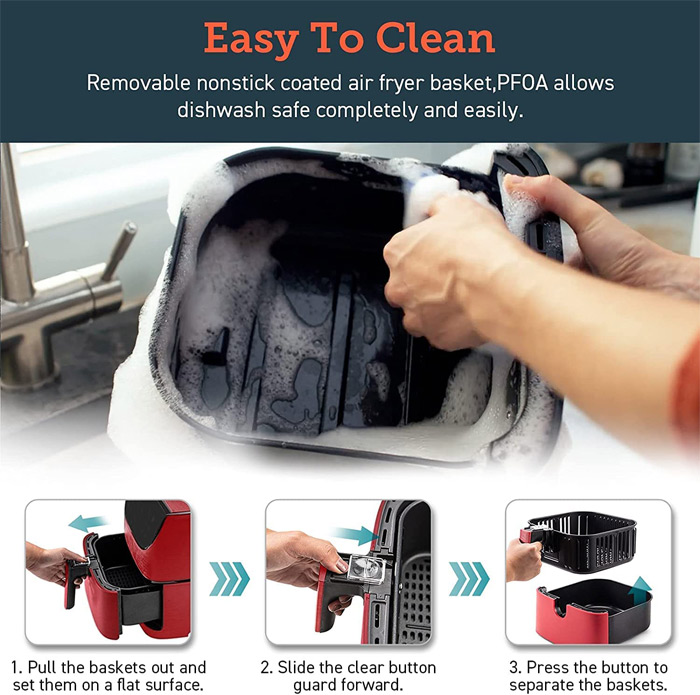 Air fryers need regular cleaning. Proper cleaning will keep your fryer working correctly, as well as make everything you cook taste better.
To this end, the main body of the fryer is safe to wipe down after every use, and when it comes to deep cleaning, all of the working parts are removable, non-stick, and completely dishwasher safe.
Storage is also reasonably simple. The fryer is reasonably sized, at just over 30cm square, so will sit comfortably on most countertops. Air fryers are big enough that it gets inconvenient moving them after every use, but if you have to, they will cool down to be comfortable enough to touch after a few minutes, letting you pick them up and safely store them.
The COSIRI app and smart features
The heart of the COSORI air fryer, and the thing that differentiates it from a lot of other fryers on the market, is the thoughtfully designed and well-integrated smart features and app.
Everything is controlled through the VeSync app, the central app of COSORI's parent company, which shares the app's name. VeSync doesn't just produce kitchenware, they have a whole range of smart home products, including electronics, appliances and home comforts like air purifiers. (Our recent review of smart air purifiers for your home placed their Levoit brand air purifier in first place for good reason, it's fantastic.)
Once you've logged into the app, pairing your device takes literal seconds as you select it from well-ordered and easy to understand drop-down lists. The app will guide you through everything you need to do to find and link your device the first time you use it, with foolproof instructions that are incredibly simple to follow, even if this is your first time.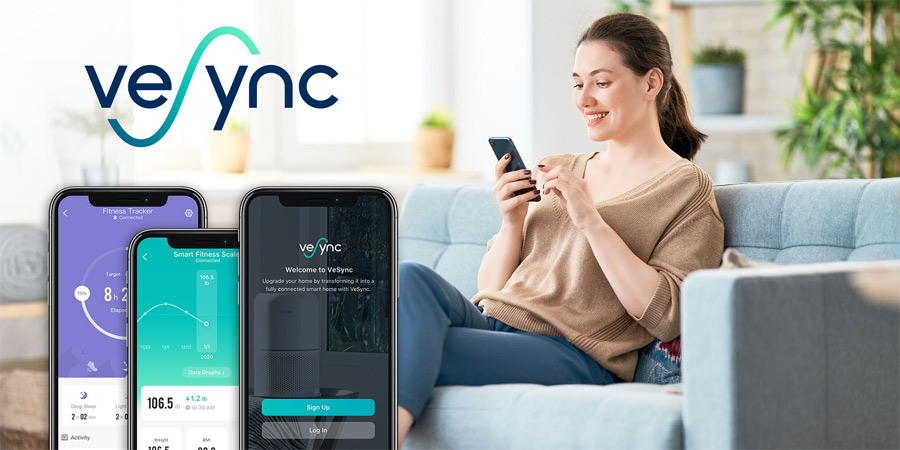 The app also offers another huge advantage; if you're serious about setting up a smart home and buying more VeSync products, they're all in one easy to access the app. This keeps everything in a single place and can save you tons of time and headaches as you click through half a dozen screens trying to find out where your smart heaters are linked after months of not using them on hot summer days.
The app itself is laid out well and simple to follow. Clicking through into your smart fryer gives you access to the fryer controls, where you can choose cooking preset, or, if you want a little more control, set custom times and temperatures.
The custom options are as comprehensive as we'd like them to be, with temperature settings running from 75 to 205 degrees centigrade, and cooking times available anywhere between 1 and 60 minutes. There is a small downside here, as temperatures are only available in degrees C, so if you're cooking in Fahrenheit, you're going to need to do some quick conversions.
The app also contains a list of 100 preprogrammed recipes, which we absolutely loved. The library was enjoyable to browse, with a wide variety of different foods that are sure to spark some inspiration. You can even input your own customised recipes, and there's an option to see your cooking history, so you can find the forgotten thing that was a hit at your last family gathering.
Addressing negatives with the smart app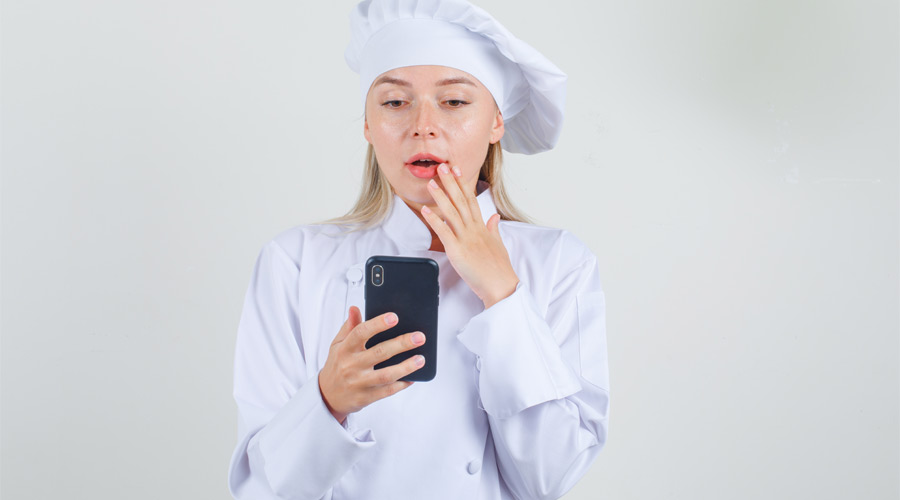 A problem that regularly comes up around the VeSync app is issues connecting with certain devices. This is a known problem, and the easiest way of fixing it is the age-old advice of 'turn it off and on again,' which fixes the issue in most cases.
Something else we noticed was that Alexa, specifically, doesn't seem to like to read the temperature setting, a problem that wasn't found if the app was used, or you linked this to other smart home hubs. Again, a minor and easily fixable issue, but slightly annoying to deal with.
Lastly, there's a tiny bit of WiFi lag in the app, which translates to the occasional delay of a few seconds in the smart fryer's controls and settings, so make sure that time and temperature are always correct before you hit start.
Final thoughts
We've already said it, but the COSORI smart air fryer is consistently at the top of air fryer best-of lists, and hopefully, our review has explained why.
It manages to balance a great list of features, including smart tech updates to the core of, tried and tested fryer design. Great cooking prowess, and enough space to cook a meal for your average family. All of this comes at a price that's equivalent to or lower than the bigger brands.
Put short, the COSORI air fryer is one of the best air fryers on the market right now, and unless you need something specific that another fryer provides, it comes incredibly highly recommended.
COSORI Full Specs
| Brand | COSORI |
| --- | --- |
| Model Number | ‎CP158-AF |
| Color | Black |
| Capacity | ‎5.5 litres |
| Power / Wattage | 1700 watts |
| Voltage | ‎220 |
| Item Weight | ‎5.4 kg |