Having a smart thermostat installed is one of the best things you can do to update your home to a house of the future and save some serious cash along the way. There's a wealth of fab looking and, not to mention, extremely practical thermostats on the market today, each with their own slightly different feature set.
Top Pick
Quick Version! the #1 smart thermostat in 2023 is the Nest Smart Thermostat. Despite heavy competition this year, this thermostat still beats it's rivals in terms of features, ease-of-use and design. See it at Amazon.
This guide is a basic intro to what these gadgets do and how they can make your life easier.
What are the best smart thermostats in the UK?
There's some main players in the smart thermostat world, as well as some lesser known brands offering cheaper models. This next section will cover the major and best reviewed products in this space and give you to what each one does. The major brands you'll encounter when shopping for your new thermostat are:
Nest Learning Thermostat
Drayton Wiser Thermostat Kit 2
Hive Active Heating and Hot Water Thermostat
Netatmo Smart Thermostat
tado° Smart Thermostat
Honeywell Lyric T6
FLOUREON WiFi Thermostat
#1 – Nest Learning Thermostat
As well as being arguably the best-looking smart thermostat available in the UK, the Nest also gets the award for the longest running. Currently in it's 3rd generation, this thermostat has a some very impressed buyers over at Amazon.
It has a colour touch-screen on the thermostat which lets you clearly see and adjust what's going on. And you can control everything via the free app. This system really earns the title of SMART by learning your movements and adapting energy use accordingly.
Quick look features
Control up to 20 thermostats per home
Change everything with smart phone app
Learns how you use energy and adapts
Uses phone location and activity sensors to never heat empty home
Cool minimal design
---
#2 – Drayton Wiser Thermostat Kit 2
One of the best features with this smart UK thermostat is that you can give it voice commands. Live out your sci-fi fantasies telling your home to get the hot water ready or warm the living room up. It's compatible with devices like Alexa too. If you want something that's easy to install, this is the one to get. It has a simple 10 minute install with a standard wall plate.
Quick look features
Control the temperature in each room (will need radiator thermostats)
Can set the temperature in accordance with the weather outside
Simple app with 'away from home' mode
Expandable with radiator thermostats
---
#3 – Hive Active Heating and Hot Water Thermostat
Another really big brand in the Thermostat space is Hive. They've got several products on the market but the main one is the Hive Active Heating and Hot Water Thermostat. So what makes this a contender for best smart thermostat in the UK?
This is another great looking smart thermostat that you can control easily from your phone or tablet. It makes sure you never heat an empty phone by checking where you are and has a special mode for holidays. And the award-winning app lets you control it all from any phone.
Quick look features
Frost protection prevents burst pipes
Geolocation – hot water and warm home when you arrive
Holiday mode based on dates you give it
Control with the free app, plus text control
Set 6 daily programmable slots
---
#4 – Netatmo Smart Thermostat
Another Smart UK thermostat that you'll want to add to your list of possible options is the Smart Thermostat from Netatmo. It's a fair bit cheaper than the Nest or the Hive and has lots of love from the reviews at Amazon UK.
There's no point in having a smart thermostat if it doesn't save you hassle and Netatmo's will build up an energy use profile based on your daily schedule for you. It also works with Alexa and can be operated via voice control.
Quick look features
Works with Alexa
Control your heating remotely
Use voice control
Easy to install if you want to do it yourself
Control your heating room by room
Creates energy schedule based on your daily routine
---
#5 – tado° Smart Thermostat
The Tado smart thermostat is one of the best ones on the market. Aside from looking pretty snazzy, it's also got some great smart features. Like the way it uses a combination of your building's profile, weather forecasts and your phone's location to determine the minimum usage to keep your home heated how you like it.
It's all controlled over wi-fi with your phone or other device. Clever stuff! It will also play nice with your other gadgets, like Alexa, Apple HomeKit and Google Assistant.
Quick look features
Control via app with PC, tablet and phone
Aims to cut energy by 31%
Multi-zone control
Uses weather forecasts, building's character and phone location
Works with 95% of heating systems
---
#6 – Honeywell Lyric T6
Another huge brand you'll want to look into when deciding what the best smart thermostat for you would be Honeywell. This is a very easy-to-use product that doesn't take a great deal of setting up. Once installed it will work closely with your boiler to cut back on wasted energy and save you money.
As well as a simple touchscreen interface on the device, you can also program it with your phone or device. And this smart thermo will also happily hook up with your other wifi stuff like Alexa. And it makes use of data such as your location to avoid wasting fuel heating an empty home.
Quick look features
Simple to set up straight out of the box
Adjust heating with your phone
Create a schedule to suit you
Location detection feature
Works with your boiler to save money
---
Guide to UK Smart Thermostats
Keeping warm the smart way
Smart thermostats are a small WiFi enabled devices that you add into your home heating system that then control both the room and hot water temperature in your home.
Depending on the type you get, they can do all kinds of clever things to help make life easier and save you money. They're a much more advanced form of heating control than the traditional timers, which don't take into consideration if anyone is home or using the heating.
Some interesting tasks you can get a smart thermo to do are:
Turn off the heating when you're not home
… or turn it on for when you get home
Change the temperature in each room
Let you control the temperature from anywhere in the world
Get fine control over household heating with an app on phone or tablet
Interact with Alexa or other smart speakers
Save money!
How can a smart heating controller save you money?
So one of the most hyped features about a smart thermostat is that it can save you money. One of the most common statistics is that you could save 25% on your energy bill. That's pretty impressive! But there are of course other things that come into play. Things like the weather, where you live and how well insulated your home is will impact how much you can save.
But whatever your circumstance, it's likely that you'll be able to save a least a decent amount from your energy bill using a UK smart thermostat. They can do this in a number of ways. The best smart thermostats in the UK will save money on your bill by some or all of these:
Using smart programming to fire the boiler the minimum needed
Detecting when you're not home and never heating an empty home
Learning your usage patterns to use less energy
Only hearing rooms you are using
Better and easier to use scheduling
The average amount a UK household could save using a smart thermostat is 19% which could be over £100 per year.
How much does a smart thermostat cost in the UK?
Although the Nest smart heating system is usually credited as being the pioneer in the field, there are now plenty of good products in this space all competing for your money. While there's some really cheap models on the market, starting at around the £40 mark, they often don't do much other than let you control your heating with an app. For the real deal, and a proper smart thermostat, you'll be looking at around the £150 mark. This guide covers the main players later on to help you get the best smart thermostat for UK users.
How do smart thermostats actually work?
In order to get your home heating and water working with a smart thermostat and get some sweet money saving benefits, you'll need to buy and install the main device, and possibly some extra parts to fit on your radiators, if you're planning to go the whole hog. You don't specifically need these extras unless you want to control the temperature of each room individually.
TIP: Look for a 'kit' for whichever brand you settle on. You might get a bargain with some of the radiator attachments included.
Can you install a smart thermostat yourself?
Fitting a smart thermometer is something you'll probably want to get a professional to do. Local plumbers should be able to handle the task, although it's recommended that you pick your own smart thermostat that's right for you and not be swayed by their preferences. It is possible to fit yourself if you're pretty competent at DIY. For the rest of us, it will involve a call to a tradesman.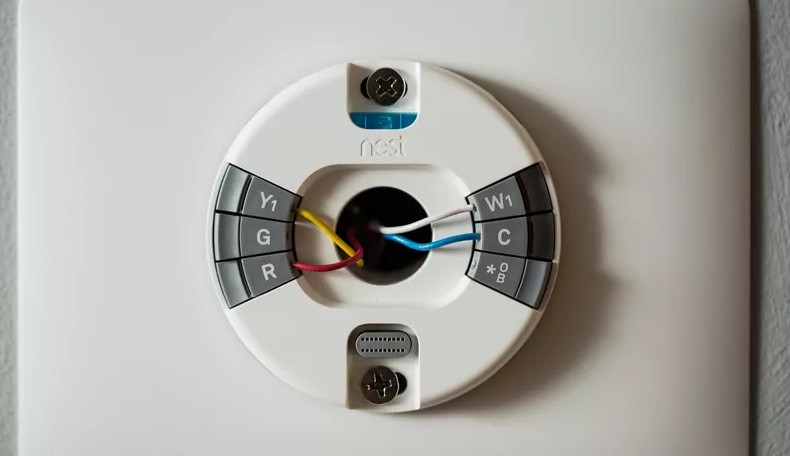 TIP: Some products offer installation of their device at an additional cost. But it's worth deciding if you can get it installed cheaper using a local plumber. The costs are often quite a bit higher.
Thanks for reading
Thanks for reading our best smart thermostat UK guide for 2023. Which product do you plan to install in your smart home? Let us know below.
Manufacturers featured: