Smart home technology is making it's way into every aspect of home life, from fitness trackers to gadgets that let you see and talk to pets when you're at work. There's a boat load of fantastic things you can do by connecting your devices together. Even the humble kettle has not been overlooked.
Top Pick
It boils down to this: the #1 smart kettle in 2023 is the App Kettle. It's simple to use and has a wealth of features for tea and coffee lovers. This kettle also works extremely well with voice assistants like Alexa. See it on Amazon
This guide looks into what a smart kettle actually is and also asks the question – what's the best smart kettle to look out for in 2023?
Does my kettle really need to be 'smart'
Smart kettles fall into the same categories as a lot of smart home devices. Initial reactions might be, who really needs a WiFi kettle for goodness sake. But when you start to learn about it, you might think, " aha, that does sound kind of useful actually…)
The smart kettle has a lot of time saving and handy uses that have, until now, been impossible to do. Let's look at why you'd want to buy a kettle that connects to the Internet, and see if it is a crazy idea after all!
This might be the gadget you didn't think you needed.. but might love it when you get one…
What exactly is a smart kettle?
Smart kettles, or WiFi kettles, are a combination of existing kettles that we've been using forever, and some cool modern gadgetry. They connect to your home's WiFi and can then be controlled and monitored by your smart phone, tablet or other smart device. They cost a fair bit more than ordinary kettles but offer a whole different level of convenience and quality.
What kinds of stuff can you do with a smart kettle
The best smart kettles out there will be packed with clever uses that will save you time, and generally make life a bit easier. While the features differ a tad between products, you'll generally find some of these cropping up:
Voice controlling through devices like Alexa
Or using your smart phone to boil the kettle
Keep your kettle at the same temperature
Accurate control over how hot you want your water
Fill your kettle up on the morning, set it away when you set off from work
Help make the perfect temperature formula for your baby
Telling Alexa to 'get the kettle on'
If you thought using your voice to control your smart home lighting was cool, imagine being able to tell Alexa to make you a cup of tea. (Well, most of the job anyway!) Smart kettles are usually Alexa (and other virtual assistant) compatible. With Alexa, for example, you just say "Alexa, put the kettle on" and Alexa will boil your kettle. Now that's what smart tech is all about.
Using your Smart Phone
Picking the best smart kettle means choosing one that has a good app, that's easy to use. The kettles in this guide have simple, easy to setup and use apps that will show you things like what stage the water is at when boiling. As well as that, you will be able to simply press a button from anywhere (even if you're not home yet) and the kettle will boil your water, just how you like it.
No waiting for hot drinks on cold mornings
Who wants to wake up, trudge downstairs and wait for the kettle to boil? It's noisy, it takes ages and it's a waste of time. With smart kettles, you can eitehr press a button on your smart phone, from beneath the duvet. Or you can set a timer to get everything ready for when you arrive. Mmmm, tea!
What other smart kitchen gadgets are available out there?
If you think having a smart kettle is crazy, or you love the idea, there's a wealth of other smart kitchen gadgets and gizmos that are either out now, or just around the corner. If you'd like to find out what other kinds of smart kitchen things are out there, have a look at our intelligent kitchen products guide.
What is the best smart kettle available in 2023?
Unlike a lot of other smart home products, the market isn't exactly flooded with smart kettles at the time of writing this guide. But the good news is that there are some seriosly good products around that do this, from reputable brands. Not some cheap and nasty gadgets (come on, we've all bought those products before).
The next part of our WiFi kettle guide will go through some of the better buys available online today.
Top WiFi kettles you can buy today
App Kettle
iKettle (3rd Generation)
Sage Smart Kettle (BKE820UK)
---
Lets go over each kettle in a litttle more detail:
#1 – App Kettle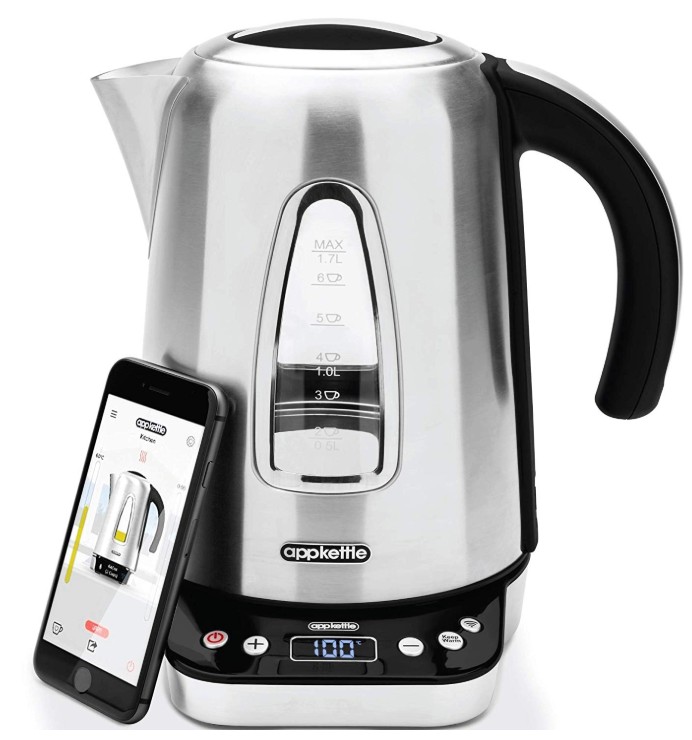 About this smart kettle
Who'd have thought that so much work and research could go into making a kettle? Well, that's exactly what happened with the App Kettle. It was developed in the UK and years of development went into researching how to make the perfect kettle of the future. The result is the awesome App Kettle.
Where's my TEA!?
If you love the idea of using voice commands to make the perfect cuppa, then this might be the best smart kettle for you. App Kettle doesn't mind if you shout at it when you're ready for your next hot drink, in fact it's compatible with pretty much every virtual assistant and hub out there, including my favourite – good old Alexa.
Other cool stuff this smart kettle does
If you don't have Alexa, or just don't want to talk to your kettle (I guess it is a bit of a strange thing to do…) then, like all good smart kettles, the App Kettle has a fab free app that you can download to Apple or Android devices. Once installed you can get very accurate control over your kettle's temperature (down to the nearest degree, no less).
You can also keep your water hot for up to 30 minutes, for those 'one cup of tea is never enough' situations. And the App Kettle has energy and safety features built in. It's also a good choice for left-handed people as the base is 360° base.
Smart kettle main features
Compatible with Alexa and other smart devices
Boil your kettle from an app
High ratings on Amazon
Keeps water warm
Control the temperature of your water easily
---
 #2 – iKettle (3rd Generation)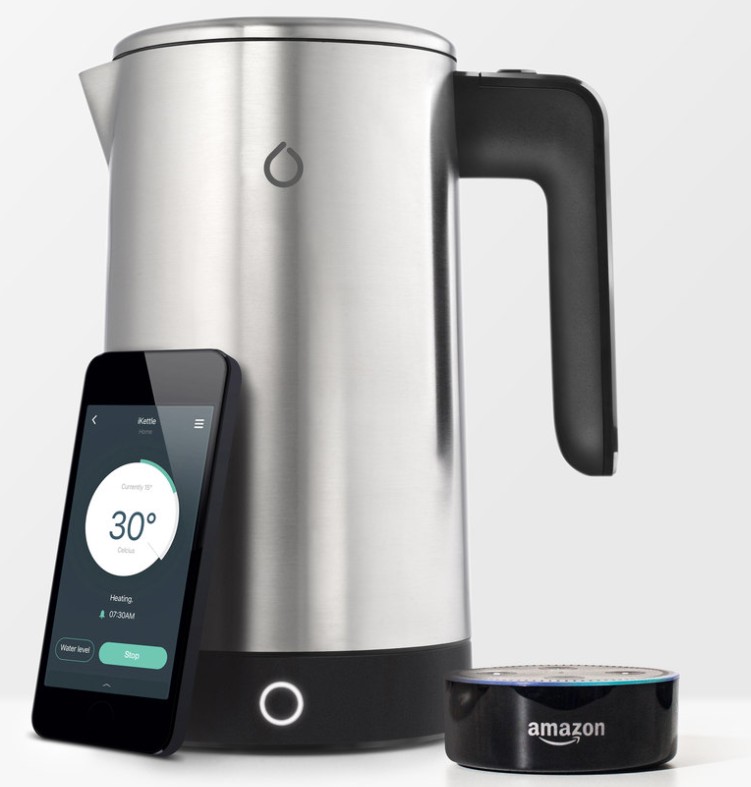 About this smart kettle
Another brilliant smart kettle that's proving very popular in 2023 is the iKettle. Now in it's 3rd version, the iKettle is packed with brilliant features that will make your life easier. You can use remote boil from your smartphone using the iKettle app, or use any of the built-in presets the app has to offer, like Wake-up mode.
Wake up mode is a great invention. The app will wake you up at a certain time and ask you if you'd like the kettle boiling. Hows that for a futuristic service? (check out our full Smarter iKettle 3 Review here).
Great for new parents
One thing that takes up a huge chunk of your time when you're a new parent is making the endless stream of baby bottles up, at just the right temperature. One of the iKettle's best smart kettle features is the handy Formula Mode, which can help you by remotely preparing the water at the perfect temperature for your baby's bottle. Night feeds just got a little bit easier.
Smart Device Features
Boil your kettle from anywhere in the world
Simple and easy setup
Great for new parents, makes bottles to the correct temperature
Handy app presets like 'wake-up mode'
Works with Alexa and other VA's
---
 #3 – Sage BKE820UK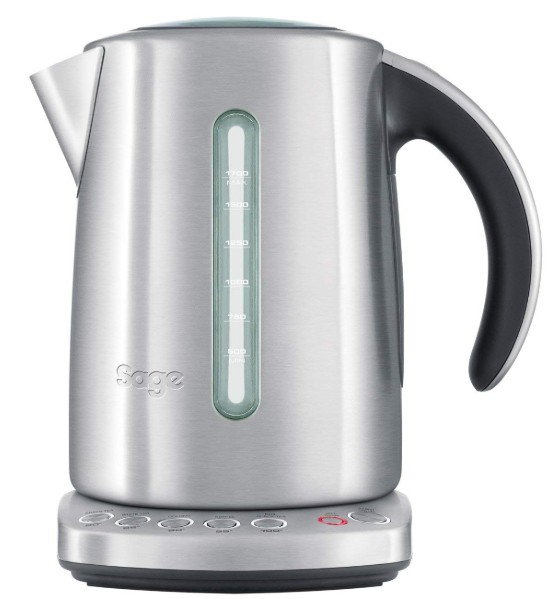 What does it do?
One of the best things you can use smart home technology for is controlling your home's central heating system, as well as when your water is heated up. Adding a smart thermostat can save you a lot of money on your energy bill as it will only heat your home when it needs it, and will only fire up your boiler the absolute minimum to heat your home just how you like it.
Why is this the 'best' one for smart home use?
The Nest is one of the most popular smart thermostats. Don't let your plumber push you into getting a certain one. It's better to get one you want and find someone to install it. And the Nest is easily one of the better quality smart thermostats on the market. It has a fab app that lets you do all kinds of clever things with your boiler that will make life a bit easier. (It also looks absolutely gorgeous mounted on the wall). It's got a colour touch screen and is very user-friendly.
Smart Kettle Features
Control all your radiators from your smart phone
Learns and adapts to your energy use
Uses your phone location to never heat an empty home
No subscription charges
Really easy to use
---
Smart Kettle Buyer's Guide
Is it voice controlled?
If you're going for a completely voice compatible smart home (and why wouldn't you – using your voice to control your gadgets is AWESOME…) check to see if your shiny new smart kettle is compatible with your existing setup. the best smart kettles will indeed work with Alexa, Google Assistant and your existing smart hub.
What's the water level?
It's easy to get tied up in technical side of things with smart products, but don't forget the basics when choosing the best smart kettle for your home. A good kettle should have a glass 'window' that lets you see how much water is in there. Some of the better ones have a double window that lets you see in both sides.
* TIP * It should be a good kettle with or without WiFi
Left or right handed?
Another thing to look out for, if you're a 'lefty', is whether the smart kettle has a round base. This means you can pick the kettle up by it's handle easily, whether you're left or right-handed.
Helping prepare baby's bottle
One thing that isn't often mentioned when it comes to smart kettles, and one of the best smart kettle uses is in preparing the water to go in your baby's bottle. If you've got a new born, you'll know how time consuming it is to get the water just right (especially when you're half asleep on night feeds. A good smart kettle can at least take some of the work of your shoulders.
For more information on general kettle buying, you might want to check out the excellent Which? guide.
Let me know in the comments down below how your smart home is coming along. Did you use any of these smart WiFi kettles? Have you found what you think is the best smart kettle? Let me know in the comments please!