2023 is the year of the smart home. It's possible to buy smart versions of almost anything that's in your home, so competition between smart fans and heaters is heating up.
Home appliance brand Princess already offer a lot of ways to improve your smart home set-up. Today, we're looking at their premium bladeless smart fan and heater, assessing whether it can deliver on its promises and whether it's worth your valuable time and attention.
So what is the Princess Smart Heater and Fan?

Out of the box, first impressions for this are great. The device itself looks nice; surprisingly tall and narrow, with a flared wide base for stability. This lends it a very unique, modern silhouette, but lets it slip into the background of most rooms because the only thing that takes up any space is the base unit.
Like a lot of bladeless fans, the Princess Smart Fan functions as both a fan and a heater. It's fully wireless-enabled, and links into both smart voice control and an app, as well as having a remote control (which is included in the box.)
Set up is simple, and should only take a few minutes. Physically, it's as easy as plugging it in. Once you've downloaded the app, connecting it to your network isn't hard, using the freely downloadable app. So far, so good.
How good is the fan?
The fan function of the Princess smart fan is a respectable 10 watts, with 10 possible speed settings and 80 degrees of oscillation. Outflow is 1350m3 per hour, or 22.5m3 per minute, which makes this suitable for spaces up to 50 cubic metres in size. That's a genuinely impressive coverage, and means this should comfortably handle larger living rooms, or entire open-plan apartments, without problems.
Because of that tall, high design and wide range of oscillation, the air dispersal of the fan (which affects how quickly a room heats up or cools down) is really impressive. Even compared to equivalent fans, the Princess smart fan is so narrow that it almost fires out a 'blade' of high speed, long-range airflow.
This gives it impressive reach but does mean that anything in front of this takes the full brunt of the force. Excellent for cooling you down quickly on hot days, not so good if you have loose papers, bills and magazines lying around on the coffee table. Despite all that airflow, the fan still manages to stay nice and quiet; even at full power, this is quieter than an equivalent airflow bladed fan.
Is the Princess a good smart heater?
When switched to heating mode, the Princess smart fan smoothly shifts function to a 2000W fan heater. Possible temperature settings range from 16 to 30 degrees centigrade, with full oscillation and an automatic switch-off function when the ambient temperature is reached.
These are all good things, but they're balanced out by small issues. Firstly, the ambient temperature control is nice and accurate and switches off reliably when it hits the correct level. But there is no automatic on the feature, so you're going to have to manually switch this back on again if your home gets cold, which seems like a massive oversight.
Second, this does take a little while to heat up, and there's a noticeable delay between switching it on and the fan pushing out heat, in the same way, you'd see with an electric convection heater, rather than an AC unit or a Dyson bladeless fan.
But these don't detract from the fact that the Princess performs surprisingly well as a heater, especially considering that narrow profile. We'd be more than happy to switch this on from our bed first thing on a frosty winter's morning, only to come down half an hour later to a toasty warm conservatory.
How good is the app?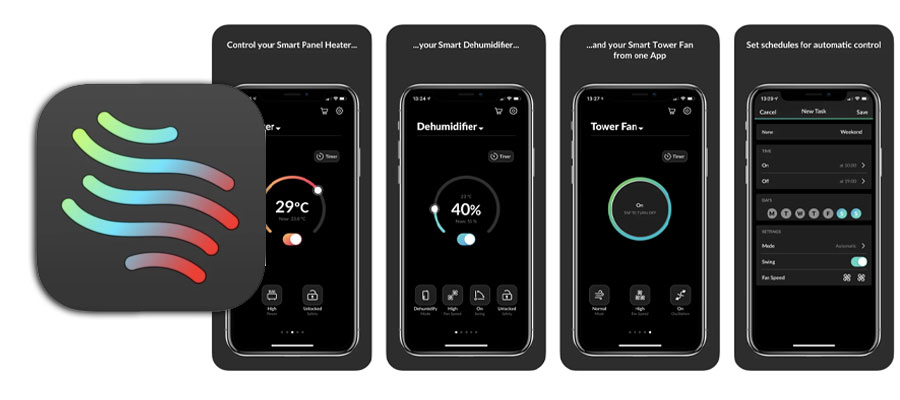 Princess appliances all use the HomeWizard Climate app for their smart controls. HomeWizard makes a whole range of third-party apps that are completely free to download, compatible with iOS and Android, and cover a whole suite of different rooms and devices.
The app itself is solid, letting you link to the Princess fan, as well as any Princess panel heaters and dehumidifiers you might own. The layout is simple but effective. Clean black backgrounds. Easy to understand controls. There are certainly no complaints here.
More complicated functions are handled through a simple set of drop-down menus. It's here that you create timer schedules, adjust temperatures, or switch the fan off if you're out of the house (or too preoccupied with your latest show binge to get up off of the couch.)
Princess smart equipment is also compatible with Alexa, as well as most other home hubs, linking in through WiFi. However, voice control is currently very basic, with only the option to switch the unit on or off. All other settings have to be adjusted using the app itself.
It's also worth pointing out that the app has occasional reported connection issues, and might have spotty reception if your signal is weak or if you're running certain mesh WiFi networks.
Is the Princess Smart Heater and Fan worth your time?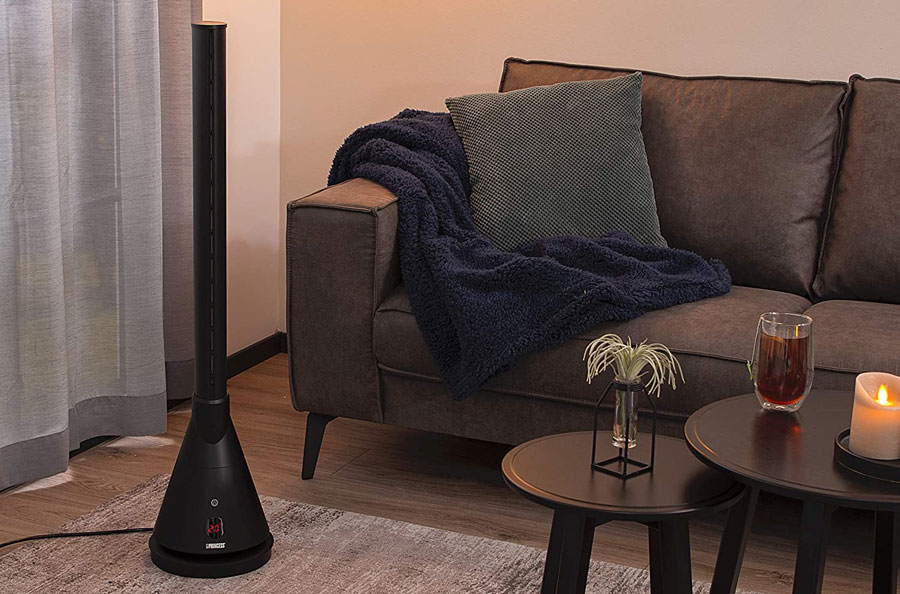 Yes.
Mostly.
Taken as a whole, the Princess smart fan is a piece of kit that will slot snugly into most homes without a problem. It looks great, performs really well as a fan and a heater, and the smart features are well integrated and will be easy to use for most home setups.
There are a couple of issues with missing features that we'd like to see if and when Princess push out their next hardware update, like more voice control options, and dropping the price a touch would definitely make it more attractive.
But the large features list, decent price point and great performance as both a heater and fan wins the day and makes the Princess more than worth your time and money.