With homes getting smarter and technology getting smaller and faster all the time, digital wizardry is finding it's way into every corner of our lives. Even something like a simple heater can now be connected to your home network and brought in line with all the other gadgets that we use every day. Wifi electric heaters are one traditionally non-techy item that have been added to the list of smart home compatible devices you can buy in 2023.
Top Pick
Quick version: the #1 smart heater in 2023 is the Adax Neo Heater. It's stylish, packed with smart features and there's no annoying pops and clanks when it heats up or cools down. It also looks impressive wall-mounted. See it on Amazon
In this guide, you'll learn everything you need to know about the newer, smarter WiFi integrated heaters and what they can do for you. If you're looking for the opposite – something to help you cool off, check out our guide on the best smart fans for sale in the UK.
This guide will cover things like:
What WiFi heaters are
How they can save money
What to look out for when you're buying one
What the top brands and products are
How they work with apps and your other gadgets
What are the UK's Best WiFi electric heaters in 2022?
As you know, at Smart Tech Stuff we love doing the research into the best products out there to hopefully save you some time. And this next section will dig into the better smart WiFi heaters you can currently get for your money.
The top recommended WiFi heaters you should look out for in 2023 are
Adax NEO WiFi Modern Slimline Heater
Wärme Designer WiFi Electric Wall Panel
MYLEK 2kW Smart Panel Heater
Mill 99430 800W Electric Panel Heater
Tesy WiFi Electric Smart Panel Heater
#1 – Adax Neo WiFi Modern Slimline Heater
This wall-mounted only smart panel heater is both smart and beautiful! It uses energy-efficient convection heating for small, medium and large rooms. You can control your Adax Neo (Amazon) with any smart phone or tablet and be able to do handy stuff like creating and controlling heating 'zones' in your home. This heater is so smart it will even detect if there's a window left open and not waste energy heating that room.
Another really clever innovation with this heater is that it actually prevents dust or oxygen burn so it's ideal for anyone with asthma or any other breathing problems.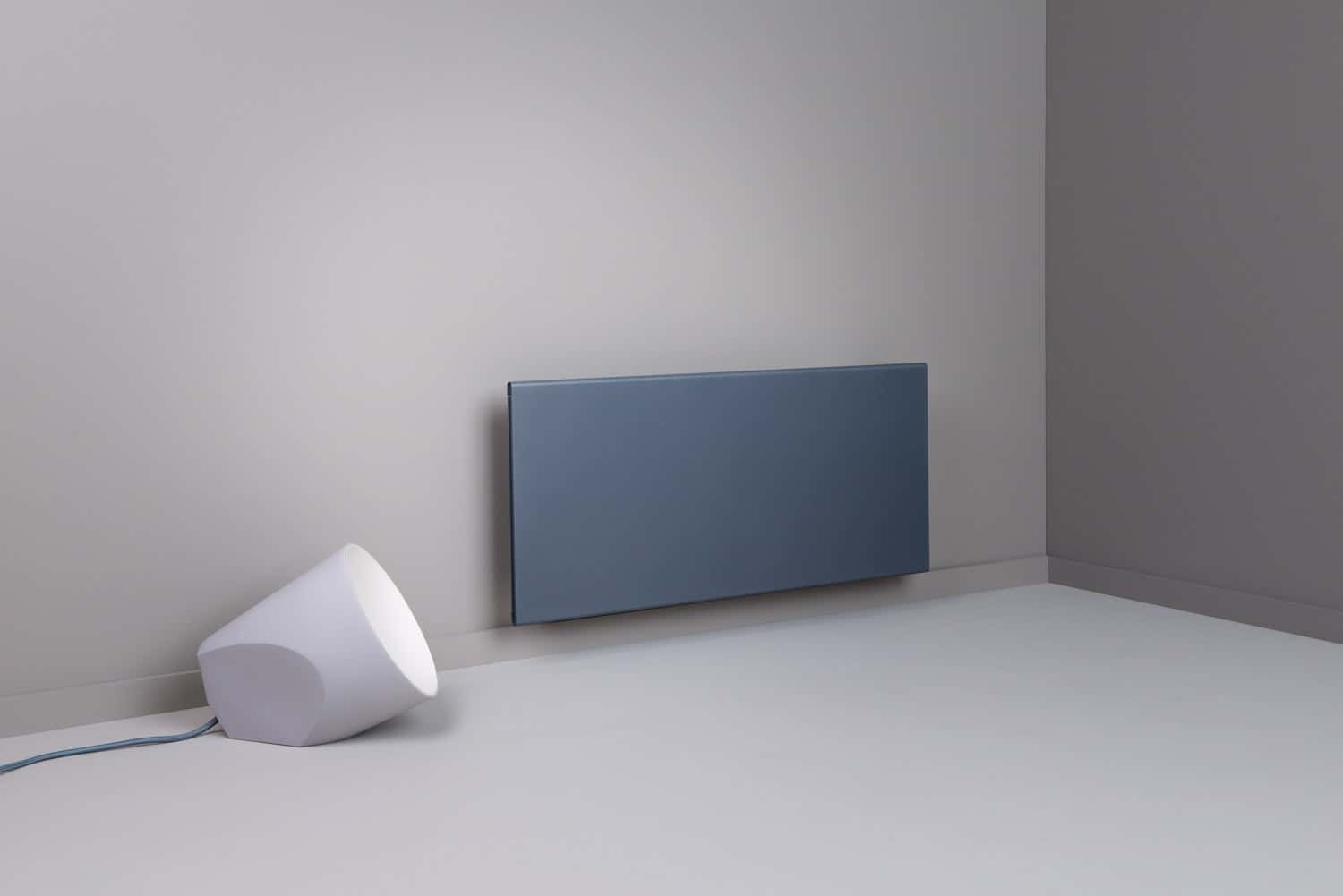 What does this heater do well?
Top-quality wall mounted smart panel heater
Control with free app
IP24 splash proof
24-hour programs
Open window recognition
zone control
Energy-efficient convection heating
Ideal for offices, homes, conservatory and out-buildings
Or check out our review of the Adax Neo Smart Heater
---
#2 – Wärme Designer WiFi Electric Wall Panel
Wow if you ever thought app-controlled space heaters had to be boring then take a look at this gorgeous heater from Warme. It's actually won design awards for its classy and glossy looks!
This wall mountable panel heater doesn't just look cool, its also got some serious chops when it comes to both heating and saving you money. With a powerful 2KW output and state-of-the art tech it can heat any room easily but will do so at the minimum energy usage.
It's also IP22 waterproof so you can enjoy heating your bathroom with this product.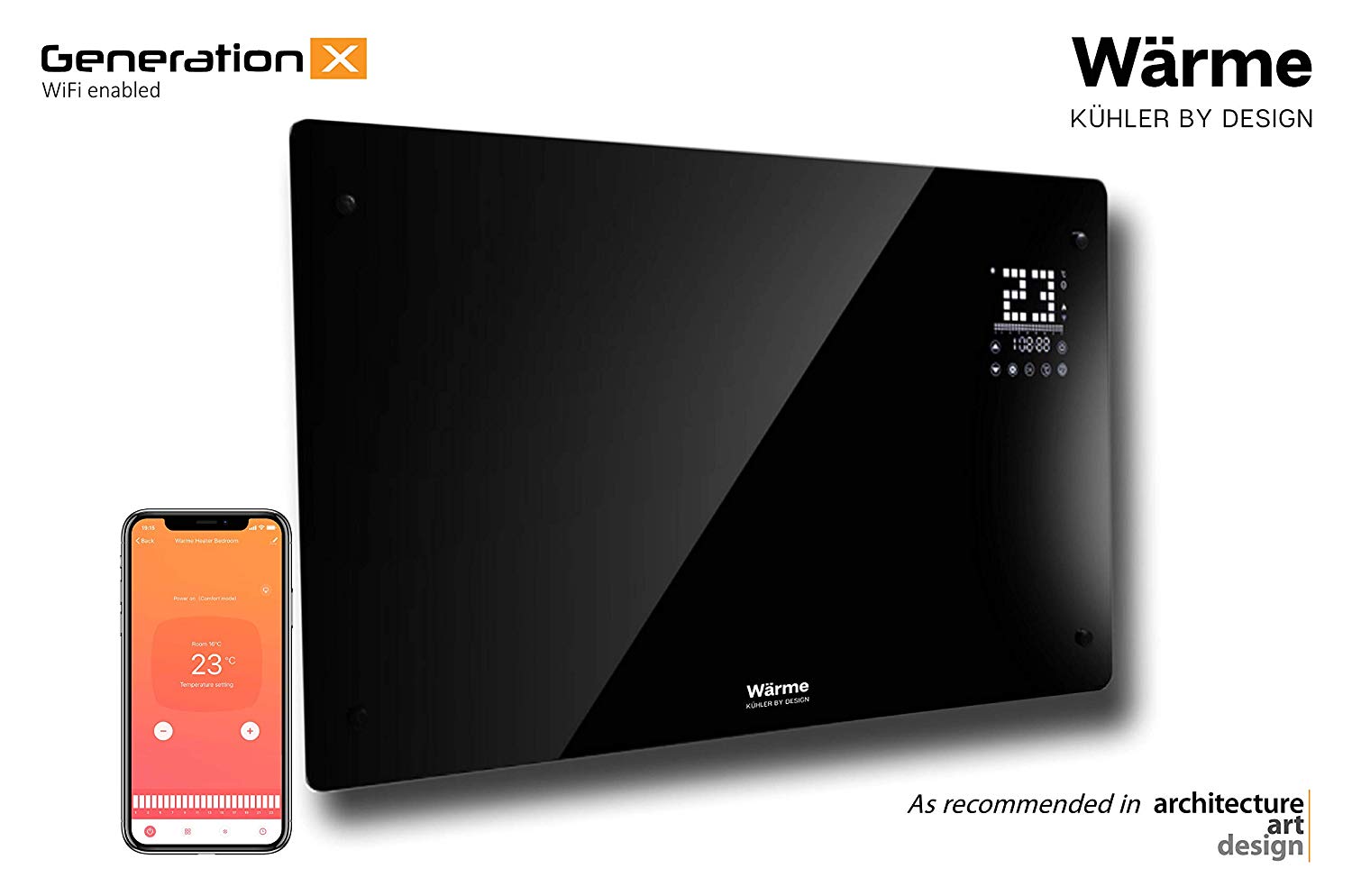 What does this heater do well?
Control it with an app
Amazon Alexa compatible heater
Built in LED screen
Low running costs
Recommended by Architecture Art Design Magazine
Can be fitted up a height out the way of kids and pets
Very popular with property developers
---
#3 – Mylek 2kW Smart Panel Heater
The next WiFi electric heater you'll want to look into is this one from Mylek. This one comes in at a budget friendly price and has tons of good features and a good bit of power behind it too. As with all the heaters in this guide, you can control the Mylek fully with your smartphone or tablet.
This heater can be wall-mounted or used on the included wheels. It heats up fast but has a clever design that makes sure it cools down slowly to provide the most heat for your money. While an intelligent thermostat make sure this WiFi electric heater will work hard to save you even more money.
It's also got a great modern design that will look good in any home.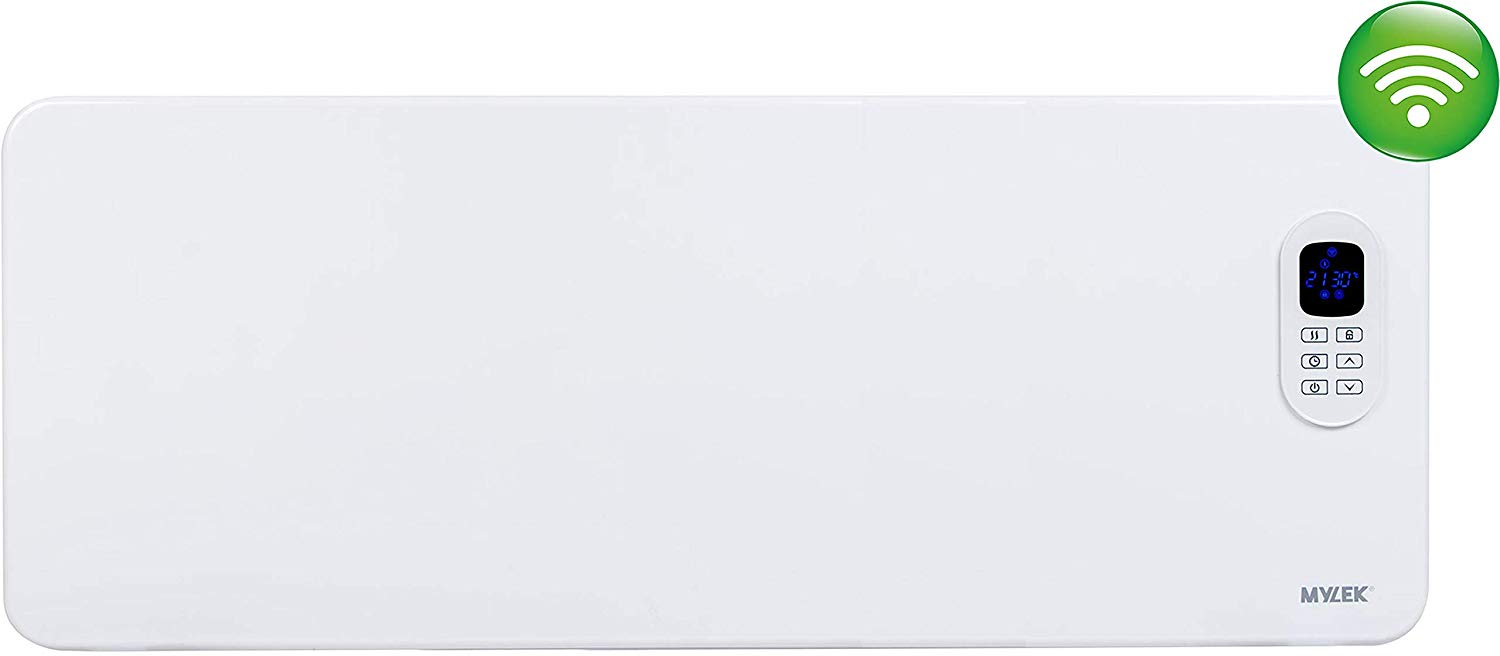 What does this heater do well?
Powerful 2kW heating
Control as many heaters as you need
Also has an advanced LCD panel
State-of-the-art energy-saving thermostat
Quick heat up and slow cool down
Safe for bathrooms
Can be wall mounted
Or read our full Mylek Panel Heater Review
---
#4 – Mill 99430 800W Electric Panel Heater
Another heater with a non-boring design is the fab-looking Mill 99430. It's slim design makes it ideal for under windows or for rooms that don't have a lot of room or wall space to spare. Once set up, it connects easily to the WiFi and has a super-easy-to-use app that lets you do some complex stuff pretty easily. One of the best features is being able to set a preset heating program and then slide things around to suit your lifestyle.
Its simple, looks great and is easy to use.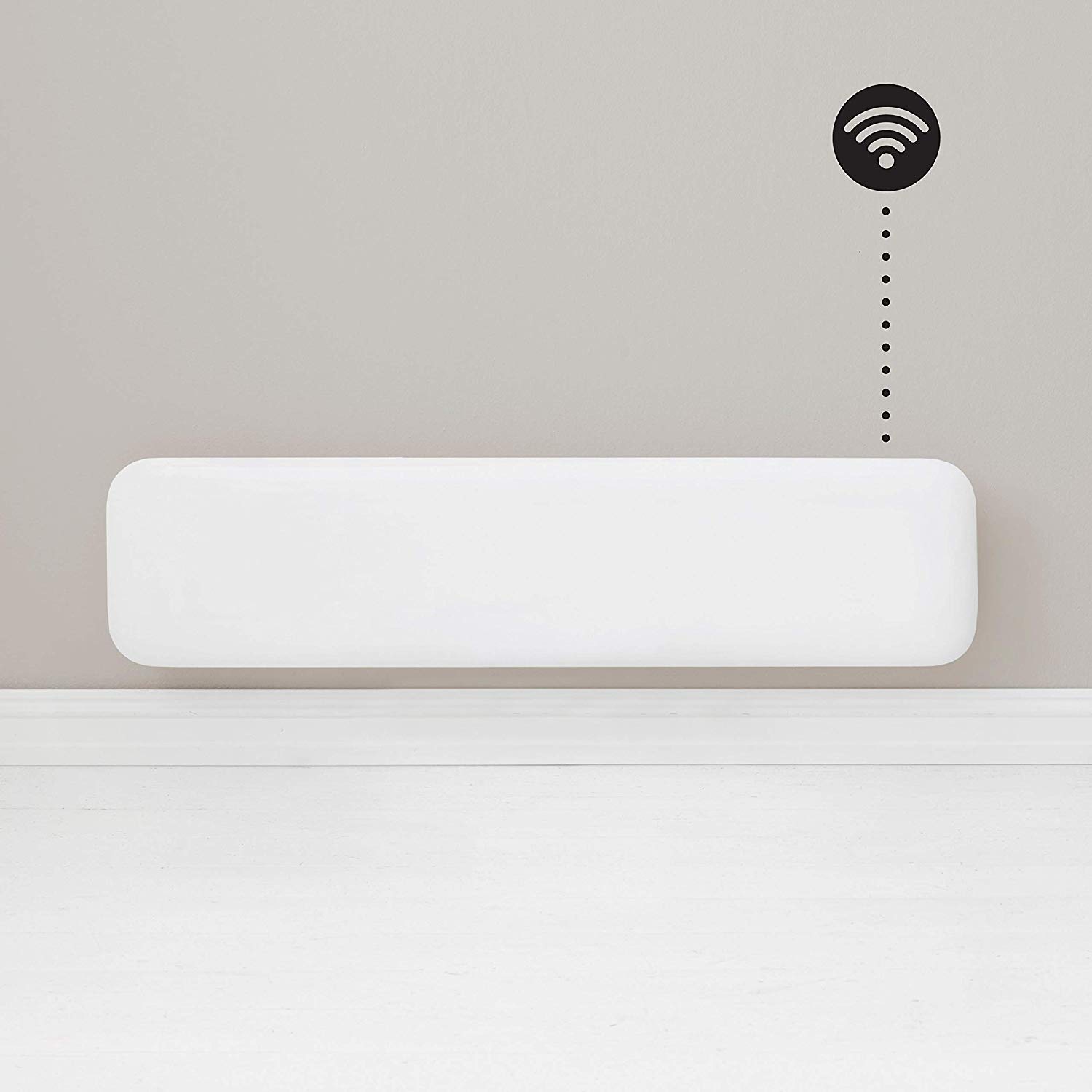 What does this heater do well?
Great for under windows and smaller rooms
Connects automatically to WiFi
Stylish modern design
Easy to use
Set weekly modes
---
#5 – Tesy WiFi Electric Smart Panel Heater
Lot 20 is something that you might have come across if you're searching for the perfect WiFi electric heater to buy. If you get a heater that complies to this new standard, you'll be sure that your heater has the best possible energy saving efficiency. The Tesy WiFi heater has this and a lot of other great features. It's a wall mounted heater that uses convection heating and can heat your room up 25% faster than a lot of other heaters.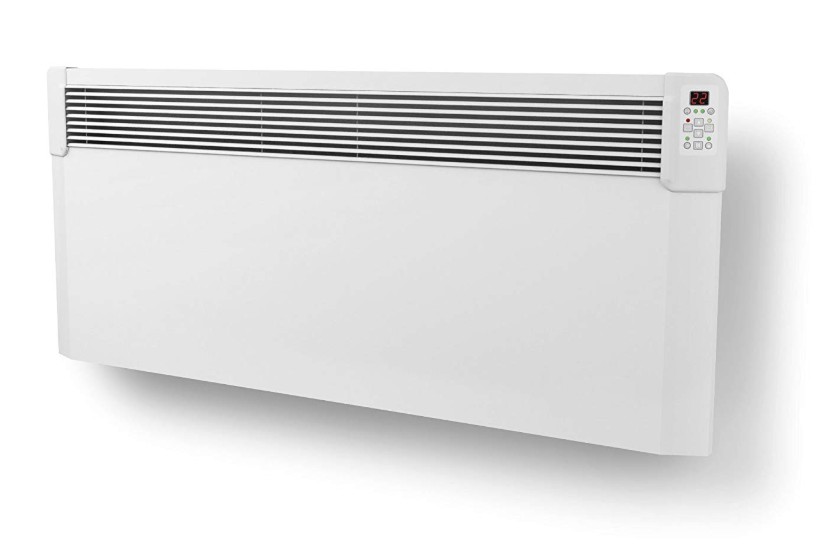 What does this heater do well?
Powerful 2500 w heater
Control from anywhere with an app
24 hour 7 day timer
LOT20 energy saving
IP24 so it's perfect for bathrooms
Slimline and compact
---
The quick guide to WiFi electric heaters
Getting your heating connected!
Most of us own or have had various heaters at one time or another besides central heating systems with radiators. From cheap free-standing ones you can grab at the supermarket or BnQ, to the fancy flat ones you have have mounted on your walls. They're normally a simple combination of a thermostat and a heating element or oil filled. Modern smart heaters have that but they can also be connected to your home WiFi (it's easier than it sounds).
There's lots of benefits to using your app to control your heater like being able to set complicated heating programs quickly and easily
You can buy one heater, or get one for every room. They're especially useful for places in your home where there's no radiator, garages or work spaces or non-centrally heated homes and apartments.
Once connected to your WiFi you can then control your heater with a free app. Each company have their own app which will run on an Android or Apple iPhone or tablet. * There's lots of benefits to using your app to control your heater like being able to set complicated heating programs quickly and easily, even for multiple heaters spread throughout your home.
* If you're wondering where to get the app from, head over to the app store and try searching for the company name
What sorts of stuff can the apps do?
As techy as all this sounds, part of building a smart home is to SAVE you work and effort, not create more headaches in your life. Any good smart WiFi heater will have a downloadable app that will be very simple and easy to use. While they vary from company to company, the main uses you'll find are:
Simple +/- temperature adjustment with a slide
Display the current temperature in that room
Turn power on or off
Set a target temperature
Set programs that match your daily life
Select simple preset heating modes
Manage more than one heater
What can a smart WiFi Heater do?
Generally speaking, smart WiFi heaters cost a bit more than bog standard ones. So what is it about them that makes them popular? And why should you think about upgrading to one?
First up, you'll be able to control your heater with your phone. While that sounds like fun, it's also got lots of practical uses. There's loads of things you can do with your phone that you can't do with a non-WiFi heater:
Adjust temperature when you're away from home
Control multiple heaters with one app
Use pre-set programs, or set your own easily
Turn on or off without being near it
As well as giving you much greater control over your home heating, there's an even more compelling reason to invest in a smart new heater…
Smart money saving with your WiFi electric heater
One of the main reasons to splash out on a modern new heater is that they are much more efficient than regular old heaters. With non-smart heaters, you're limited to on / off or setting the thermostat. This is not very efficient. Modern WiFi heating uses intelligent thermostats to lower power usage and not waste energy heating empty homes.
What other cool stuff you can do with a smart heater?
There's lots of good reasons to pick up a new electric WiFi heater. How about some of these:
Turn on a downstairs heater from your bed via the app
Warm up your home gym on a winters day before you get there
Detect if a window is open and turn off to save power!
Turn off all the heaters at home from your bedroom at the end of the day
Turn on the heating from work so it's warm when you get home
Give it orders with your voice (requires Alexa and a compatible heater)
Let me know in the comments down below how your smart home is coming along. Did you use any of these products? Is there a way your using your Alexa that's really saved you time or money? Which WiFi electric heater are you planning to buy?