How did parents ever manage with old school baby monitors? Relying on just being able to hear your sleeping infant is enough to put any parent on edge. When you have a new born at home you want to feel like you're in the room with them.
In this guide we're looking at the very best Wifi baby monitors you can buy in 2023. We'll cover all the top rated cameras and go into detail on what each cam does.
Top Pick
Super-quick version: the #1 smart baby cam we found so far in 2023 is the iBaby Care M7. It's easy to use, packed with useful features and the range of motion you can control with your phone means you can always see what's going on. See it on Amazon.
What are the UK's Top Wifi Baby Cams?
The next part of this guide will hopefully save you some time, money and frustration and help you get to the best smart Wifi baby camera for you. There's plenty of good choices on the market to suit all budgets and you'll soon be connected to your baby's room from wherever you are.
Lets dive in and review the most common and popular choices for baby monitors you can buy now.
The top recommended video baby monitor with app products we recommend are:
ieGeek 1080P Internet Camera
Mibao Security Cam
Arlo Smart Baby Video System
KinCam Baby Monitor
MeaMae Care
iBell Baby Camera
#1 – iBaby Care M7
Unlike some of the other cameras featured here, the iBaby is solely a baby monitor. Whether you're watching TV downstairs, or away on business in another country, you'll be able to see your child in glorious detail (as well as talk to them) using this advanced smart video baby monitor with it's iOS / Android app.
You can run multiple devices on it at once and there's a lot of things it does that cheaper baby monitors don't. This camera also sends you sound and motion alerts as well as the more fun stuff like playing lullabies and bedtime stories!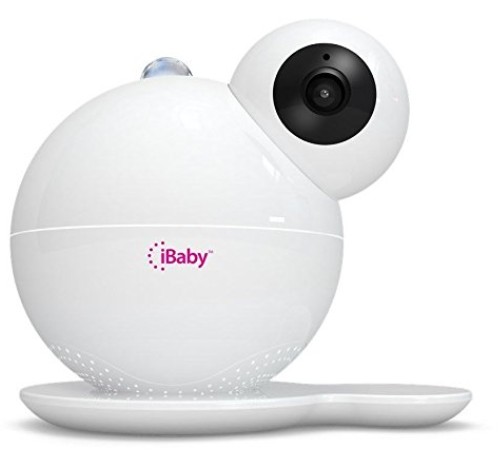 This smart baby monitor's features
Easy Wifi setup
Motion alerts to any device
High quality HD camera
Colourful built in projector
Multiple devices can connect at once
---
#2 – ieGeek 1080P Baby Monitor
The ieGeek is a super-budget-friendly camera that's great for everything from watching your pet while you're at work, security camera duty and watching over your most important treasure of all: your baby! It's got everything you need really, from 2-way audio, 1080p video, smart baby crying detection and much more.
All controlled with the simple downloadable app via your home Wifi. Customers really love this camera, and it's one of the top rated Wifi baby cameras on Amazon.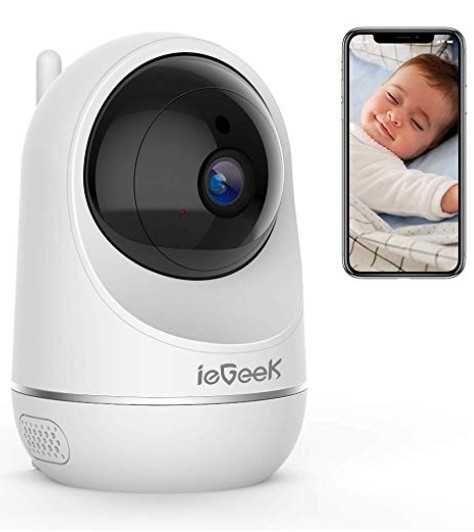 This smart baby monitor's features
Sharp 1080p video
Controlled with an app
HD night vision
Detects if baby is crying
Budget friendly monitor
---
#3 – Mibao Security Wifi Camera
If you've got a baby in your life, you know how little time you have to spare. The last thing you want to do is mess around getting fiddly stuff to work. Thankfully the Mibao cam is really quick and easy to get up and running.
This video baby monitor connects over your existing Wifi and uses a smartphone app that's compatible with both Android or Apple phones / tablets. The monitor is crammed with great features to keep track of how your baby is. It's also an extremely cheap baby monitor if you're looking for a best buy cam.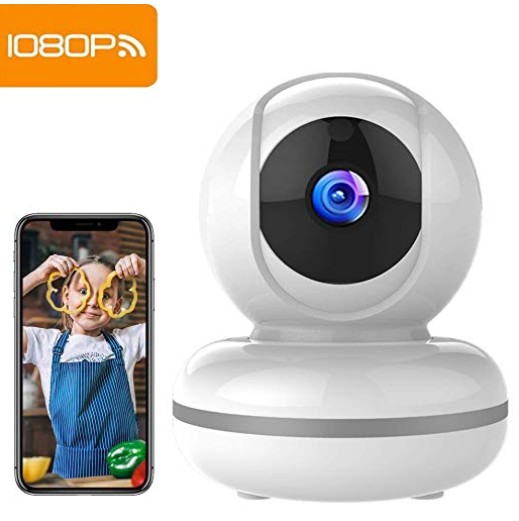 This smart baby monitor's features
1080p video
2-way talk
HD night video
Records video
Smart motion detection
---
 #4 – Arlo Baby Monitor Smart
Another well known brand of smart baby monitor is the adorable-looking Arlo WiFi baby cam. This is one of the few systems that's also Alexa compatible so you can control various functions with your voice. There's a lullaby player to keep your baby calm and help with sleep and all the important stuff too such as night vision, 2-way audio and up to 6 hours video recording. You can even get air-quality alerts, along with motion and sound.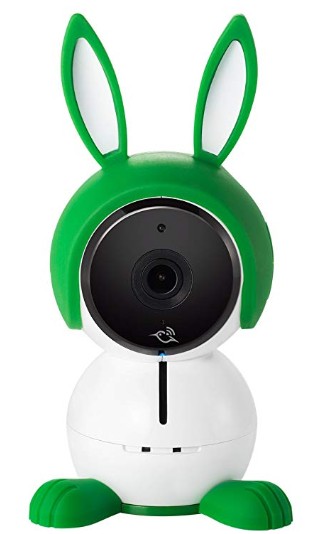 This smart monitor's features
HD quality, motion and sound alerts
Multi-coloured remote control night light
Play audio or talk to baby
Up to 6 hours full wifi HD recording
---
 #5 – KinCam Wifi Baby Monitor
If you thought you had to pay a lot of money for a smart new baby monitor then take a peek at the awesome KinCam. This popular Wifi baby video camera can be adjusted in many ways ways to get give you total control over your viewing. (Pan, zoom, etc) Full app control over motion as well as 2-way audio, night vision and supports 24/7 recording.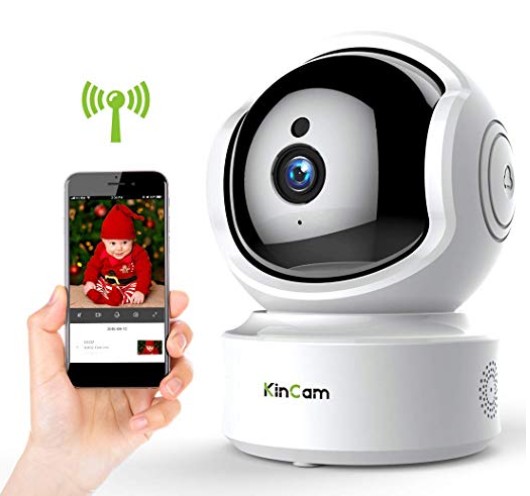 This smart baby monitor's features
Record 24/7
Pan, tilt and zoom
Quick WiFi connection
Clear 2-way audio
Night vision
---
 #6 – MeaMae Care WiFi Baby Cam
For a small, cheap smart baby monitor, the MeaMae does all sorts of useful things you wouldn't expect a camera in this range to do. The 48db 2-way audio lets you talk to baby. And there's essential alarm notifications that come to your device which works with motion and thermo sensitive induction to keep your baby safe. This wireless baby monitor also has night vision and will store and playback snapshots and videos.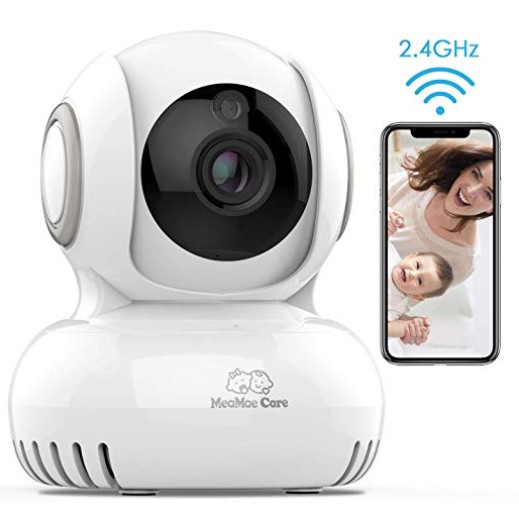 This baby monitor features:
Record video and snapshots easily
Advances motion tracking and alarms
2-way audio
720p video
Night vision
---
 #7 – iBell Baby Camera Monitor
The last video baby monitor with app control we're looking at today is also a very low priced option but has plenty of good features packed into it. With full HD video quality you can be sure of nice sharp images of baby any time.
Night vision has visibility up to a good 8 meters which should be fine for most nurseries. Move the camera easily from your iPhone or Android phone (or tablets of course).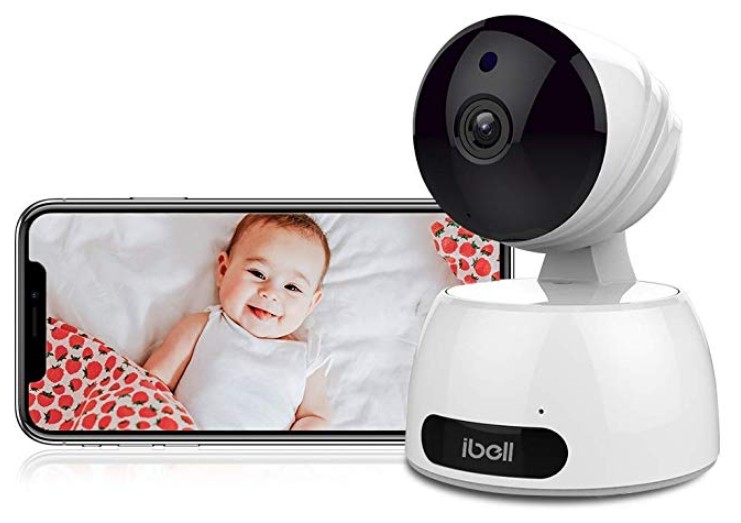 Features
Pan, zoom and more from app control
Wide viewing angle
Budget priced smart baby monitor
HD night vision
One year warranty
Wifi Baby Monitor Guide
How do smart baby monitors work?
Smart baby monitors allow you to view and hear what's going on in your baby's room via your smart phone or tablet. Each manufacturer has their own app, which can be downloaded for free via the app store. Android and Apple devices are normally the go-to devices that are supported. There aren't any monthly fees you need.
Most modern video baby monitor with apps are connected to your phone via the household WiFi connection. Once the monitor is hooked up to the home Wifi, you won't need repeat this step. Each camera will have it's own set of features, but the most common ones are:
See exactly what your baby is up to on the video feed
Get an audio feed of what's happening
Detect motion beyond normal movement
Change the camera angle, zoom or other viewing setting
Play a lullaby!
Use the 2-way audio to sooth baby with your voice
Check the temperature in the room
How much is a decent video baby monitor with app connectivity?
The good news is that prices of smart baby monitors have come down a lot in recent years. Partly because they don't need to include a 'screen' in the package (although some do) – as your iPhone or android cell phone does this job. And also there's a healthy amount of competing smart baby video cameras on the market too. The downside it can be a bit daunting looking through all these products and picking out the right on.
Realistically, prices range from around the £40 mark, up to around £140. You can get a good video baby monitor with app interaction for less than £50 if you know what to look for.
Some amazing, awesome and practical stuff smart bulbs can do!
Amazon Echo light bulbs are silly amounts of fun and you'll likely never want to have boring old light bulbs in your home again. They've also got some seriously impressive uses that will make life easier for you and your family too…
Set 7 day, 24 hour lighting schedules, if that's your thing
'Animate' lighting & colours in one room… or the whole house
Turn off the house lighting from your bed
Turn lights off and on for security, when you're away
Choose from millions of colours with your phone
Give voice commands to your Echo like "turn the room PURPLE!"
---
WiFi Baby Monitor Buyer's Guide
What you need to know when buying a video baby monitor with an app
As is often the case with in-demand products like smart baby monitors, there's more than one product out there that claim to be the best baby monitor ever invented. In this speedy buyer's guide we'll look at all the terms and things you'll need to weigh up before picking the right one for your baby.
Video quality
Long gone are the days where video baby monitors were the latest thing but the quality of the video feed was lousy. Modern smart baby cameras should be able to deliver HD video in 720 or, preferably, 1080p. 1080p video will deliver the best quality crisp videos to your phone.
Camera viewing angle
A lot of baby monitors will also have the viewing angle of the camera in the specs. This is how much of the nursery the camera will be able to fit in. While it's unlikely that a modern camera will have a narrow field of vision, aim for at least 100 degrees. This will allow you to see baby's room effectively.
Moving the camera with pan, tilt and zoom
It's amazing how much babies can move around in their cot while sleeping! And if you've ever had a baby monitor, it's often the case that you get a nice view of a pillow or a are just at the wrong angle to see anything. Thankfully, many modern smart baby monitors offer all kinds of ways to adjust the camera remotely so you can see. The better cameras can pan (turn), tilt and zoom in and out from the app on your phone.
Night vision – super important
As the time you'll probably use your video baby monitor with the app is mostly at night, you'll want to ensure that there's a good night vision mode on it. This is a standard feature on just about every camera that will let you see baby clearly in low or even completely dark lighting.
Wifi Video recording
A feature that's not available on every baby monitor product, but one that's very useful is the ability to record from the camera.
Two way audio
Sometimes a few gentle words can save your tired feet another trip up those stairs to get your baby back off to sleep! Many smart baby cameras have 2-way audio that lets you both hear and talk to your baby from anywhere in the home. (Or even if you're away from the house). It's all done through your smart phone.
Motion detection
The whole point of smart baby stuff like a video monitor is that you don't have to sit glued to the screen watching every move. Motion detection is a feature you'll definitely want in your new monitor as it will 'watch' the feed for you and alert you if there's any movement going on in baby's room that you should be aware of.
Multiple cameras
Having multiple cameras in your baby monitor system can help cover different rooms (twins!), landings, or the same room from different angles. While it's not something parent will want to go for, it's worth checking if the video baby monitor you're buying supports it.
Let me know in the comments down below how your smart home is coming along. Did you use any of these products? Which video baby monitor with app control are you using that you think our readers will love?