Welcome to this review of the HyperX CloudX gaming headset.
Finding a decent budget gaming headset is a bit of a nightmare. From the ones I've tested, too much goes into the design and making them look good. The sound quality and durability? That's where the cheaper headsets fall down.
Having tested a number of products in the £50 – £100 range, it was clear that a lot of the 4 – 5 star reviews for these headsets weren't telling the full story. So I was looking forwards to getting my hands on a headset I'd heard good things about – the wired HyperX CloudX.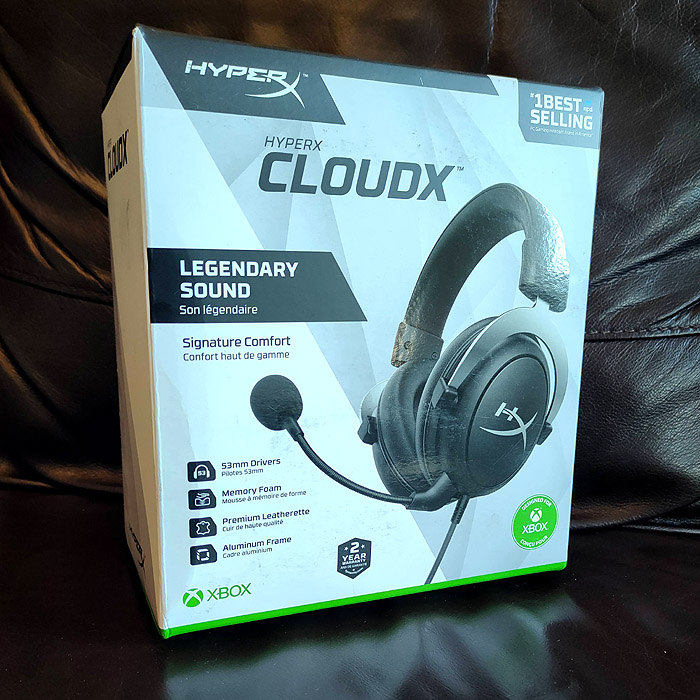 Spoiler alert: are the CloudX headphones any good?
If you're short on time and just wondering if this is a good headset, here's a quick 30-second version of this review.
Yes, this is a bloody good headset for gaming or just listening to music. It's comfy, offers a sound quality that punches weight above its weight, and it's top value for money. It looks good, is extremely lightweight and the positional audio is extremely impressive!
On the not-so-good side, the cable is strong but gets in the way and it's on the small side if you've got a larger head. Overall though, this is a fantastic sounding headset that's well worth the money.
The rest of this review will go deep on the CloudX.
What is the CloudX headset?
This is a wired over-ear headset that's available for both Xbox or Playstation consoles *. It has a standard 3.5mm jack and doesn't need an Xbox adapter as long as you've got one of the newer controllers with the audio port on the bottom. (Series X and Series S come with these as standard).
It has foam ear cushions that fit over your ear and a detachable noise-cancelling mic. The CloudX doesn't require batteries and when you wear this headset, you'll hear surround sound within the game you're playing.
* (I've no idea what the difference is between these two products as it should technically be the same). The only difference I could see was the the Playstation ones had the logo on them and cost a lot more. Save your cash and just get the Xbox ones?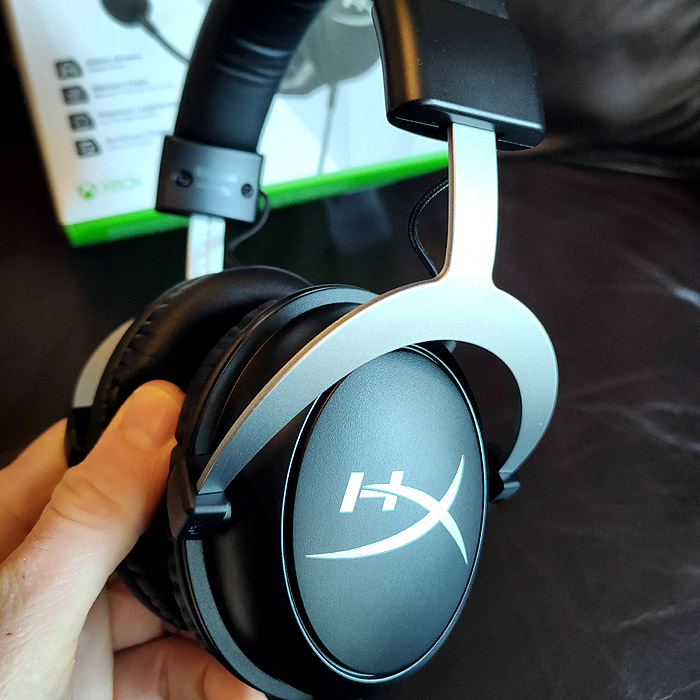 CloudX Specs
Here's the standard specs list and then we'll get on with the review!
Official Xbox licensed headset
Signature HyperX comfort, Durable aluminium frame
Immersive in-game audio, In-line audio control
Detachable noise-cancellation microphone
Mic has sponge coating for added clarity when you're talking
Compatible with Xbox One and Xbox Series X|S
The cable has a mute switch and a volume switch built-in
Driver: Dynamic, 53mm with neodymium magnets
Type: Circumaural, Closed back
Frequency Response: 15Hz–25,000 Hz
Impedance: 60 Ω
Sound pressure level: 98dBSPL/mW at 1kHz
T.H.D.: < 2%
Input power: Rated 150mW, Maximum 300mW
Weight: 309g
Weight w/ mic: 322g
Cable length and type: Headset (1.3m) + PC extension cable (2m)
Connection: Headset – 3.5mm plug (4 pole) + PC extension cable – 3.5mm stereo and mic plugs
Element: Electret condenser microphone
Polar pattern: Uni-directional, Noise-canceling
Frequency Response: 50Hz-18,000 Hz
Sensitivity: -39dBV (0dB=1V/Pa,1kHz)
Packaging and first impressions
I saw the postman carrying this up the driveway and knew what it was straight away. Why? It wasn't in the usual brown Amazon box, for some reason. It's a good job it wasn't anything I wanted to keep secret!
Thankfully, the box itself arrived without as much as a dent in it and overall the packaging looks good and was easy to get into.
I do like a bit of a fancy box and this one opens up with a folding top that looks pretty cool. I make a point of keeping boxes (for taking photos for reviews etc…) and this one looks good on the shelf.
You get a small booklet and the mic comes detached. It has a 3.5mm jack on it and a bendable arm so you can fit it around your mouth comfortably.
This is a decent looking headset
I'm going to give a big tick to the Hyper X phones on the design front. For a budget set of phones, they look great. Neutral black and silver might be a bit mundane for some but I really like the way they look.
The oval cups are more elegant than a lot of the gaming headsets you'll find too.
They don't feel quite as high quality as they look perhaps but they definitely don't feel cheap. It's just that they don't have a great deal of weight to them.
Weight and comfort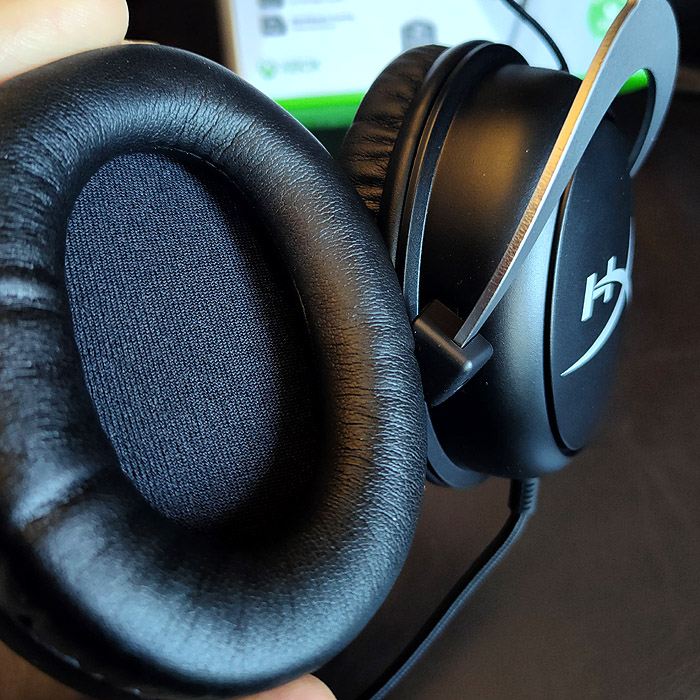 The CloudX feels super-light
Lifting the headset out for the first time the first thing that struck me was how light it was. It's 337 grams and actually feels lighter than that. This helps with overall comfort, especially for longer gaming sessions, watching TV, or listening to music, where heavier sets can lead to creeping discomfort over time.
Is the build quality any good?
Overall the feel is a bit 'plasticky' and slightly less substantial feeling than the official Xbox headphones I have owned in the past. In full disclosure, those headphones weren't exactly built to last. Both pairs I had eventually snapped and the cups began to split and drop to bits.
I can't see that happening here; the foam around the earphones feels solid and good quality.
Having said that you've got a brilliant aluminium frame here that I'm hoping will stand the test of time along with those little mishaps that happen from time to time. (I'm looking at you, child of mine who jumped on my last headphones).
It's always hard to say how well made headphones are due to the fact you've really got to use them over a period of time to see if cracks will appear, the foam will pop out of the phones, audio will cut out or anything else will go wrong.
Overall though, they're light the aluminium frame feels tough and they seem like they are well made. I'll update the review in a few months if there are any issues with the padding, or cracks start to appear.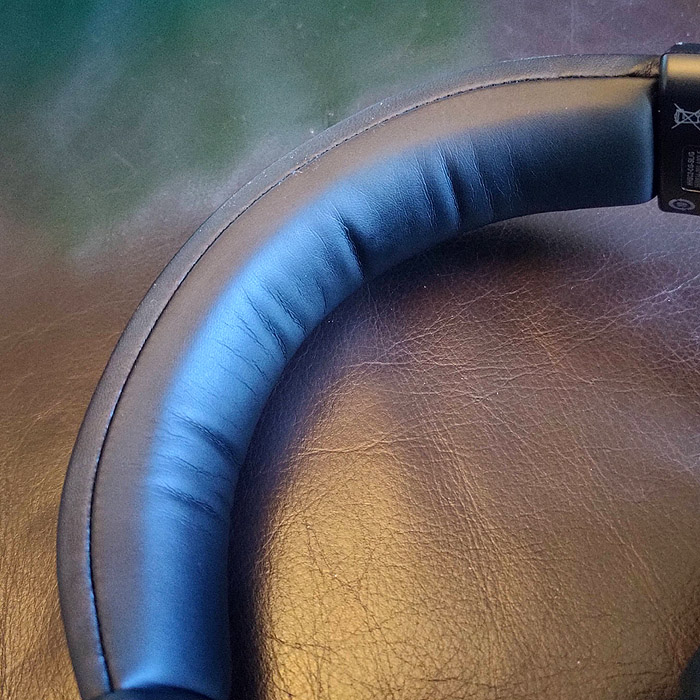 Does it give you sweaty ears?
We've all been there with over-ear gaming headsets. They feel and sound great but after a few hours your lugs are getting a bit hot and damp in there.
Although these look like they could be a candidate for some sweaty ear issues (ewww!) the CloudX headset is not like that at all.
I'm pleased to report you can wear them for long gaming sessions and not have any issues with perspiration or overheating in the ear department.
The cable is extra strong
One problem with wired gaming headsets is if the cable is too thin, you're at risk of all kinds of mishaps from the dog deciding to have a bit of a chew on it, or just too many bends causing a wire to snap. Too thick and you'll be forever un-twisting it and feel it getting in your way.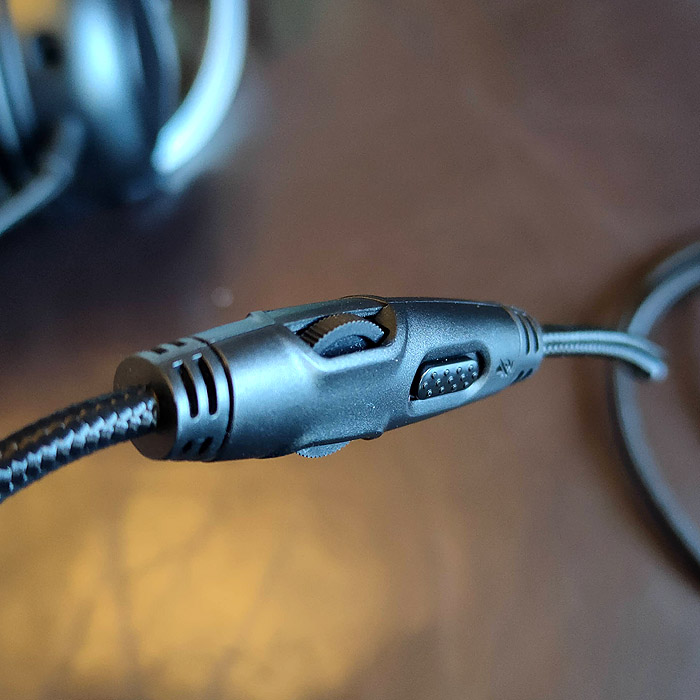 The wire here is a chunky beast and I'd be very surprised to see any issues with it snapping and could see it surviving mishaps like the dog deciding to have a bit of a chew on it. On the downside, it is cumbersome to work with. More on this in the 'bad points' below.
I'll report back if I have any long term issues or if anything breaks or snaps.
How do they feel on your head and ears?
they are 100% comfortable for me and I stop noticing they're there at all very quickly.
You can adjust the headset by pulling the cups downwards and extending how far down they go.
Putting them on my head, I have to extend the cups as far down as they go. I's say I have a regular-sized head and I did question whether I'd bought a child version at first.
If you know you have a larger than normal head, or have some big hair, these might not be the headphones you're looking for because they're quite a small fit. I'm surprised they don't extend down further than they do.
The cushioning around the cup is good though. They feel soft and comfy to wear and you will forget they're actually there as you're playing.
The clamping onto your ears is a little on the weak side, however.
I'd definitely have liked a better seal in that department but overall it's OK, just not as tight as I'd have liked.
I also wear glasses and although this made them a little more 'snug', they are 100% comfortable for me and I stop noticing they're there at all very quickly.
The headband itself is good too. I've had some headsets where you could feel this area digging into your head but here it's soft, supportive and with no issues at all.
The CloudX sound quality is where this headset really starts to shine
The CloudX has some of the best audio I've experienced IN A Long gaming career
This is the section I was looking forward to the most as it's easily the highlight with this budget headset!
To put it briefly, the sound quality is incredible.
And one thing I struggle with is earbuds or headphones with poor sound quality. I've reviewed a number of budget headphones for gaming and they often severely skimp on the actual quality of the audio.
The CloudX, on the other hand, has some of the best audio I've experienced in a long gaming career That's not hype, let me explain.
First, lets talk about quality of the sound itself.
The bass is rich and if you're creeping around a cave in an RPG it really makes a huge different to the experience. You can hear creatures stomping around and doors slamming have a real impact. Guns in FPS games sound equally as deep. Shotguns boom and explosions have a real depth to them you won't get in a lot of budget-priced headphones.
The mid and top end are equally impressive. Waterfalls and voices are so crisp they're an absolute joy. Keys jangling and coins being collected are all crisp and don't get lost in the rest of the audio mix. The treble really shines with this headset.
Musical scores really pop with the CloudX too. Soundtracks are rendered perfectly with all the instruments being clear and separate from one another. They aren't all mashed together in some awful wall of sound. From sweeping classical scores or moody synthwave beats, quiet tracks to intense battle scores, they sound perfect here.
The headset does a great job with voices too, either real teammates or AI ones, with even whispers being very clear to hear.
The 3D audio positioning is just brilliant
Testing these headphones out it was a joy to walk around and hear different game worlds in 3D. I've had a lot of headsets but the positional audio here is among my favourite. In fact, it took some getting used to as my previous phones didn't create such an impressive sound stage.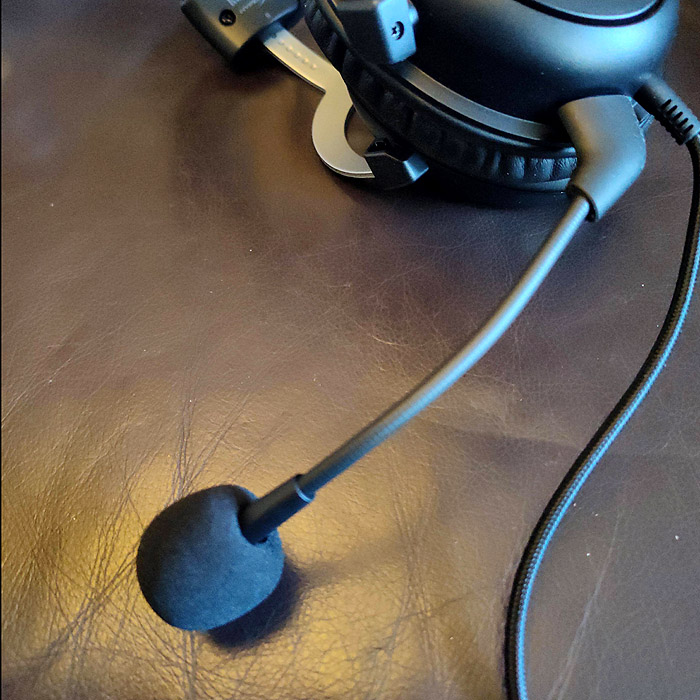 Walking past NPCs talking, hearing footsteps and knowing instantly where people were, the CloudX does a great job in this department and you'll hear things you haven't noticed before in your games. I swear a few times I had to remove them and work out if what I'd heard was in my house, or in the game. Great stuff!
I'd love to be able to pick fault with the audio here but as an average gamer, this is everything I need.
What's the noise-cancelling like?
One of the things most headphones boast about in the specs is noise cancelling. I'm a little suspicious with budget sets because they're not likely to have the same NC as headsets 4 times their price tag. Although it mentions the CloudX has noise cancelling, I couldn't really notice the difference.
I'm guessing there's no active noise cancellation at this price point.
I could still hear what was going on outside my room, and around me in general. As mentioned previously, the seal around my ears was fairly loose so I'm not sure how the noise cancelling works with this headset.
That being said, they do create a muffled environment due to them being over-ear headphones, drawing out some of the background audio in your home. And despite living in a typical noisy family home, I could hear everything in the game, the slightest creak to the wind blowing through a cave in the game.
The built in volume makes it quick to adjust levels
The official Xbox adapter is a godsend when it comes to changing volume for most headsets. Without it, you're stuck going into the menus and manually adjusting the output there. A real pain. Thankfully you don't need the bulky adapter with the CloudX. It's got a handy volume control and mute switch half way up the cable.
It's a bit weird to use as there's no indication as to what's up or down – it's just a dial and it's hard to remember which way to turn it. But it's easy enough to use and really convenient too.
Summary: of the best parts of the CloudX headset
They look great – I feel like I should get a stand for these to show them off!
Extremely light – You can forget you have them on
The ear cups are really comfy – Soft padded leather is pleasant to wear
Brilliant bass level – Really deep, rich sound that's ideal for gaming
All sounds are separated beautifully – No distortion, background noise or 'wall of sound'
Voices are crisp – This headset is ideal for team-based multiplayer games
Good value for money – Feels like it should be more expensive than it is.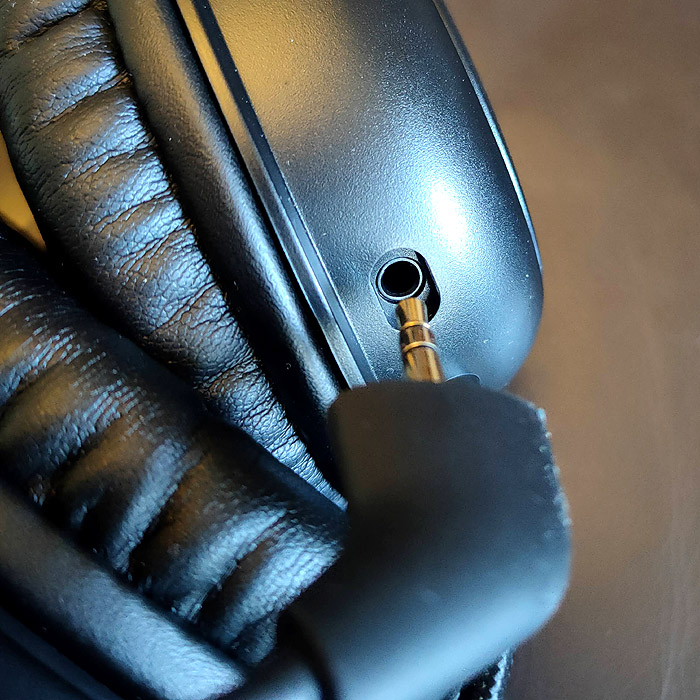 What could the CloudX do better?
As expected for a Budget set of phones, there are some issues with the CloudX. Not enough to put me off them, but a few things that could be better.
The cable gets in the way and affects audio
That thick cable that projects down from the left cup often rubs on my hoodie or shoulder and you can hear the scraping noise in the earphone unless you sit extremely still. If it had been angled forwards slightly, that might not have been an issue.
This isn't something I've noticed on other headsets and it's definitely a bit of a negative with this set. Not a deal-breaker, but something that could have been ironed out at the design stage. Admittedly, this isn't an ongoing irritation but you can notice it from time to time.
The cups should be adjustable for a larger head
Although I feel like these headphones fit me perfectly, I'm aware that some folks have larger noggins and might find them a little too snug. It's a shame as the headband is a decent size; it's just the fact the cups can't be extended down beyond a certain level.
There's nothing to say you can't order these bad boys, try them and send them back. They're not exactly underwear! But if you know your head is larger than 'average', maybe look elsewhere.
The 'clamp' should be stronger
I was definitely disappointed with how hard the headphones clamp down onto my ears.
They're very lightweight and don't have a lot of power when it comes to pressing the cups against your head. I feel if they'd made them a little heavier, and bulkier, the CloudX phones would have made a much better seal and felt way better.
As they stand, it doesn't affect the audio and it's not an on-going problem when using them. I'd also stress they don't fly off, or slip about when you're turning your head.
Summary: biggest drawbacks to the CloudX headphones
The cable is thick and can get in the way – But at least it's one tough mother.
People with a larger noggin will likely have problems – Children, teens and ladies should be fine.
Needs more clamping power! The compact, light design means there's not much grip on your head.
Verdict: should you buy the CloudX headphones?
As you can tell, I really love this budget headset.
So long as you've got a normal-sized head (which seems like a strange requirement for a product like this) you're getting an absolutely great budget headset that's been a joy to use thus far.
Sound quality is a real highlight and I challenge anyone to beat it at this price range. Positional audio here is super-immersive, making you feel much more engaged within any type of game, especially first person experiences. It also gives you an advantage in competitive games where you need to hear your opponent creeping up on you.
If they clamped on a little harder than would have been a huge benefit and there's a question as to whether such a light frame will stand up to the likely abuse it will receive in my hose over the years.
Highly Recommended!
Comfort -

85%

Sound quality -

98%

Value for money -

95%

Durability -

88%
HyperX CloudX Review Summary
This is a fantastic gaming headset with beautifully rendered audio. Bass to top end is rich, crisp and really brings games to life. Not ideal for larger heads and could have a stronger clamp but other than that this is one of the best headsets you can get for console gaming, at this price point.