With the summer getting hotter, hayfever season here, and air impurities on the rise, finding a way to keep the air in your home clean and healthy is getting harder than ever.
This is why more people are turning to air purifiers to keep the air in their homes free of things like dust, smoke, pet dander, and other issues. This guide will go through everything you need to know about smart air purifiers, including how they work, whether they are right for you, and the best ones to buy in 2023.
The best air purifiers for your home in 2023
#1 – Levoit Smart WiFi Air Purifier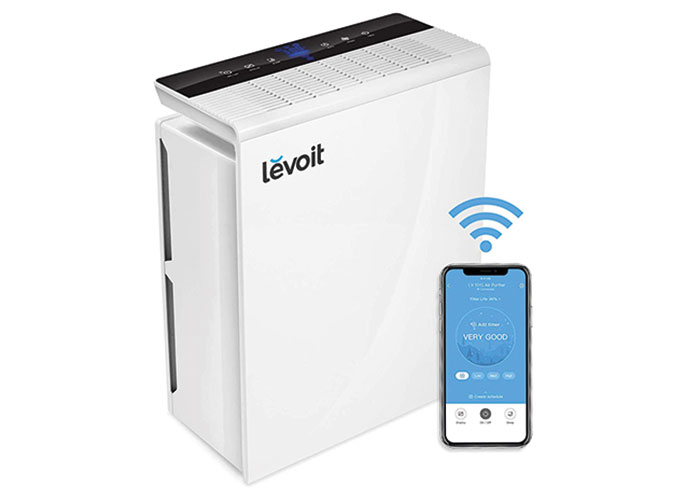 The single most impressive smart air purifier we've found, the Levoit Smart WiFi Air Purifier strikes a solid balance between performance, ease of use, and cost.
First off, as a filter, it's incredibly impressive, covering a huge 48 square meters of area, which is enough to cover two decent-sized rooms, which is by far the biggest out of anything on our list. The filtration works using a triple filter system; a preliminary filter, an H13 HEPA filter, and an activated carbon filter for removing contaminants.
It's very simple to use, with 3-speed settings, a timer that runs from 1 to 12 hours, and a sleep mode that runs at an incredibly low 23dB, which is around the sound of leaves falling to the ground; just above a whisper.
The Levoit air purifier runs on the VeSync app, which is a third-party app that links into over one million different devices. Installation is simple, and you can link this to Alexa and Google without issue, tying it directly into your home setup.
The downsides are scant. It's a reasonably chunky system, sitting at about the size of a small air conditioning unit, so requires a little more floor space than some other models. But the area covered more than makes up for that, making this easy to position. It's also reasonably expensive, though not excessively so.
But what you get for that value is incredibly impressive, with incredible coverage and filtration. Filters also last for a long time, an average of 6 months, which, considering air throughput, is crazy.
Overall, If you're buying a smart filter air purifier that's designed to serve a good chunk of your home, there are few better options than the Levoit air purifier.
---
#2 – Proscenic A8 Smart Air Purifier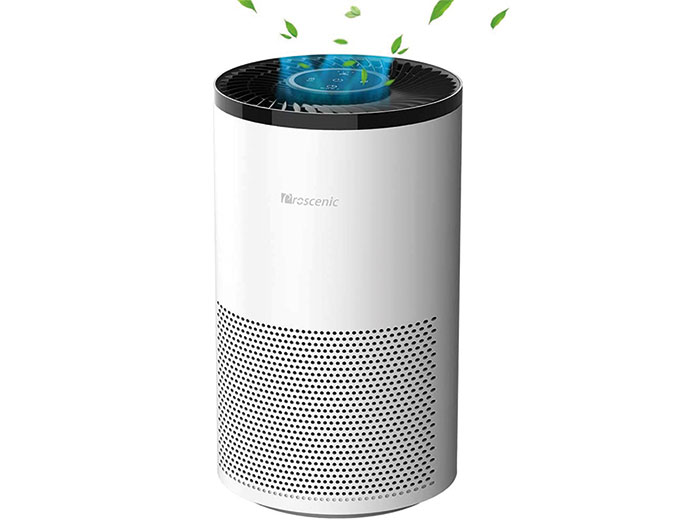 The most budget-friendly model on the list, that doesn't mean that the Proscenic A8 isn't lacking in features or quality.
Filtration is provided through an impressive four-state filter. An initial Ozone Free ultra-fine PP filter, then an H13 HEPA filter, then finally through activated carbon, and silver ion filters for ultra-clean air. Coverage is 40 meters cubed, and it has a CADR rating of 220 cubic meters per hour, meaning it will cycle an average room five times per hour.
Speeds can be set to four different modes, including a sleep mode, which runs at a low 24dB, just above a whisper.
The purifier itself is surprisingly beefy, at almost 9lbs in weight, but it's small enough to comfortably sit on a sideboard, or tuck in against your sofa. Looks are pretty, like a simple white cylinder that will look at home against almost any style of décor.
Controls are very simple, with a set of top buttons that are simple to use. In-app controls are used through the Proscenic app, and you can also link to both Google Home and Alexa, tying it into your smart home setup.
While it might not have the raw power of the other air purifiers on the list, the Proscenic A8 is the best budget purifier we've looked at, making it a perfect fit for most homes, especially if this is your first foray into buying something like this.
---
#3 – Dyson Pure Hot and Cold Filter and Fan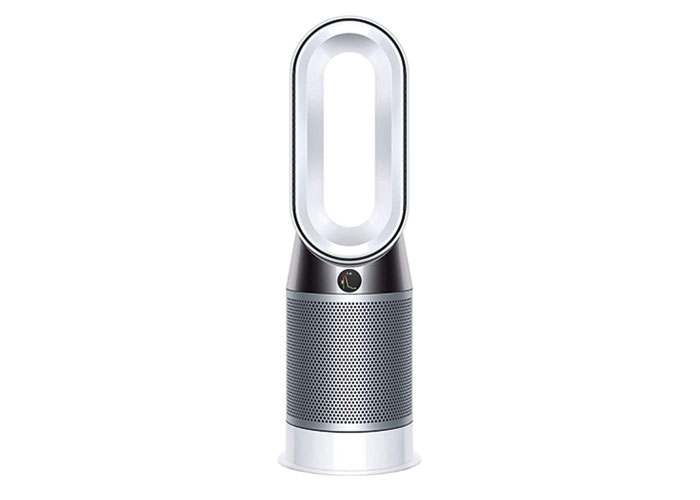 Absolutely packed with technology, and not just an incredibly air purifier, but an excellent all-around home environment filter, the Dyson Pure Air is the single best model on our list, held back only by the very high price of entry.
But you're getting so much for the money. Firstly, it's not just an air filter. The Dyson Pure also functions as a smart fan for hotter days and a smart heater for those cold winter months. All the while keeping your air clean and safe.
This puts Pure Air in an enviable position where it can take the place of multiple devices around your home. So while it might be more of an investment upfront, we absolutely believe it's worth it.
Filtration is provided through a 360 degree HEPA filter, and a second activated carbon filter. The fan promises to filter out 99.95% of allergenic particles in normal use, an incredibly high number, and it's certified to be asthma and allergy-friendly.
Controls are simple, including app control. One thing we particularly love is the constant air monitoring the fan provides, with data provided on-app, or at a glance on the front LCD screen.
The downsides are very few. It's very large and heavy, and obviously, the cost, as already mentioned. But apart from that, this is exactly the quality that you'd expect from a Dyson fan and air purifier.
£698.99 at Amazon
Price last checked: 29th Nov 2023 - 06:25
---
#4 – Blueair Blue 3210 Air Filter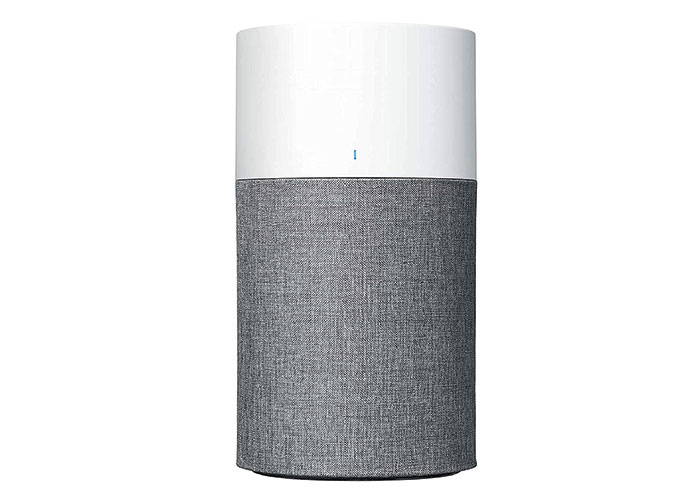 Designed around proprietary HEPAsilent technology, the Blueair 3210 Air Filter is potentially the best filter on our list, offering the best in air quality as well as several other metrics.
Like everything else on this list, the 3210 is a smart air filter, but this uses a set of smart filter systems that remove as much as 99.97% of air pollutants, at a rate of 5 times per hour.
The primary filter is machine washable, and intelligent design choice that prolongs the life of the main filter, decreasing running costs. On that note, power requirements are ridiculously low. From 10W down to a frankly absurd 2W per hour, meaning it costs more to switch on a lightbulb for an hour than it does to run this for an entire day.
Running volume is equally impressive, from a high of 48DB (normal conversation volume) down to 18 DB (below the level of a whisper).
The looks are stunning. A half white, half patterned grey that's modern and pretty, and will happily fit in most homes regardless of décor. It's also light, at just 1.7kg (3.75lbs) making it easy to move around the home.
We love the Blueair 3210. If it could handle larger rooms, it would be our number one pick without question. But unfortunately, it's only recommended for rooms up to 17 square meters in size, which is just under the size of an average living room.
But if you're buying an air filter for a room that's within its space requirements, then it's an absolutely amazing piece of kit. With its amazing air quality rating and incredibly low operating volume, we absolutely recommend the Blueair 3210 as best for bedrooms, both for adults and children.
£99.00 at Amazon
Price last checked: 29th Nov 2023 - 06:30
---
Do Air Purifiers actually work?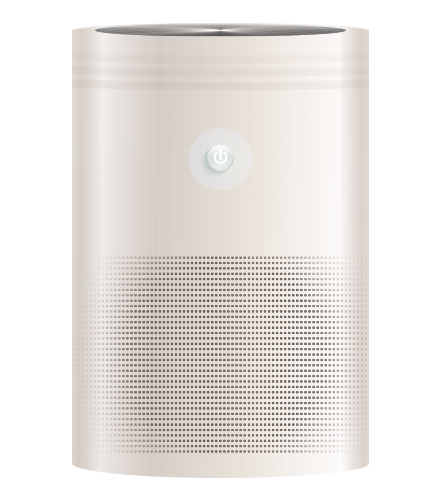 The short answer is yes.
The long answer is more complicated, but still yes. Air filters can do a fantastic job removing physical particles from the air, which can make devices like these an easy fix for environments that are high in pollen, dust, mold, or other airborne contaminants.
However, it's worth noting what air filters can and can't do.
Air filters are excellent at removing physical particles, like the aforementioned pollen and dust.
Air filters are not good at removing gases or aerosolized particles like paint fumes, thinners, or similar issues.
Using an air purifier is also an ongoing process. If the air in a room is constantly cycling, for example, through an open window, then the purifier will also need to be on.
Understanding air filter terminology
Filtration
All good air purifiers will be equipped with a High-Efficiency Particulate Air (HEPA) filter.
To qualify as a HEPA filter, a product has to fit certain specifications, specifically, it has to be able to filter out at least 99.7% of particles from the air that are at least 0.3 microns in size. (That's smaller than most bacteria.)
Air filters are good for multiple uses, including:
Parents with young children
Owners of pets
People who smoke
Asthma sufferers or anyone with breathing difficulties
Other options for air filtration include;
Airflow and room size
The effectiveness of a filter can be measured using two metrics, airflow, and room size.
The airflow of an air filter is generally measured in cubic meters per hour. This tells you how much air a particular filter will actually filter over the course of one hour, and can give you a rough idea of how quickly a specific filter can clean a room's air.
The second metric is how big a room each particular filter can comfortably service.
Air filtration is an imprecise science at the best of times, so you're likely to see this expressed as a range of areas, normally measured in square footage.
It's also worth noting that this figure can vary wildly based on airflow and particulates. If you live in a high pollen area, or right next to a motorway, any filter is not going to be as efficient and won't effectively service a full-sized room at its highest rating.
Finally, air filters tend to become less efficient over time, as the filtration mechanisms degrade, getting clogged with dust and other particles.
Bear this in mind when making your purchase, and if possible, always buy up. An air purifier that's designed for rooms larger than the one it will be placed in means that it will struggle less, and last far longer overall, with much greater efficiency.
Overall costs and running costs
Air filters can be reasonably expensive as an initial purchase, but the upside is that once you've spent that initial outlay, running costs are usually quite low.
There are two running costs for an air filter. Electricity, and filtration.
Electricity is simple. Most air purifiers run on mains power, but even the big ones are relatively low wattage. Expect a large air purifier to sit somewhere between 40 and 60 watts, so will cost about as much as a fan to run.
Filtration costs can be more expensive but tend to be an incidental expense. Essentially, the filters in your air purifier will need to be changed to keep them at peak effectiveness, and they can be quite expensive.
But air filters can and do last hundreds of hours on average, so it's easy to assess how much you're going to spend on filters, based on your personal usage.
Extra
There are a few more minor considerations when it comes to air filters.
First off, sound. How loud is it? Does it get louder if the air is particularly bad quality? Can you comfortably sleep next to it?
Second controls. Can you easily change settings? Does it have an automatic function or a timer? What about app control?