Did you know that more than 40% of UK homes now have an air fryer?
That number has exploded in the last few years, as people realise that an air fryer is almost a perfect kitchen solution, giving you a way to cook quick and tasty, not to mention much healthier food for the whole family, compared to a traditional deep fat fryer.
But choosing between the hundreds of models on the market can be complicated, and it can be difficult to work out exactly what makes an individual fryer different.
Our guide goes into the 5 best air fryers on the market right now, why they're particularly good, and whether they're right for your family and kitchen.
The best air fryers in 2023
COSORI smart air fryer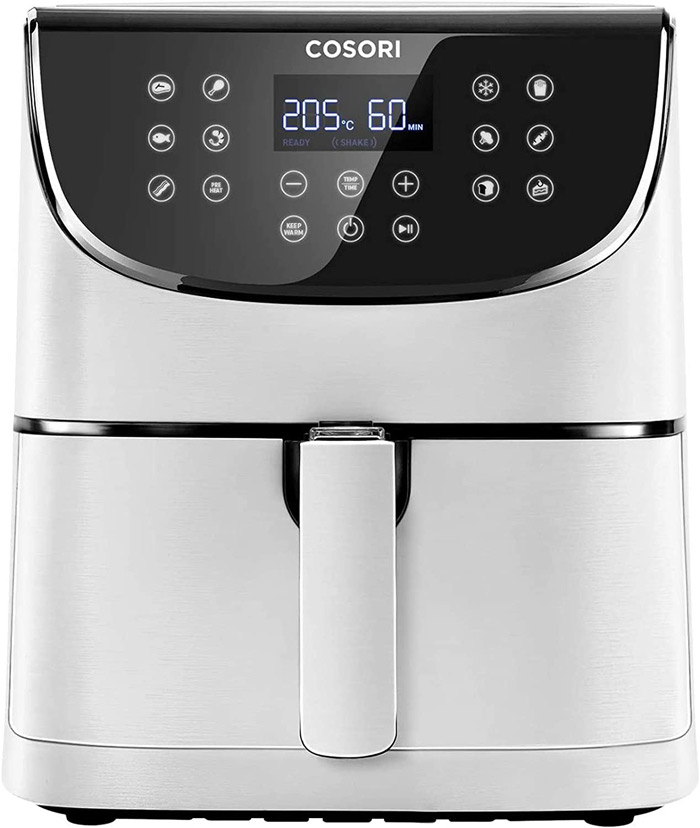 The COSORI smart air fryer has been a hit since it launched a couple of years ago, and it's consistently rated as one of the best air fryers you can buy. It's so good, we've written up a full, in-depth review on it, which you can find here.
If you don't have time for the full review, COSORI's smart fryer takes their existing, award-winning air fryer, and then adds all of the essential smart features you could ever want on top.
Combining powerful, fast cooking from a 1700W element with a big, 5.5-litre internal basket, the fryer is big enough to comfortably cook an average family dinner without struggling. Controls are incredibly simple, with a large smart panel that let you select most meals that you'd cook in this at the touch of a button.
But it's the app where the COSORI fryer stands out. It uses the VeSync app, which links to literally hundreds of smart appliances, has a massive library of pre-loaded recipes, As well as is really simple to understand and use.
So it performs as good or better than the big name brands like Tefal has great smart features, and sits at a really budget-friendly price. What's the downside? Honestly, it's hard to find one, which is why this fryer just keeps gobbling up best-of awards, and why we're so comfortable putting it at the top of our list. It's more than earned the spot.
---
Tefal ActiFry Genius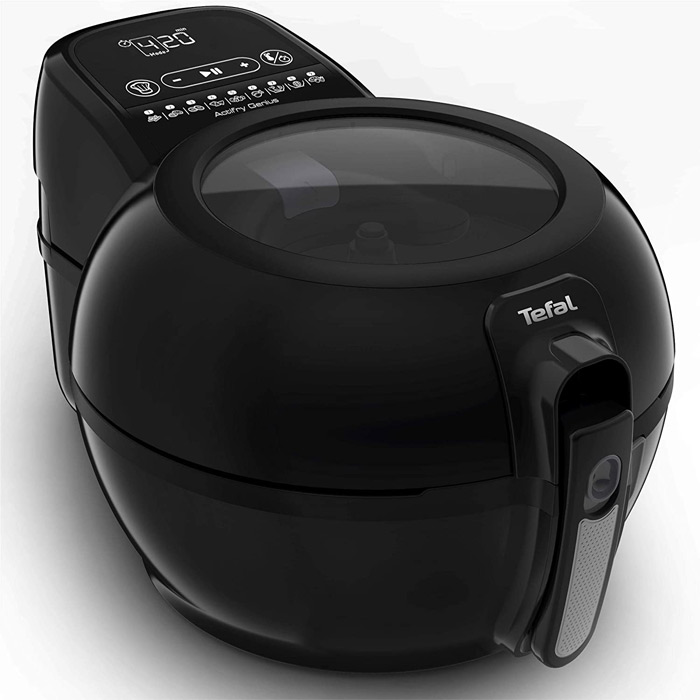 Everyone knows Tefal. Everyone trusts Tefal. But does the Genius air fryer really do enough to live up to its moniker?
In a word, yes.
The big draw with this fryer is the two different cooking zones. That's not two cooking trays, but two zones that can be independently programmed for different heats, cooking times and food types. Crispy chips in the bottom section, chicken breast in the top? No problem.
That makes dinner time an absolute breeze, especially when you factor in the 300 built-in recipes, all of which are instantly available through Tefal's smartly laid out, easy to understand the app.
Dishwasher safe cleaning and faster cooking than previous Tefal fryers round out the features list. So why is this not our number one? Simple. It's not the cheapest fryer, especially compared to our top pick, but you're paying for quality, and the ActiFry Genius is genuinely one of the best air fryers you can purchase right now.
---
Moncook Double Fryer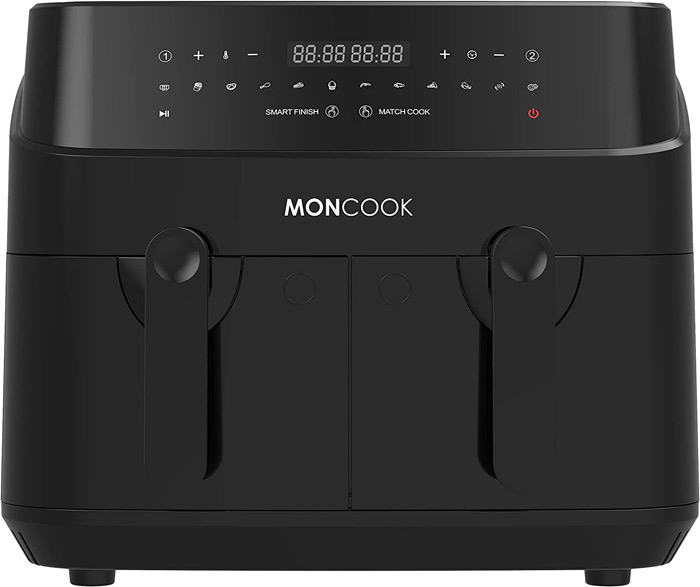 The biggest issue with air fryers is that most just don't have the space to cook all of the delicious meals you want at once.
A lot of manufacturers are paying attention to this problem, creating products like the Tefal ActiFry (found further up the list) and this Double Fryer from Moncook.
First things first, the double cooking feature, is genuinely impressive. Twin 4.5-litre cooking zones, (that's 9 litres of cooking space, enough for 2 x 6 portions of food, easily feeding a whole family.) Each cooking space can be set up independently, with synchronised cooking times so that everything comes out together, piping hot and ready to serve.
A reasonably powerful 1750 cooking element handles food prep, and the fryer itself, despite having so much internal space, only has a footprint of just over 1.5 square feet. The smart features aren't the best, being pretty simple, without too many cooking options (only 12 total) but on the upside, both the app and the built-in controls are simple to understand and easy to use.
All of this adds up to an air fryer that sits middle of the board for everything, except its cooking capacity. The Moncook doesn't excel at anything, but it doesn't need to. It knows what it does; which is cook tons of food quickly and easily, and it does it incredibly well.
---
Biochef Multi Oven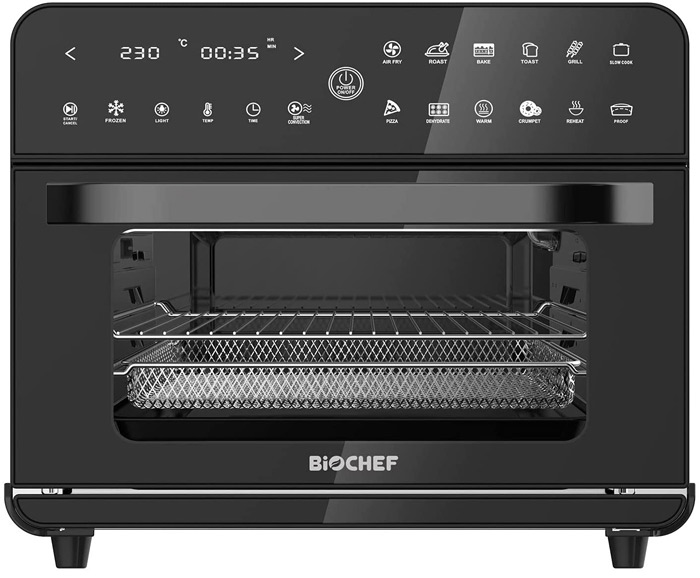 The largest air fryer on the list by a huge margin, the Biochef multi-oven has a massive internal capacity of 25 litres, around 4 times bigger than most commercially available home fryers, meaning this is designed specifically for times when you have to feed a big family, or need that size for something like a working kitchen.
But that comes with a price. Size. The Biochef takes up a big chunk of real estate on any kitchen side and weighs in at a hefty 26lbs. But with that comes the ability to set multiple trays inside at a variety of different heights, and cook from 12 presets with the powerful 1800W cooking element. The Biochef multi-oven, as the name suggests, also isn't just an air fryer. It also doubles up as a conventional counter-top convection oven and can be used to quickly defrost and reheat meals, too.
The control panel is sleek and impressive, a large touchpanel that runs across the top of the fryer oven, all of which can also be accessed through the smart app on your devices. In terms of clean up, the internals is all non-stick easy clean, and everything that fits inside is dishwasher safe.
While it's probably slightly too big for some families, the Biochef multi oven offers things that most air fryers don't, and if you need a fryer that can also step in and take some of the slack off your cooker, or add another cooking option for the holidays, it's absolutely perfect.
---
Tefal EasyFry Precision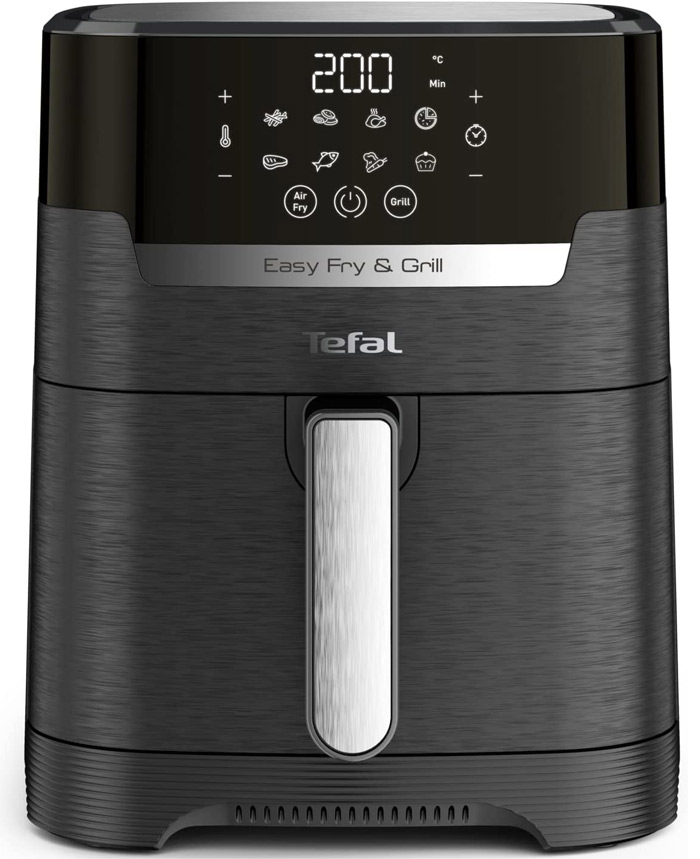 Tiny, simple, and easy to use, the second Tefal fryer on our list knows what it's aiming for, and that's to be a fryer that's perfect for couples, students, and anyone else who regularly cooks for one or two people, and is looking to try out an air fryer without a heavy investment.
It's tiny, just about fitting into a cubic foot, but still manages to have 5.5 litres of cooking space stuffed somewhere inside. The controls, working through Tefal's app or the faultless LED touch screen, are incredibly simple to use, with hundreds of recipes available at your fingertips, so you're never going to run out of ideas.
1700 watts of cooking power and Tefal's rapid air circulation makes sure that the end result is always going to be crispy and delicious, and clean up is a breeze, as all of the working parts are aluminium or Teflon, as well as dishwasher safe.
Given a choice, we'd probably still lean towards COSORI's fryer at number one for overall performance, or Tefal's ActiFry Genius for larger families if you love the brand, but if there's definitely space on the market for small and simple appliances, and the Precision fits snugly right into that gap.
---
What is an air fryer, and how do they work?
The name 'Air Fryer' is shorthand for small, plug-in appliances designed to cook food that comes out looking and tasting surprisingly similar to deep-fried food, without any of the mess or preparation that is normally required.
When you break down how an air fryer works, it's actually very similar to a counter-top convection oven, but with one key difference.
Air fryers contain a heating element, a powerful fan, and a frying basket similar to a deep fat fryer. To use an air fryer, you place the food to be cooked inside the basket, add a small amount of cooking oil to the reservoir (normally around a tablespoon, or 15 to 25mL,) and switch it on.
The fans circulate the hot air and oil around inside the fryer, resulting in food that's evenly cooked, crispy, and can both look and taste very similar to the food that's been deep fat fried.
You can use an air fryer to cook foods like:
Chips, baked potatoes and sweet potatoes
Air fried veg like broccoli, sprouts and green beans
Scampi and fried fish
Meat, like chicken, steak, even really crispy bacon
Desserts like cookies, cakes and cinnamon rolls
Tofu
Are air fryers really much healthier than traditional deep fat fryers?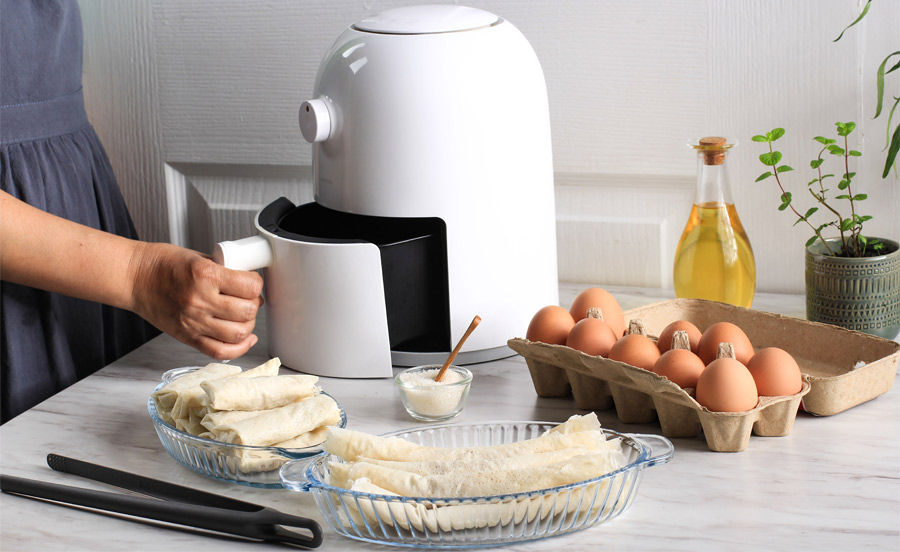 Short answer; yes, air fryers are significantly healthier than deep fat fryers.
The longer answer is that yes, air fryers are much healthier because the method used to cook the food is different, but the end result of the food is also different.
In a deep fat fryer, the food is cooked by submerging it entirely in the oil. This means that the finish is incredibly crispy, but that the food soaks up a lot of the oil used in cooking, and tends to have an extremely high-fat content.
In an air fryer, a small amount of oil is added to the fryer itself. Then hot air is circulated hot around the fryer as the food is cooked. This is the best of both worlds. The cooking process works similarly to a traditional oven, but the circulated oil adds a level of crispiness without soaking into the food, meaning that the end result is so much healthier.
On top of this, air fryers both heat up and cool down quicker, meaning that there's no real prep time (you can have a pre-heated air fryer in two or three minutes) as well as having much less smell, keeping your kitchen much fresher and cleaner.
When it comes to the food that comes out of your air fryer, is it an exact match to deep-fried food?
Well, no. But it will be incredibly crispy and tasty. Air fryers are fantastic for battered foods like scampi and breaded chicken, great for meat, and excellent for tasty chips that are that much crisper than oven cooking.
Things to look for when buying your air fryer
Capacity
The average capacity of an air fryer is around two pounds of food (800g,) with a capacity by volume of 5 to 6 cubic litres.
That's enough for four portions of chips, meaning that a standard air fryer will be able to fry enough for a standard family. Fryers smaller than this are ideal for two-person families, or someone looking to cook solo healthy meals. Bigger fryers with more than double this capacity are available, but take up a lot more room and have a commensurate price tag increase.
As always, buy depending on who you're cooking for and how often you expect to use it.
Size and space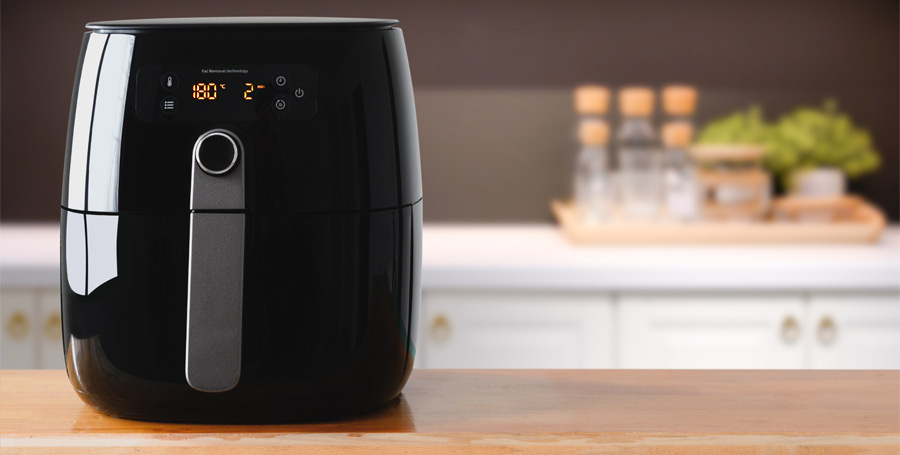 Bigger fryers with bigger capacities are going to take up more space, and most air fryers are large enough that they're better with a single home, rather than stored and brought out when needed.
When buying, check the footprint and height of the fryer, to make sure that it's going to fit on your countertop. And if you are going to keep it in a cupboard, check the dimensions a second time.
Controls
Any good smart fryer is going to have a suite of simple to understand controls., which normally take the form of quick-start buttons for different types of food, as well as temperature and time controls.
Where a lot of smart fryers differ is how in-depth those controls are. Can you program them?Just how many preset options are there? Are the manual controls physical or digital (some smart fryers still use a radial timer dial, like your grandmother's cooker.)
Now is also a good time to mention smart features. How does the app work? How much control does the app give you over the fryer itself? How much information does the app provide on the cooking process?
All of this is important, as your smart air fryer is something that you're probably going to want to set up and go, so you can carry on with the rest of meal prep. And the simpler it can make things for you, the better.
Cleaning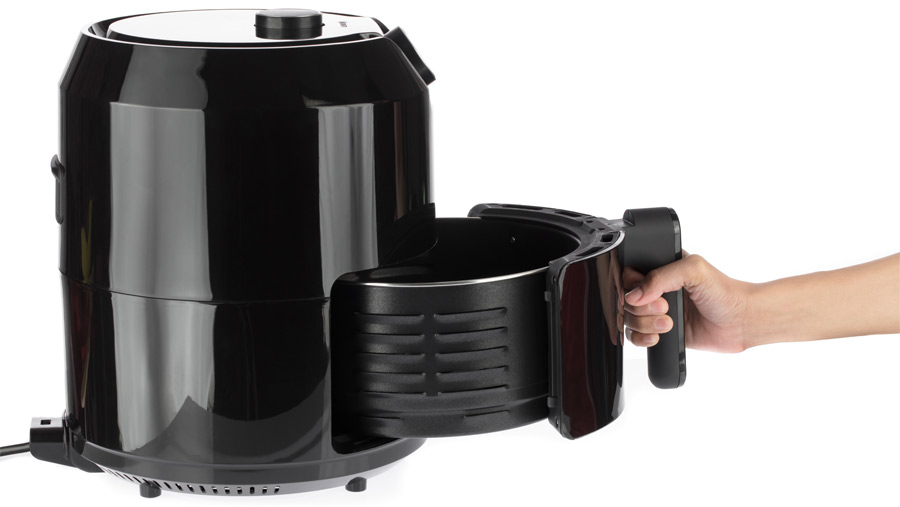 Like any cooking appliance that uses oil, an air fryer needs regular cleaning to keep it working well and to make sure that the cooked food tastes good.
Many air fryers will be dishwasher safe, and most fryers will also come apart into large, easily cleanable sections that make clean up much simpler.
For best results, give your air fryer a quick wipe down after use, and a deep clean every few weeks.
A stirring paddle
A few fryers come with stirring paddles that move the food around the fryer as it's cooking.
The idea is that this should save you from having to turn the food around and makes sure that it cooks evenly, but in practice, it's not something that often works well.
It's a difficult balance. Either the paddle misses some of the food, or it stirs with enough force to damage what you're cooking. Most air fryers with a built-in paddle can have it removed if you're cooking more delicate foods, but in our opinion, it's simpler just to take out the basket halfway through and give it a good shake.
A rotating basket
Instead of having a rotating internal paddle, some fryers rotate the entire bowl instead. This causes the food to move inside the bowl and helps to ensure an even finish.
This is a good method to end up with tasty, crispy food, but is complicated, and tends to make a fryer a lot more expensive.
Digital vs manual timers
All smart air fryers should have a digital timer. In fact, one of the biggest signs that an air fryer can't link to your smart devices is an old-school, analogue style physical timer.
On top of this, digital timers are significantly better than manual timers. They're easier to set and adjust, make it easier to see from across a room, and simply much more precise.
Temperature controls
Some fryers will have a range of adjustable operating temperatures. While in theory, this sounds good, often it's unnecessary.
A lot of fryers operate at the temperature that they cook best at, which means that extra settings and variance in temperature are just unnecessary.
For fryers that have multiple cooking options, most will have easy to understand menus that let you select the food that you're cooking, and let the fryer do the rest.
Smart controls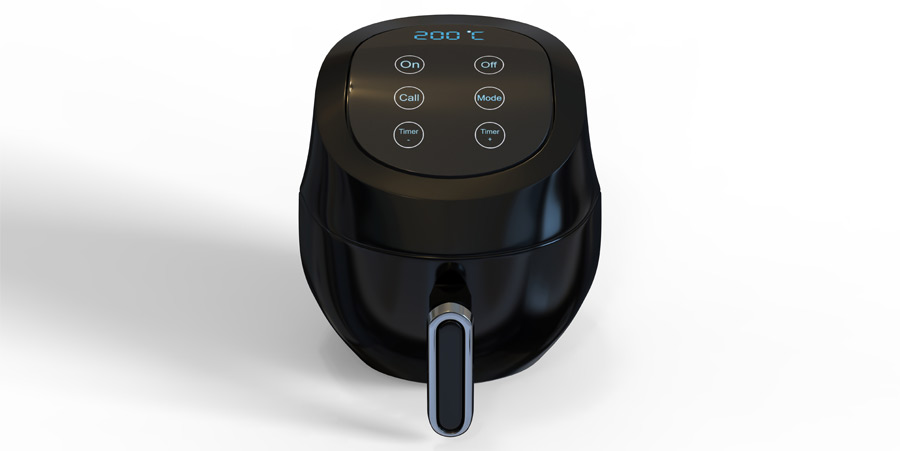 Every fryer in this list comes with smart integration. This lets you set the internal timer, start and stop cooking from your phone or device, as well as see how the cooking is coming along from anywhere in the home
This makes it so much simpler to control your cooking, monitoring your fryer from across the kitchen, and time the food's finishing time down to the second.
Two cooking compartments
Larger, more expensive air fryers sometimes have the option of a second cooking area. This lets you cook two things at once without either of them bleeding flavours into the other meal.
For most families, this is overkill, and a dual compartment fryer tends to be much bigger and more expensive, so we'd only recommend looking for this if it's something you know you need.
How much do you need to spend on an air fryer?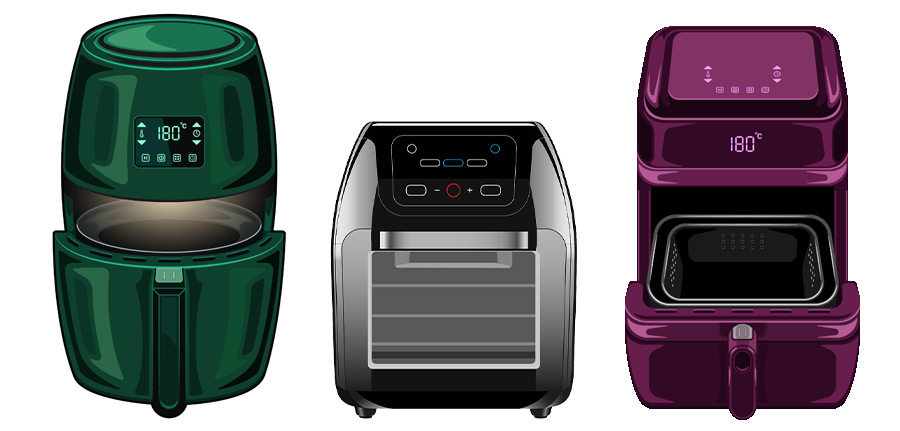 Like most appliances, there is a huge range of air fryers out there, and you could possibly pick up an air fryer for as little as around £60. But in our experience, an air fryer is something that you should be spending a little more money on, because models that are slightly more expensive lean towards significantly better results.
Breaking £100 seems to be the benchmark. At this level, expect a good-sized fryer with a powerful heating element that leads to tastier, crisper food, and a comprehensive range of smart technology built-in.