As the days draw in and nights bring chills, it becomes much harder to spend quality time outside with your family and friends.
But this is a problem that's easily solved with a decent outdoor heater. Widely used in pubs, restaurants and for outdoor events, a good one will basically eliminate the cold and make your experience a lot more comfortable. In this review, we're looking at one of the popular commercially available heaters, Bu-Ko's full-sized outdoor gas-fuelled heater. This product caught our eye with some of the reviews it was getting on places like Amazon, so we thought we'd give it a look.
What is the Bu-Ko Outdoor Patio Gas heater?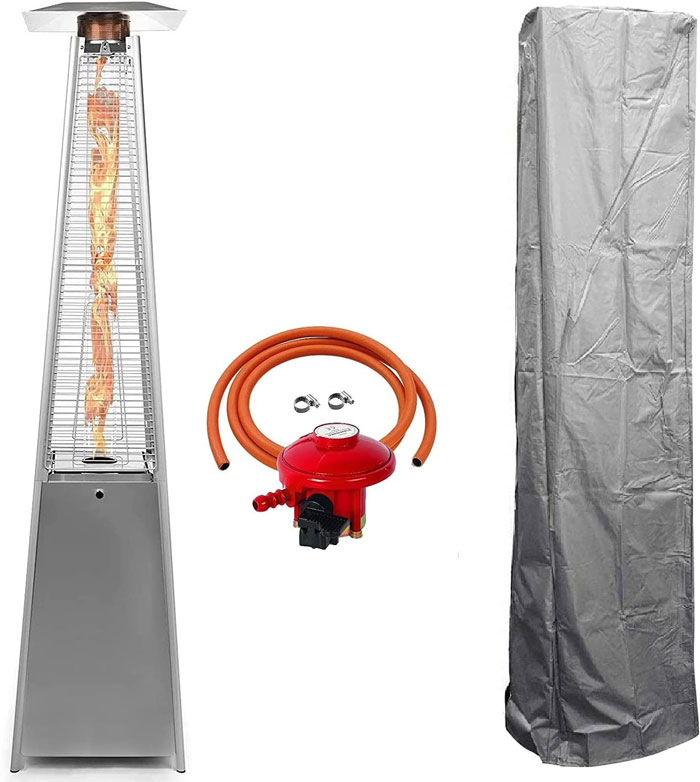 Designed as a full-size standing patio heater, Bu-Ko's outdoor model is perfect for cooler nights, and fully capable of providing enough warmth for a whole group of family and friends on a larger patio.
Made from a combination of stainless steel and aluminium, the look is stylish and modern. Over 7 feet high and just under 2ft square at the base, it takes up a decent chunk of room, but you'll grow to appreciate that on long nights when the 13,000W (44,400BTU) of heat output keeps everyone around it toasty warm.
If you're new to the world of gas heaters, and the idea of setting one of these up freaks you out, I don't blame you. But it's actually less scary to get set up than you might think.  For starters, everything arrives incredibly well packed and assembly follows an easy to understand, step by step assembly video. (No awful poor English manuals here!)
As long as you've got the fuel, you can have this baby up and running in less than an hour.
As it's designed for outside use, the treated metal exterior is weather resistant. Waterproof, cold-resistant and almost proof against salt air, corrosion and salt water, it's entirely safe to use by the coast or in areas that see a lot of rain, though we would recommend either a cover or storing this away if it's not going to be used for several days.
Everything is fully CE certified, and there's a safety cut off that automatically shuts down the flame if the unit is tilted, for example, if you're moving it using the built-in transport wheels, or in the case of someone knocking it.
Finally, support is exceptional, with a 2 year residential and 1-year standard warranty, as well as a comprehensive library of replacement parts and on-call technicians that can have you up and running fast, no waiting 6 weeks for shoddy Chinese parts!
How does the Bu-Ko Outdoor Heater work?
Like many outdoor heaters, this heater by Bu-Ko runs on propane.
You link a bottle of propane to the heater, which can be safely stored in the space underneath the heater itself. The process of connecting a propane bottle takes a minute or two. You can get these bottles in any hardware stores and some supermarkets, as well as larger garages.
To use it, you simply turn the fuel valve on, switch the control dial to pilot, and ignite the heater. It's as simple as that.
How big an area will the Bu-Ko heater keep warm?
This is a difficult question to answer, as it's always subjective, and based heavily on the weather, wind chill, the position of the area in relation to wind blocks, and other variables.
However, as a good rule of thumb, the Bu-Ko, with its powerful 13,000-watt heating element, will comfortably keep an area of around 500 square feet warm under normal conditions. It should keep a small party warm on even the more frosty of UK evenings.
Are there any safety aspects to worry about with a propane heater?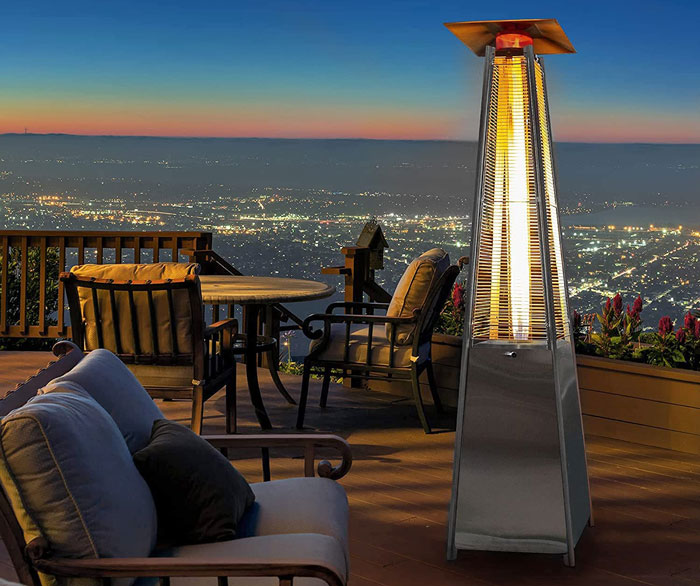 Yes. There are a few things that you should consider before buying a heater like this.
Firstly, at 29kg, these heaters are large and dense. While the solid construction is stable, and won't rock or fall under normal circumstances, people or pets knocking into it could cause it to fall.
Secondly, as it runs on propane, there are risks involved both in the handling of the propane bottle and in making sure that your heater is in a place with adequate ventilation, as the burning process produces carbon monoxide and other toxic fumes.
Always use your heater in an open, well-ventilated area.
It's worth mentioning that while this heater is weather and water-resistant, it's still a good idea to cover it when it's not in use.
Always cover your heater with a waterproof cover, or move it somewhere out of direct weather when it is not being used.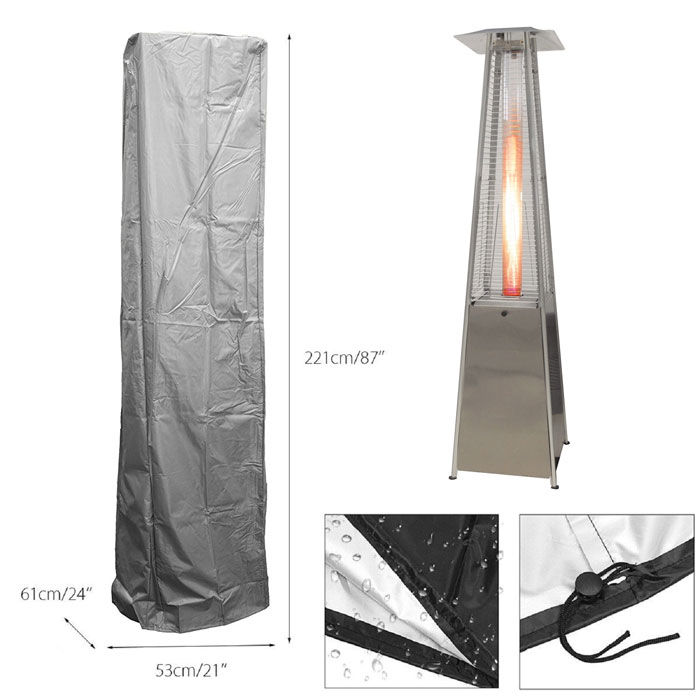 Finally, your heater's frame will get hot as part of its use, and the area directly above and below the flame will also see a significant amount of heat.
Always be aware of what is around your heater and how hot it is in use.
For some reason, it comes with a Bluetooth speaker
Finally, we come to a downside. The heater includes a set of Bluetooth speakers, which are integrated into the body of the device.
So why is this a downside? Because, while the speakers are fine, they're obviously not the highest quality, so it almost feels like a gimmick to include them, and in our opinion, they were just an unnecessary addition.
If you don't already have a set of Bluetooth speakers, then it's all well and good, but if you want a decent sound system for your patio, go out and buy something dedicated. Most people will likely already have a device or smart speaker they want to use for this purpose. Not a major down side to this product but don't expect top-of-the-line audio from this addition either.
Verdict: Should you buy the Bu-Ko heater?
If you're looking for an attractive, impressively designed outdoor heater for a medium to large-sized patio or decking, for barbecues or nights outside, then the Bu-Ko outdoor heaters combination of reasonable price point, solid feature list and great build quality offers a whole lot, especially compared to the competition, and comes highly recommended.
It looks good, is ideal for chilly UK nights and means you can get outdoors whether it's Summer, Autumn or the depths of Winter. This is a really good value for money heater and a great overall product.
Highly recommended