The working environment has shifted radically over the past few years, with so many more people switching to home offices.
But the health damage that comes from spending the day sitting down in your home office is massive. Negatives include joint issues, heart health, calorie burn and more. It's no wonder that companies around the world are switching to more active working environments, and for home offices, sales of smart standing desks are skyrocketing.
What is a 'smart desk'?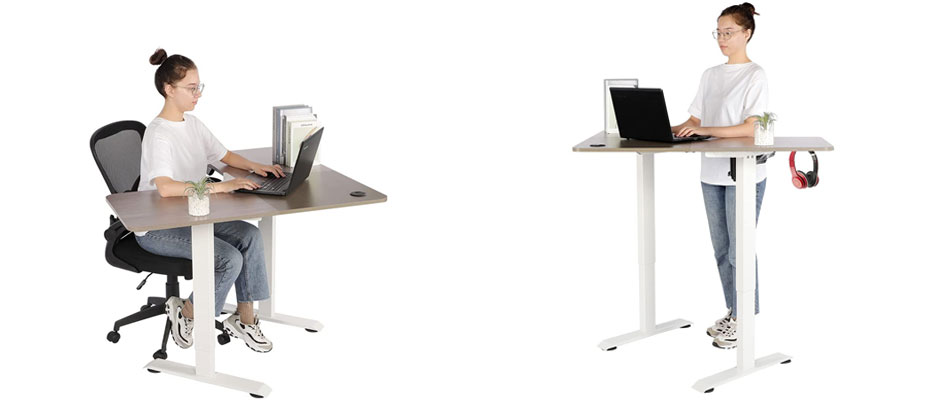 Smart desks encompass two things: built-in technology, and the ability to switch between sitting and standing modes.
Powered standing mode
As we've already mentioned, one of the biggest draws in a smart desk is the ability to switch between a standard sitting desk and a desk that's the perfect height to be used while standing.
Every desk on our list switches between both modes at the touch of a button. Inbuilt motors drive the entire desk upwards or downwards, generally within a range of heights that are suitable for most people, no matter how short or tall.
Built-in technology
The 'smart' in smart desk. Extra tech is an easy sell. Your average office desk has so much technology in, on and around it now, and smart desks simply take some of the load off, by having it built-in.
Expect to see things like cable caddies, USB ports, built-in plugs, wireless charging, storage options and more, making it much easier to organise your office and saving you space and money.
---
What are the best smart desks for your office?
Purus Life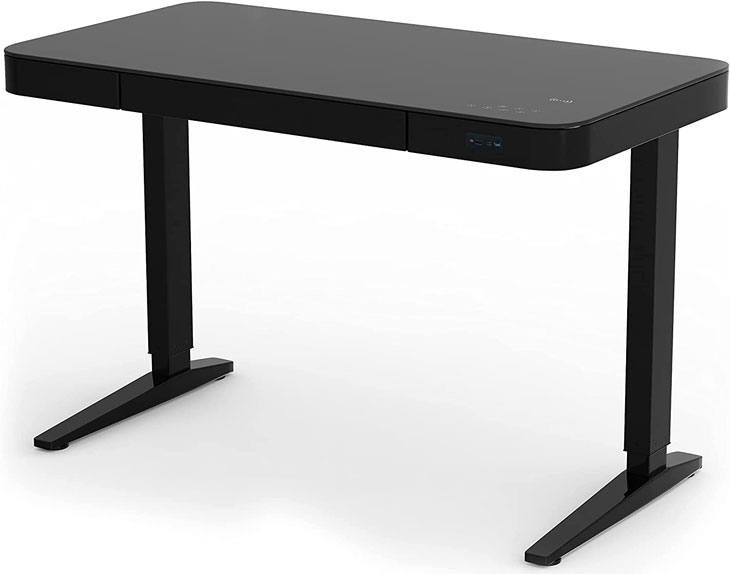 Sleek and gorgeous, with its glossy glass surface and slim lines, our top pick looks like something that would be produced by a Big American Smartphone Company.
But it doesn't just look good. Smart features are responsive, simple to understand and easy to use. Firstly, heights can be adjusted from 73 to 119cm, switching smoothly and easily at the touch of a button. Dual motors power the shift, with four savable, presets and a simple, one-touch 'height restore' button that returns the desk to the last known height.
The build is impressive throughout. It simply looks gorgeous, coming in the choice of black and white, and topped with a big slab of waterproof tempered glass. Controls are built directly into the body of the desk, as well as USB ports and wireless phone charging, a touch which we genuinely love.
The desk itself is 120 by 60cm wide and holds an impressive 120kg of weight. It also goes together in around 15 minutes, saving you time and effort when you order.
All in all, this smart desk simply has everything you could want when looking for the best. Good looks, simple to use, well made and well priced. There's a reason it's number one on the list. We love it.
---
Flexispot EG8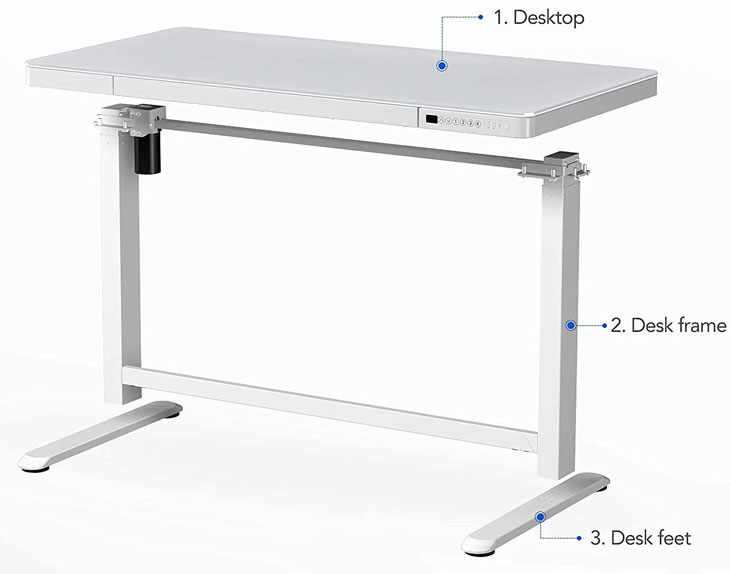 Well made, well built and incredibly safe, the EG8 by Flexispot is an impressively thoughtful model that stands out, paradoxically, in the little things it does well.
As a desk, it's solid and dependable. Made from maple topped with tempered glass, the frame is strong and tough enough to make it through the rigours of the day, and holds up to 115kg without wobble or other issues. The surface area is sized at standard desks 120 by 60cm, with heights adjustable from 72cm up to 121cm, suitable for people up to around 6'6.
But it's the small touches that are nicest, here. Controls are arranged on the front face at the right-hand side, a small set of little buttons that are simple to understand, right next to three USB ports (1 type C and two types A). In the centre of the desk is a big, sleek drawer that slides out easily, and is big enough to take a laptop.
When you walk away, you can lock the desk down using the built-in child-lock, and unlike a lot of smart desks, the EG8 has sensors on the leg motors that auto-stop everything if it finds an obstruction. It also assembles in literally 5 minutes out of the box, which is a lovely touch.
---
Vocheer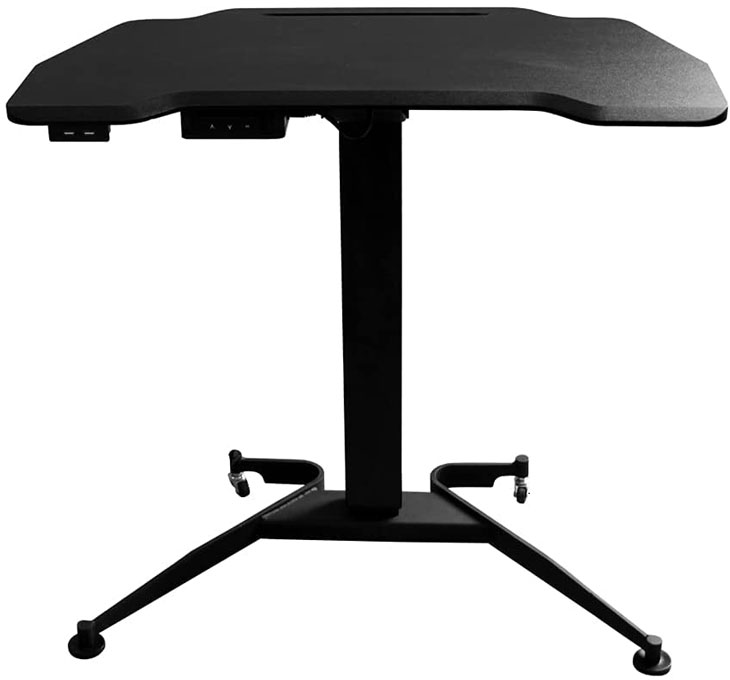 Small and unique among most smart desks, and most desks in general, this cute little number is single-legged, taking up a lot less space than other desks, making it ideal for smaller offices, the corner of existing living spaces, or a desk that's not going to be used every single day.
Height adjustments are a little lower than other models, shifting from the standard desk height of 73cm, up to 105cm, in around 15 seconds. This is suitable for a lot of people, but anyone over 6ft might struggle using it for longer periods.
Despite being a single leg design, the desk is stable, with a big, wide footing, and a maximum weight of 80kg. Four pre-installed height settings, as well as bespoke, can be set with the simple controls, and the left-hand underside has twin USB ports.
While we wouldn't recommend this as the main desk, if you're looking at a mobile addition for a home office, you work from your living room, or you need a secondary standing desk, this is a fantastic addition to any workspace, living area or small office.
---
Hadwin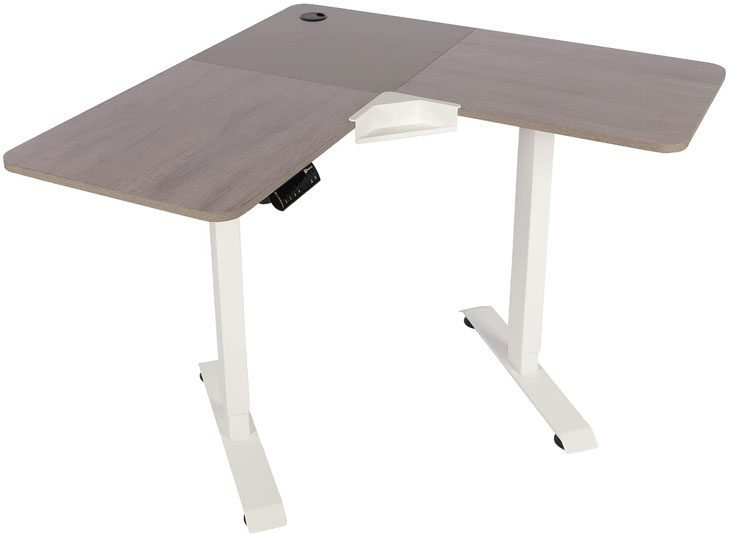 Almost unique amongst smart desks, this desk by Hadwin is a large, wide L that slots straight into the corner of a room, and gives you a lot more working space over most normal desks out there.
The 18mm MDF topside is 110cm by 110cm, which works out at around 25% more usable room, compared to a normal rectangular model. Heights can be adjusted from 76 to 115cm, shifting completely in a little over half a minute at the touch of a button.
Controls are simple, with up and down buttons supported by 4 height presets. USB slots are conspicuous in their absence, but in their place, you can find a cable organiser, and front and under desk storage space. Maximum weight is also on the low side, at 70kg, but as long as you're not sitting on the desk, you should be fine.
All of this adds up to a relatively budget desk that's easy to consider. Is it the best smart desk on the list? No. But is it a solid product that will slot into most home offices without issue?
Absolutely yes.
---
Vonhaus Desk Converter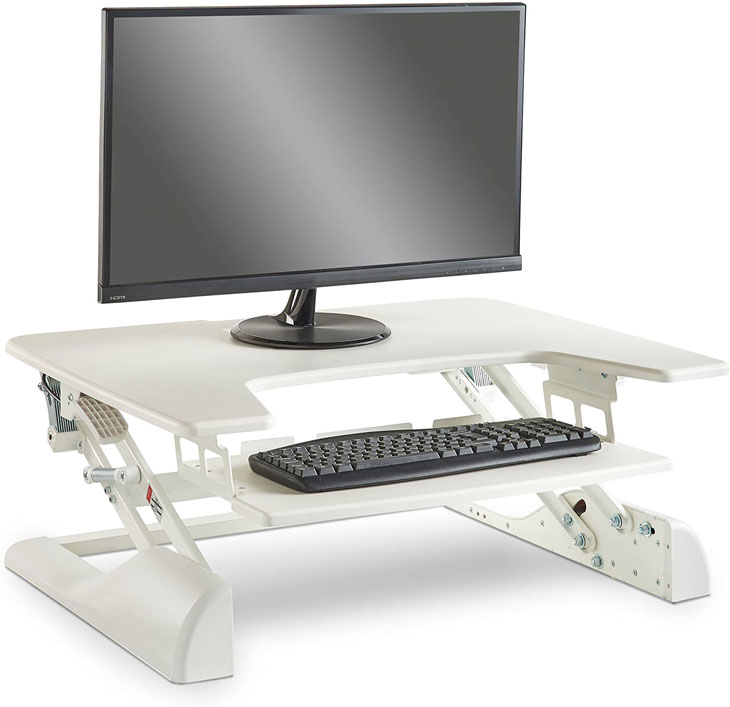 So what do you do if you already have a desk that you love, but want the benefits of a standing smart desk?
Simple. You buy a standing desk conversion kit. Designed to sit on top of an existing desk, this standing desk converter shifts from 16 to 48cm elevation at the touch of a button.
61cm wide and 40cm deep, there's enough room on the 2 tier design for an entire working set up here, and the steel frame can hold a surprisingly impressive 20kg of weight. It's also all backed up by a 2-year warranty, in case something goes wrong with the drive system.
While you're not getting any of the smart benefits with a set-up like this, there's a lot to love here, and it's the simplest way to shift your workspace to a standing set-up, cheaply and easily.
---
What are the benefits of a smart desk
Adjustable height, health and fitness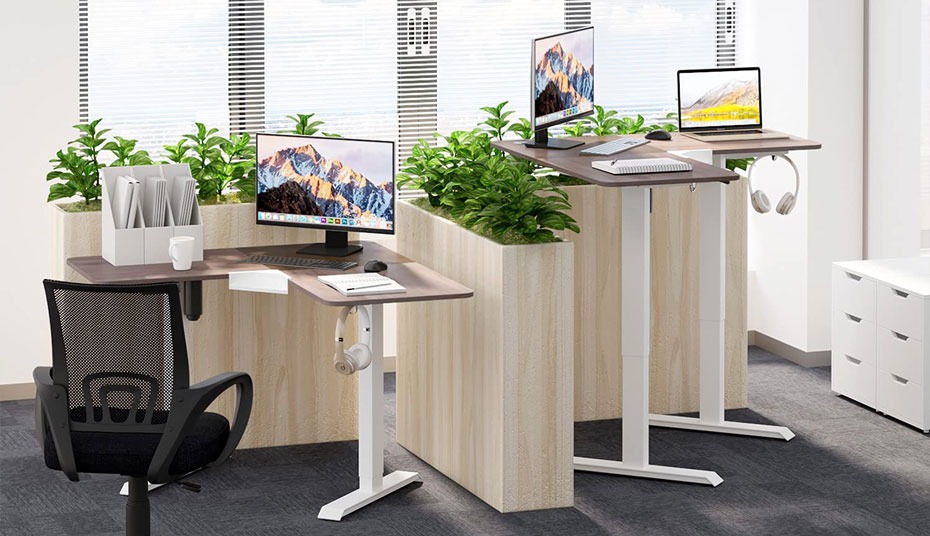 As we've already discussed, sitting down all day ravages your body, causing a whole list of problems, including:
Obesity
High blood pressure
Higher body fat
Higher cholesterol
Risk of heart disease
Joint problems
Other degenerative problems
The risks of sitting down all day can actually equal the damage done by smoking, so anything you can do to undo this is huge.
But simply standing for an hour or two per day could be held to reduce blood sugar levels, decrease back pain, lower your risk of heart disease, reduce stress and more.
Productivity
While it's true that smart desks have no direct impact on productivity, because there's no reason that just standing up makes you a better worker, all of the subsidiary benefits add up to a smarter, better working environment.
Imagine burning through the mid-day slump with no issues, not aching after long hours sitting in your office chair, having better focus, and overall better mood? How much would that impact your working day?
Looks and style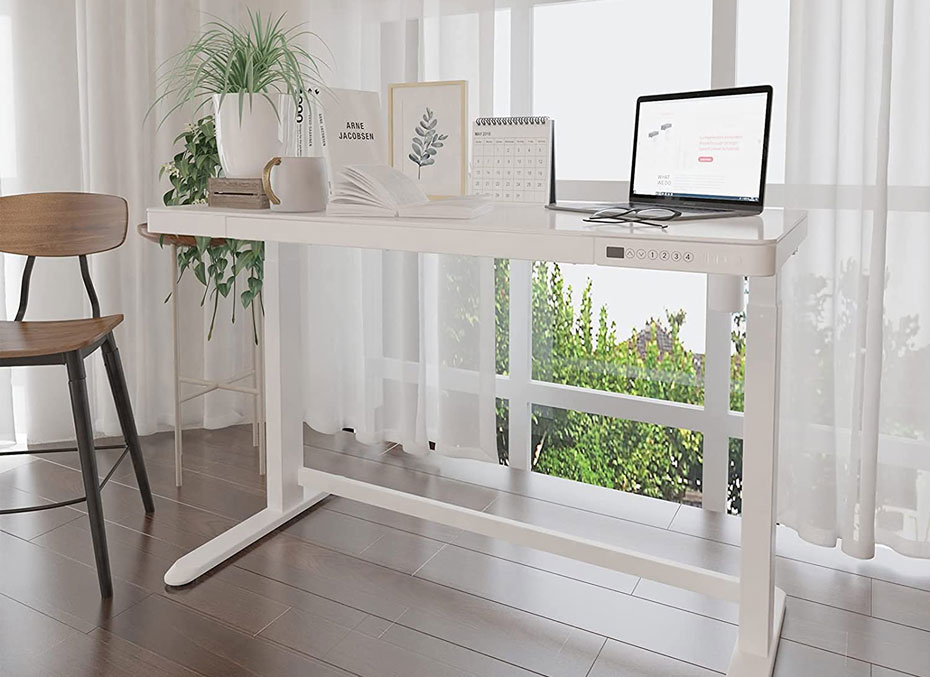 A stylish, aesthetic working environment has been linked to a whole bunch of benefits, and there's no denying that most smart desks look cool.
Whether it's a sleek metal and glass look, classic wood or something else, sitting or standing in front of a desk that you're proud of can be hugely motivating.
A smart desk can also neatly slot into your workflow, whether that's several big, heavy screens, gaming set up, walking treadmills underneath, and more.
Put simply, no matter what your office looks like. No matter your working day. A smart desk is always a smart buy.