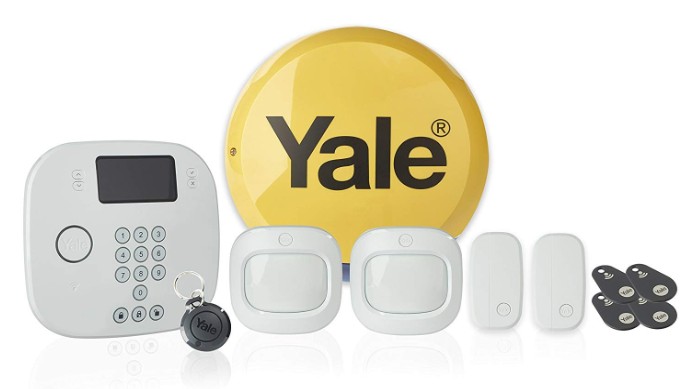 One of the security systems we were most impressed with in our run down of the UK's best batch of current smart alarms was Yale's smart living series. In this Yale Sync Alarm Review we'll be going over everything you need to know about the Yale Sync burglar alarm – the good and the bad. And finding out if this DIY wireless system is up to the job of protecting your home.
What a 'Yale Sync' Alarm?
This is a smart home security product that you buy and install yourself. Like any good smart alarm, it's a DIY system that doesn't require a tradesman to install. The Sync connects into your home's Wifi and is then controlled in-app on your phone, tablet or even smart watches like the Apple Watch.
The Yale smart alarm combines different parts you'll be familiar with if you've ever had an alarm, and brings it up to date by letting you access it all with your smart phone.
This alarm system is modular. It has a main 'hub' which you connect other components to, such as door sensors and motion detectors. The alarm is available in a number of different kits. Each offering the hub and a selection of sensors for the alarm.
Yale IA-310 – the starter kit
Yale IA-320
Yale IA-330
Yale IA-340
This is a good way to do it because it means you don't have to fork out a wad of cash for a huge system and can buy extra sensors and bits when you need them.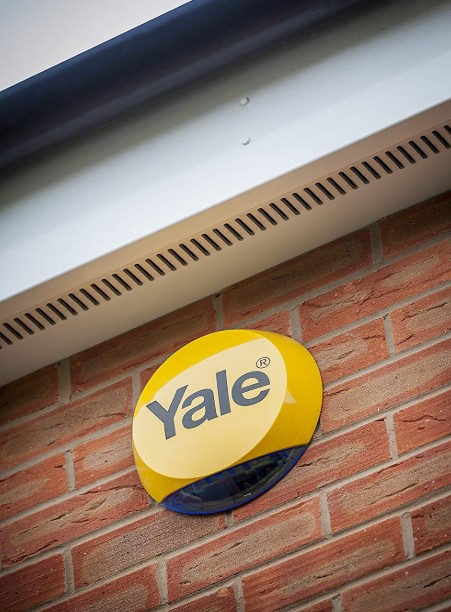 Is Yale's alarm actually easy to install?
In this review, we'll cover what's involved in setting up the Sync. You might be amazing at installing things in your home, or DIY in general. Or, you might suck at it, like me. One of the good things about the new breed of smart home systems is they don't require a DIY expert to set up. Because it uses your home WiFi to connect and sync to the other devices in the alarm there's no wires or other complex hardware to install.
How do you set up the Yale smart hub?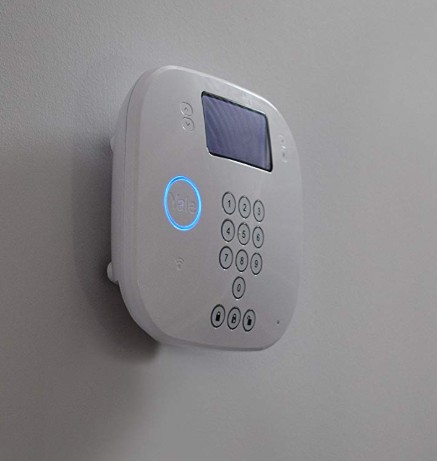 The Yale smart hub is easy get up and running. Anyone should be able to do these 3 steps pretty quickly:
Find a spare socket near your router
Plug smart hub into a spare power outlet
Connect the family hub into your router with the supplied cable
The hub actually connects direct to your router. This id one of the few 'wired' bits and it means you smart alarm will be immune from Wifi problems. A direct connection to your router makes for a much easier life. We've got a full guide on smart home routers here, if you want to upgrade from the standard ones ISPs send out. But the router you have in your home will be compatible with the Yale Sync smart alarm.
What makes the IA-320 and it's siblings SMART?
If the Yale iA-320 is your first smart alarm, you might be wondering why it's different or better than the alarm system that your home might already have, or the ones you've had installed in the past. The 'smart' bit is what's different. The Yale Sync alarm is different to traditional alarms in the following ways:
You control it using an app on your smart phone
It can interact with other smart devices like lights, smart locks and smart plugs
You can set it all up yourself (without calling out a trades person)
You can expand and add bits to it easily
It can track where you are using geo location
You can check your home is safe, when on holiday
Now that's clever: One cool thing the Yale Sync alarm does is send you a message when you leave the property, but have forgotten to put the alarm on. It does this using geolocation to see when you (well, the device you're with) has left the home.
Security sensors and add-ons for the Yale alarm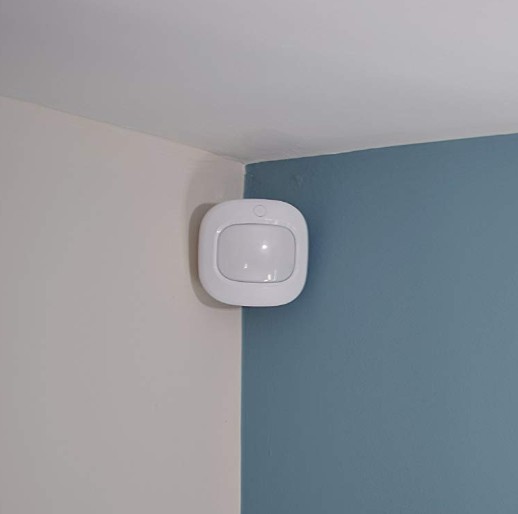 The smart 'Hub' – this is the central part that connects every other bit together and also links to your phone and home Internet. You can't do anything without this component. It also emits the alarm.
Movement detector – Pretty straight forward. It's the good old fashioned Infra Red motion detector you'll see in pretty much any home in the UK.
PIR camera – This is a regular single frame camera that will take pictures. There's also a PIR video camera for the Yale Sync, which will record video in the same way. You can connect up to 6 photo / video devices to one smart hub.
A keypad – This is a simple physical way to enable and disable the alarm. Again, something that most people will be familiar with. It's optional because there's a lot of different ways to arm and disarm the Yale smart alarm.
Yale smart door lock – This connects your front door into your smart security system and lets you remotely open, lock the door. You can do a lot of other cool stuff iwth this as well, like checking whether you HAVE actually locked the door. Check out our smart door lock guide for more info.
Door contacts (Can be used on windows too) – these can detect if a door or window is opened (when the 2 halves of the devices move a certain distance apart, they trigger the house alarm)
Smoke detectors – good to have everything on one system so it's easier to keep track of, in our book!
Panic button – A simple (large red) button that will directly trigger the alarm. Just keep out of the way of the little ones.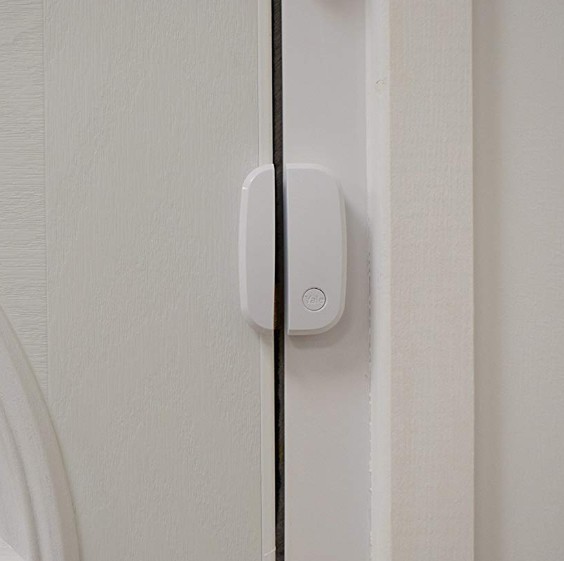 Two quick facts about Yale's security sensors
#1 You can actually connect 40 security devices into the Yale alarm kit
That's a whole lot of home security. While most people won't need quite that many, it's good there's plenty of growing space if you want to add at least a few more sensors over time.
#2 – You have a 200m range to play with
As long as sensors are placed within a 200m distance from the Yale Smart hub, they'll work perfectly fine. Unless you've got an absolutely massive property, this should do the job, allowing you to protect sheds, tool cupboards and every other part of your property.
Is smart phone integration any good on the Yale Sync?
Controlling the alarm with your phone is straight forward
Ever had one of those alarms you get fitted and you need some kind of degree to be able to understand even the basics? Where you're kind of terrified to press the wrong button? We've had some monster alarms over the years that fit this description.
Yale's alarm is one of the more straight-forward smart security systems we've seen. Once you've got it setup, you control it remotely with your smart phone, using the free downloadable app. It's on the major app stores and is simple to use.
The interface is very straight forward with things like a big slide you run your thumb over to lock the door. All very visual and non-nerdy. There's blissfully little text, with nice big images and buttons. The overall interface is clean, paired back and as 'friendly' as a security app could be really.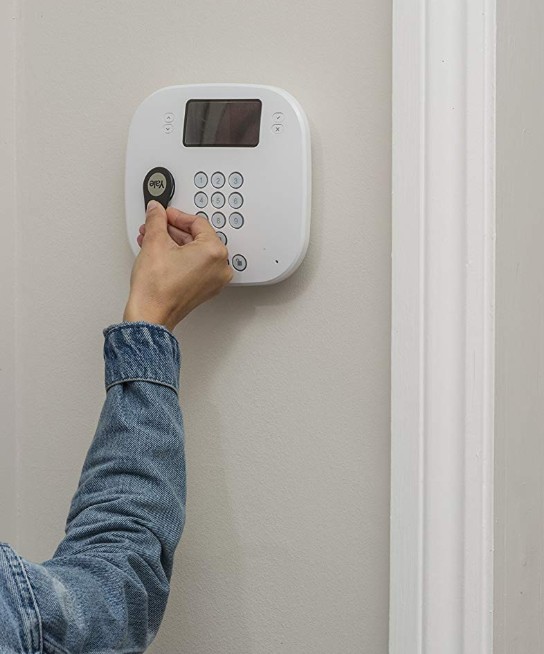 Major tasks you can perform with your smart phone
Love control? Who doesn't? Once you've got the app setup and the hardware is plugged in and talking to your home router, there's a number of basics you get control over.
Arming/Disarming the alarm – It's so refreshing to just press a button and then be able to see that it's worked.
Look at images – from the smart cameras attached to the system (images are kept for 30 days, and don't take up space on your phone – which is great)
Allow access to someone – prefect for letting in cleaners
Lock & unlock your front door – depending on if you have the Yale lock installed
Controlling the smart alarm with your voice
The Yale Sync alarm can be controlled with your voice, using one of the voice assistants on a smart speaker. The ones this alarm is compatible with are:
Amazon's Alexa (Echo / Echo Dot / Sonos speakers)
Google Assistant (Google Home / Google Home Mini)
You'll be able to give a number of voice commands like:
"Alexa, Arm My Alarm"
3 Awesome ways to Expand your Yale Alarm Even Further
One of the best things with smart home tech is getting different devices to work together. And the Yale alarm has a number of handy extra ways it can keep your home safe.
Combining it with the Yale smart door lock. This is an obvious pairing that you might want to look into setting up. This alarm will work in tandem with the door lock to automatically disarm your home, or arm it, when you unlock the door. The Yale smart lock lets you do all kinds of clever stuff too, like locking the door automatically when you leave the house.
Use it in conjunction with Philips Hue – The Hue system is a brilliant system to combine all your home's smart lights into one and control it with the Philips smart hub. While it's not cheap, it's worth it if you're planning on going all out on your smart lighting. It also works with the Yale Sync alarm but triggering RED flashing lights when the alarm is activated.
Use it with smart plugs to fool burglars – Ever have one of those awful timer things for when you go on holiday? Well Yale's smart alarm means you'll never have to try and figure out those 24 hour dials again. It works with any smart plugs to turn lamps and other lights on and off when you're away. If it could just open and close the curtains too, we'd be really happy.
Fully armed, part armed and mind that pooch!
Something that's possible with smart tech and the Yale alarm is being able to easily part-arm your home. You can arm all rooms or pick ones where the alarm will be turned off. This is handy if you're going to bed and have a separate room where your dog sleeps. You can also get pet-friendly PIR sensors, so they won't trigger the alarm even if that room is armed.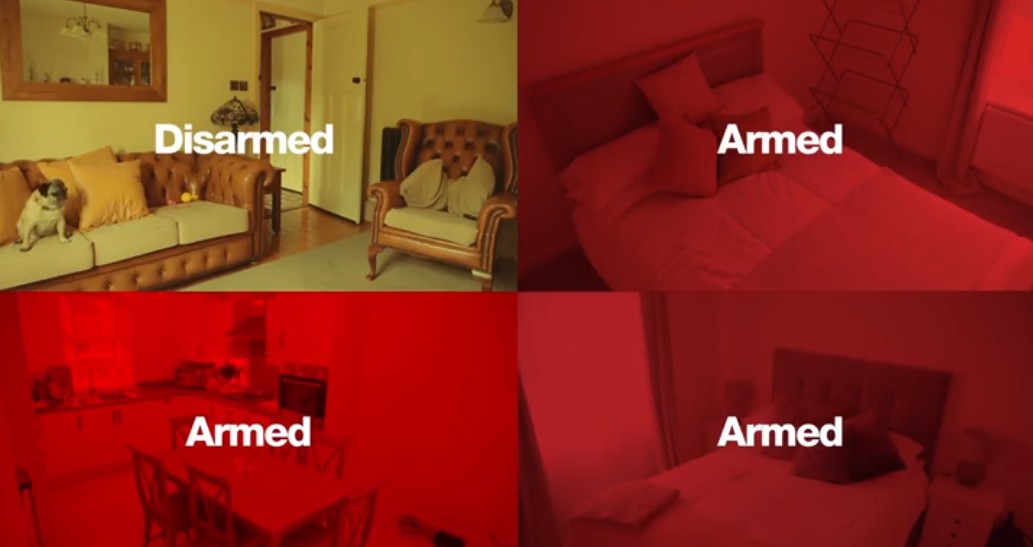 Check Current Amazon UK Price
References, resources and further reading
Builders SA have a brilliant overview of Yales security system in here.