Keys have been a part of our lives for thousands of years but when you think about it, they're a bit of a pain. Going for a run and risking dropping your front door key, losing keys and having to get copies, and having to leave keys under plant pots so people can get in. They have their drawbacks! Thankfully we've got lovely new smart door entry systems we can use in 2021 and they make life a lot easier.
Top Pick
Quick version: the #1 smart door lock in 2021 is the Yale Smart Living Lock. It's secure, easy to use and is well designed to work with your other smart home devices. Check it out on Amazon
This guide is an introduction to the world of app enabled door locks and will give you everything you need to know to get started and choose the perfect app based door lock for your smart home.
What's the UK's Best smart door entry systems in 2020?
Choosing a smart lock for your front door is serious business. What can be more important than protecting your home and your family? Thankfully our handy little guide here will take you through some of the best app enabled door lock systems you can buy in 2021. There's also a buyer's guide below to get you up to speed on the things you should be looking out for when buying a new smart door entry system for your home.
The top recommended video baby monitor with app products we recommend are:
Yale YD-01-CON Keyless Smart Door Lock
WE.LOCK L6SBR Electronic Door Lock
PINEWORLD Touchscreen Fingerprint Smart Lock
Nuki Combo – electronic lock
Ultraloq UL3 Keyless Smart Door Lock
ZKTeco Electronic Smart Lock
#1 – Yale YD-01-CON Keyless Smart Door Lock
This is one of the best smart door entry systems to go for, especially if you have a regular old timber door you're looking to retro-fit with a smart lock. Yale obviously know their stuff when it comes to locks but the cool thing with this one is that it's been designed to be easy to fit.
There's simple instructions and videos that will guide you through the process. Once fitted you can open and lock the door with your smartphone and the bank level encryption means even very smart burglars won't stand a chance of getting in. You also get a number of key-less ways to get in including smart phone, key codes or using your smart phone.
The Ring WiFi Floodlight combines a camera and two strong flood lights
This smart door lock features:
4 methods of entry – key card, key tag, phone tag and smart phone app
Built in tamper alarm
Touch panel control
Connects to the rest of your smart home
Suitable for wooden doors with 60mm
---
#2 – WE.LOCK L6SBR Electronic Door Lock
Another really smart way to allow access to your home or office is with a thumb print scanner lock. Just put your thumb on the little scanner and after a welcoming BEEP! You can turn the handle and get access. This smart door entry system is completely waterproof and also works with and smart phone.
There's all kinds of clever stuff it can do too – like allowing and revoking entry to a large number of different users. While it sounds like something off a Bond movie (and is a lot of fun to use) this is actually a very practical smart lock that works exactly as it states.
This smart door lock features:
Finger print scanner
Opening via Smartphone
3-minute assembly
Share access via the app
Completely waterproof
---
 #3 – Pineworld Touchscreen Fingerprint Smart Lock
If you want a really practical lock that just does what it's meant to then definitely give Pineworld's touchscreen smart door lock a look! This smart door entry system offers 5 ways to get access to any building or office including an easy to use finger print scanner and key code access.
As well as opening the lock with your smart phone, you can also get detailed stats on who has used the door, as well as grant or revoke access quickly and easily.
This smart door lock features:
Auto-locks after the door is used
Fingerprint, smartphone, card and key access
100 user access at a time
Detailed access logs
Economical with battery usage
---
 #4 – Nuki Combo – electronic lock
Another product that's definitely worth your time is the Nuki smart door lock. This lock has a super futuristic modern look to it and is packed with smart features to make life a bit easier. One of the best being it's auto-lock and unlock features. If the Nuki lock recognizes a nearby smart phone, it will unlock the door completely hands free.
There's lots of other handy stuff all available via the Nuki app, like being able to check if the kids are home, or allowing remote access to your cleaner. The Nuki can be retro-fitted to the majority of doors and is a great smart door entry system for any home.
This smart door lock features:
Open the door remotely with your smart phone
Detect when known smart phones are near and open the door
See when family members are home
Create individual access easily
Retro fit to existing doors
---
 #5 – Ultraloq UL3 Keyless Smart Door Lock
You won't need your keys again with the Ultraloq UL3 smart home lock. There's 5 ways to access your property with this lock, including fingerprint scanner and key code access. The app can be downloaded to Apple and Android devices and offers complete control over the lock as well as simple, easy opening.
This smart door lock features:
Five ways to access your property
Finger print scanner
Touch pad entry
View entry logs with the app
Full smartphone access
---
 #6 – ZKTeco Electronic Smart Lock
If you just need a really good smart lock for an interior door then one of the better ones on the market in 2021 is this one from ZKTeco. Turn your room, apartment or office door into a sophisticated entry system with this robust smart lock. It offers 3 ways to enter – smart phone, blue tooth and also a thumb scanner. A brilliant lock for any inside door!
This smart door lock features:
Detailed log of who has entered
Low battery warning
Ideal for interior doors
Fingerprint / bluetooth / smart phone
Set entry schedules
---
What can smart door locks do for you?
First up, how do smart door entry systems work?
There's pretty hefty range of smart home front door locks on the market out there in 2021 and although they all operate slightly differently they have a lot of things in common to. Basically you order a new 'lock' which will come with everything you'll need to fit the lock.
While this might sound like a nightmare to do, fitting a smart lock is sometimes a matter of removing the handle and fitting the new smart version. But there's many different kinds and this does vary. But they will all require a hardware change to the handle or lock on your door. If you don't feel confident, most locksmiths will be happy to fit your new smart lock for a small fee.
How does entry work with smart front door locks?
So once you've got your shiny new smart lock fitted, how do you actually access your home? Depending on which lock you get (more on the best ones to get in a moment…) you'll have a number of really awesome ways to both lock and unlock your home.
Keyfob
Key pad – type a code in
Smart phone stickers or 'tags' – tiny stickers that the lock detects
Proximity locks – that will detect when you leave and lock / unlock accordingly
Smartphone apps – just press a button on an app to lock or unlock
Twist your phone 90 degrees to open
Benefits of having a smart door entry system
If you're thinking that having a smart lock on your home, perhaps one that can be opened with a smart phone, might be a gimmick then let me try and convince you that they can save you time and make life a bit easier. Aside from the geeky appeal of using your phone or voice to get into your home, here's some practical reasons you might want a smart door entry system:
Make it impossible for burglars to pick the lock
Never worry about losing your keys again
Check your door is locked from any location
Get notifications whenever someone locks or unlocks your door
Create temporary virtual keys for cleaners or workers
Give the kids an easy, key-less way to get in
Have your door unlock without even touching it
How secure are modern smart locks
Modern home smart lock systems are not gimmicks or gadgets. As long as you get a reputable make you can count on your lock being a very safe and secure way to lock your home. In fact, many of them use the same encryption that banks use. While lock picking is not possible with smart locks, how secure the software is just as important. And secure coding or 'encryption' takes care of this.
What brands should you look out for?
New locks with old tricks! You'll recognize many of the brands that make smart door entry systems that are available. We'll get to the best smart lock products in just a moment but some worthy mentions in the 'best smart lock brands' category you should look out for are:
Yale – some brilliant smart door locks in their range
Nuki – Simple, secure and very stylish smart locks
Pineworld – Make some fab, extremely slick smart door locks
QUICK TIP – When fitting your smart lock, always leave the back door open, or other point of entry. It's pretty easy to accidentally lock yourself out of your home while installing a smart locking system! 
Another popular form of door security that's pretty easy to install is with video doorbells, like the Accfly Doorbell, or Pybbo Video Doorbell.
Smart door entry system Buyer's Guide
Retro-fitting your smart lock
Although smart door locking uses the latest smart technology, they can be fitted onto pretty much any door, even older ones. The process involves removal of the old lock from the door and adding the newer smart lock. If you're even just OK with DIY you might want to try this for yourself. Smart locks will work with both composite and old fashioned locks too. Here's a video showing how easy it is to fit the Yale keyless lock.
TIP: Before starting installation, make a note as to whether your existing key turns left or right in the door lock. You'll need this later in the install process.
Battery backup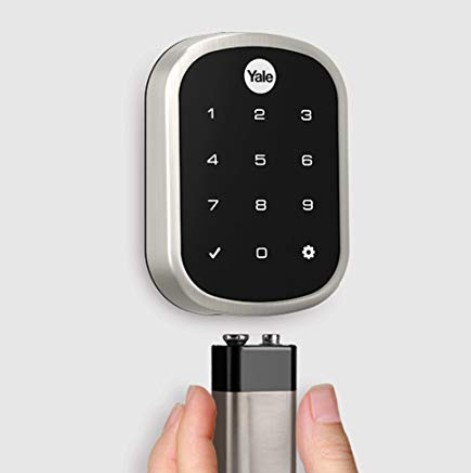 What happens if you've got a smart lock and you're on holiday but come back and the battery has been depleted. Are you locked out if you have a smart door lock? The answer is YES! When the battery runs down on a smart door lock, it doesn't just pop open but of course will stay locked. To unlock it, you'll need a 9v battery in most cases and then you'll be able to access the door in the normal, smart way.
Using your smart door entry system with Alexa
If you love your Alexa like I do, its probably worth choosing a smart door lock that will work with your Amazon smart speaker. Many modern smart locks do work with Alexa and you'll be able to do things like lock the door and check that it's locked just by using your voice. Very handy!
Different kinds of entry
The different smart lock products on the market often have more than one way to access your property. The common ones are:
Key cards
Access codes
Smart phone access
Thumb print scanners
It's really up to you to decide which one will work best for your home, or office, and what the people using it will have the best experience with.
Number of users
While not a big concern for families, if you're looking for the best smart door entry system for an office, then you'll want to check how many different users the smart lock can allow at a time. Also check how easy it is to manage those users and track who has used the door to get access to your property.
Installation – a quick tip
Planning to fit your front door smart lock yourself? It's a good way to save money and the majority of locks are pretty straight forward to fit. One of the best things you can do is to head over to Youtube once you've got your smart lock and check out some of the installation videos. Just search for your lock name and installation and there should be a few videos you can follow to make things even easier.
Lock and auto unlock
One super-handy feature that you'll enjoy on a smart lock system is something called 'auto lock' (or unlock!) This function detects when known smart phones are near and auto unlocks the door. This feature will probably be a standard on every smart home one day as it's just so useful when you've got your hands full and don't have a spare hand to open the lock. Check if your new front door smart lock has this awesome function.
Let me know in the comments down below how your smart home is coming along. Did you use any of these security products? Which smart door entry system are you using that you think our readers will love?