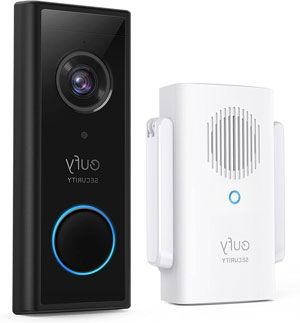 Amazon. Uber Eats. Doordash. Grocery shopping. With more services offering the convenience that home delivery brings, and even more people working from home, our doors are seeing more use than they ever have before.
But this convenience comes at a cost. Security. It can be unnerving having all these people walking onto your property, knocking on your door and realising no one is at home, or dropping packages in secluded areas.
That's why so many people take the simple and inexpensive, but effective step of installing a video-enabled doorbell. And one brand, and one model, in particular, keeps being mentioned over and over again.
So what is Eufy's Wireless Security Doorbell?
As the name suggests, you Eufy's wireless security video doorbell in place of the normal doorbell on your property. When someone rings the bell, or as they approach your door, the doorbell pings a linked device, letting you know that a person is there.
Using your phone or smart home device, you can see who's coming through the built-in HD camera, speak to them directly with two-way communication, or send a pre-recorded message at the touch of a button for delivery instructions.
Eufy's motto is 'smart homes simplified,' and their wireless doorbell kits stick close to this philosophy. Especially when compared to some of the other wireless security doorbell kits on the market and major brands like the Ring and Nest, the intent here is clear.
Simplicity and ease of use, at minimum cost to you, the user.
It's important to bear that in mind as we go through the review and break down exactly what the Eufy is, what it offers, and why you might want to own this.
---
What do you get when you buy the Eufy Wireless Doorbell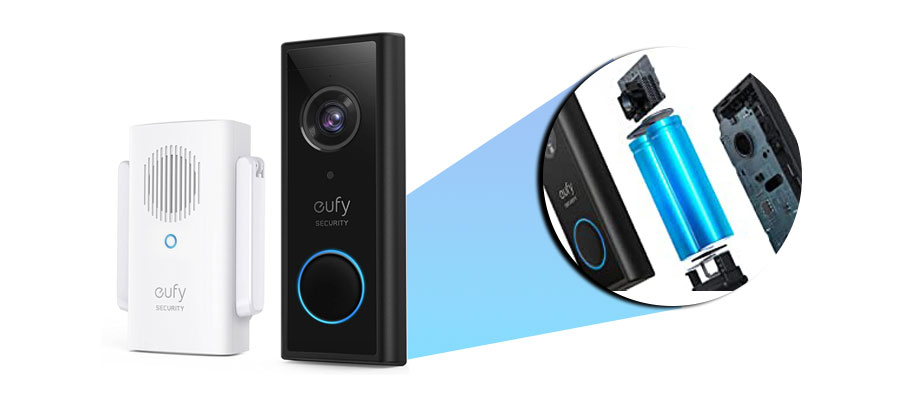 Eufy home security kits come as comprehensive packages. Included is literally everything you need to install and use the kit, besides basic tools.
The full kit includes:
Video doorbell device
Wireless Chime base
Mounting bracket and mounting wedge
Screw positioning card and screws
USB charging cable
Extension wires for wired connection
Doorbell detaching pin
16GB SD card
Quick start guide
How good is the design?
Once you've got it out of the box, the wireless doorbell itself is relatively nondescript, which is exactly what you're looking for. (No one wants subtle pieces of their home security system like this to stand out and be easily visible from the street. Cameras and alarm systems are another story.)
The entire doorbell is a single, self-contained unit in a sleek black case. Just under six inches long and a couple wide, it looks unobtrusive until you're close up, where it's easy to differentiate the top camera lens and bottom doorbell button. Besides those, the only thing breaking the lines of the case is the Eufy branding, dead centre.
That case is tough, impact-resistant plastic, which is IP65 waterproof and weather-resistant to temperatures between -20 and 50 degrees.
Also included and essential to the design is the Chime. This plugs into a wall socket, links your doorbell to your internet, as well as contains the memory card for data recording. It also works as a base extender, increasing the range of your Wi-Fi and making sure that you don't get signal drops when it's most important.
The camera and recording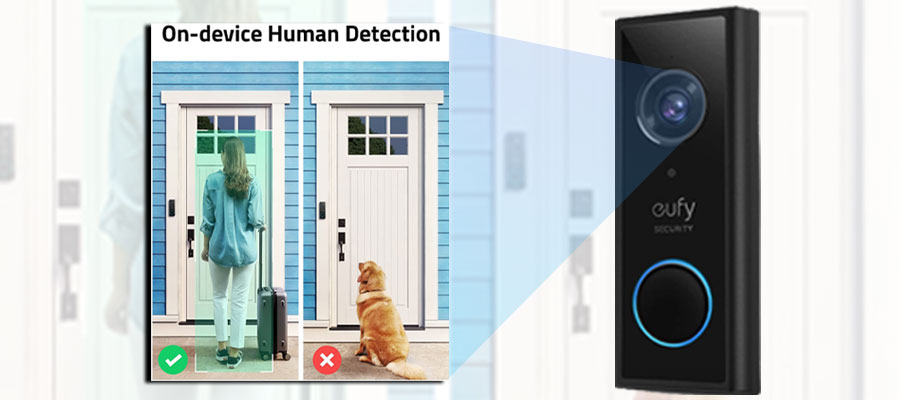 The camera quality is 2K fully high definition with crystal clear clarity, giving you a perfect view of whoever is on your doorstep. The aspect ratio is set to 4:3, offering a lot of vertical space so you get a full, head to toe view.
The camera is activated by a motion sensor, which comes equipped with enhanced human detection from the on-device AI. What this means is, if someone's dog runs up your drive, the camera will pick up on that and won't ping you, but if their owner follows, you'll know about it.
This is backed up with activity zones, which can be set from the app, which lets you draw out areas on the camera's view that it pays close attention to, and areas that are ignored, so you can exclude the pavement that runs past your house, and only focus on what matters.
There is no night vision, but that's standard for doorbell cams, as they're usually positioned in an area that's already covered by your external lights.
The recording is automatic to the internal SD card. A 16GB card comes with the kit, so you don't need to spend out more on further memory, and that card will give you an average of 90 days full recording, which is perfectly adequate.
Power can be handled in two ways. You can choose to wire the doorbell indirectly, which takes a little work but means this will run forever. The second option is the internal batteries, which supposedly last six months per charge, and need no extra wiring or electrical work. Considering one of the big draws of this device is how simple the set-up is, we'd definitely be leaning towards batteries.
Installation and use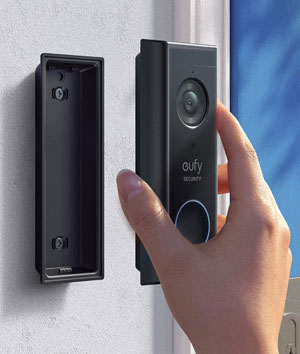 Once you've cracked open the box and removed everything, installation is incredibly simple.
The doorbell is designed to snap directly onto the included mounting bracket. The bracket itself is screwed to the wall with a pair of screws that are easy to position with the included screw guide. Once the bracket is up, the doorbell can be literally pushed into the mount, and locks securely into place, with the option to angle it if necessary using a dedicated wedge. (Which is also included.)
Once the doorbell is installed and you've plugged the Chime into a wall socket and turned everything on, you need to download Eufy's free Security App and create a profile. That done, create your account and follow the instructions, which will run you through linking your new device to your internet, with options for a direct Ethernet cable or wireless, as well as any devices you want to be linked to the network.
This is one of the big areas where Eufy's wireless video doorbell stands out. A lot of the competition lock some of their features behind a paywall, with a lot of the more advanced security options requiring a monthly fee.
Eufy doesn't ask for any of that. There are no monthly fees, no hidden costs. Once you've bought the kit, that's the only price you pay, and considering that a full subscription to the Google Nest currently costs upwards of £50 per year, that's a significant saving.
Usage and security
Once your doorbell cam is set up and running, whenever someone enters the monitored zone, it delivers an alert to your chosen device.
Smartphones will receive a standard alert, which will bring you into the app and live camera feed at the touch of a button. From here, you can watch what's going on, fire off a prerecorded message, or talk directly through the doorbell's mic to whoever's on your doorstep.
If you're home, Eufy's security systems are fully compatible with Amazon Alexa or Google Assistant and can be activated with voice commands. Alternatively, you can rely on the Chime to ping you when someone's at the door, with one of 8 different sounds.
All data is securely transmitted through 256-bit encryption, and all of your data is only ever stored on the Chime itself, inside your home.
Finally, the security video doorbell series integrates cleanly with the Eufy security ecosystem, which lets you run everything from a single app; the range of security products is surprisingly extensive, and only grows larger every year. This should take a huge amount of the guesswork and headaches out of setting up your home security and having to deal with devices from different manufacturers, which might not always play nice and require half a dozen different apps to monitor.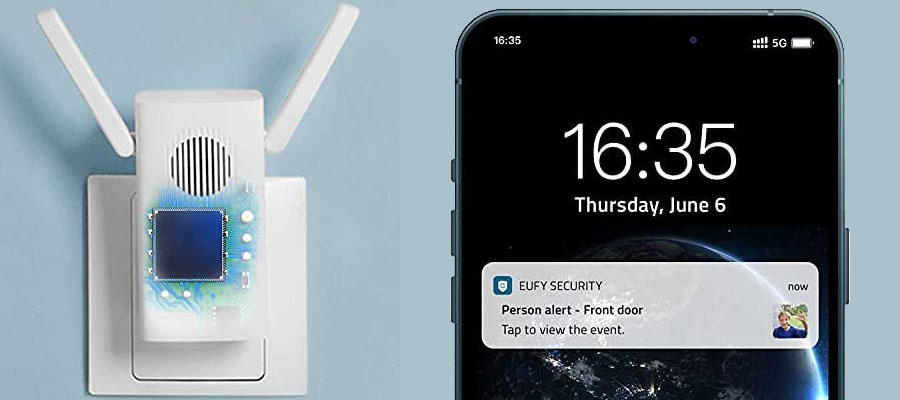 ---
Are there any downsides to the Eufy Security Wireless Video Doorbell?
The single biggest downside to this home security doorbell is also one of the benefits: the lack of subscription service.
This comes with a caveat, which is that this is only a downside if you want real-time monitoring of your home without your input. This is the biggest bonus of a security subscription, and if you're comfortable looking after your own home, then it's a non-entity.
There might also be occasional issues with initially linking the Chime to your Wi-Fi, and configuring activity zones so they don't pick up movement.
---
Final thoughts
It's hard not to love Eufy's wireless security doorbell. It does exactly what it promises, and that's precisely what most people trying to set up home security will be looking for.
The combination of installation that's absolute child's play, no monthly fees for security monitoring or extra features, and a great camera, make this a solid investment for any home, whether you're looking for something that will integrate with your existing smart features, or you're just getting started.
Factor in Eufy's full range giving lots of room for expansion, and the aggressively priced barrier to entry, and it's clear that Eufy is gunning for the top spot for home security in 2023. And if they keep putting out products as good as this one, they might just get there.
Full Features of the Eufy Video Doorbell
Resolution
2K Full HD
Field of view
155°
Audio
2-Way Audio Talk
Recording
Device SD card recording
Cloud storage
No
Battery
‎2 Lithium ion batteries required. (included)
Monitoring
Device button
Motion detection
Remote live view
Night Mode?
No
Smart Detection
Human Body and Face Detection
Power Source
‎Battery Powered