It's no secret that we're a fan of video doorbells here on SmartTechStuff. They keep your home safer, give you peace of mind and mean you know exactly who is at the door whenever the bell rings.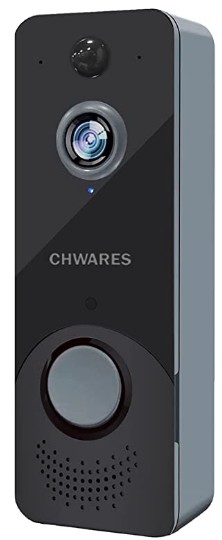 In this review, we're diving deep into the CHWares Video Doorbell.
Like the Cooau smart doorbell and the ieGeek video doorbell we reviewed, this is a lesser-known brand of doorbell that has the main selling point: a nice low price! It's currently around a quarter the price of something like the Ring Doorbell.
But can the (much) cheaper CHWares hold its own in the shadow of the well-known best seller? Let's find out how it did. We'll look at the good, the bad and the ugly!
What does this doorbell do?
This is a smart doorbell from a lesser-known company electronics company called CHWares. It works exactly like a regular doorbell but has several handy improvements!
The CHWares video doorbell is crammed with features, but the way it works is basically as follows. Someone presses the doorbell and you are immediately contacted on your mobile. (It also makes the traditional "ding dong!" thanks to a ringer you place in your home). You can then talk to the person at the door – for example tell a delivery driver to hang on, while you find your keys.
Primary uses of this doorbell
Answer the door without actually answering the door – safety!
Handle delivery drivers and avoid missing parcels
Track and record activity around the doorbell
Deter parcel theft
…and unwanted home entry via the front door
Get shot of cold callers without the awkward conversations
A quick rundown of this smart doorbell's features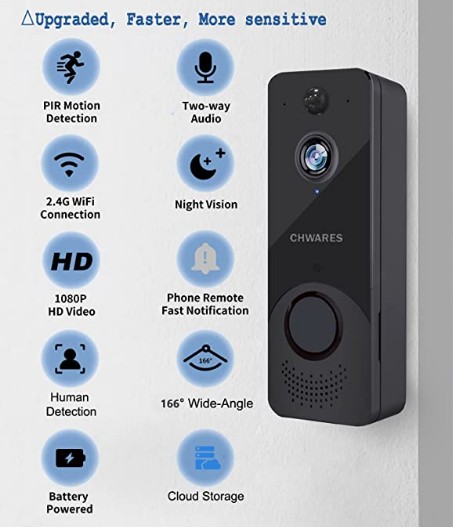 For a smart doorbell camera that costs around the £50 mark, the CHWares product has a good range of features that you might not expect at this price point.
1080p video – HD video quality.
Low power consumption – This doorbell is primarily operated with the included rechargeable batteries. (You don't need an extra charger as they can be charged in the doorbell).
Two-way audio – you can have a real-time conversation with whoever is at your door.
IR Night Vision – Another thing we always like to see on a smart doorbell! You'll be able to see who's at your door once it gets dark.
PIR detection – The CHWares doorbell has PIR motion detection. This detects anything moving around the doorbell. And will alert you, or make a recording of it.
Includes the ringer – Also known as the doorbell chime, this is the part you put inside your property so you can hear the doorbell ringing when you're at home.
166 degree viewing angle – This is the angle where you can see what's happening around the camera.
Free cloud storage – Videos can be stored on the cloud – a free service that stores your videos online. There are no sneaky costs involved in this either.
Things we liked about the CHWares Doorbell
It's really cheap
If you like the sound of having a video doorbell but don't like the hefty price that comes with it, then the CHWares might be for you. It's one of the cheaper WiFi video bells we've seen and, for the price, has a good set of features and actually works well. It's definitely not some cheap toy and will do the job.
It's easy to install
Set aside ten minutes or so for the installation. Our main tip would be to check it works, and check it's right for you – as much as you can – PRIOR to putting any holes in your front door. This video doorbell is easy to set up and you probably won't want to opt for the extra £120 installation.
It can be wired in (which isn't apparent from the information we've read on the CHWares) or you can simply use the included batteries.
It works perfectly as a video doorbell
The CHWares doorbell connects to your home WiFi and will let you know whenever anyone presses the doorbell or is just moving around outside, thanks to its motion sensor. As a way to talk to someone and see who is out there, it works extremely well.
The image quality is good and you can answer the door using your phone, even if you're at the gym, or on holiday. The free app is simple to use and it just works.
Cloud storage on a budget device?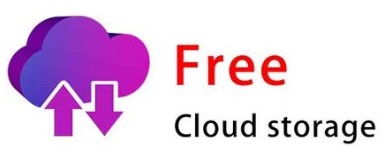 One nice surprise was that you get free cloud storage with the CHWares doorbell. Nice! There are no subscription fees to be paid.
It looks good and is robust
for a budget product, this is a pretty robust video doorbell. CHWares have done a good job on the aesthetics and it's in line with the modern batch of smart doorbells. It's not small, at around 5.5″ in length, and has a hefty look to it in the flesh. But you can't argue with it's design and for the price it's good.
Things we
don't like

about this Smart Doorbell
Ambiguous waterproofing
Having looked at the CHWares video doorbell and researched into it as well, it's still not clear just how waterproof it is. Our best guide would be to say it's apparently weather-proof but it's not clear what some serious prolonged exposure to the UK's wetter seasons might do to it.
Battery life could be better
Depending on how you set your PIR sensor and how much the doorbell has to do, you can expect somewhere in the region of 2 – 3 weeks battery life per charge. The batteries are charges using the included mains charger, so don't go out and buy an extra charger! The battery life on the CHWares smart doorbell is slightly disappointing, especially compared to the Cooau doorbell, which we reviewed earlier.
Recorded videos are limited to 8 seconds
The CHWares has one frustrating limitation when it comes to the length of the recorded movies. They're limited to 8 seconds, as fat as we could see. Let us know in the comments if you have this video doorbell and found a way around this, or if we've just missed something!
Conclusion – should you buy the CHWares doorbell?
There are pros and cons to the budget prices CHWares product.
It's definitely not a Ring doorbell beater, but who would expect it to be at this price point. If you're looking for a low-priced doorbell that gets the actual doorbell part right, then this is a good buy. Anyone looking for a high-quality doorbell might want to look at investing a bit more or waiting for a sale.
See more reviews on Amazon here
References, resources and further reading
Here's a quick video of how video doorbells like the CHWares and the Ring work:
If you want to find other ways to keep your home protected, apart from picking a good smart doorbell, then the police UK website is actually a good place to start.
As well as 9 ways you can make your home safer, thanks to Suzanne Raga over at mentalFloss.com