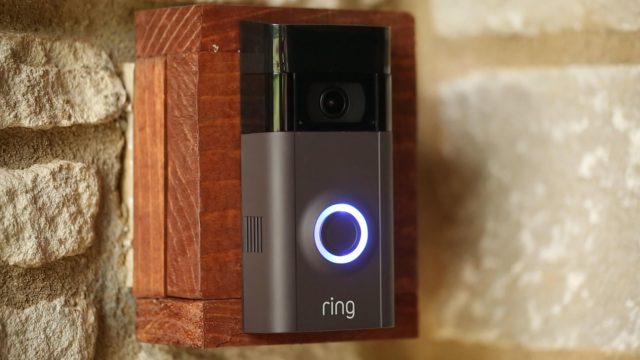 With burglaries in the UK up nearly 30% from last year, people are looking for new ways to protect their homes. But wireless doorbell cameras in the UK are being used for a lot more than that. How about the ability to say "no thanks" to cold callers without the awkwardness of answering the door to them?
And wouldn't it be great to keep an eye on your property when you're on holiday. These are just some of the cool things your new video doorbell can do for you. This guide will cover a lot of the questions you might have about these new wifi security gadgets and some of the better ones available to buy in the UK.
UK Guide to video doorbells
Video Doorbells – what are they?
There's a growing number of video doorbell products on the market today, but they all behave in a similar way. Focusing on the most common method of entry into a home for burglaries – your front door. A video doorbell sends live video direct to a device. You can view the feed on devices like:
Desktop PCs
Smart phones
Tablets like the iPad
As well as viewing who is at your door, most smart doorbells offer 2-way communication so that you can talk to whoever is at the door. The benefit to this is that you can still 'answer' the doorbell even if you're at work, away from the home, or even in a different country. The person at the door will have no idea you are not in the home.
There's a good video here (of the Ring Doorbell and some other similar products) that shows some of the cool things these video doorbells can do.
What can video doorbells do?
As well as being a cool gadget, these smart doorbells are designed to act as serious preventitive measures to deter burglars. There's a lot you can do, depending on which product you opt for.
Take pictures of whoever is at the door using your phone
View live footage of who is at the door
Talk to and hear who is there Record and save video or photos
Prevent break-ins
Send away cold callers
Instruct people delivering parcels where to leave them
What software do you need?
In order to use a smart doorbell you'll also need to connect your phone, tablet or computer to the device. This is done over the wifi you have in your home. You will need to install an app on your phone or tablet that will let it communicate with the doorbell. This is quick and easy to do. Just go to the Play Store or iOS store and search for:
product name app
And it should be the first one that shows up. Once this is installed, as long as you are either in a wifi hot spot, or have mobile internet on your device, you'll be able to connect to your video doorbell. They're generally designed to be easy to setup and use.
How do you power a smart doorbell?
Most smart seciurity door bells offer one of two methods to power the doorbell:
Use the built-in rechargeable battery
Connect it to the doorbell's power supply
The second option is the best one as you won't have to worry about it running out of power at the worst moment, and you will not have to constantly mess around taking it off to get at the battery.
Fixing the smart doorbell to your home
Your new smart doorbell will act as a replacement for your existing doorbell. Probably the trickiest part for most buyers will be getting the video doorbell attached to the front of their homes. There's really 3 parts to this process:
Removing the old doorbell
Connecting the two power wires to the bell so it has power
Affixing it securely to the door frame
Whichever doorbell you get, it will have a plate which needs to be secured to the wall or door frame. Once that's attached, you can feed the wires through and attach them to the back of the video doorbell. Although this is low current, it's still best to keep these wires apart.
If you're not too confident or anny of those steps sound daunting, a local eletrician should be able to install this cheaply for you.
There's a handy video here of someone installing the Ring 2 Doorbell (it's not UK but the model is the same).
What are the best UK video doorbells in 2019?
There's actually a number of really good video door bells up for sale in the UK. The main ones that people are buying at the moment, and the best reviewed ones you should certainyl look into are:
Ring Video Doorbell
Ring Video Doorbell 2
CURV Doorbell
NewPal Smart Home Doorbell
Uoon Wireless Doorbell
Cozy House Waterproof
DophiGo Smart Wireless
Yinxn Wireless Video Doorbell
#1 – Ring Video Doorbell
The Ring video doorbell is one of the more popular video doorbells available in the UK. Although there's now a more modern version, this one still has a lot to offer with HD video output and it's half the price of the newer models. The other really good thing about this system is that they'll replace it if it gets stolen.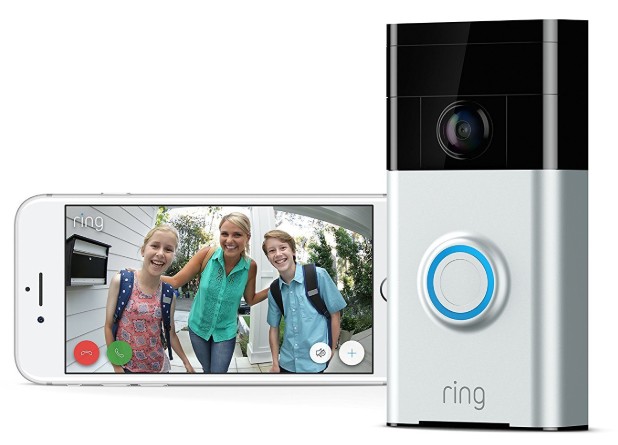 Quick look features
See, hear and speak to visitors
Motion detecter sends alerts when triggered
Infrared night vision
Check your property any time with on-demand video
Free replacement if stolen
---
#2 – Ring Video Doorbell 2
The second generation Ring Video Doorbell is more expensive than the first one but offers a full HD 1080p video output. Along with some other improvements in the way it processes video, the second Ring Doorbell has a much clearer, more fluid image quality than it's predecessor. There's also improvements to night vision, motion tracking and pretty much every aspect. It does the same job, but works better than the earlier model.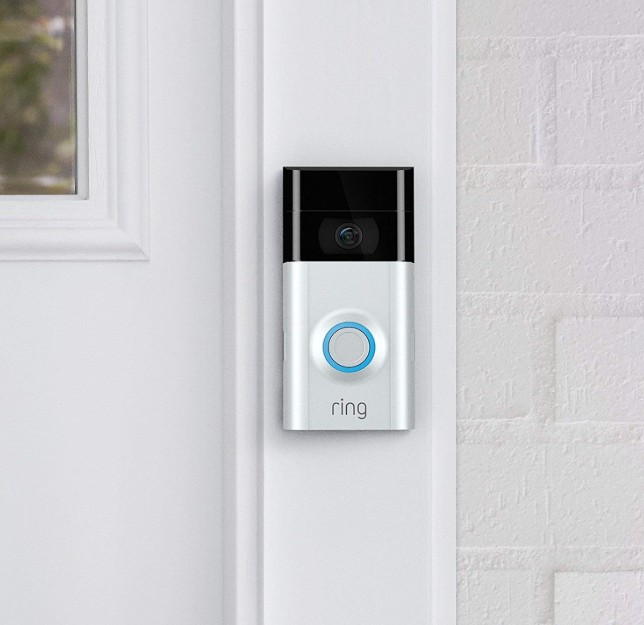 Quick look features
1080p video of whoever is at your door
Motion detecter sends alerts when triggered
Infrared night vision
Check your property any time with on-demand video
Free replacement if stolen
---
#3 – CURV Doorbell
The Curv video doorbell offers both wired and wireless installation and will alert your device when it detects someone at the door. Like any good smart doorbell, it activates upon pressing the button or simply when someone comes near it. It's a good bit cheaper than the Ring 2 and still offers 1080p HD video quality.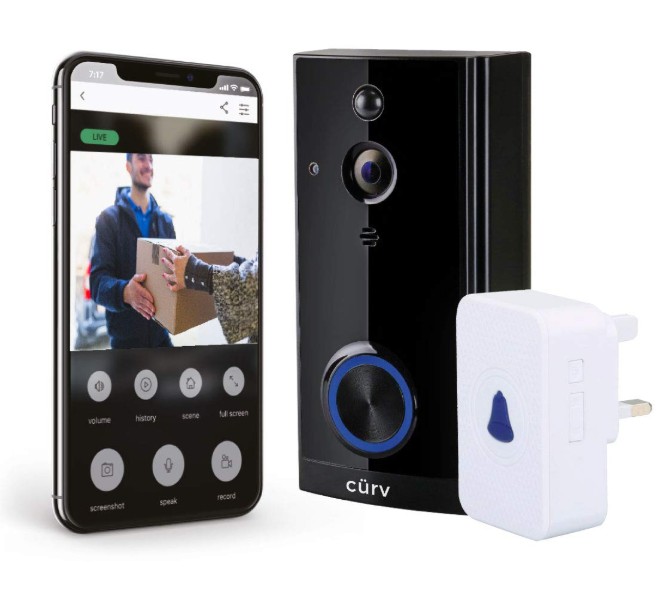 Quick look features
Two way communication with visitors
Works with any smart phone or tablet
Infrared night vision
1080p video
8GB storage
Includes fixing and tool kit
---
#4 – NewPal Smart Home Doorbell
Looking very similar to the excellent Ring Doorbell comes this budget offering from NewPal. Although it's a lot less than some of the competitors it still packs a lot of features in. It's got wide-angle video and is fully waterproof. It's completely wireless and the battery life is an impressive 3 weeks.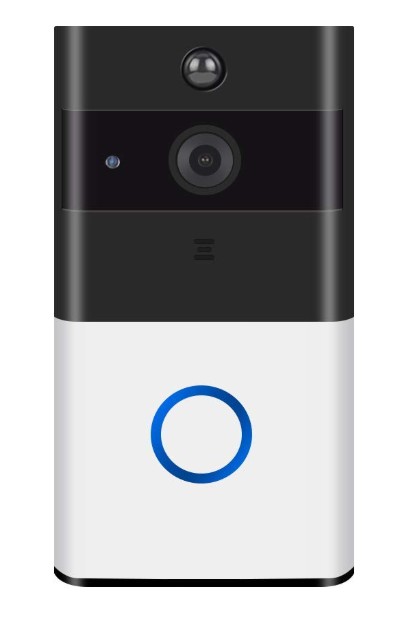 Quick look features
Easy Installation
166 degree viewing angle
Two-way audio
Automatic switching between day and night mode
Motion detector
---
#5 – Uoon Wireless Doorbell
Another budget wireless UK doorbell here and not a bad one at all. Once you've got this bad boy on your door you're protected against weird callers, junk mail and burglaries. With an impressive 170 degree video angle and full HD video, this is a cheap doorbell camera with loads of high-end features.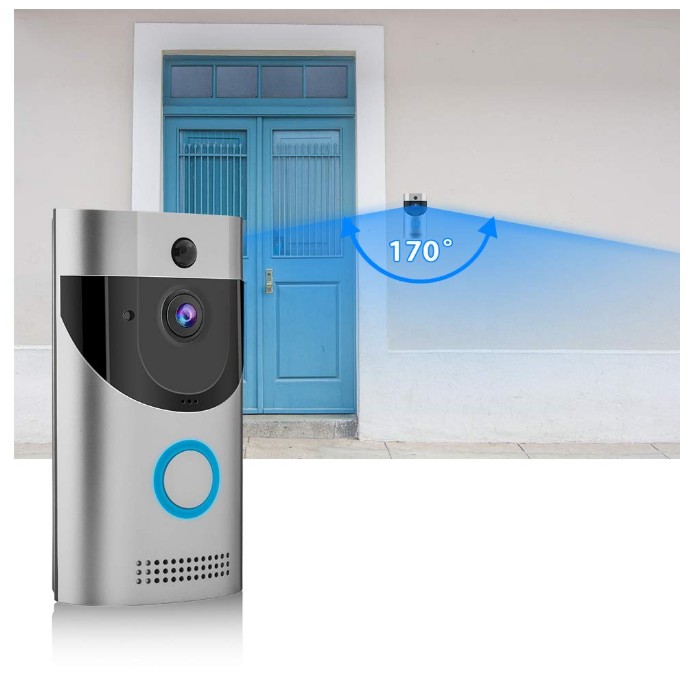 Quick look features
170 degree viewing angle
1080p HD video is nice and crisp
Talk to anyone who comes to your door
Easy to setup, without any wired
Great for villas, business, home and commercial uses
---
#6 – CozyHouse Waterproof Doorbell
Another good option for a front door camera in the UK at the moment is the CozyHouse Waterproof camera. You're getting a security doorbell that works over your home wifi network and offers IP65 level of waterproofing along with 720p HD video. It's cheaper than the Ring and is good value for money for those seeking a budget price HD doorbell.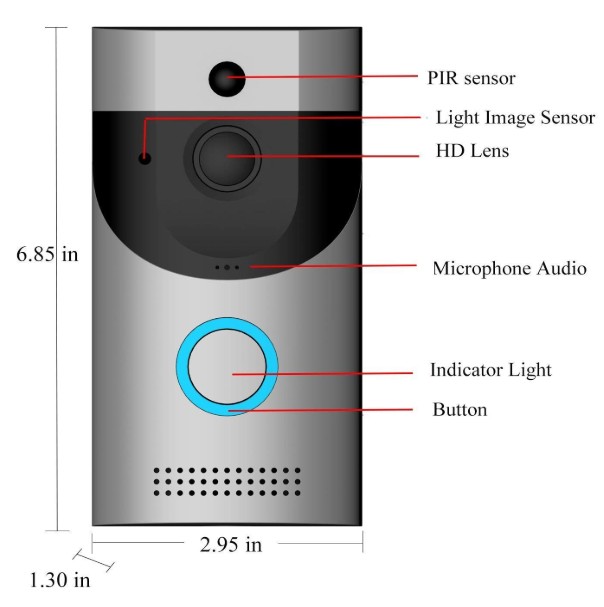 Quick look features
Two-way audio chat with visitors
720p crisp HD video
Compatible with iOS and Android
PIR motion detection picks up when anyone moves
Quick and easy setup
---
#7 – DophiGo Smart Wireless Doorbell
One of the things you don't have to worry about with the DophiGo Smart Doorbell is running out of storage space for your video. Using the power of the cloud (storing stuff on the Internet) you get loads of room for pics and videos. It's all done automatically. The Dophigo camera does everything you want from a home security doorbell like 2-way communication and sharp 960p video.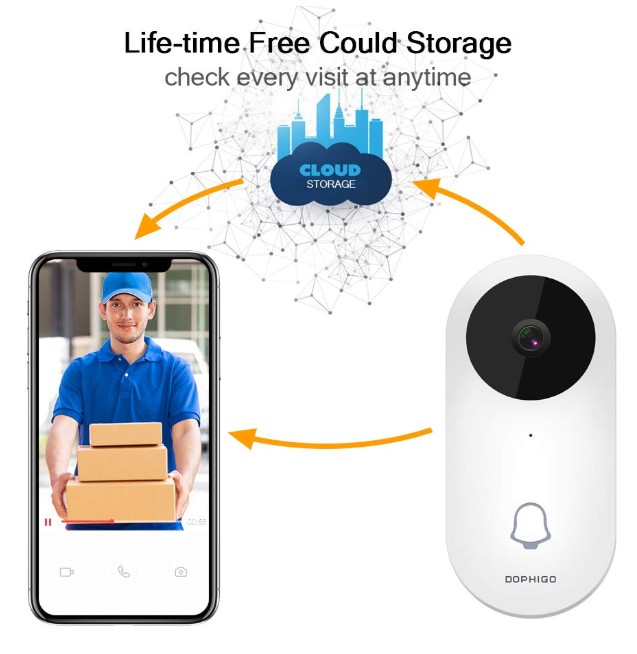 Quick look features
Talk to anyone at your doorbell
960p video
Works over wifi
Rechargeable battery
Night vision
---
#8 – Yinxn Wireless Video Doorbell
It's nice when you get everything in a kit that you need. The Yinxn security doorbell camera comes with all the necessary mounts, batteries, screws and cables. It does everything a doorbell camera should, from 2-way talk to HD video. And also looks pretty good. (And has a design that's actually a bit different to the popular Ring Doorbell forumla!)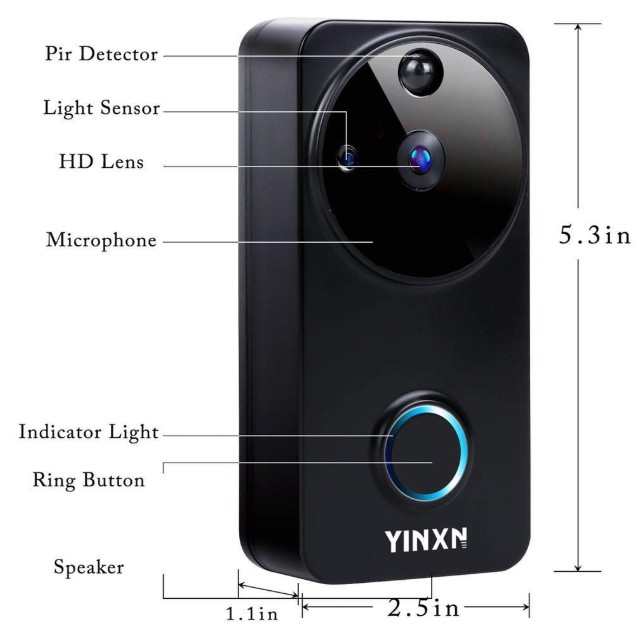 Quick look features
720p HD video
166 degree viewing angle
2-way talk with visitors
PIR motion detection
iOS and Andriod
Use with multiple devices
Some related stuff on doorbell cameras in the UK
---
Here's some super-brainy robotic arm reading and other links that you might like!