Our quest to find the top video doorbells here on SmartTechStuff continues with a look at another budget-priced alternative to the Ring doorbell. This time we're diving into a similar security device, the Kamep Video Doorbell.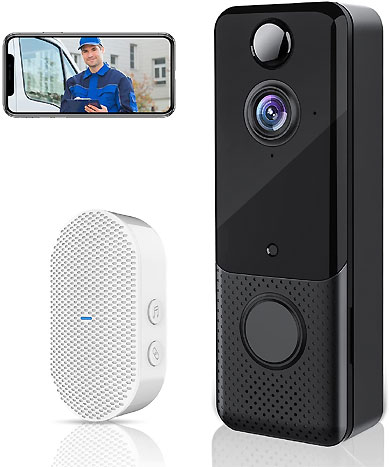 Like the other budget doorbells we've looked at recently like the Cooau smart doorbell, Innotic product and Eufy Security Video Doorbell, this bell is from Kamep – a smaller company than Ring, and offers a cheaper alternative.
We've seen a lot of these video doorbells emerging in competition with the mighty Ring, so is this one any good?
The Kamep calls when someone is at the door
There's always a time when you can't get to your front door when you need to. Whether you're in the middle of getting dressed, just got out the shower, or are actually away from your home, there are many times a smart doorbell like the Kamep will come in handy.
Once someone presses the doorbell, it sets of the doorbell chime in your home and contacts your phone via WiFi. (You'll need to download the free Kamep app to get them to talk to each other).
Once you're alerted, it's up to you what you do. Ask a delivery driver to leave a parcel in a safe place, tell the postman you're on the way, or kindly tell that cold caller that you're still not interested in whatever is in his backpack…)
Convenience and security. The main reasons you'd want a video doorbell like the Kamep!
£26.99 at Amazon
Price last checked: 29th Nov 2023 - 06:30
Smart doorbell features
1080p video – Unlike a lot of cheap door security systems you'll find on Amazon, or mentioned on Reddit, the Kamep one has lovely full 1080p HD.
Wire-free  – The Kamep WiFi doorbell uses 2 rechargeable batteries to power it. A single charge will get you several months of use.
Doorbell with camera and intercom – As well as being able to see and hear what's going on, you'll be able to talk to anyone within range of your front door.
IR Night Vision – Obviously home security is just as important at night. The Kamep camera is equipped with night vision so you'll get a clear picture once it gets dark.
PIR detection – The security camera only triggers when there's movement in front of your door.
The Kamep Includes the ringer – This WiFi doorbell comes with the chime – a separate unit that plugs into your indoor mains (it's basically a plug). It lights up and plays a number of ring tones.
166 degree viewing angle – This is the angle that you can see what's happening around the doorbell camera.
Connect to your smart phone – This is a smart doorbell, meaning it connects wirelessly to your smart phone, where you can video live video, talk to people at your door, even when you're not at home.
SD & phone storage – Videos can be stored on either an SD card, or to the cloud – a free service that stores your videos online. There's no sneaky costs involved in this either.
Monitor your home with real-time video – Press a button on the app and you can see what the doorbell system is currently seeing. A bit like the old peep holes some doors have.
Things we liked about the Kamep Video Doorbell
An affordable video doorbell
One of the main plus-points with the Kamep is the price point. It's at least half the price of the Ring Doorbell. If you want something that gets the job done, but might not want the latest fancy WiFi doorbell, then this could be a good choice.
Full HD video doorbell camera
If you've seen and of our other reviews of the current line of video doorbells, you'll know that a lot of the cheap WiFi doorbells don't have full HD video. The standard for a budget door camera is usually 720p. While that's still considered HD, there's a noticeable difference in the Kamep as it's for the full 1080p.
It's one of the easier digital doorbell systems to install
A lot of people get put off buying a smart doorbell intercom for their homes, thinking it's going to be a pain in the butt to get on there. The Kamep, like a lot of smart doorbells isn't hard to install at all. You even get a free screwdriver with it.
To get the doorbell up and running, you'll need to screw the bracket onto a surrounding frame, house wall, or even door. Once you've got the bracket attached, attach the doorbell unit to that.
Doorbell without wires
If the idea of wiring a smart doorbell into your home's electric supply gives you the shivers, you'll be please to know that the Kamep is completely wireless. You'll still need to attach the mounting bracket somewhere around your front door, but it's very quick to do.
If you prefer, you don't even have to use screws. We liked that everything was in the box too. The doorbell itself is powered by 2 rechargeable batteries. You'll need to detach the doorbell from its mounting each time (it just slides off). And take it inside to a mains point.
… unless you want wires
As with the other wireless rechargeable smart doorbells we've reviewed, the Kamep doorbell can be wired in so that it doesn't rely on being charged every few months. This is handier and means you won't have any downtime if you're on holiday and forget to charge your doorbell up before you leave.
Ring chime is great
The doorbell chime you get with the Kamep smart WiFi doorbell is easy to set up. Once plugged into a spare mains outlet in your home, you simply set the volume and pick a ring tone. There's a seemingly endless array of possible ring tones for this doorbell, from simple chimes to little ditties that will get stuck in your head. You'll no doubt find one that you like.
The To See Smart Phone App is clear and easy to use
One nice surprise was that you get free cloud storage with the Kamep doorbell.
There are no subscription fees to be paid and it's a good alternative and addition to your SD storage. You can also 'share' the app with anyone in your home or apartment and they'll be able to see who is at the front door before answering it.
Looks good and is well made
Let's just say that not every home doorbell camera is a looker.
There are some absolutely hefty beasts out there that might be cheap but won't win any awards for design. The Kamep doorbell has a decent look to it, with black glossy sections on the front. It also feels like it's built to last and has a weighty, solid feel to it.
Things we
don't like

about this Smart Doorbell
Motion detector can be a bit sensitive
You might need to play around with the sensitivity as it can often be triggered by ghosts at your front door!
Battery life could be better
Depending on how you set your PIR sensor and how much the doorbell has to do, you can expect somewhere in the region of 2 – 3 weeks battery life per charge.
The batteries are charged using the included mains charger, so don't go out and buy an extra charger! The battery life on the Innotic smart doorbell is slightly disappointing, especially compared to the Cooau doorbell, which we reviewed earlier.
Some lag contacting your phone
One thing we'd like to see improved on is the delay between someone pressing the bell and the time before you're contacted and then connected. With delivery drivers under a lot of pressure these days, they tend not to stick around. Every second counts. The Kamep could offer a bit more slack in this regard.
Conclusion – should you buy the Kamep Video Doorbell?
Is this cheap video doorbell worth your time?
There's no doubt about it, this is a great security tool for your smart home. The Kamep doorbell will never match the quality of the Ring Doorbell, but that doesn't mean it's not a really solid product that does what it's meant to. The app is easy to use, the picture quality is excellent and the features all work as they should.
Definitely recommended.
£26.99 at Amazon
Price last checked: 29th Nov 2023 - 06:30
See more reviews on Amazon here
References, resources and further reading
If you want to find other ways to keep your home protected, apart from picking a good smart doorbell, then the police UK website is actually a good place to start.
Got one of these security doorbells? Let us know in the comments if you feel it's made hour home a safer place.