In our series looking at some of the cheaper alternatives to the ring video doorbell here on SmartTechStuff, we've looked at a number of smart video doorbells. Today we're continuing our trek to find the top budget model with a look at the ieGeek Video Doorbell (available on Amazon).
Like the other budget doorbells we've looked at recently – Cooau smart doorbell and Innotic product, this is Wifi doorbell that's aimed at anyone looking for a bit of extra protection to the front of your home, but doesn't want to break the bank buying the Ring.
As we've show in previous reviews, there are some solid alternatives on the market you can buy that get the job done very well.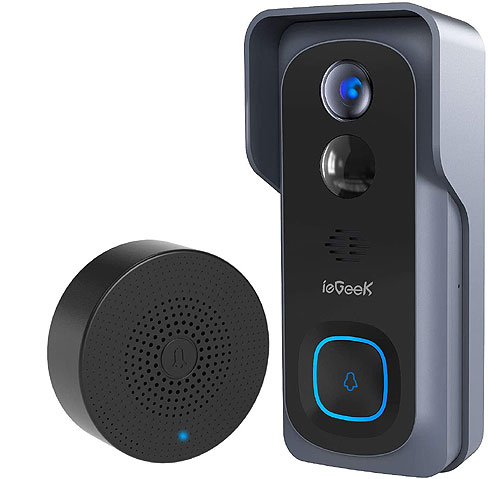 Is the IeGeek doorbell any good?
If you're in a rush and want the quick version – YES, the ieGeek Video Doorbell is a good, cheaper alternative to the Ring product. It has around 70% of the features of the better-known brand and works out a lot cheaper too.
You're getting a solid, built-to-last kind of product that does the job very well. If you're looking to add some security to your property without breaking your bank account, definitely give the ieGeek doorbell a try.
£69.99 at Amazon
Price last checked: 29th Nov 2023 - 06:29
IeGeek doorbell features
1080p video – The image is full HD with this camera.
Wireless – While you can wire the doorbell in to your home, it's just as easy to use the rechargeable batteries that are built into the doorbell. They last ages too (3  6 months).
Uses your home WiFi – As with other smart doorbells, you'll be connecting this one into your home Internet connection. It's easy to do, using the free downloadable IeGeek app.
Camera and intercom – See who is at the door and also hold a video call with them.
IR Night Vision – The camera has a special mode for nighttime that works in low light.
PIR detection –  The doorbell has a motion detector that will start recording and alert you when someone moves near the camera.
The IeGeek doorbell camera includes the chime – You get a ringer 'plug' with this doorbell that plugs into a socket in your home. This plays the ring noises when someone presses the button.
166° wide-angle lens – This is how wide of a view you'll get from this camera. This is a good standard field of view.
Connect to your smart phone – You connect your phone or tablet to the IeGeek doorbell to be able to interact and see what's going on. Any number of devices can be connected to it.
Full English Manual
IP66 waterproof – This level of waterproof protection means this is more than just splash-proof, it's 'UK weather proof' and can be left outdoors in even the harshest of conditions.
SD & phone storage – You can store video on the included 32GB SD card and also record to your phone.
Real-time video – From inside the app, you can push a button and see exactly what the IeGeek camera is seeing.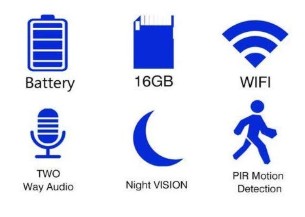 Things I liked about the IeGeek Video Doorbell
Good after sales service
You're always protected when you buy something on Amazon, which is why I like to use them, and I'm sure a lot of others do. But it's also good to know that you can talk to someone, get support or help with a product too.
"the IeGeek comes with a 1080p camera. This is something you don't always find at a cheaper price point."
I've found that IeGeek's support for their smart doorbell is top-notch. They're friendly, actually, reply and are easy to get hold of.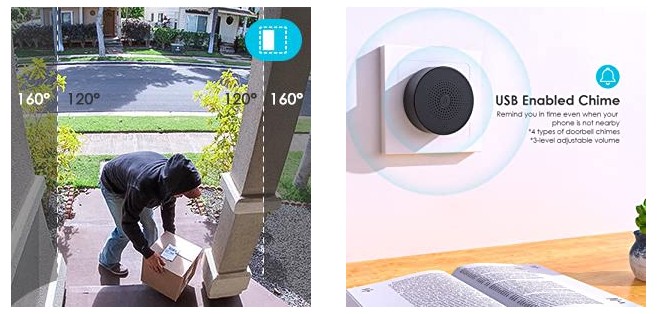 The camera records video in 1080p
We're really spoiled with security gadgets these days. CCTV quality has improved so much over recent years. And the IeGeek comes with a 1080p camera. This is something you don't always find at a cheaper price point. This makes for a noticeably crisper image than some of the 720p doorbells in this price range.
Value for money
I think, for what you're getting, and considering the price of something like the Ring Doorbell, IeGeek smart doorbell is a bit of a bargain. It's not some stripped back flimsy toy gadget; this is a real door security system that will help keep your house safe. It's worth the money and feels like a quality product.
The IeGeek is easy to install… phew
One of the best things about video doorbells is that you don't have the additional cost of hiring someone to attach it to your front door. As with the Ring and similar products, this one is a doddle to fix to your door, or door frame.
You'll need to drill the holes , screw in the IeGeek bracket (or you might be able to skip drilling and simply screw into say wooden frames). That's all you need to do. From there, the IeGeek smart doorbell fits onto the bracket and is ready for service.
Even if you're like me, and not too good at DIY, you might want to give this a try. Honestly, not a problem.
This smart doorbell doesn't have to be wired in
On the theme of ease, you don't have to wire this into your doorbell's power if you don't want to. The easiest way is to use this doorbell's internal rechargeable batteries. While I initially didn't like the idea of having to charge the batteries, they only need to be charged around once every few months.
It's worth noting that this doorbell can be wired in, if you're looking to do that.
The IeGeek smart phone app is simple but works well
For a budget product the IeGeek's app is surprisingly good. It has the usual modern, minimalist design you'd expect from a smart home age product. There's simple buttons and controls that allow you to adjust things like camera brightness, sensitivity, volume.
One of the things I really like about the IeGeek, and other smart doorbells is the feature where it acts like a security camera and you can press a button to check out what's happening outside your time.
The doorbell part works well!
As well as a way to monitor people that come to your door, it does of course let people press the big round button and, you know, do the whole video doorbell thing. Once pressed, they'll be connected to your smart phone and you can deal with them accordingly.
This is great for delivery drivers, unwanted calls or just anyone shady who comes to your door. I hate my wife answering the door when I'm not in so this is a really good way to have more peace of mind when it comes to home security.
No monthly subscriptions
The IeGeek video doorbell doesn't have any monthly subscriptions to pay. You're free to view your logs on your phone for free. They're kept for 30 days before the space is freed up.
Things I
don't like

about this Smart Doorbell

OK so that's the good. What sucks with this video doorbell? What could be better?
Strong sunlight can set of the motion detection
I'm not an expert in how these cameras work, but this is something we've seen on a number of cheaper video doorbells. Often, strong direct sunlight can trigger the motion detector. You'll need to figure out the right sensitivity levels for this one.
Conclusion – should you buy the IeGeek WiFi Doorbell?
Is this budget doorbell worth your time?
There's no doubt about it, this is a great security tool for your smart home! The Pybbo doorbell will never match the quality of the Ring Doorbell, but that doesn't mean it's not a really solid product that does what it's meant to. The app is easy to use, the picture quality is excellent and the features all work as they should. Highly recommended.
£69.99 at Amazon
Price last checked: 29th Nov 2023 - 06:29
See more reviews on Amazon here
IeGeek Doorbell Features
| | |
| --- | --- |
| Resolution | 1920 * 1080 |
| Field of view | 166° |
| WiFi | IEEE820.11b/g/n |
| Audio | Two-way talk with noise cancellation |
| Recording | Device SD card recording |
| Storage | 16GB |
| Battery | Two 18650 specification batteries (Batteries are rechargeable) |
| Monitoring | Devicebutton/Motion detection/Remote live view |
| Night Mode? | Yes, IR night vision |
References, resources and further reading
If you want to find other ways to keep your home protected, apart from picking a good smart doorbell, then the police UK website is actually a good place to start.
Got one of these security doorbells? Let us know in the comments if you feel it's made hour home a safer place.