Smart video doorbells are one of the best inventions we've seen come out of the recent boom in smart home technology. Not only do they keep you safe when you're not in the house, they can also give you peace of mind when you're not at home.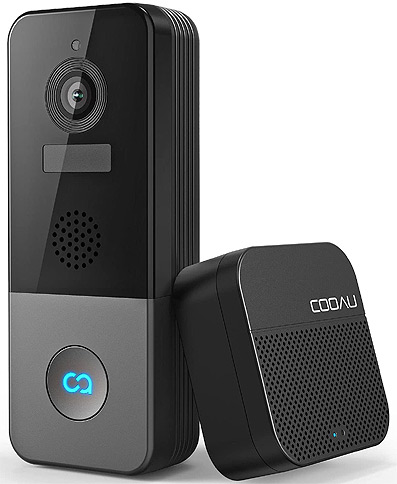 In this review, we're taking a look at the Cooau Doorbell Smart Doorbell (Available on Amazon) – a budget priced entry into the market. We're asking: can a cheap video doorbell really stack up with the more expensive likes of Ring and other products like it?
Unlike a lot of reviews – this is a real one with GOOD and BAD things you should be aware of before you buy this smart doorbell.
What does this doorbell do?
The Cooau doorbell is very similar to the large number of competing product you can find on Amazon, such as the Innotic doorbell. The idea is simple, replace your existing doorbell with this way more advanced one and you'll be able to do a lot more than just hear when someone presses the button.
It's primarily a security / safety smart device but it will also save you time and offer a lot of convenience. It's also a lot of fun talking to friends and family.
It comes with the button unit and a chime which you can place anywhere. Once set up, you'll connect your smart phone and the doorbell over WiFi and be able to do a number of important things.
When someone presses the button, the Cooau will immediately notify you and you'll be able to talk real-time with whoever it is.
£35.99 at Amazon
Price last checked: 29th Nov 2023 - 06:30
Primary uses of this doorbell
Deter people from stealing parcels that have been left
Let you talk to and see people at the door (great for cold callers)
Take video of any movement
Keep an eye on your property when you're not home
Give the illusion you ARE home, even if you're on holiday
Quick run down of this smart doorbell's features
Overall, the Cooau has a good range of features that you'd expect to find in more expensive doorbells. Here's an at-a-glance on what you can expect from it.
2K video – We'd have preferred 1080p, but this is still 720 and nice and clear.
Realtime two-way video chat – Don't you hate it when you answer the door and it's a salesman. This is a great way to filter out anyone you don't need to deal with in person.
Smart PIR detection – The Cooau doorbell will detect motion and only start recording if there's actually anything happening. This is great because it saves wasted storage.
2K Night Vision – This is essential. You need to be able to get decent quality video during low light.
32GB internal storage – It's handy to have a recording of all the events at your doorbell (supports up to 128GB)
IP66 waterproofing – This is a standard IP for most video doorbells. It basically means it can get thoroughly drenched and still work fine!
Connect via your WiFi – The doorbell connects to your existing home WiFi, in order to 'talk' to your phone and other smart devices.
Comes with a 'chime' – this bit doesn't rely on your WiFi and is the part that makes the audible chime when someone presses the button. Who doesn't like a good DingDong!
Things we liked about the Cooau Doorbell
Excellent quality sound and camera
Both visual and audio from this camera doorbell are top notch. This is definitely one of the highlights of the budget-priced Cooau. The video is crisp and sharp on your smart phone and the sound is clear. You'll be able to hear whoever you're talking to and vice versa.
The chime is versatile and works well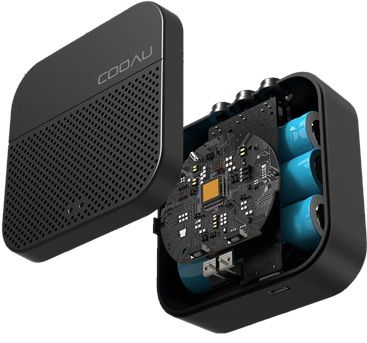 The part of the kit that makes the doorbell noise.  It also has a variety of volume settings from annoyingly loud, down to – 'nobody gonna hear that'. You'll likely find one that's perfect for you pretty easily.
The free Cooau app works a treat
These smart doorbells are really only as good as the software you use on your phone. Thankfully, Cooau have done a good job with this one and it's very easy to access all the features of this doorbell. When someone presses the doorbell, you'll get a call from your phone, from the app, and can jump into video call.
The rechargeable batteries last AGES
After charging the USB batteries for around 7 hours, they'll be ready to go. The chime can be placed anywhere and takes 2 x standard AA batteries.
You'll get a notification to your phone when battery is running low so you won't get caught out with people using the bell and it not working.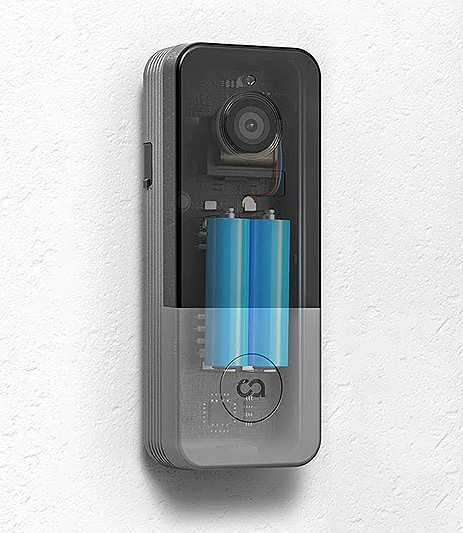 It's easy to setup
One of the small but pleasant surprises is that you get a lot of handy things in the box. Here's the full list of stuff you get with this video doorbell.
1 * Cooau Doorbell 1 * Wireless Doorbell Chime 2 1 * Mounting bracket 5 * Mounting screws 2 * Hardwire Screws 1 * Security Screw 5 * Anchors 1 * Video Doorbell User Manual 1 * Wireless Doorbell Chime User Manual
Things we don't like about this Smart Doorbell
No streaming / cloud storage
One thing I'd have liked to see on the Cooau is the ability to store photos and videos on the cloud. As it stands, you're tied to the built in SD card (the default one being 16GB). This won't be a huge issue, especially if you buy a new card but it would have been a smart move to include cloud storage.
Conclusion – should you buy the Cooau smart doorbell?
We're extremely impressed with the Cooau doorbell's quality and features. As long as you don't mind not having the Ring doorbell brand, then this is a good cheaper alternative. The sound and video quality are excellent and for the price, this is an extremely good quality video doorbell. Highly recommended!
£35.99 at Amazon
Price last checked: 29th Nov 2023 - 06:30
See more reviews on Amazon here
Full Features of the Cooau Smart System
| | |
| --- | --- |
| Resolution | 1280 * 720 |
| Field of view | 166° |
| WiFi | IEEE820.11b/g/n |
| Audio | Two-way talk with noise cancellation |
| Recording | Device SD cardrecording |
| Storage | 16GB |
| Battery | Two 18650specification batteries(Batteries are rechargeable) |
| Monitoring | Devicebutton/Motion detection/Remote live view |
| Night Mode? | Yes, IR night vision |
References, resources and further reading
The official Cooau website has plenty of interesting gadgets they've been working on, as well as the contact info if you require support. You can also get manuals from there.
You can contact Cooau on the following phone number
There's a good review from Tekker Reviews about his experiences with the Cooau doorbell here:
If you want to find other ways to keep your home protected, apart from picking a good smart doorbell, then the police UK website is actually a good place to start.
As well as 9 ways you can make your home safer, thanks to Suzanne Raga over at mentalFloss.com