Protecting your home from the outside first is a great way to prevent burglaries before they happen. Both security cameras and outdoor lighting have developed massively in recent years so if you're looking to get a new outdoor security light with wifi camera, this is a great time to do so. Modern security systems use all the latest smart technology to keep your home safe and to keep you up-to-date with what's going on.
Top Pick
Quick Version: the best camera security light we found in 2023 is the Ring Floodlight Cam. The video quality is crystal clear and both lights and siren are extremely powerful. Checking your home wherever you roam is super-easy.
This guide will give you the latest info and everything you need to know to pick the BEST of the best outdoor smart cams with lights! Let's dive in!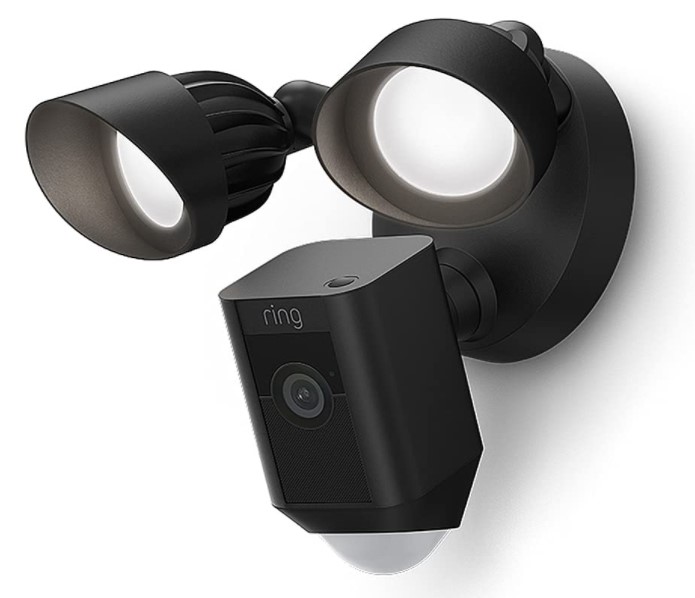 Using smart technology to protect your home
So, how do smart outdoor security cameras work?
Like all good smart home tech, lights and WiFi cameras use a combination of existing technology along with the newer stuff to give you more control and functions. The main thing they'll use is your home WiFi. Connecting a WiFi security light / camera up to your home network lets you do all kinds of amazing things that will keep you and your property safe!
Combining an outdoor security light with WiFi camera is a great way to save money and get once device that does two incredibly important jobs. Illuminating dark areas and having 24 hour CCTV on your property will give you peace of mind wherever you are.
So what can your smart home security system do?
Connect to your phone or tablet for easy control
Get real time video on a mobile device
See and hear what's going on around your property
Record video to an SD card
Use 2-way audio to communicate with someone outside
Use your location so your light comes on before you get home
Save money with smart power saving features
Detect motion and send you alerts real-time
Saving money using your phone or tablet
One of the best things about new CCTV systems is that they use your existing gadgets as the viewing screen. Modern WiFi CCTV systems save money and having extra screens lying around by using your smart phone as a way to view live or recorded footage. They're also a lot easier and more friendly to use. And controlling your new camera with the phone will be quick and painless.
Controlling and monitoring with your phone or tablet
One of the great things about these new smart security cameras is that, spending on which product you buy, let you see and even hear what's going on outside your property. This gives you peace of mind whether you're indoors or away from your home or building. You'll need to download a free app from the app store or google play store and you're good to go. There's also no monthly fees – it's all done with the magic of your home WiFi
What brands should you look out for?
There's a really good selection of high quality outdoor security light with WiFi camera products on the market in 2020. The stand out brands and the movers and shakers you should look out for are:
Ring – the people who make the video doorbell
Netatamo – Some good smart home security products
Arlo – some fantastic indoor and outdoor security cameras
What's the UK's Best outdoor light with WiFi cameras in 2022?
The next part of this guide will cover some of the more robust and best developed smart outdoor security cameras on the market at the minute. After that you'll find a buyers guide to arm you with some helpful info if you're heading out into the Interwebs on your own. So what are the products that are best suited to keeping your home safe?
The top recommended video baby monitor with app products we recommend are:
Ring Floodlight Cam
Yeskamo Floodlight & Audio Wireless CCTV
Smartwares CIP-39901 Guardian PIR Security Camera
Ring Spotlight Cam Wired
Netatmo Smart Outdoor Security Camera
SV3C Wireless WiFi IP Camera Outdoor
#1 – Ring Floodlight Cam
If you had to push me to say "what's the very best outdoor security light that has a WiFi camera?" I'd probably point you in the direction of the superb Ring Floodlight Camera. It's got a sturdy build to it and comes with two super-bright floodlights, Rings awesome full HD camera and even has a siren so it works as a fully fledged alarm too.
You can view live video on any device, such as your smart phone and even use 2-way audio to video chat with callers (much like their excellent Ring Doorbell product). And this is compatible with Alexa too. With the latest motion detection tech built-in and remote access from anywhere in the world, this is a great outdoor smart security camera for your home.
The Ring WiFi Floodlight combines a camera and two strong flood lights
Smart light / camera features
Works with Alexa
See, hear and speak to your visitors
Control and view with PC, phone or your tablet
1080p sharp video with live viewing available
Built-in flood lights and a really loud siren!
---
#2 – Yeskamo Floodlight & Audio Wireless CCTV
You should definitely have a look at the Yeskamo kit. This kit has the hub and 4 cameras (2 with floodlights, and 2 'bullet' cameras). Having four cameras means you can cover way more of your property (inside or out!) And this kit does everything you need – from motion detection to 2 way audio. You can video footage on your smart phone and it's all very simple to set up. At the time of writing, this is the Amazon Choice awarded product too.
Smart light / camera features
Caneras with floodlights
Motion detection
1080p sharp video
Works day and night
2-way audio
---
 #3 – Smartwares CIP-39901 Guardian PIR Security Camera
Smartwares camera is not only easy to fit, it does everything you want from a outdoor security light with WiFi camera. Just install it outside and you'll be able to get live updates to your smart phone with the free app. You can control it with voice commands through Alexa and the built in light means you'll never come home, or leave a dark drive again! The security light will detect suspicious activity and send you an alert to your phone. It's also got a built in alarm you can setup to chase of would-be intruders too.
Smart light / camera features
Watch live footage on free app
1080p video with 140° viewing angle
Upgradable SD card storage
Strong light with motion detector
Easy to install
---
 #4 – Ring Spotlight Cam Wired
Ring have some excellent security products on the market and the Ring spotlight is ideal for anyone who wants a compact, simple way to keep their property safe. Like other Ring devices, this one works happily with Alexa and comes with two very bright LED strip lights down the sides. You can enjoy watching video in 1080p and even communicate with visitors thanks tot the 2 way audio. It's all controlled with the awesome Ring app and you can also set the siren to blast anyone creeping around your property when you're out.
Smart light / camera features
Works with Alexa
Hear, see and talk to visitors
Get notifications as soon as motion is detected
Realtime 1080p video
Built in lights and siren
---
 #5 – Netatmo Smart Outdoor Security Camera
Netatmo are another company bringing out some innovative smart ways to protect your home. Their entry into the outdoor security light with WiFi camera market is a very neat looking camera with a huge strip light above it. One brilliant thing this device does is stream your video footage and store it for free. You can watch it later and not worry about running out of SD card storage. It will also send you custom alerts to your phone if it sees anything untoward going on.
Smart light / camera features
Floodlight switched on when it detects motion
Get custom alerts via the app
24/7 protection for your home
Free cloud based video storage
Easy to install
---
 #6 – SV3C Wireless WiFi IP Camera Outdoor
The best cheap Wifi smart camera for outdoor use is definitely the SV3C. This camera does an incredible amount for the money, punching over it's weight for the amount it costs. It will send you snapshots via email of anything that triggers it's motion sensor. And it uses smart motion tracking to identify anything weird that's happening. Surprisingly for this price it's also 1080p. The camera also has a full IP66 waterproof rating and REALLY strong feedback from buyers.
Smart light / camera features
Easy WiFi setup
Smart motion detection
Sends snapshots over email
Clear night vision
IP66 waterproof
---
A quick and easy buying guide for outdoor security lights with WiFi camera
Waterproofing
With the harsh UK weather it's important to get a outdoor security light / camera that's going to be able to withstand this. When you're browing products, look out for the IP water rating. This is a score of how much protection the product has. Look for IP4 upwards and you'll be fine.
How exandable is your new smart security system?
A lot of buyers will just want to buy one camera and stick it at the front of their property. But if you're looking to cover more than one area (which you should really consider) then make sure that the camera system you're going for is expandable. It likely will be, as most manufacturers allow you to add a lot more than a single camera.
Battery powered or wired
You'll find that most of the outdoor WiFi cameras with lights need to be wired into the mains. There are some, like the Ring outdoor camera that come with both battery and wired versions. I'd definitely recommend getting a 'proper' wired version so you can set it up and forget about it. You can normally get an electrician quite cheaply to fit them, if you're not sure how to do it yourself.
Video Quality
In all honesty, this has become less of an issue with outdoor IP security cameras. It's quite hard to find one with poor video quality. Most will be in lovely sharp HD, in either 720p or 1080p. If you want then best, then look for 1080p – this is full HD video and it will have the highest level of detail. But the other common one, 720p, is also going to be very high quality too.
Recording video and images
One common feature you'll likely find useful is the ability to get your outdoor security light with WiFi camera to record video and images. This is normally done with an SD memory card. The default one that's included may not be the largest storage and bigger ones are available pretty cheaply on Amazon or at local supermarkets etc. Look for a camera that can record your video for later.
Motion detection
This is a super-important feature. Detecting motion allows your outdoor security light with WiFi camera to do important stuff like sending you alerts if it 'sees' anything going on. It's also important to save you recording footage of nothing happening and wasting your memory space. Most modern smart WiFi cameras should be able to detect an intruder. Some even use smart technology to differentiate between pets and people. Clever!
"why not look out for a outdoor security light with WiFi camera that has a built in SIREN!"
Does it work with Alexa and Google Assistant?
If you're like me and love using your Alexa, it's definitely worth checking if the WiFi Smart Camera / Light combo you're buying works with your Echo or other device. Part of the fun and practicality of a smart home is being able to control the different parts with your voice. Check if your new WiFi smart security cam 'works with Alexa' (or Google Assistant if that's your thing!)
Sirens!
If you want the whole package, why not look out for a outdoor security light with WiFi camera that has a built in SIREN! For added peace of mind, you can combine three brilliant home protection features – a camera, a bright light and an alarm to chase off would-be burglars. Like every other aspect of your new security camera, you can control this with your phone and disable easily when you need to.
Let me know in the comments down below how your smart home is coming along. Did you use any of these security products? Which outdoor security light with wifi camera are you using that you think our readers will love?