Now in its 2nd generation, the Ring Alarm is designed as a cheap and easy way to set up a full, wireless-enabled smart home security system, without compromising on quality or breaking the bank.
But why is it so good, and is it really worth your time and investment? Let's dig into the details and find out more.
Why choose the Ring alarm?
Great pricing
Setting up a home security system can be expensive, and anything that can help reduce the upfront costs is a good thing.
Ring intentionally make all of their products as budget-friendly as possible, without impacting on price or quality. Decisions are made at every stage to make things as simple as they can possibly be, including saving serious amounts of money buying starter kits that have everything you need to protect an average-sized home in a single package.
Backwards compatibility
The technology involved in home security is constantly updating, and the Ring is no exception. Now on their second generation of alarm systems, Ring intentionally designed everything to be fully backwards compatible.
That means if you already have a Ring alarm system, you can simply purchase a new set of sensors and cameras and link it directly into your system, with no issues or compatibility problems. It also means:
There is room for expansion
The advantage of Ring's systems being essentially interchangeable and backwards-compatible means that you can add new sensors and cameras to the system very easily.
Want to expand your alarm system to cover your upper floor? Easy, buy a bunch more sensors and you're golden. Want more protection and the ability to monitor everything from work? Buy a camera and set it up. Have a particularly large property? No problem. More sensors are available for a very reasonable cost.
Whatever you need, Ring probably offers it, in a simple, easy to understand and very reasonably priced option.
The Ring Protect App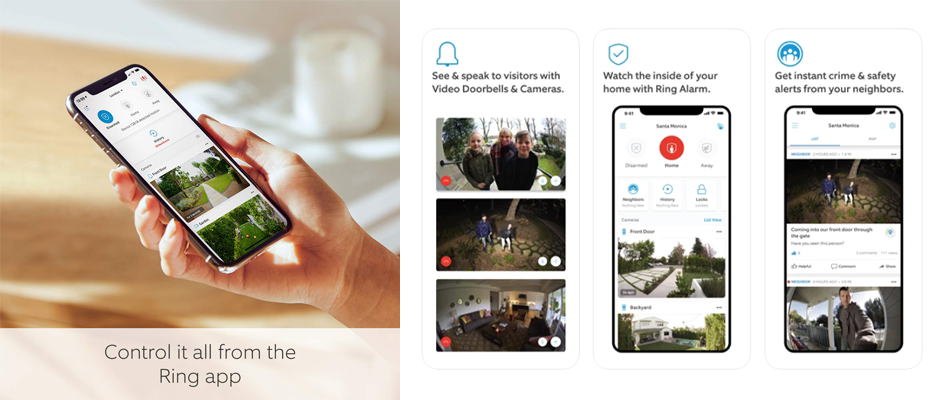 Any Ring security system can be linked into Ring's subscription service, Ring Protect. For as little as £8 per month, your security system gains another layer of protection, with constant Wi-Fi monitoring and automatic contacting of up to 3 numbers should your system go off.
---
What does a Ring Alarm Kit come with?
The easiest way to get started with Ring, and one of the reasons it comes so highly recommended, is that you can buy a starter kit that contains literally everything you need to protect your home.
The base kit comes with:
The Ring hub
A door keypad system
5 contact sensors, 1 for the door, 4 for windows
3 motion sensors
The option for an internal camera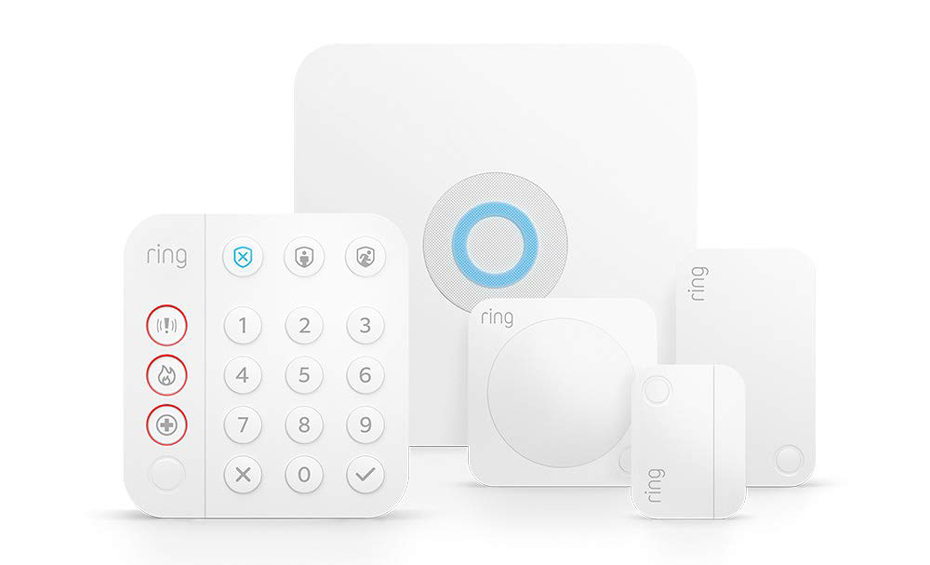 The Ring Hub
The heart of the Ring system is the hub. Ideally, it should be wall-mounted and kept somewhere easy to access, but unobtrusive. It runs on the Z-wave protocol, which is used on a lot of smart home systems, especially low profile systems that are designed to run permanently, like thermostats, smart lighting and door controls.
Depending on your needs, you can hardwire this into your internet, or connect to your smart home system via Wi-Fi. App controls let you check on your home security no matter where you are, including streaming video, if you spring for the camera option.
One advantage of the 2nd generation Ring alarm is that you can directly update it. If you have a 1st gen. Ring alarm, you can literally just keep your existing base station, and add the new sensors and camera, saving yourself a lot of time and money.
Ring Keypad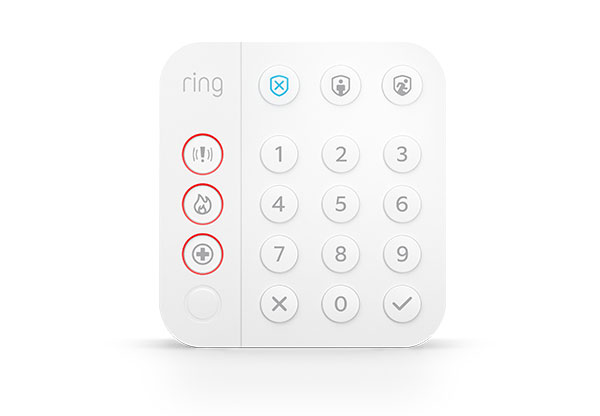 The first generation Ring keypad was a big and bulky beast, but the second generation one cuts down the size and thickness, looking like the sleek keypads you might see on a portable card reader for a payment processor. Controls are simple, with responsive buttons that are easy to see, and easy to push, very helpful if you're turning your alarm on or off in the early morning gloom.
It also makes it much easier to fit your keypads around the home, as well as having a huge aesthetic bonus. After all, no one wants ugly keypads that look like they've escaped from a mid-90s office block in their home.
Contact Sensors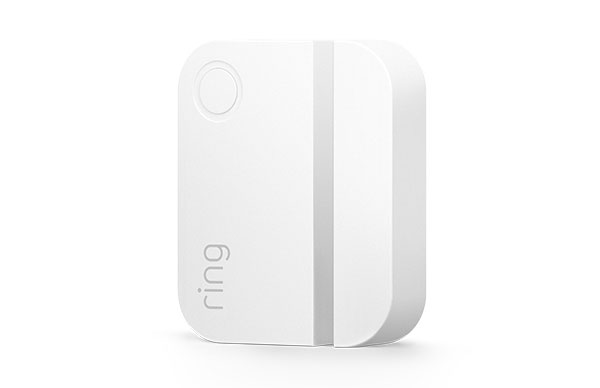 With the second generation kit comes second generation sensors. Ring's new sensors are all-around better than the previous offering: Smaller, easier to fit, easier to maintain, and running on the same Z-wave protocol that's a lot more reliable.
Installation is incredibly simple, with a choice between tool-free sticky pads or screws that fit directly through the baseplate. Each sensor come in two parts, the main sensor body, and a magnetic slide that attaches to your choice of door or window.
In operation, it's simple. The sensor reads when the magnet is moved away, triggering your alarm, with a choice of instant, (for side windows and rarely used doorways) and delayed (for doors that are in use often.)
Each sensor runs on twin CR2032 lithium batteries (large coin batteries) that have a long lifespan, and are simple to change by sliding the sensor off of the baseplate.
Motion Detectors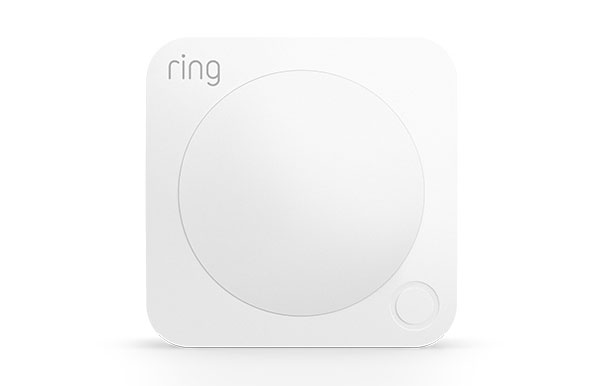 The motion detectors are surprisingly similar to the Ring contact door sensors. Each one is a small white pad that works on motion, and can be installed similarly via reading mounted sticky pad or screw fitted through the baseplate.
When you set up your motion detectors, they can also be enabled with a pet-friendly mode. This means that your motion sensors will ignore anything moving below a certain height level, which makes the system much more animal friendly. Though it is worth pointing out that cats, especially, can and will climb high enough to trigger motion detectors with annoying regularity.
Indoor Cam (Optional)
Ring offers indoor cams as part of their alarm service, with the extended starter kit coming with one camera as part of the deal.
Small and unobtrusive, the HD cameras can be mounted almost anywhere, whether you choose to place them on a flat surface or wall-mount them like motion sensors. The live stream can be accessed from any phone or tablet, and subscribing to Ring's extended Protection Plan gives you the security of a 30-day recording backup.
---
Are there any downsides to the Ring alarm?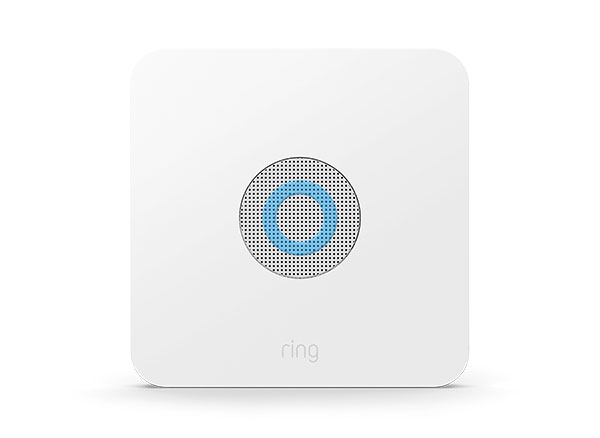 Of course. Nothing is perfect, and the Ring is no exception. There are a few minor issues that might cause the Ring alarm to not be right for you. For example:
One, the Ring's magnetic sensors and hub currently do not let you activate the alarm when a door or window linked to the Ring is open. In general, this isn't really a downside, as it means that you're not going to accidentally leave your home open and vulnerable when you turn the alarm on.
However, it does also mean that the Ring isn't suitable for larger systems that might need the option to keep some of the alarmed doors and windows open and some of the system closed. But then, the Ring was always designed for closed systems like single homes.
Secondly, the Ring currently has no option to automatically contact the police. The Ring Protect service automatically contacts up to three specified numbers if the system is triggered, but can't call emergency services. If that's something you're looking for, you might want a heavier duty system. But with the option to link directly into your cameras, you can always quickly call the police yourself, with perhaps a thirty-second delay.
---
Final thoughts
Right now, the Ring Alarm is still basically the best DIY alarm kit on the market. The sheer amount of options on offer, the ease of set up, even for the layman with absolutely no practical DIY experience, and the low cost of expansion mean that literally, anyone can very quickly set up a robust and solid home security system to keep themselves and their family safe.
And the feeling that brings is worth any amount of money.
---
References and Further reading