Warning
: Undefined array key "tracking_id" in
/var/www/vhosts/smarttechstuff.co.uk/httpdocs/affiliateCode/custom-shortcodes.php
on line
11
Whether you're baking or whipping up the best tasting smoothie ever, it can be a frustrating experience when the result is so inconsistent. High accuracy kitchen scales are few and far between. In this review we're taking alook at one of the best selling kitchen gadgets, the Perfect Blend Pro scale (Available on Amazon).
Smart scales that do more than just weighing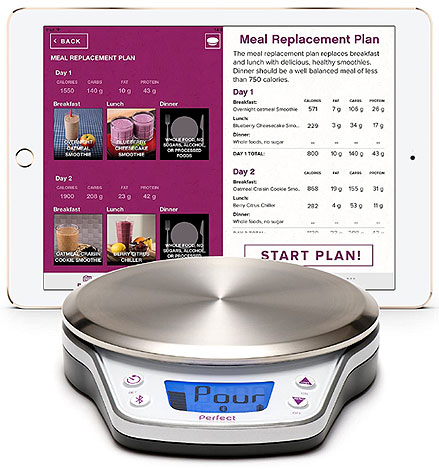 If you're looking for some fab new kitchen scales that have a high accuracy, that's one thing the Perfect Blend Pro does with great aplomb.
However, the Perfect Blend scales do a lot of other clever stuff that you might find just as useful when you're cooking. Download the accompanying app and a world of healthy, time saving features open up.
The app is free, doesn't have any annoying subscriptions and works in conjunction with the scales to do things like:
Plan meals
Easy measuring guides
Walk you through recipes and prep
Stick to your nutritional goals
Plan your shopping lists
Figure out the perfect food portions
Pick an existing meal plan that suits you
Check calories of each ingredient
While there's a zillion apps out there that are designed to do some, or all of the above, the way the Perfect Blend integrates with the kitchen scales is something you might end up using a lot. This sets these scales above the freestyle smartpoints and eatsmart ones.
What does the Perfect Blend Pro scale get right?
The scales are accurate and sensitive
Ever tried to bake with a set of dodgy kitchen scales? Not a lot of fun when you're trying to measure out the exact amount of ingredients for a predictable result. The Perfect Blend scale is perfectly accurate and doesn't jump around like some others. It's very simple and get the exact measurement down to the last gram.
Simple to use
By the end of the day, I've enough tech stuff to do at work. One of the best things about this set of scales is that everything is big and simple! The display is a bright, back-lit LED with large, clear letters. The buttons are chunky and it's clear what each one does.
The recipe app takes you step-by-step
If, like me, you're not great at following recipe books – but love to cook -then you might find the app worth a download. Stick your iPad in the kitchen (works on your phone, but better on a larger screen) and you'll get plain, easy instructions that anyone can follow and make something decent in the kitchen.
Check other users reviews on Amazon here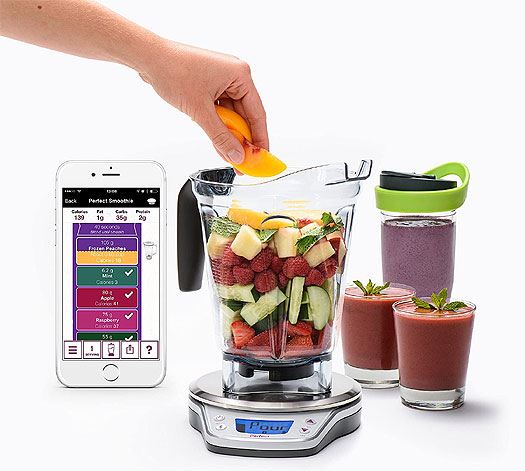 Built in kitchen timer
It's never a lot of fun cleaning bread mix of your smart phone. So it's nice to have a proper kitchen timer that's always handy. The Blend Pro scales have a really nice, easy-to-read timer built in. Got to love the little things too.
Easy to clean
I hate kitchen gadgets and containers that are hard to clean. So frustrating. These scales are very easy to clean, with special mention going to the buttons, which are touch buttons and easy to keep clean. Now you just have to sort out that stack of plates and bowls!
What could the Perfect Blend Pro scales improve on?
You can't add your own ingredients to the app
You're limited to using 'known' ingredients that are in the app. As far as I can see – let me know in the comments if you've found a way. If you're looking to add some of your own favourite ingredients that aren't in the app, and give them a custom name, you're out of luck.
App has some strange requirements
While it might have been a bug at the time, the Perfect Blend scales asks for permission to use your smart phone's microphone.
You have to create an account online to use the app
I kinda do my cooking to get away from the computer, so it's a bit of a pain that I have to go online to create an account and then come back and use the scales.
They are not cheap
While I feel these scales are a good investment, there's no denying that they are pricey (around £100 depending on where you shop).
Conclusion – Are the Perfect Blend Pro scales worth it?
Should you buy these scales for your kitchen?
Despite a few minor quibbles, these are a fantastic set of scales that provide a NASA-level of accuracy and are extremely easy to use in the kitchen. The downloadable app is a doddle to use and has a host of genuinely useful features. It's especially good for healthy eaters and anyone serious about improving their diet.
Highly Recommended
References, resources and further reading