If you've gone through all the trouble of setting up an irrigation system for your property, then adding a smart water controller is the crowning jewel.
This guide answers the question of whether you should consider installing a smart water controller, what you'll gain, and some of the best models on the market right now.
The best smart water controllers for 2023
Netro Spark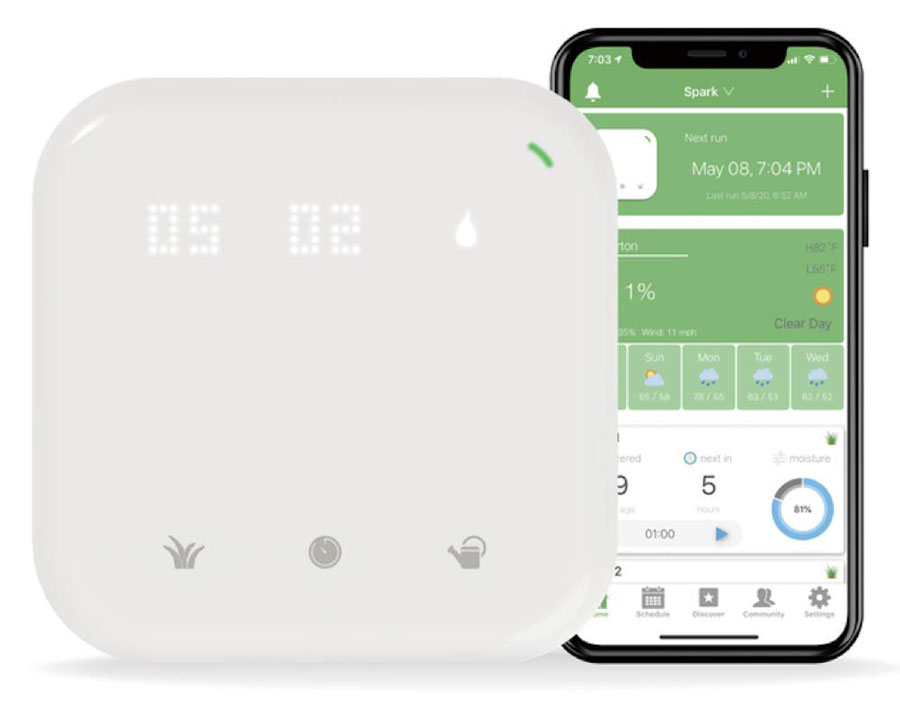 The Netro Spark makes the top of our list for its smart combination of features, aggressive pricing and simplistic installation.
We chose a 16 zone model (12s are available, but the 16 was chosen because of the very minor price difference) that can be installed in as little as 15 minutes, and requires nothing more than basic household tools.
Installation is indoor only, but once it's installed, controls are simple, with the option of app control, or a single button press on the unit itself to spot water, if you feel your property needs a little more.
Water usage is controlled through a combination of weather reporting and previous usage, automatically adjusting using a WaterSense certified system. There are also no membership fees to contend with.
All of this adds up to a product that will fit comfortably in almost any home and offers everything that all but the most specialist properties will need.
---
Orbit B-Hyve Smart Water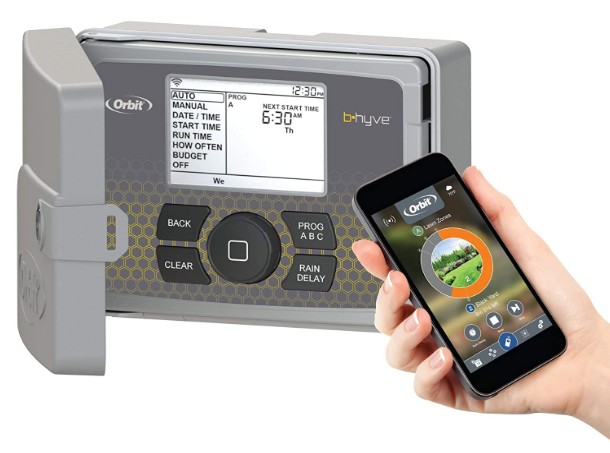 Orbit are a well-known name in garden care, and their products continue to impress. The B-Hyve was chosen because of its ability to be mounted internally or externally, with a weather-resistant cover. However, it is worth pointing out that the device is not completely waterproof, so mount it under cover if possible.
Installation is simple and can be linked into irrigation systems of up to 12 zones. The control options are exceptional, with an app that can be used on any device, a manual timer, and the option to link into your Alexa, so you can control and monitor your irrigation through voice controls.
Watering is monitored through a combination of soil types, sun levels and weather feeds, and can also be linked to a set of water cup monitors, that can cut down water overuse by more than 50%, compared to other devices.
---
MoKo Smart Lawn Sprinkler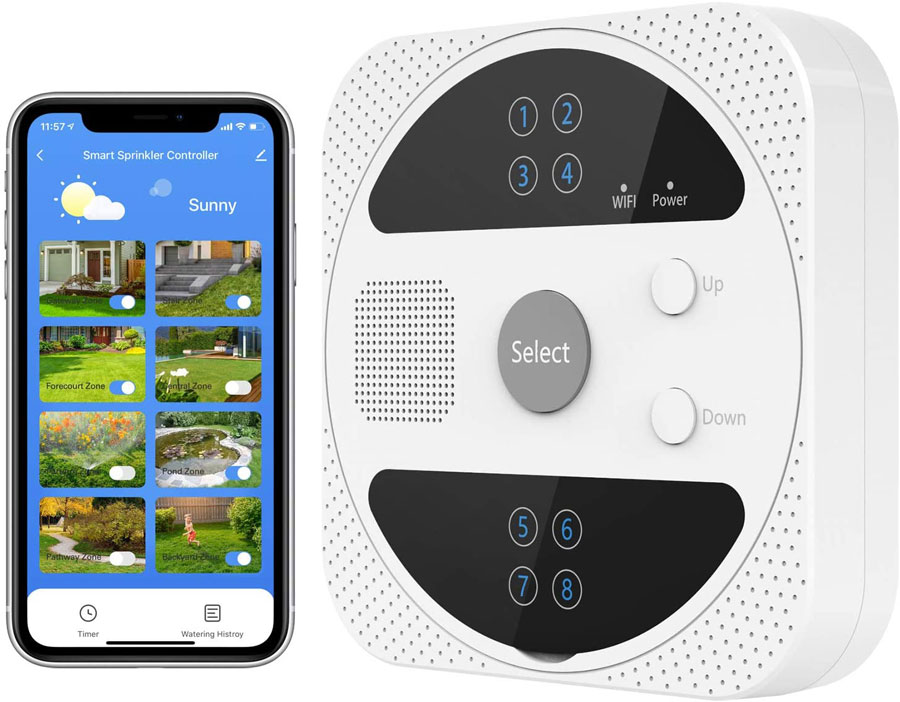 A more simplistic, but far more budget friendly water control system, the MoKo is ideal if you have a smaller property and don't have a series of complicated zones that need individual water levels.
It's an 8 zone system, which can all be set to water at a set time. Weather monitoring is restricted to a simple, binary on/off that prevents watering on rainy days, so this will require a little more set up than our top picks.
But it does link into WiFi, and can let you activate your sprinklers from anywhere in the world. If you have a smaller garden, or you're just looking at buying a water controller for a short amount of time, then the MoKo will suffice.
---
What are the benefits of a smart water controller?
Smart water controls take all of the guesswork out of keeping your garden green, through a combination of wireless controls, weather readings, and integration into your existing system. Here's why you should consider installing one.
Smart controls and automation
Smart water controllers are, well, smart. This means that they should be tapping into your wireless internet, allowing you to control them through the manufacturer's app, no matter where you are in the world.
That lends you security and peace of mind, as no matter where you are, whether it's lying in bed on a Sunday morning, or standing on a putting green in the south of Spain, you can monitor your system at the touch of a button.
Because it's tied into your WiFi, a smart water controller will also usually have the option for detailed scheduling, as well as pinging you with alerts if and when a fault develops.
Water conservation
Over and under-watering are a constant issue if you're looking after a large area of land. It can be complicated to judge just how damp the soil is, especially below the surface, as well as balance out how much you're watering your property based on weather conditions and previous days.
A smart water controller automatically takes all of this into account, and adjusts itself depending on what your property needs.
Another advantage is the fact that your set up should include multiple irrigation zones, which may have different requirements, all of which can be programmed and handled by the device itself; another pressure off your shoulders.
Money saving
A smart water controller saves you money in two ways.
One, by monitoring your water usage, and making sure that nothing is overwatered, but also conversely that nothing is under-watered and needs to be replaced.
The second way a smart water controller saves you money is by saving you time. Time spent not watering your property can be spent on other things, whether that be business, or with family and friends. And one single hour a week adds up to 52 hours per year, which is a significant chunk of time.
What does an 8 (12,16) zone model mean?
When you're setting up your property's irrigation system, it will be divided into a number of zones, with each zone being controlled by a single valve, and everything connected to that.
So, an 8 zone water controller can control a maximum of 8 valves, etc.
Final thoughts
There's a reason most homeowners will invest in a smart water controller if they have land past a certain size. It simply makes the entire process that much simpler.
For a very small amount of money and time invested, you can do the same, automating another aspect of your home and taking another pressure off.
If this is something that you've considered, we'd recommend looking at the Netro Spark first, for its balance of features and ability to scale up to an incredibly large area, for a very reasonable price.