Smart homes are on the rise. We're quickly getting to the point where literally everything in your home is going to be linked to Wi-Fi, if not now, then soon.
With multiple devices constantly accessing wirelessly, as well as most of your home connected to voice controls and a dozen apps, having reliable and consistent Wi-Fi is getting to be the most important thing that many households look for.
This is why so many manufacturers are pushing for mesh wireless as the next big step in smart home automation. The eero 6 is Amazon's latest entry into this quickly crowding market.
What is Mesh Wi-Fi?
When it comes to strong, consistent internet, Mesh Wi-Fi is a clear way forward. It lets you make sure that your entire house has constant, strong internet coverage, using several smaller 'nodes' linked to each other that all broadcast the signal instead of a single main router.
This all works together to produce an overlapping field of Wi-Fi that promises faster speeds, fewer drops and more consistent coverage, with basically no more effort from you.
The eero 6
Combining mesh Wi-Fi that runs on Wi-Fi 6, the next biggest step in wireless internet tech, with built-in, out of the box smart home hub integration, the eero 6 is a small, stylish option that's designed to handle the internet in small to mid-sized homes, with massive options for expansion.
The standard eero 6 package comes with 3 nodes. Each node is sleek and stylish, sitting at 5.3 inches square, and just over 2.1 inches high. Each node is surprisingly large, but the design is unobtrusive and will happily slip into most home décor without issue.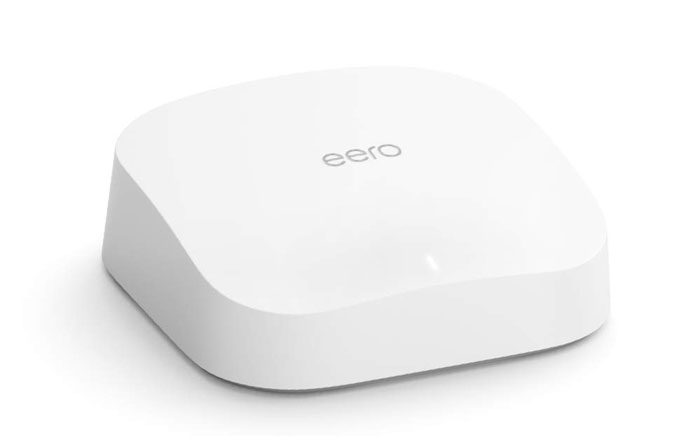 Device performance is decent, with each node running on a 1.4GHz quad-core with a gig of ram, and 4GB of flash memory.
Wireless coverage and connection
Once set up, the nodes offer up to 6000 square feet of wireless coverage, with one node acting as a link to your main router, and the other two working as mesh nodes placed around the home, with decent overall throughput and the high-bandwidth advantage that comes with Wi-Fi 6.
Each node has two gigabit LAN ports and a power port installed in the rear, but noticeably no USB options, which is a disappointment. Each one also has a Zigbee Bluetooth radio installed, letting it link directly into Alexa or another smart home set up with literally the touch of a button.
Overall, when tested the connection offered by the eero 6 is wide-ranging, consistent and reasonably fast. While slightly slower than some of the best models on the market, with the smart placing of the three nodes, most homes won't struggle to find adequate coverage no matter where you are inside the property, and won't notice any significant hardware related drops or slowdown.
Eero 6 set up and installation
As you'd expect from something backed by Amazon, the eero 6 is effortless to set up and get installed. The app instructions hold you by the hand and walk you through every step of the process, and ensure that even someone with literally zero tech knowledge could find their way through and get it up and running.
Once the box is open, you start by downloading the app onto an available device and creating an account. This done (which takes 2 minutes) one click of 'start setup' on the home screen begins the process.
From there, it's as simple as following the step-by-step instructions, which will guide you through how to unplug your modem, connect the eero 6 and power both back up.
Once everything is back online, you'll be able to see your eero 6 node on screen, where you'll be able to name it and give it a password.
Setting up the last two nodes is essentially the same, except you just plug them in and wait for them to be picked up by the system. Out of the box, you can have the entire thing up and operate in less than 15 minutes.
The eero 6 app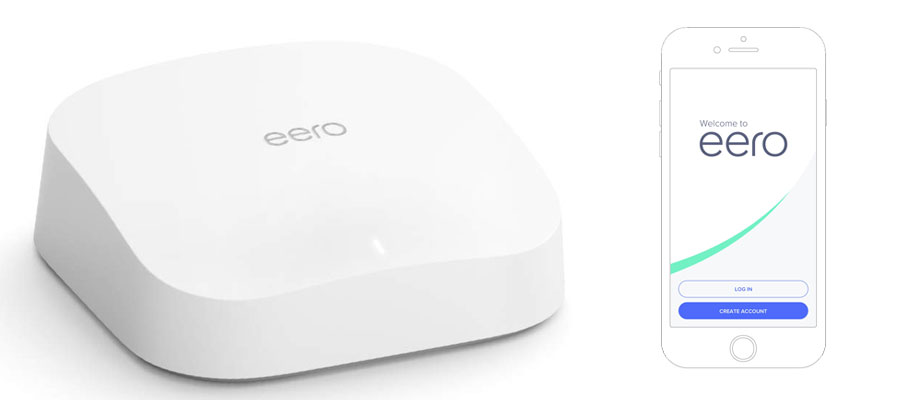 At first glance, the eero app is well laid out and comprehensive. It's fully compatible with Android and iOS and can be linked to Alexa or another home hub for voice control of anything connected to the network. This lets you do things like switch guest networking on and off or pause network access with voice commands.
Once you've gone through the Amazon Wi-Fi simple setup, eero will link into your Amazon account, pulling user settings from any existing Echo or Firestick to a quick start with all of your details, saving you several minutes of tapping, and making sure that everything is linked into the same account without issues.
From the home screen, the display shows your network name, internet status and the name of each eero node at a glance.
From here, you can run a one-button speed test, tap connected nodes to see where it is, the connection strength and IP address, and easily click the plus in the top corner to add devices.
Unfortunately, this is when we run into one of the issues with the eero 6. Services as a subscription, with features that we think, are key only available if you pay extra monthly.
Eero's subscription service
As we've already mentioned, some of the features are locked behind a paywall, eero's Secure and Secure Plus plans.
At the time of writing, the services cost £2.99 monthly for the Secure service and £9.99 per month for Secure Plus. There's also a discount for yearly subscription plans, and a month free to let you see the benefits before you start paying.
The features these plans unlock are useful; some would say essential. It's actually a shame that a lot of these features are paid for, because a lot of the competition offers some or all of it for free, and this is a definite strike against the eero.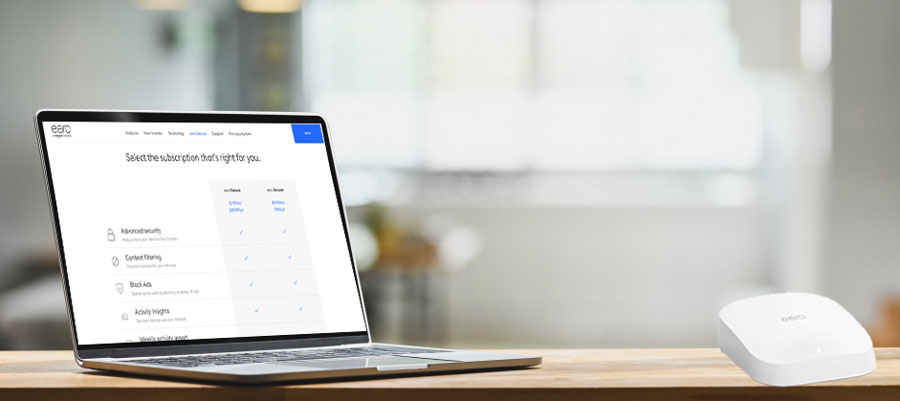 The Secure plan includes:
Individualised user profiles with parental controls
Built-in ad-blocking
Site scanning and anti-malware
The Secure Plus plan includes:
Everything in the Secure plan
Malwarebytes malware protection
Encrypt.me VPN protection
1Password password management
Final thoughts
There's a lot of reasons to recommend the eero 6, predominantly just how simple it all is to set up and get running. The fact that things like antimalware and parental protection are locked into the monthly subscription is a disappointment, as is the fact that the speeds and coverage aren't quite best in class.
But if you're simply looking for a mesh system that works, that you can take out of the box, plugin, and get started with no problems and guarantee good coverage, the eero 6 is going to provide that in droves, in a smart, budget-friendly little package, and for most families, that's what's going to matter.