Despite being one of the most well-developed countries on earth, the UK has a surprisingly high air pollution index, especially in urban areas.
Air pollution is an insidious threat, causing serious issues with complications like lung cancer and other cardiovascular issues, asthma, and dementia. Even ignoring the major problems, air particles can trigger allergies and lead to worsening health.
The worst part of air pollution is that, often, there is literally no way to realise that you live in an area with rising air pollution, until it's too late. This is why it costs upwards of £8 billion and 24,000 deaths every year.
---
What are the best smart air monitors with CO2 sensors
AirThings Wave Plus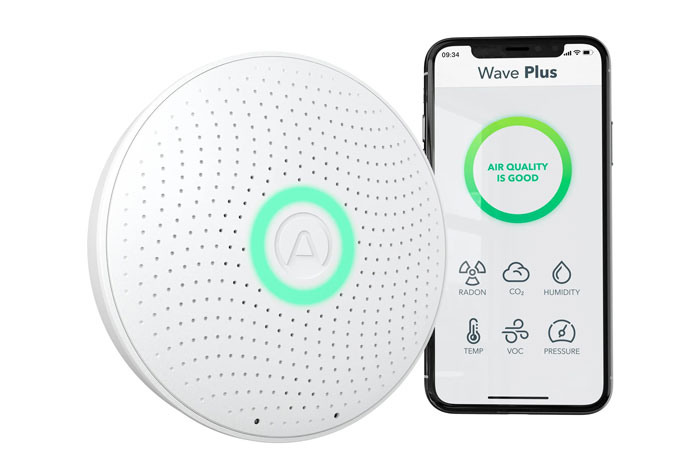 If you could only choose one possible air monitor for your home and family, the award-winning, Time magazine certified AirThings Wave Plus would be it.
It combines everything you could want in an air monitor. Measuring six key air quality monitors, including total VOCs, CO2, humidity, temperature and pressure, gives you an up to the second read on your environment.
Even better, the AirThings app tracks local weather conditions, letting you know at a glance what outside conditions are like, and whether you're likely to have allergies triggered or if pollution is extra high.
Data is logged on the AirThings app, in an easy to understand manner that's simple to read. Connections are handled through Bluetooth, with easy linking.
The single downside is the price, but it's more than worth the investment. However, if you don't need CO2 readings, the AirThings Wave Mini offers a lot of the same functionality, for half the price.
Whichever one you choose, the AirThings Wave Plus won accolades for a reason. It's basically the best air monitor on the market in 2023. Simple as that.
---
Netatmo Smart Air Indoor Monitor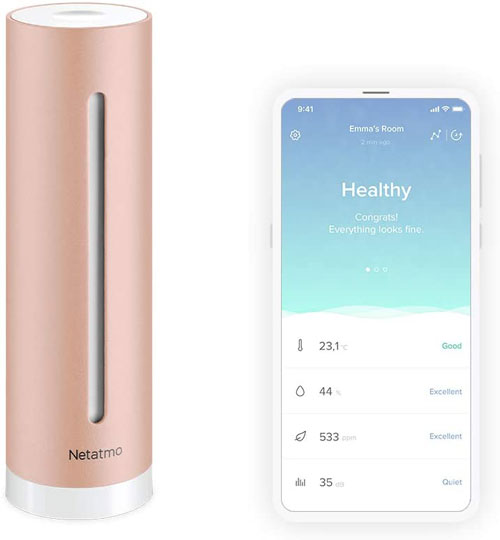 Sleek, gorgeous and modern, Netatmo's smart air monitor will slot effortlessly into almost any household, looking perfectly at home next to your Amazon Echo or Google Nest.
As a monitor, it's impressively accurate, measuring air quality, humidity, temperature, and ambient noise. Noticeably, it does not measure chemicals, but that speaks to the design choices here, and what it should be used for.
The advice settings further reinforce this, with tailored advice that can be set to three different thresholds; for children, for reducing asthma, and for general use. This is backed up by real-time alerts that can be sent to your phone, alongside full data history and up to date air charts, on the app.
It is worth pointing out that the app run via iOS isn't the best, locking out some of the features, for reasons we can't actually comprehend. This obviously isn't ideal for iPhone users, but you can get around this by installing the Elgato app or using a PC or Android device for greater control.
Though this doesn't monitor chemicals, most homes don't have a need for that. And as a home monitor, this does everything else you need it to do, reliably and at a good price.
---
JinQii WiFi Monitor
Designed as a budget, simple to install model, this air monitor by JinQii almost perfectly resembles a smoke detector, and it's as easy to install and use as one, too.
It measures CO2, as well as VOCs, formaldehyde, humidity and temperature. All data is stored and can be accessed in real-time with the Tuya Smart Life app, letting you see the results no matter where you are, as long as you have your smartphone with you.
Finally, despite being a relatively cheap piece of kit, it can be linked to other smart devices including air conditioners, air purifiers and your central heating system, which lets it activate them and try to normalise the environment in your home.
While we wouldn't recommend this monitor as the main unit, it's fantastic if you wanted a backup that permanently monitors less-used rooms and can give you up to date information on the rest of your home.
---
Imbomsi 3 in 1 PT-01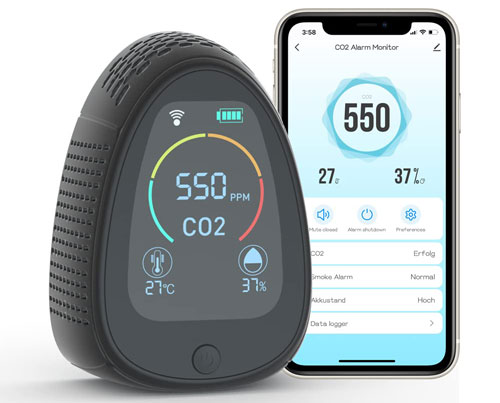 A simple egg-shaped design that's happy sitting on your desk at work, hung on the wall at home, or in your car, as you travel, this monitor is flexible, versatile, and surprisingly impressive.
Monitoring CO2, ambient temperature and humidity, all data is logged daily, with monthly trends and triggered alarms available through the TUYA app on any smartphone. The front screen is also incredibly simple to read, with simple to understand battery life, temperature, humidity and CO2 concentration markers.
One thing we love about this is the variable alarm system. Once CO2 levels rise above 1000, it pings you with a rapid alarm. If CO2 levels keep rising to problematic levels, longer, more serious alarms trigger for 20 seconds at a time, making sure that you're made aware.
Charging is handled through USB and lasts around a day's use, which is what you'd expect. It can also happily be run via its power cable.
The only downside here, and the reason this is last on our list, is that this only measures ambient CO2. No chemical VOC readings, no pollen. But what it does, it does very well, and if you need a pure CO2 smart meter, this is a great choice.
---
Why do you need a smart air monitor?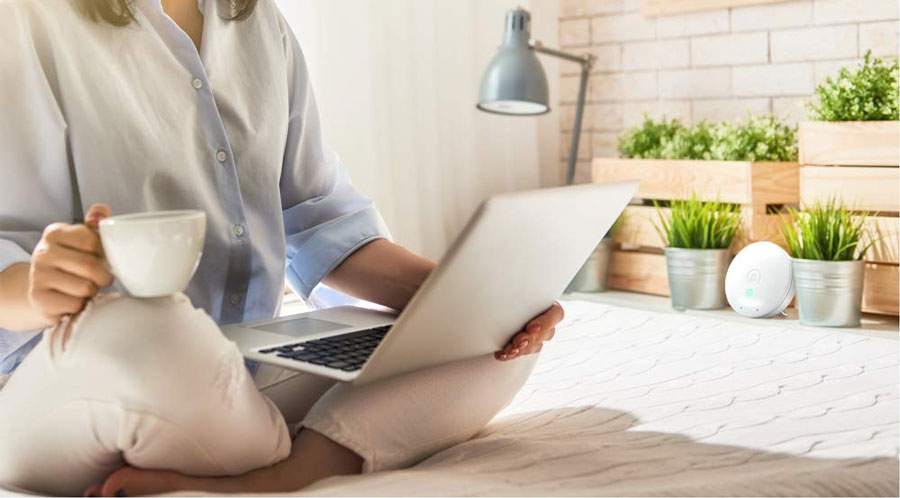 Bad air quality is the single biggest environmental risk to public health in the UK. That means if you live anywhere near a major urban area, a large public road or other through way, or even some industrial areas, you and your family could be at risk.
There are also a number of pollutants that you can find around the home, with things as simple as paint storage, chemical storage for garden work, or your fuel and electricity services, generating toxic chemicals.
Smart air monitors are an incredibly cost-effective way to prevent this problem, letting you stay up to date with the air quality in and around your property, with up to the minute reports and warnings whenever circumstances change.
What do air monitors test for?
Depending on the instruments and sensors used in an individual monitor, they can measure a wide variety of contaminants and particulates, which might include:
PM10 particles (airborne dust and smoke)
PM2.5 particles (predominantly fuel and chemical fumes)
Carbon monoxide and carbon dioxide
Humidity
Mould
Why do you need a combination smart monitor and CO2 detector
More air monitors now come with CO2 detectors built-in as default. This list was specifically chosen to contain the best monitors that all have CO2 detectors.
One of the quickest and most lethal air pollutants in a home is carbon monoxide. Colourless, with no odour and no taste, it's almost impossible to detect carbon monoxide build up until it starts to affect the health of you or your family, and by then it could be too late.
A CO2 detector monitors carbon oxides in the air. Most commonly produced by appliances that burn liquid or solid fuel, for example, your home boiler, it's an early warning system in case appliances develop leaks or faults.