We're getting closer to the day when every device in your home will be linked to a single network, letting you control all of it from a single app. The Smarter brand is all about this, with their latest device giving you the option to automate something that so many people rely on to get through the day. A simple cup of coffee.
What is the Smarter Coffee?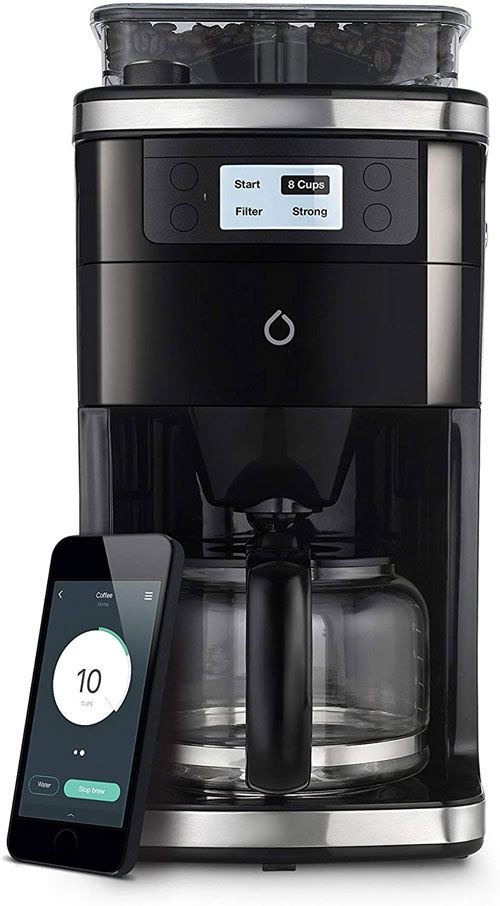 Now in its second generation, sleek and impressive looking, Smarter's coffee machine is designed to integrate straight into your smart home, including linking directly to Alexa, as well as Smarter's other devices like the iKettle.
It's worth pointing out that the Smarter Coffee doesn't have very much in common with the 'standard' coffee machines you see regularly advertised, like a Tassimo or Nespresso. There's one huge difference between home espresso makers and a coffee machine like this one;
Most home espresso machines create and dispense coffee directly into your mug, ready to drink. Smarter Coffee doesn't do that. Instead, it has a large glass carafe, similar to what you'd see in a coffee house, which you have to remove from the machine and pour your coffee from.
Now, depending on what you're looking for, this could be a good thing or a bad thing. It all comes down to this. Does your family regularly need more than one cup of coffee at a time? Does your breakfast routine involve multiple mugs for everyone in the family, just to make it out the door? Are you working from home and constantly heading back to grab a third (fourth, fifth) mug throughout the day that you promise will be the last? If so, then this is gonna be a great thing that might just revolutionise your life.
If, on the other hand, you're just looking for a single mug of coffee in the middle of the day, that's done in a couple of minutes, the Smarter Coffee might just be a little too much. Let's dig in and break this down.
Design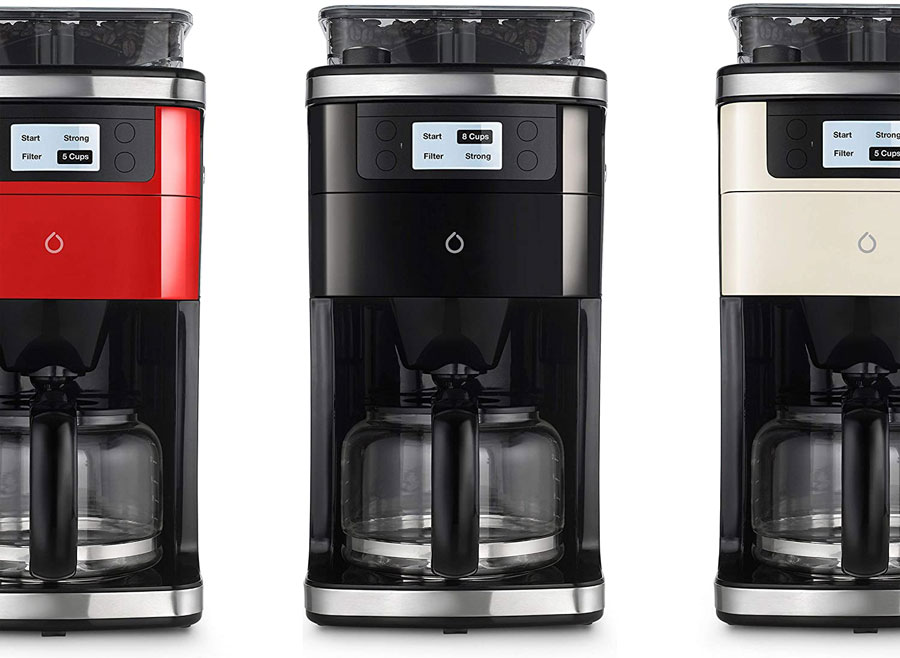 Out of the box, the first impressions are great. The machine itself looks gorgeous. Tall, sleek and attractive, the black and silver design is modern without being obtrusive. The front plate is removable, with a choice of three colours (silver, white and black) that will help it blend into your kitchen's décor. No complaints here.
The first thing most people will notice is the glass carafe, which fits snugly into the bottom half of the system. It's large, taking close to a litre and a half of coffee in one go (the same as the total capacity of the coffee machine,) but has big handles and good weighting, making it easy to hold and manoeuvrer with.
Moving up takes you to the control panel, which is simple to understand and relatively spartan. Smarter made the conscious decision to put most of the controlling power into the app, which you should understand if you're considering purchasing this. You also have the option for voice controls. More on this later.
Sitting on the top of the machine is a hopper, which accepts pre-ground coffee, or coffee beans. The capacity is just over 200g, equivalent to the bags of pre-ground coffee sold by all the major brands, with the option of a cover if you need it, which is nice.
The overall footprint of the machine is 26.6 x 20.6 x 42.4cm, which is slightly bigger than something like the Nespresso, but it's still perfectly reasonable, and easy to sit on any countertop.
Setting up and switching on
It's a modern appliance, so set up is as simple as taking the coffee machine out of the box, plugging it in, and letting it run through a couple of minutes of checks.
Theoretically, from here you're good to make your first cup of joe, but you're going to want to install the app before you do anything else. As we've already mentioned, the app is the beating heart of the system, and it's what gives you complete control over all of the automatic functions and smart features.
Adding beans is nice and simple. The top hopper is easily accessible, and there's a dial right next to it that sets grind coarseness. Filter changing is also simple, a single button press pops open side access, and the whole process takes moments.
Water on the other hand is a little more intensive. The water container is non-removable, meaning you have to pour water directly into the machine itself, which can be fiddly. The internal capacity, at around 1.5 litres (around 3 pints) seems reasonable at first but runs out surprisingly fast. The app does have up to date water readings, though, so you're always going to know exactly how close you are to the next refill, and the system won't ever make more coffee than it has capacity for, which is nice.
Making your first coffee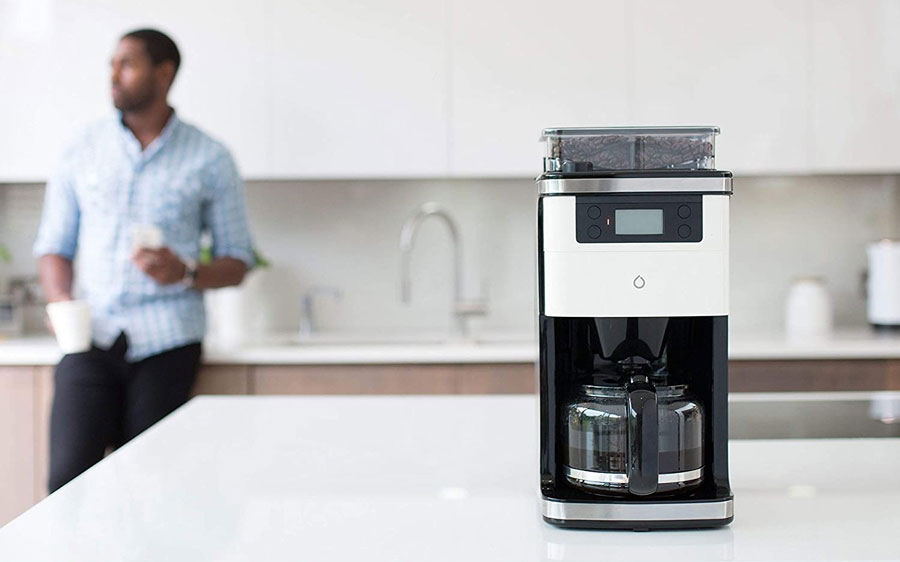 Once you're all set up and the machine is full, it's time to brew.
The app gives you a wide selection for how you want your coffee brewed, you can choose from settings including:
Three strengths, from weak to strong
Amount to be brewed, from 4 to 12 cups (deceptively, a normal coffee mug is about 2 cups)
Preheating time, set from 1 to 5 minutes
Warming time, anywhere up to 40 minutes
Once everything is programmed, the system gets to work. The front display will keep you constantly updated throughout the process, which takes around 5 minutes, and as already mentioned, once brewed the coffee can be kept warm for up to 40 minutes.
Overall impressions are good. The coffee comes out strong, so finding your favourite settings might take a little fiddling, and the grinder could be a little better, and a little quieter, but overall, this makes a decent cup of coffee and anyone you serve it to shouldn't have any complaints.
The app and smart features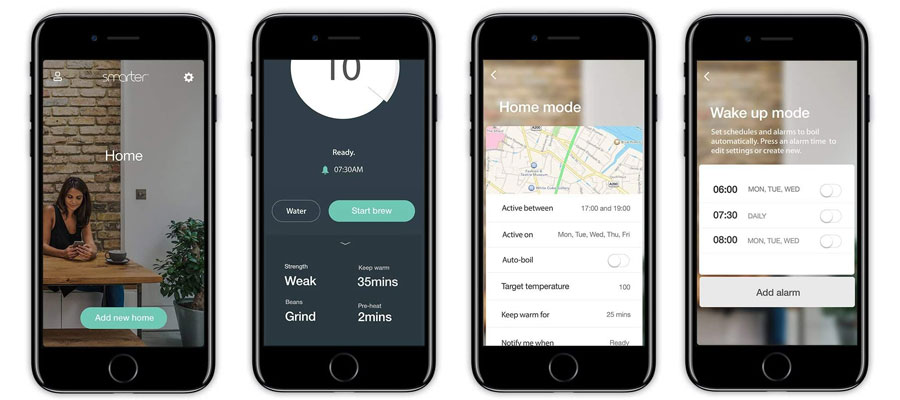 The app is how the Smarter Coffee attempts to differentiate itself from competitors, so it's nice to see that everything is laid out well and easy to understand.
Almost everything is handled from a simple menu that's going to be instantly familiar to anyone who has ever used an Apple product, with all of the essential functions divided into sub-menus that are simple to adjust.
But where the Smarter stands out is its automatic functions. The main two are wake up mode, which automatically starts brewing your essential first-morning cup on your wake up, and home mode.
Home mode is particularly smart. The app and machine automatically sync with each other using BlinkUp, which can handle several users at once. Setting Home mode to on lets the system pick up when you walk back into range, ie, walk through your front door after a long day at work, and automatically switch on and start brewing.
There are also options to link the Smarter Coffee into your existing smart home set up using IFTTT. It's also fully compatible with Alexa, meaning you can make a coffee from your home office just by asking for it, and only get up when the app pings ready.
Overall impressions
The Smarter Coffee has a huge amount going for it, which is why the downsides are so disappointing.
We'd like the 3rd generation to have the option for single mugs of coffee, to not require refilling so often. Once that's solved, recommending it would be easy.
As it stands, offices and similar environments will love this, and homes that run on coffee and need multiple cups at a time would really benefit from what's on offer here, but anyone just looking for a single cup of coffee now and then might want to look elsewhere.