Growing your own food indoors can be enormously rewarding for both adults and children alike (not to mention they're tasty and packed with nutrients). Fresh home-grown food that's not covered in pesticides is something most of us want more of. If you like the sounds of indoor gardening but don't want to get your hands dirty, hydroponic kits like the iDoo indoor garden promise to make the process quick and easy.
Welcome to this review – where we'll be taking a look at one of the new indoor gardening kits, the iDOO Hydroponic Growing System (Amazon). I was especially interested in how it measured up to the hugely popular Aerogarden and Click and Grow garden systems.
What is the Idoo system?
What we've got here is a hydroponics planter that has everything required to grow plants indoors including a water supply and artificial LED light. Unlike some of the other kits on the market, you start off with a regular seed as opposed to inserting a pre-bought 'pod'. You'll grow the seed into a seedling and then a fully matured plant you can harvest each day.
You can grow a choice of edibles (veggies and fresh herbs) or an impressive array of flowers, all without the need for natural daylight.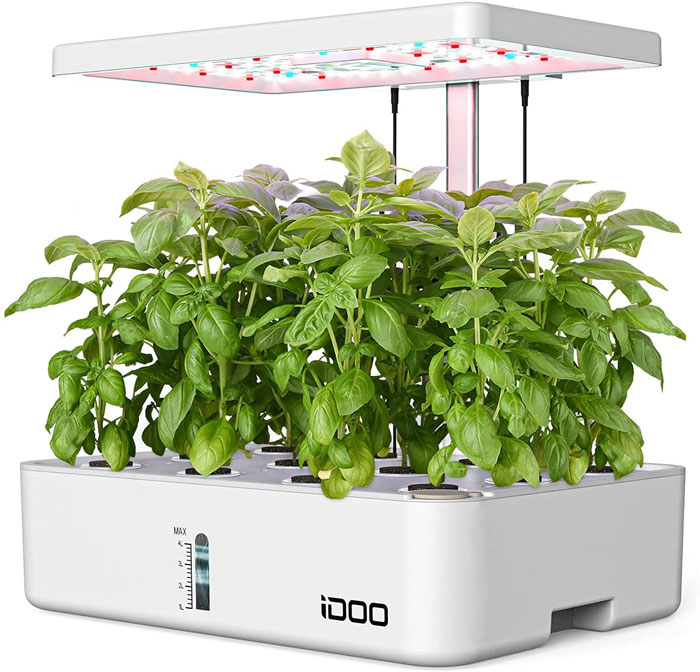 You'll be growing up to 12 plants at a time in smart sponge pods that help the plants take root and absorb water. As this is a hydroponics kit, there's no soil. This is great because you don't end up with soil, mud or stains all over your clean surfaces. In fact the Idoo is surprisingly clean and mess-free.
About the only job you'll have to do is to remember to fill up the water tank (which holds up to 4.5 litres).
The lights turn off and on using a timer to simulate the sunlight they would get outside at the correct season, as does the water pump, which turns on and off on an automatic cycle).
The lighting hood has a fan in it and can move up and down (as the plants grow you'll need to slide the lights up so they've got a room and are encouraged to 'reach').
Check Current Amazon UK Price
What's so good about the Idoo?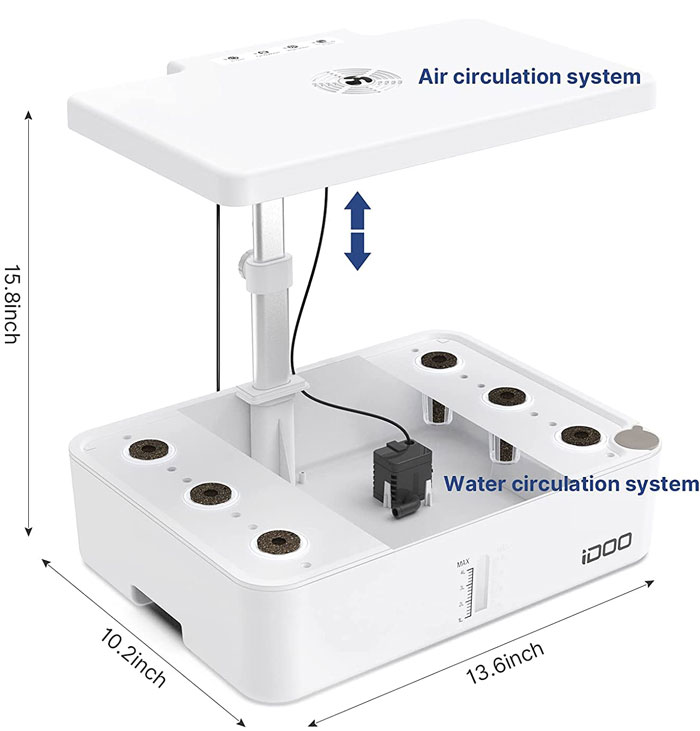 It's cheap! The Idoo comes in at a much lower price point than the big brand name hydroponics sets. It's normally £30 cheaper than the Click n Grow Garden, and £60 cheaper than the Aerogarden.
You get 12 separate pods – (The mini pots where you grow the plants). You're free to grow all the same plants, different species and you don't have to use them all.
Built-in LED grow lights – As with other indoor kits, iDoo's system has the lighting built-in and it doesn't need to be on a windowsill or get any natural light.
You can grow different kinds of edibles – Choose from fresh fruits, herbs, or smaller vegetables like cherry tomatoes.
You can grow what you like, no matter what season we're in – One cool thing with this indoor garden is you don't have to wait for a certain season to grow a certain plant. The built-in lighting means you're free to grow your seasonal favourites when you want to.
Includes water pump and fan in the design – Like the Aerogarden, the iDoor system has everything needed for growing the plants built-in.
Doesn't use soil – My houseplants tend to get a bit messy. The iDoo garden takes away some of this as it doesn't use any soil. This is a true hydroponic growing system. Cleaner and easier.
---
What's in the box?
You get everything you need to set up a hydroponics garden in the box, although you'll need to get buy some seeds as you don't get any included in the kit.
The packaging itself looks and feels very premium and the product looks and feels good even before it's put together.
Setting it up is extremely painless and this isn't one of those items you've got to get the screwdriver out for. Things like the pump are already installed.
Everything is also packaged separately. Although you'll have to open them all, which takes a few mins, it does help keep organized.
Idoo box contents
1 x Hydroponics Growing System
1 x Accessories Set
12pcs Plant Baskets
12pcs Grow Domes
24pcs Sponges
2 Bottle Nutrients
12pcs Tags
6pcs Covers
---
What kinds of things can you grow in iDoo's indoor garden?
Herbs
Small vegetables
Flowers
Some of the more popular choices are:
Basil
Salad leaves (especially lettuce)
Chillies
Strawberries
Check Current Amazon UK Price
---
5 Things I didn't know about the iDoo Garden
You might already know some of these factoids, but they were news to me and I thought I'd share!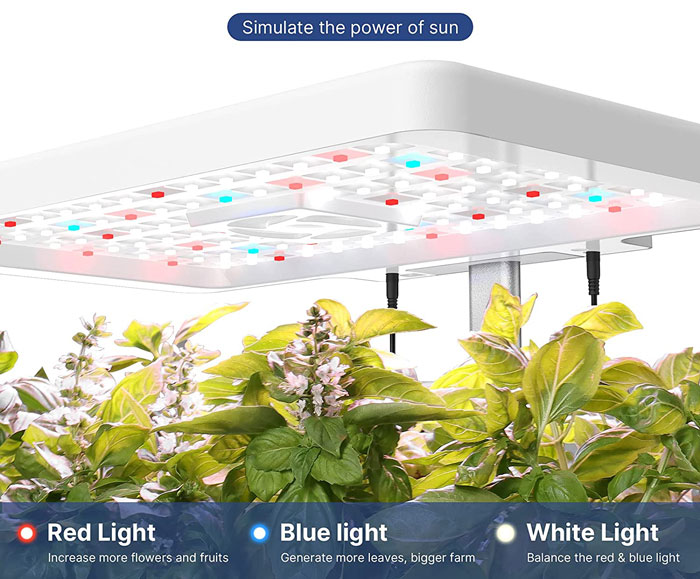 Speedy growing – Plants grow faster in this than they would in soil.
It has two sets of LED lights – Fruits and veggies need different kinds of lights, apparently. The Idoo has both built into the hood.
You can plant your own seeds – whereas other systems prefer to use all-in-one 'pods' you have to buy, the way the Idoo works is different. You use little pots with sponges in them and can plant whatever you want to.
Germinating seeds is easy with this kit – One thing that's hard with growing your own stuff is getting the initial sprout from the seeds. With the Indo, they have this internal water flow that prevents them from drying out.
You grow the seedling with little covers on it – Your first job will be to grow the seeds. You do this by placing them in one of the sponges and slotting it into an empty bay. There's a plastic dome you put over the seeds and once they've sprouted, you can take this off.
Check Current Amazon UK Price
How does the Idoo compare to the Aerogarden?
A lot of people are going to wonder how well this thing stacks up against the better-known Aerogarden. Here are some notes on the differences between them.
You can use your own seeds with the Idoo garden – One thing that's actually better with this garden is the way you can plant your own seeds and aren't limited to
Lights seem brighter in the Aerogarden – Though both gardens do a good job at growing both fruits and veggies, the lights in the Aerogarden look slightly brighter.
IDoo is cheaper – Regardless of which Auerogarden you buy, the Idoo is substantially cheaper than the larger brand.
Who will love this indoor garden?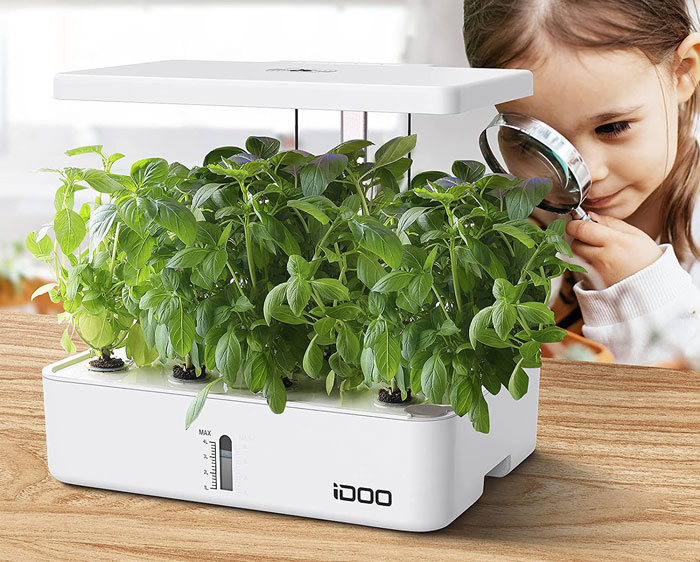 If you're even remotely curious about growing your own food, you'll probably have a good time here. Some of the people who'll likely get some use out of this indoor garden are:
Anyone who misses owning a garden, or had to pack up and move to a city.
Parents and children will have a lot of fun with this
Anyone looking for a gift and it's one of those 'they've got everything…' situations.
If you want to grow some healthy foods.
Anyone who fancies themselves as a cook will really like the herbs you can grow here.
---
Review: What are the best things about iDoo's system?
You don't have to be a gardener or know anything about growing stuff
If you're a keen gardener, you're probably already growing your own fresh fruit and veg. For anyone like me, this is a minefield of confusing new things to learn. As much as I'd love to, I'm not sure I've got time.
The best thing about these indoor kits is that they're ridiculously simple. The iDoo is definitely one of the easier ones to use. it shouldn't take more than a few minutes to get out of the box and set up.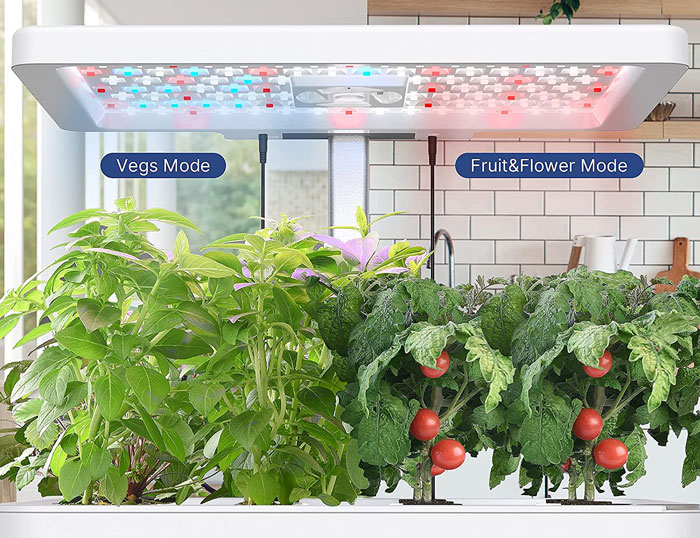 It's absolutely brilliant for kids
If you've got children, you'll know they love growing things in pots and in the garden. We've had a few successes and a few failures (planting trees) in our house but my daughter loves the idea of growing things.
This kit is a lot of fun because children can run in and check their progress each day. It's also kind of educational to have them check things like the water level in the tank and to perform some basic maintenance on the plants as they grow.
Having a little ruler nearby will help them track the progress and it's fun to take pics or make notes for a school project.
The real trick is to stop everyone from eating the tomatoes as soon as they get the slightest bit of color on them.
There's plenty of space and the planters are all well spaced out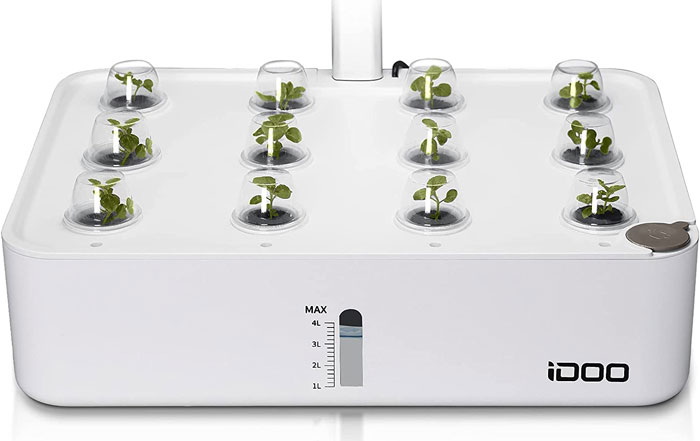 With a whopping 12 holes to plant in, this is one of the more spacious indoor gardens I've seen. There's also plenty of room to grow between the planters too. If you don't want the pressure of growing 12 plants at once (most people won't at first) you can use as few as you like.
There are also some handy hole-covers you can put in place so it keeps the kit looking good, even on a light load.
Vertically, there's a ton of space too. The LED lights have a sliding arm and you can raise the lights up around 12 inches above the plants, allowing for a good size of the crop without them growing into the lights.
It looks gorgeous
The Aerogarden really nailed the modern, sleek smart sort of look with these indoor gardens and while the iDoo looks very similar, that's not a bad thing.
While it takes up more space than a windowsill, and you'll need to put it next to a power outlet, the Idoo looks great. Its glossy casing looks very modern and something people will likely be intrigued by when they visit.
Check Current Amazon UK Price
---
What are some drawbacks and negatives with the iDoo indoor garden?
While I really like this indoor system, it's only fair to point out some issues and limitations with it.
It's a lot more expensive than traditional methods
While growing things in pots and then planting them in the garden isn't right for me, there's a lot to be said for doing it the old fashioned way.
Technically, there are far cheaper ways to do a hydroponics setup from home.
You're limited by the size
You're not going to get much to eat from the iDoo garden (or any of the smart hydro gardens for that matter). They're larger than they look in the pics and videos but they're babies compared to even a modest 'proper' tomato plant you'd grow in your garden.
Having said that, this does have serious uses if you're looking to grow your own fresh herbs. Those plants are obviously smaller than other kinds of plants and they're one of the quickest and easiest things you can grow.
The instructions are poorly written
This is one of those cases where the instructions seem to have been translated from another language and, while you can follow along pretty easily, the manual leaves a lot to be desired.
It has a bright pink glow
One thing to bear in mind with this kit (or any indoor garden) is that it does emit a very strong LED light. It has a strong, if not unattractive pink glow that will dominate a dark room at night.
You might want to keep it out of the living room or bedroom. Or you've also got the option of playing with the timers so they don't disturb you.
---
Conclusion: Is the Idoo garden worth a buy?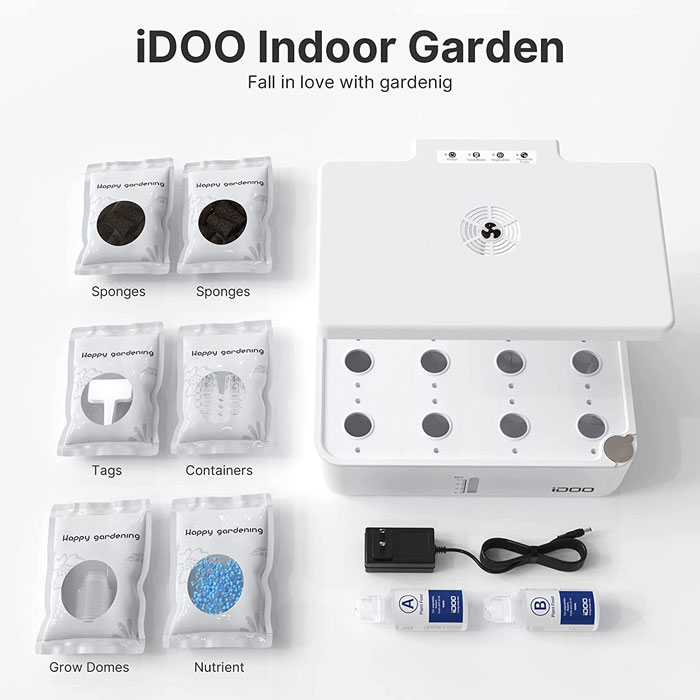 The IDoo indoor garden is a great introduction to growing your own stuff without the geekiness often associated with hydroponics.
The way you can pick your own seeds and how easy it all makes it a good choice for anyone completely new to growing flowers or edibles at home.
The kit itself is good quality for the price and there's lots of room to grow up to 12 plants at once.
The Idoo is a lower price than the Aerogarden and a great jumping-in point for growing some yummy fruit, veggies, and herbs.
Recommended
Check Current Amazon UK Price
---
Idoo Garden FAQs
Is this a good gift for children?
As long as the child you're buying this for would be interested in this (you'll likely have an inkling) this is both safe and easy enough for children to use. It will require adult supervision and, to be honest, it's a good project for a grown-up and a child to do.
Is it hard to use?
The Idoo garden isn't hard to set up or use and you definitely don't have to be 'into it' to be able to grow the plants or veggies you want.
The basics are:
Set up the kit and the lighting
Mix the plant food (very simple, don't worry!)
Pour in the water and the plant food mix
Put the seeds into the little sponge pods
Set the timer (again, easier than it sounds)
Watch your garden grow
How does the water pump work?
One of the parts of this system is a water pump that circulates the water around the planter base and makes sure the nutrients flow around all of the roots evenly. You don't have to adjust this. Once it's turned on, it has a cycle of 30 minutes on and then 30 minutes off. This helps with the growth of the plants and there's no maintenance required.
Do I need to worry about the water level?
With the Indoor grower, you have a little plastic window that lets you see and measure the water level. It needs to be set to 4.5 litres in the beginning. The water level will gradually drop but the seeds will sprout roots that go down towards the water over time.
Can you take the kit to pieces once it's been put together?
Yes, the Idoo garden is easy to get back into separate pieces if you need to store it or take pack it up to take somewhere. For the stem that holds the hood, simply unscrew the bolt and it will separate into individual pieces. The rest of the kit is quick and easy to take down.
References and Further reading