Ever thought you'd be connecting a refrigerator to the Wifi? Me either. But Samsung's RF56M9540SR is part of an intriguing new line of 'smart' fridge freezers, which connect to your home broadband and offer both convenience … and entertainment, as well as keeping your veggies fresh.
In this quick guide we'll learn exactly what this connected appliance can do, and also show you the cheapest place to grab one today.
Best price today on the RF56M9540SR
If you've come to this page for our price comparison and to find the cheapest price to buy one of these, here's the list of sellers, and the lowest price today. Unlike a lot of products we've seen, there's a fairly substantial price difference between sellers for this fridge freezer.
Here's the best UK deals on Samsung's smart fridge today:
Prices Last Updated Wednesday 19th January 2022 - 06:23:14 am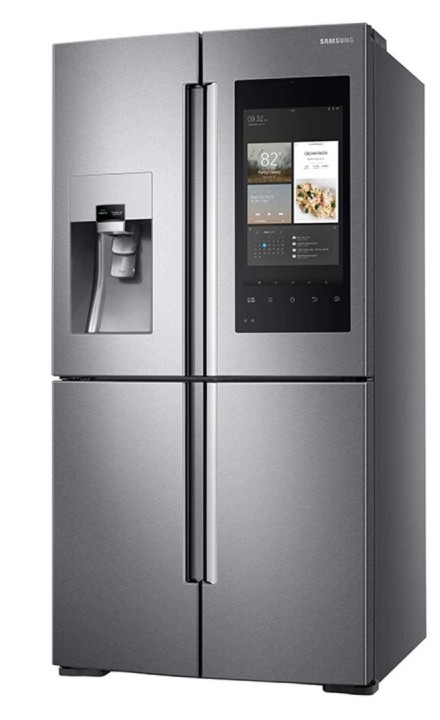 So, what exactly is the RF56M9540SR?
Meet Samsung's smart fridge freezer. A French-styled, 4-door unit with oodles of storage, everything you'd expect from a large fridge freezer, with some major differences…
This is a smart kitchen appliance with hardware including three inward-facing cameras, and a full-colour touch screen to the front. Forget fridge magnets, scraps of paper and post-it notes, Samsung's family hub aims to offer families an extra tool to share, connect and do more together.
So what can this thing do? Is it worth 'that' price tag?
The one with the big screen
The main thing that set's this 4-door fridge apart from other ones like it, is that this is a connected smart device. While you might think it's just a normal refrigerator with a screen slapped on the front, once you dig a little deeper, there's actually some well-thought-out features Samsung's family smart fridge has on offer.
RF56M9540SR features and tech specs
Ever been excited about getting a new fridge freezer delivered? Not many people have, I'd wager. That might change if you end up buying one of these smart gadgets. If I was a salesperson, I could definitely sell one of these family hub fridges.
Well, maybe.
Here's the essential rundown of the main specs you need to know about the Samsung RF56M9540SR.
| | |
| --- | --- |
| Number of smart cameras | 3 |
| Warranty | 5 Years |
| Vegetable drawers | 2 |
| Screen type | Smart touch screen |
| Screen features | Watch TV, listen to music |
| Online functions | Search recipes, download apps |
| Left door | Indoor ice and water despensor |
| Fridge connectivity | Bluetooth & Wi-fi |
| Fridge Capacity | 550 litres |
| Freezer rating | 4 star |
| Freezer compartments | 6 |
| Color | Stainless steel |
| Air flow | Multi air flow |
| Dimensions (H x W x D) | 182.5 x 90.8 x 73.3 cm |
| Control via | Smart phone and tablet |
| App compatibility | iOS and Android |
| | |
| | |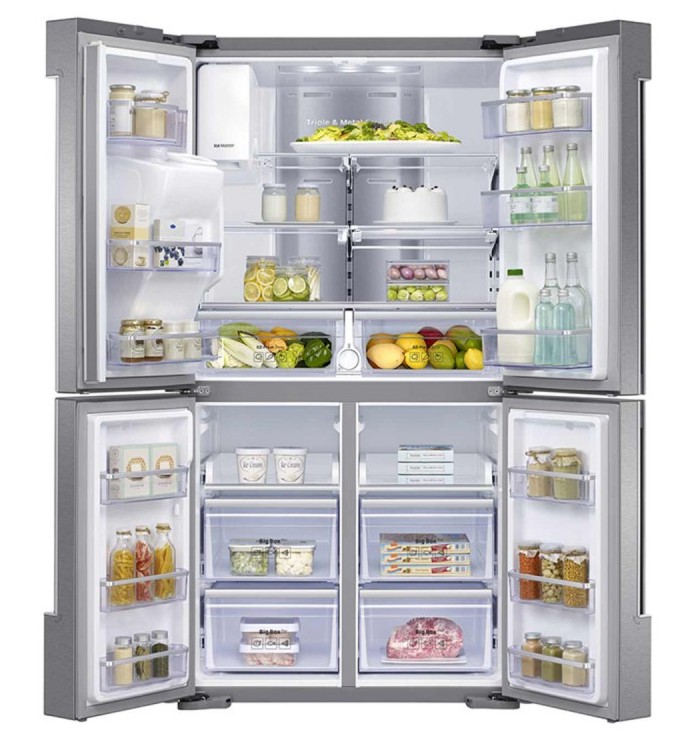 Should you buy the Samsung RF56M9540SR?
After initially being sceptical about its practical uses, I was pleasantly surprised with some of the things I learned in my time with the RF56M9540SR. Here are some of the  highlights I discovered:
8 Things you'll love about the Samsung RF56M9540SR
#1 It's got a telly on the front!
I'm sure Samsung would flip their lid if they knew the first thing I told someone about their baby was that you can play movies and watch sports on it. But, you know – you can. In fact, you can watch sports, news or anything else that tickles your fancy.
Ever missed a good bit on a TV show because you went into the kitchen for something? The Family Hub fridge lets you TV stream your main TV onto the Samsung fridge freezer's screen. Drawing the short straw to fetch the Mayo will never be a blight on your TV viewing again.
Aside from movies and other video content, you can also set photos to appear, like one of those digital photo frames everyone got for Christmas a few years back. Beats sticking them on the front, with those fridge magnets that all fall off when you close the door too hard.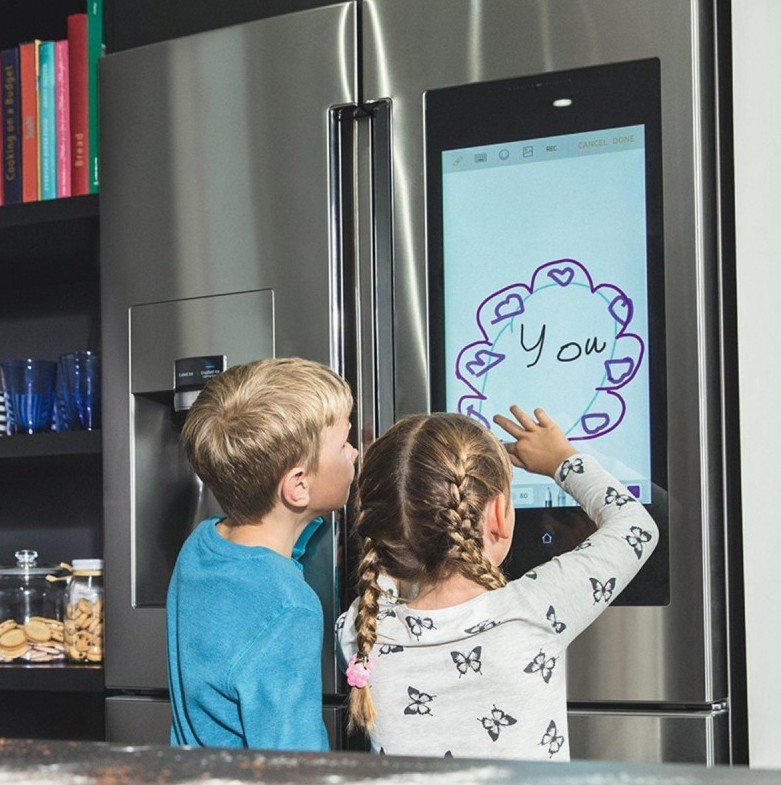 #2 You can see what's in your fridge
Like the cheaper fridge cam we reviewed on Smart Tech Stuff recently, Samsung's smart fridge lets you peek inside your fridge from anywhere, using your phone. Unlike Fridge Cam, with it's single camera, the Samsung RF56M9540SR boasts 3 inward-facing cameras. These will track what you have in there, allow you to see what you need from your phone, and let you know when things are expiring.
#3 Tagging food stops it from being wasted
Another handy feature. Tagging helps prevent food from getting thrown away and wasted when it inadvertently goes past its best-before date.
It works like this: load your fridge up, then on the touchscreen, drag 'tags' onto each item. The fridge will then keep track of the expiration dates. One less thing to stress about. Apparently, this could save you up to £700 per year off your food bill.
#4 Enjoy your tunes, or radio on the built-in speaker
If you normally listen to your tunes when you're whipping up something delicious in the kitchen, you'll probably find the speaker on the front of the Samsung fridge handy. Choose from thousands of stations available on the TuneIn app.
#5 There's some genuinely useful apps pre-loaded
The screen is packed with all kinds of things you'll find super helpful. From essentials such as clock and weather reports to leaving little notes and reminders on there. One of the best productivity apps is the Sticky App, which lets everyone sync up their personal calendars with the screen on the fridge. No one has to miss another performance, or neglect to pick up Aunt Lucy's cat from the vet's next Tuesday. *
* Aunt Lucy's cat doesn't like waiting around.
#6 You can order food using the fridge's touch screen
Samsung's family hub lets you buy food directly from your fridge screen. (There's also an app for your smartphone or tablet to manage your list too). Another money-saving feature comes in the form of being able to price compare ingredients from different online shops and add them to your basket.
#7 Finding new recipes to try out is easy
If, like me, you're notoriously bad at trying out new recipes, this could be the smart appliance that changes all that. Connecting to online service Whisk, the Samsung Smart hub lets you browse through thousands of online recipes. You then order the ingredients you need cheap and follow the instructions to cook something scrumptious.
#8 Your kids will love it
The children probably won't be as excited about the new fridge arrives. I mean, why would they? Well, wait until they realize they can draw on it (you might want to be careful how you word that). Samsung's RF56M9540SR comes with a digital whiteboard that little ones can draw colour pics on to their heart's content.
Big kids can also get involved and leave handy voice messages with it too.
Conclusion
Samsung's RF56M9540SR Family Fridge Freezer is definitely something to get excited about, which is something you can't often say about buying a new kitchen appliance.  It's clear that a lot of thought has gone into this smart refrigerator and it's not just a fridge with a screen. As long as you're not put off by the price, you'll likely find a host of features here that make family life more efficient and fun.
Sources & Further Reading