Alexa: Talking to machines has never been more fun
Alexa is Amazon's version of the smart virtual assistant. It, or rather 'she', is a piece of software that listens to your voice commands, interprets what them and then performs a certain action.
What can you do with Alexa?
Alexa can be used in conjunction with other smart home devices to control them using your voice. The amount of things you can actually do with Alexa is growing with each update. Some common uses of Alexa are:
Smart home automation: Turning the lights on, thermostats, appliances
Entertainment – Changing TV channel, music and media
Reading – Alexa can read a Kindle book to you (or access Audible)
Information – News, traffic, weather and news updates
Fun and games – There's some great Alexa games on the skill store
Home security – Locking the front door, checking if windows are closed
10,000+ skills – Alexa can learn many more cool skills!
What are the main current Alexa smart speakers?
There are a number of third part speakers and devices that can run Alexa on them, but the main ones from Amazon themselves are:
Amazon Echo – the main speaker that comes with Alexa
Amazon Echo Dot – The super-cute mini version
Amazon Echo Show – A bit like an iPad combined with an Echo
Is Alexa an A.I I can talk to?
No. While Alexa, in her current form, is able to interpret your voice commands, it's not a fully fledged artificial intelligence (AI). Alexa uses machine learning but is not an AI just yet. She can't determine when you're talking to her, without inserting the wake word 'Alexa' in front of the command. A virtual assistant is still an input device, a bit like a mouse, but one that uses your voice.
Alexa is getting smarter…
In the future? It's likely you'll be able to have much more natural conversations with all smart speakers, like Alexa.
You'll find Alexa installed on products like the Amazon Echo, Echo Dot and some other third party speakers. (See our Amazon Echo Alternatives guide for more).
What's the difference between Amazon Echo and Amazon Alexa?
The Amazon Echo is the hardware and Alexa is the software. to put it another way, Alexa is the actual virtual assistant, while the Amazon Echo is the smart speaker. Alexa isn't bound to the Amazon brand of speakers though. There are several smart speakers, such as the Sonos One, which use Alexa as their voice assistant, rather than come up with their own.
There's a vast amount of commands you can use with Alexa, and a massive support from smart devices. Look for the works with Alexa logo.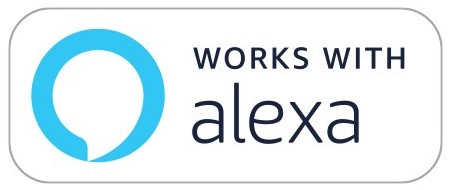 Visit our Alexa Accessories page to find some more examples of cool things you can do around your smart home with Alexa.
Sources & References