Is a robot vacuum cleaner with a mop the best way to keep your house clean?
Smart devices and homes have the capacity to make our lives significantly easier, and a smart vacuum with a built-in mop makes some serious promises on that front. After all, something that can keep your floors free of dust and dirt without any input from you can save hours of time every month.
While hoovering keeps your floors free from dust and debris, its only half the picture. You can't beat getting a mop out and giving floors a good wet mop. There are several robotic vacs that will now not only suck up the dirt but give your floors that extra wet clean too.
But do they actually deliver, and can a robot vacuum cleaner really keep your floor clean and tidy? In this guide we're looking at the best smart robot vacuums that also have a built in mop.
The best robot vacuums with built-in mops for 2023
We've been hard at work picking the best smart floor cleaners you can pick up in 2023 and here are the ones we think either do the best job, offer good value for money or are generally worth your time and hard-earned cash.
Best overall robo-vac with a mop: Roborock S6 MaxV
Suction: 2500Pa
Run time: 180 minutes
# Cameras: 2
Maximum area: 2580 sq feet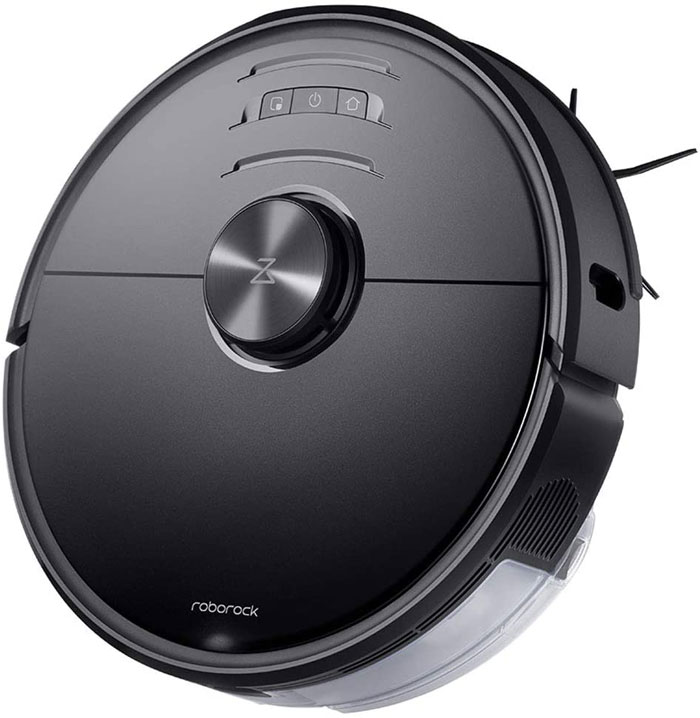 Our favourite mop equipped robot vacuum, the Roborock S6 MaxV is a genuinely impressive overall hoover, as well as packing a smart mopping system into its slimline frame.
First off, like a vacuum, it's very respectable, with 2500Pa of suction, easily enough to deal with carpeted floors and larger particles of dirt. Twin cameras provide constant area scanning, using Roborock's ReactiveAI scanning system that recognises unknown objects and decides what to do with them.
To navigate around your home, the system uses LIDAR laser scanning to make its maps and advanced route management that synchronises near perfectly with the app. Built-in multi-floor mapping lets you create profiles for up to 4 floors in your home, and the app can handle 10 no-go zones, 10 no-mop zones, and 10 invisible barriers. Per floor of your home.
This is backed up with a solid 180 minutes of run time, which the manufacturers say will cover 2580 sq. ft of space, and a dedicated pet mode that searches out hair and dander, as well as avoiding any unfortunate presents that have been left behind.
As a mop, it's impressive, with a large internal water reservoir and different programmable mopping levels for different rooms. The app also has built-in smart scheduling; which means it will clean all of the dry rooms first, then move to the remainder and engage mop mode.
So are there any downsides to the S6 MaxV? A few, but they're all relatively minor. One, there are occasional issues with Wi-Fi connectivity, but this generally happens in areas with bad reception anyway.
Second, and strangely, if you decide to order this vacuum from Amazon, you have to ensure that you order the power cable separately. It doesn't cost extra or anything, but there's still a process to go through, which is irritating.
But as an overall deal, the S6 MaxV is perfectly equipped to deal with almost any situation you might throw at it, and it's also surprisingly reasonably priced, to boot.
---
Ecovacs Deebot Ozmo T8
Smart home integration:Google Assistant & Alexa
Run time: 180 minutes
Mapping technology: Precision lasers
Maximum area: 3229 sq feet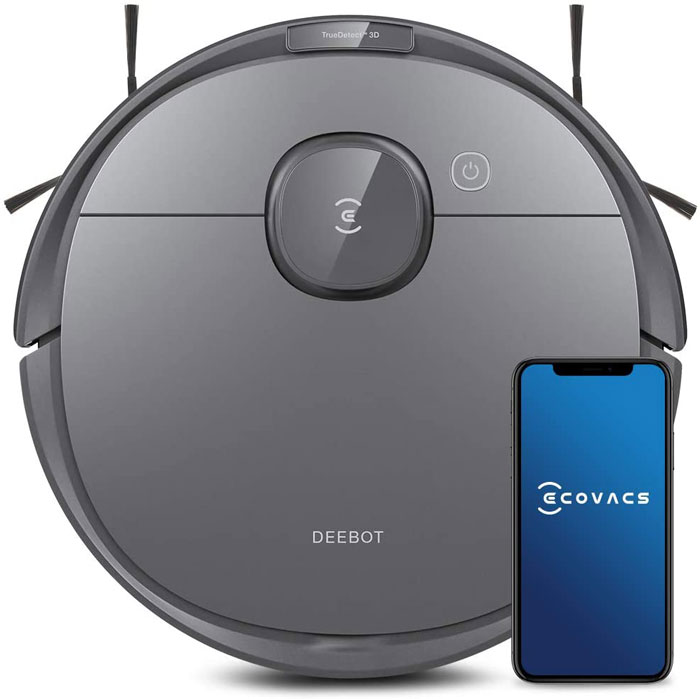 We've already reviewed Ozmo T8's sister model, the N8+, and were incredibly impressed by the powerful performance, and the sheer amount of gadgets that Ecovacs managed to pack into a standard sized frame.
Let's start by addressing performance, which is a fine 2300Pa of suction. That's decent, but not exceptional, as we've seen much more powerful suction from equivalently priced vacuums. However, it's not a bad performance, at all, and this is more than powerful enough to clean your home and pick up 99% of what it might face.
The run time is a monstrous 180 minutes, which is basically the best we've seen and let this cover around 3200 sq. ft of space. The base itself isn't just a charging station, it's an emptying station with a 2.5l reservoir; enough to last around 2 to 4 weeks.
The sensor tech is also one of the best we've seen. A suite of TrueMap lasers constantly reads the environment around the vacuum and filters it back using AI technology that identifies obstacles and how to navigate around them, at up to 4 times faster and twice the range of standard laser mapping.
The mopping systems are just as impressive, with an oscillated mopping system that works at 480 times per minute, and has the option of 4 different flow levels that lets this actually clean tough stains, rather than just wiping a floor enough to leave it shiny.
Deebot seems to love on-demand HD video and remote controls in their vacuums. It's an option we don't see often, but it's a useful thing to do, letting you manually drive the bot around your house like a drone, check on pets, or scoot under sofas just to see what's going on. (Just us? Okay then.)
Finally, you have all of the other expected sensors and systems, including a comprehensive app, Alexa voice controls, and a long 2-year warranty.
So why is this not on our top slot? The answer is simple. The Ozmo T8 is literally the best robot mop on the list, but the S6 MaxV just slightly edges it out in general features. So that's the decision point, and in our opinion what should be swaying you when you're making your choice.
£339.00 at Amazon
Price last checked: 29th Nov 2023 - 06:29
---
Coredy R750 3 in 1 Robot Vacuum
Smart home integration: Google Assistant & Alexa
Run time: 180 minutes
Suction: 2000pa
Maximum area: 3229 sq feet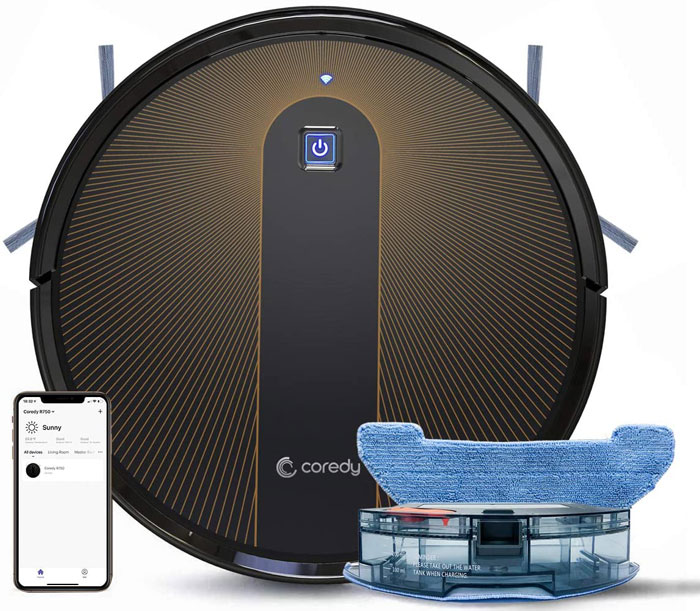 The best budget robot vacuum on the list, the Coredy R750 packs a surprising amount into its sleek chassis by focusing on the core functions and performance over flash and extra features.
To begin with, the vacuum itself is solid, with 2000Pa of suction backed up by a decent suite of sensors that can spot down intervening furniture and navigate around it. Zoning is controlled through old-fashioned boundary strips, which is a shame, and means that you might want to spend a little more if you have a particularly complicated house layout.
But that's balanced out by simple but powerful controls. The app is well laid out and simple to understand, with timer scheduling, real-time monitoring of your vacuum, and the option to link into Alexa for voice controls.
The mop system is also really decent, with 3 different cleaning modes and automated water control, letting it clean what needs to be cleaned while keeping your carpets free of water.
It's also worth pointing out the general build quality. Out of the box, this feels reassuringly heavy and well made and has a long battery life of 120 minutes.
All of this adds up to a winner. While larger houses might want something a little more feature dense, for smaller homes, student flats or similar, this packs more than enough power for the job.
---
Midea M7 – Smart Robot Mop / Vacuum Cleaner
Smart home integration: Google Assistant & Alexa
Run time: 150 minutes
Suction: 4000pa
Mapping technology: Laser navigation.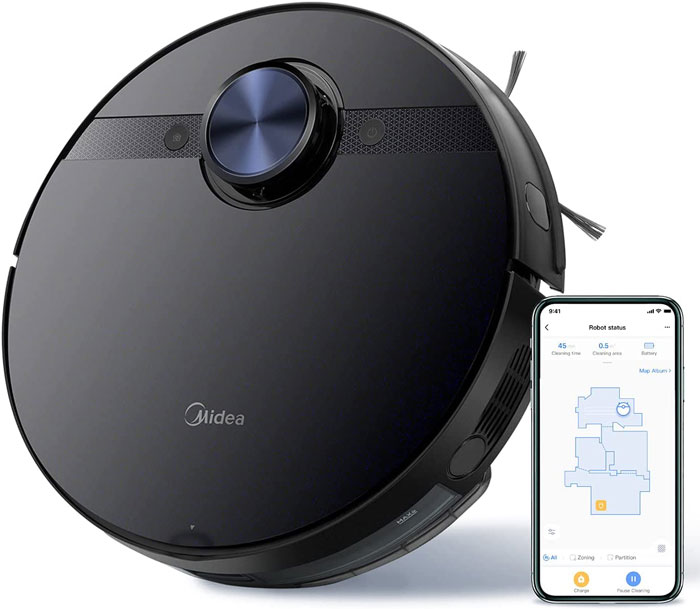 By far the most powerful vacuum cleaner on the list, the M& by Midea stands out primarily because of its ridiculous 4000Pa suction power.
It's worth reiterating that performance standard because it's up to twice as strong as standard models, which is, frankly, absurd.
It can be set to 3 levels of power, with an auto-boosting function that increases suction when it's over the carpet, and powering back down when it's over flat flooring to increase battery life, covering up to 2700 square feet and 150 minutes of power. But realistically, with the power this puts out, we wouldn't expect it to hold out that long.
The brushes are backed up with a reliable mapping system. The water reservoir is a little lower than we'd like (around 20% smaller than expected) but should cover most of its square footage without issues. You just need to refill it more often.
The sensor suite is equally impressive, with a huge 30 sensors that accurately map out your home, with the option for deep cleaning individual rooms via the app, or voice controls through smart home hubs. Unfortunately, the app is a little complicated to navigate, and there's a learning curve too, for example, set up a schedule that you don't see on better-known brands.
It's the little things like that, and the lower water capacity and tendency to burn through the battery, that holds this back. It's still a really impressive piece of gear, and it's going to leave your home impressively clean, it just … lacks a little polish.
£129.47 at Amazon
Price last checked: 29th Nov 2023 - 06:30
---
Are robot vacuums with mops worth buying?
In our opinion, the answer is obviously a loud and hearty yes.
But that comes with some caveats.
First off, a robot vacuum, mop or no, is never going to be able to clean your floors in the same way you can. First, they're working off of sensors and artificial intelligence, so miss the occasional spot of dirt.
Second, a robot vacuum has no way to sit down and scrub at a particular ground area of dirt. It does what it does. (Except for the models that actually do this. More on that later.)
But that doesn't matter, because the situations that a robot vacuum can't deal with are few and far between. It's the difference between having your home at 98%. Realistically, no one except you is going to notice the dust under the sofa that makes up that last 2%, and it's so much simpler to go round after an electronic hoover when it's done.
What a robot vac offers are convenience and time. Correctly chosen, they'll keep your home clean and fresh, with zero input from you, and that's more than worth the entry price.
---
How to choose a robot vacuum cleaner

Suction power and mopping
The heart of a robot vacuum is its ability to leave your home clean and tidy. It's pointless buying a high tech design that's full of bells and whistles if it leaves the dust in every corner.
The suction of a vacuum is measured in Pascals, (Pa) a unit of pressure. 2000Pa is a good general baseline value, but it's common to see higher-powered units pushing upwards of 3000Pa, including boosting modes for driven in the dirt.
In terms of mopping, the method used depends on how much you're spending.
Cheaper robot vacuum cleaners will simply spray water onto the floor as they move around your home, using a microfibre cloth to leave the floors behind them cleaner and shinier.
However, more expensive robot vacuums, like the Ecovacs Ozmo T8, will have bottom-mounted sensors and oscillating mop units that can identify ground in dirt and genuinely deep clean your floors.
It's also worth bearing in mind that performance, both suction and mopping, depends a lot on your home. Pets or children track a lot more dirt and dust around, and constantly shifting between high-pile carpets and hardwood flooring, for example, can make it much more difficult for a vacuum to keep the area clean.
Battery life and capacity
Modern robot vacuums almost always have a high-powered, rechargeable lithium battery and a home dock that acts as a charging base.
In our experience, the expected battery life is normally between 90 and 180 minutes, which allows most vacuums to cover a home between 2000 and 3000 sq. ft.
Mapping and sensors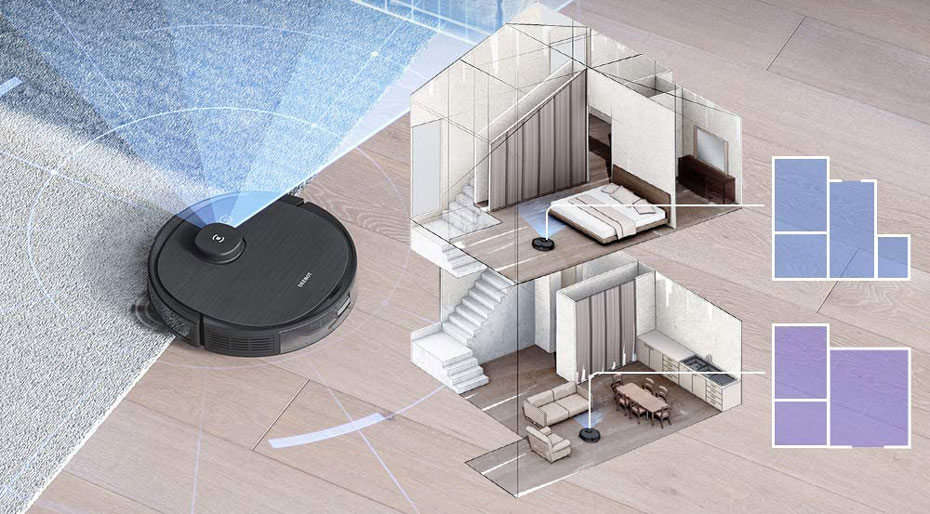 The sensors are the eyes of your vacuum and help it navigate around your home, map out rooms, avoid obstacles and identify areas that might need extra cleaning.
Original robot vacs were clunky and almost blind. It's a near meme that old Roombas were liable to spend minutes bumping into something over and over again until the battery gave out.
But the advances of modern, cheap technology means it's becoming much more common for vacuums to have advanced laser detection systems that can map out your home with near-perfect accuracy, and probably navigate around it better than you can.
You can take it as a given that nothing on our lists will have bad sensor suites. But where a vacuum's sensors are exceptional, we're sure to point it out.
Controls and app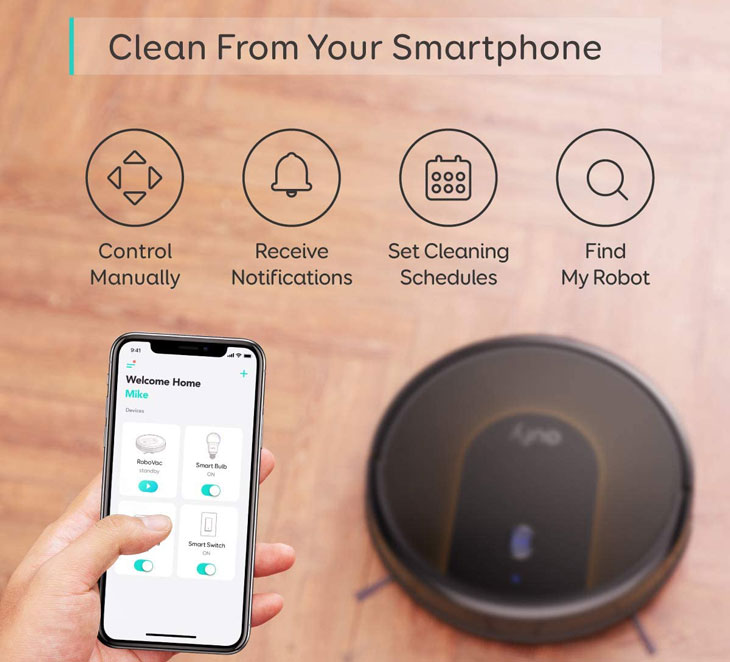 Almost the entire point of a robotic vacuum is the fact that you don't have to do anything with it; it just trundles around your home keeping everything clean without your input.
So a suite of smart controls that can make that simpler, as well as giving you various options about how and when you control your vacuum is obviously a huge advantage in how you schedule your days.
At their simplest, robot vacuums work on a timer system connected to a phone app. Most good models will give you the option to engage extra cleaning cycles at the push of a button. But it's becoming increasingly common to increase the amount of control you have over your home, with features like Alexa voice control that lets you start your vacuum at the touch of a button. Dedicated scheduling and mapping apps that let you tell your vacuum which parts of your house need cleaning, and which might need a little more TLC than normal, and even full Wi-Fi enabled remote control.
Under most circumstances, the standard range of controls is enough, but if you have a larger home, it's worth considering how much granularity and fine-tuning you'd like your vacuum to have.