There was a time when robotic vacuums where synonymous with one brand: Roomba! Fast forward to 2022 and there are a plethora of dust sucking robot warriors all waiting to do battle and win your hard-earned cash.
As we're obsessed with the idea of smart tech doing our boring jobs for us, we figured it was time to check out some of the better non-Roomba cleaners on the market at the minute. Spoiler alert: they all sucked! (OK, enough of the Dad jokes). Grab a coffee, put your feed up and let's get started.
What Are The UK's Best Roomba Alternatives in 2022?
Ecovacs Deebot N8+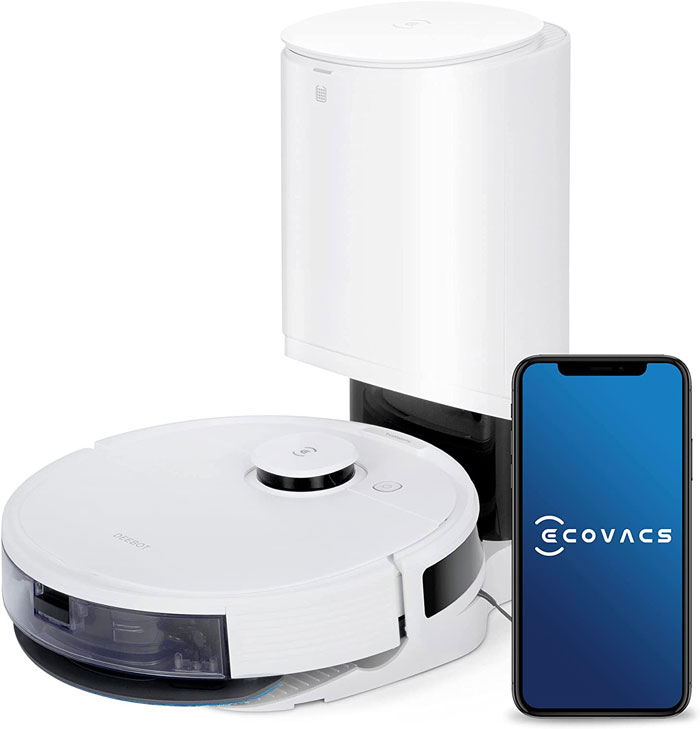 Battery life: 110 minutes
Dust capacity: 420ml/2.5L
Suction power: 2300Pa
Pros
Powerful and effective cleaning modes
Incredible sensors accurately map your home
Mop feature for hardwood floors
Sleek and gorgeous
2-year warranty
Cons
Requires dedicated dust bags
Sleek, beautiful and powerful, this vacuum easily sits at our number one slot. We chose it for several reasons. One, it's a dual-mode model which packs a water tank and hard floor mopping into its tiny little frame. Two, the provided charging station, which makes life so much easier. Three, overall good performance.
It's worth talking about performance in more detail. The N8+ can be set to 3 possible speeds, up to a maximum power of 2300Pa. It has no problems with hard flooring, low and medium-pile carpets, with a boost function if it finds a particularly difficult area to clean. Backing this up is impressive support through the app, giving you hands-free control and letting you actually designate areas in your home that require deeper cleaning, for example, around outside doors.
The N8+ accurately maps out your home using TrueMap direct time of flight (dTOF) pulsed lasers, which are up to 4 times more precise than standard laser sensors. You can also integrate your vacuum with Alexa, or any other home hub set-up.
The cleaning process is also incredibly simple. The vacuum automatically empties itself whenever it returns to the charging station, depositing all dust into an internal 2.5L bag which will take most homes around a month to fill on average. The bag itself is self-sealing, meaning disposal is as simple as pulling the bag out and dumping it in the bin. However, you will need to buy specific bags for the charging hub, one of the very few downsides of this vacuum.
With over 20 million units sold, Ecovacs are one of the most prolific robot vacuum cleaner manufacturers in the world, and that experience is clearly on show here. Striking a balance between performance, ease of set-up and use, and price, it's clear that this should be, and is, one of the best alternatives to a Roomba in 2022.
£259.98 at Amazon
Price last checked: 4th Aug 2022 - 10:42
---
Neato Robotics D701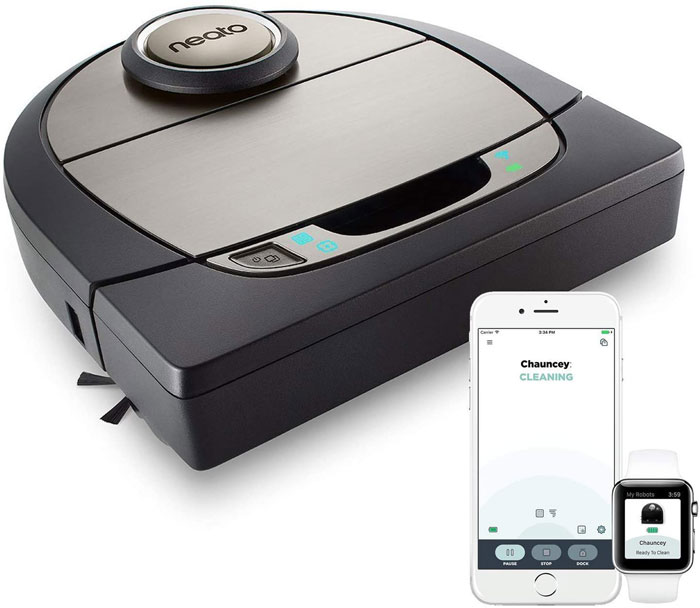 Battery life: 120 minutes
Dust capacity: 700ml
Suction power: 2000Pa
Pros
High power suction
Design is perfect for getting into corners
Fantastic App control
Cons
Relatively small dust capacity
In terms of customisable cleaning patterns and flexible use, it's hard to beat this model by Neato. First off, the app control is incredible. Using Neato's proprietary app, you can set up entire zones of your home that require specialist cleaning.
From lining up no-go zones that the vacuum will never cross, which lets you keep delicate items safe, to designated areas that require deeper cleaning from the built-in turbo mode that pushes up to 2000Pa; easily enough to work ingrained dirt out of medium and heavy pile carpets. Even the simple design of the vacuum, a big, wide D shaped frontage that's flat instead of curved is smart. It lets the vacuum get right into corners and pick up dust far closer to walls than other models do, without having to use unreliable sweeper brushes.
The battery provides a solid 120 minutes of run time, and automatically navigates back to the charging station on downtime, automatically remembering and restarting unfinished areas first. The internal dust capacity is only 700ml with no automatic emptying, so this might need to be emptied every few days, but that's a minor annoyance.
But the cleaning power on offer here more than makes up for that. The fact that you're getting an impressively powerful machine that can handle an entire home, with incredible mapping and a lot of flexibility in how you set up cleaning areas, more than justifies the price.
£467.26 at Amazon
Price last checked: 4th Aug 2022 - 10:41
---
Eufy BoostIQ 30C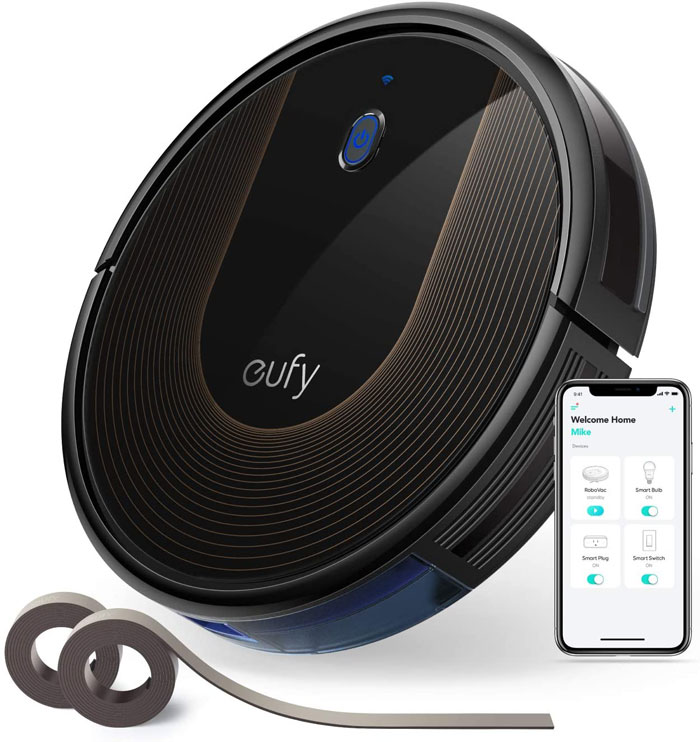 Battery life: 100 minutes
Dust capacity: 600ml
Suction power: 1500Pa
Pros
Fantastic feature list for a budget model
Simple, easy to use app and controls
Solid, dependable performance
Cons
Requires boundary strips for setting out no go zones
The best budget model on the list, Eufy's BoostIQ 30C is a fantastic entry point into the world of robot vacuum cleaners. While it might not have the sheer power of the top models on the list, it's less than half the price, which is incredibly reasonable.
First off, performance is decent, for the cost. While it might struggle with deep pile carpet, the 1500Pa suction power is great for standard carpets, laminate and hardwood flooring. Particularly difficult areas are dealt with using BoostIQ suction boosting, which performs admirably at picking up pet hair and other problems.
Even running at maximum power, the brushless motors that power the vacuum are surprisingly quiet, so it's easy to set it up and let it work without disruption in your daily routine. Cleaning times can be set up through Wi-Fi, Alexa, or the included remote control, and the app is very easy to use. Recharging is handled through the provided charging platform, but bear in mind that you're going to have to empty the dust capture manually.
For a budget model, there's an awful lot to love here. We think this is perfect for flats, smaller houses or just keeping a dedicated area of your home clean and tidy.
£159.99 at Amazon
Price last checked: 4th Aug 2022 - 10:34
---
Ecovacs Deebot Ozmo T8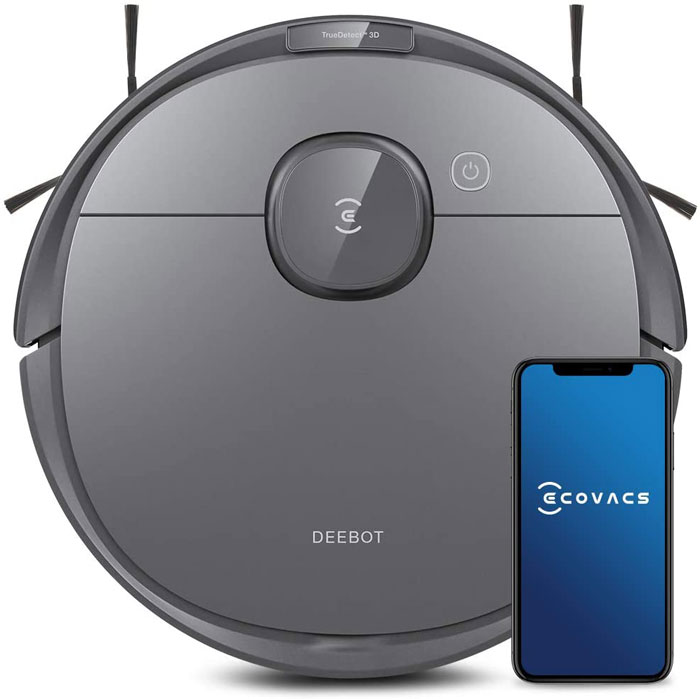 Battery life: 180 minutes
Dust capacity: 420ml
Suction power: 2300Pa
Pros
Ecovacs performance: reliable and powerful
Huge battery life
Camera, mic, and drone mode
Cons
Expensive, because of the big feature list
Our list is finished up with another Ecovacs model, the Ozmo T8. General performance is as good as we'd expect to see from a top tier vacuum, combined with incredibly powerful scanning and precision laser mapping, picking up objects twice as fast as comparable products.
So what makes this unique? Three things. Firstly, a lot of vacuums offer Wi-Fi control, but very few have built-in cameras that can be used to give you on-demand live video streaming of what your vacuum can see. Even fewer let you remote control your vacuum, driving it like a drone through your house with live video, and even speaking through the built-in mics.
The second is the water tank and cleaning system. The T8 has an incredibly powerful high-frequency mopping system that operates at up to 480 oscillations per minute, giving it the power to scrub away deeply ingrained dirt as it goes, perfect for hardwood flooring.
Finally, the T8 has an absolutely massive battery that offers up to 3 hours of working time, which is generally enough to clean around 300 square meters in a single charge. This is backed up by a workload calculation system, which lets the vacuum leave its station when it has enough charge to complete the remaining areas of your home, meaning less total downtime.
So with all that in mind, why is this not the top choice? While every feature on this vacuum is impressive, some of them just aren't necessary for the job you want this to do, which makes the Deebot N8+ a better vacuum for the price. However, you may consider this instead if you have a larger home and want a vacuum with very long battery life, or you also see yourself using the ability to monitor your home with the drone function.
£479.00 at Amazon
Price last checked: 4th Aug 2022 - 10:41
---
How to choose a robot vacuum cleaner
Sensor technology
When examining a robot vacuum, the sensor tech it has built-in should be one of your main concerns.
Older and more basic robot vacs just bump off of things, changing direction and working their way around a room like a person with their eyes shut and arms stretched out.
Better models will map out rooms using active laser scanning, and some can remember how a room is mapped, and increase their precision every time.
Specifically look at what sensor types a robot vacuum uses, (the best will use laser mapping as mentioned,) how many sensors a vacuum has, and whether it can create a topographical map of your home.
Controls, scheduling and app support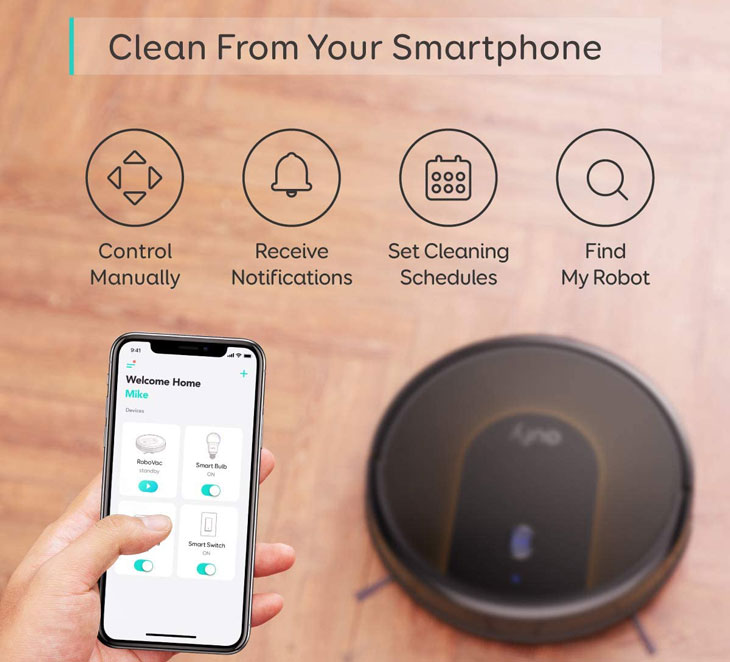 Most automatic vacuums will have a timer system, even the budget ones, letting you simply set up, fire and forget.
However, more advanced models have things like remote controls, usually through an accompanying phone app, letting you schedule up cleaning cycles, monitor activity, or fire off an emergency sweep because the in-laws are coming over, as long as you have Wi-Fi.
The battery
The battery is the heart of the vacuum. Modern models come with docks that the vacuum can navigate to and that they will return to when they're in need of charging. A lot of docking stations are starting to double as a way for your hoover to empty its dust bin, streamlining another job and saving you more time and effort.
Cheaper models are likely to have a simple rechargeable lithium battery and need actively plugging in, meaning that if you forget to charge it, your purchase becomes an expensive footrest.
Specifically, check battery life to make sure that your chosen model has enough lifespan to vacuum your entire home, and also check to recharge time. Some models will have the option for quick charging, and others will need an entire night.
Brush types
Most if not all robot vacuums use simple brush bar rollers to pick up dust around your home. More advanced brushes may have adjustable power settings, turbo modes that activate when the brush is struggling to pick up, and sweeper brushes that push dirt from the outside of the vacuum into the centre, where it's more likely to be picked up.
Dust capacity
Many robot vacuums have relatively small dust traps, so can only hold a low amount of dust in their internal capacity; much less than a conventional vacuum cleaner.
This means you're going to have to empty them often. Unless you buy a vacuum with automatic dust emptying in the home base.
---
Are robot vacuum cleaners good?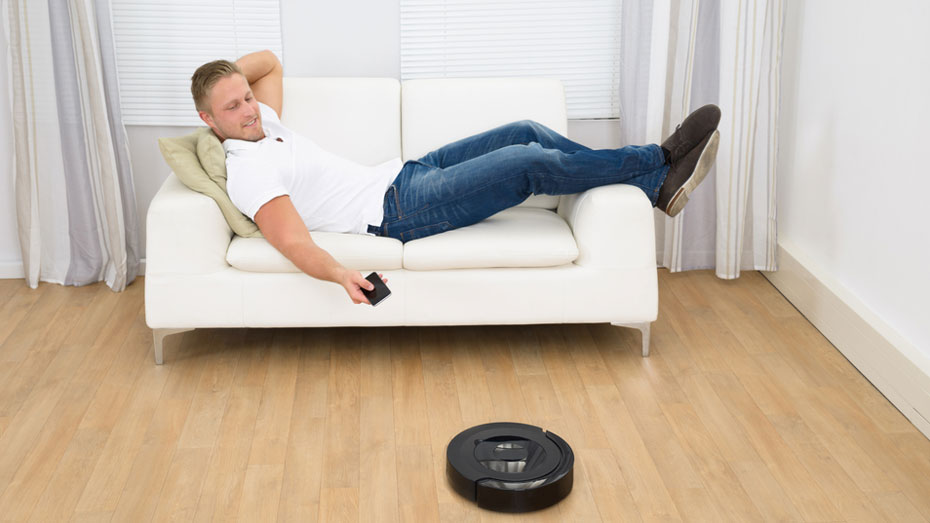 Short answer: Yes. Long answer, it's complicated.
If you were asking this question a few years ago, the answer would be much simpler. Early generation robot hoovers were nowhere near as good as a conventional vacuum cleaner.
The main problem was suction. As robot vacuums are much smaller than standing models, they have much less powerful turbine systems and simply couldn't pick up to the same standard. This meant that most of the time, a robot vacuum was simply an expensive new toy that only picked up surface level dust.
However, as technology has improved, so has performance. Now, robot vacuums are far more powerful. Are they going to be able to pick up deeply-ingrained dirt and dust? Probably not. But will a robot vacuum leave your home looking impressively spick and span? Absolutely!
Expect modern robot vacuum cleaners to have no issues with standard household waste like dust, pet hair, and small pieces of detritus like crumbs and food wrappers.
It's also becoming increasingly common to see HEPA filters installed in robot hoovers. This lets your vacuum filter the air as it moves around your home, removing airborne dust and other particles, which can help with allergies and other issues.
---
Downsides to robot vacuums
We've already touched on one of the things that separate conventional vacuum cleaners from automated models: suction power.
The other major consideration is set up and navigation. Again, this is far less of a problem than it used to be, especially if you pick up a higher-end model.
Old style robot vacuums generally navigated through your home through a simple method: bumping off of surfaces, turning until they could move, and going forward again, like a blindfolded person who has been spun around in circles. And like that person, it's very easy to impact things and get yourself stuck in even slightly cluttered rooms.
However, newer models of robot vacuum cleaners come packed with smart tech including surface sensors to find walls, elevation sensors to stop them from falling down steps. The best even come with scanning lasers that make a 3D map of your home, allowing it to navigate perfectly, as well as understand where has been cleaned and where hasn't, which can normally be delivered to your app as an image.
Realistically, the only real downside to robot vacuum cleaners is that they haven't learned how to climb upstairs yet! The moment this is figured out, there's literally nothing stopping them from taking over cleaning duties for your entire home.