Welcome to this guide on the best robot vacuum (UK) models. We'll look at best sellers, budget options and everything you need to know about these awesome smart gadgets. Everyone is probably familiar with the little shiny discs scooting around floors, hoovering up all that dust. Long gone are the days where there was just one make on the market and everyone sent their friends a link saying, "have you seen anything like this?!" Robot hoovers have become a viable way to keep your home clean.
Top Pick
TL;DR: the #1 robot vacuum in 2023 is the iRobot Roomba 671. Programming with your phone is straight forward and this hoover does a great job of keeping even the shaggiest carpets spotless.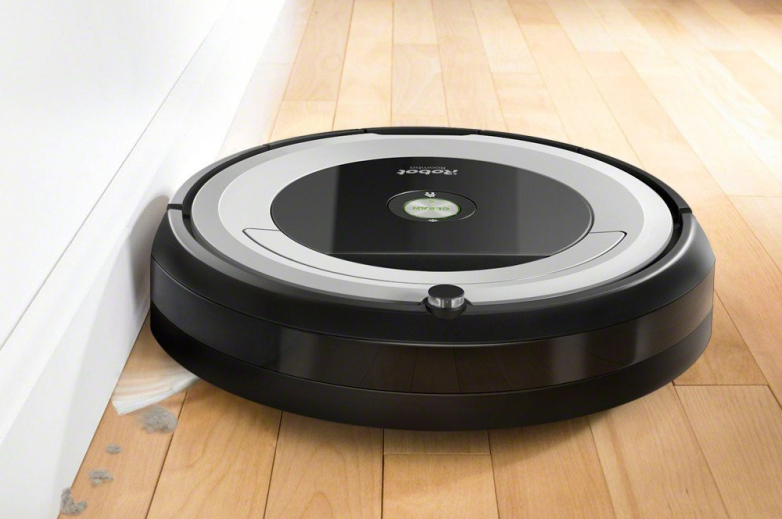 A robot vacuum cleaner in action in the UK
The problem is there's MILLIONS (OK, gross exaggeration) on the market in the UK in 2023 and they all claim to be the best robot vacuum the UK has ever seen! Well relax. This guide will take you from robot cleaner newb to supreme overlord of house cleaning robots. Let's start with the basics!
Wifi Vacuums – who'd have thought?
Robot Vacuums are packed with cool tech, no really!
While not many sane people get excited about the prospect of buying a vacuum cleaner, there's actually some pretty interesting stuff going on under those sleek shiny disks we've all seen on the Internet. From dirt detection to wall following technology, robotic vacuum cleaners employ a NASA level of tech under that deceptively normal looking exterior.
What is a robot vacuum cleaner?
If you're seriously new to the wonderful world of getting a robot to do the vacuuming for you… then this bits for you. Robot vacuums are small, unobtrusive electronic gadgets that are generally round (least likely shape to get stuck apparently). They incorporate both mechanical, electronic and computer parts and will automatically hoover any room, house or flat without you having to do, well anything really.
So how does a robot vacuum cleaner work?
While there's a massive range of makes, models and brands of robot hoovers available to buy in the UK, each with their own patented technology, they all have certain functionality in common. A good robot vacuum cleaner should do most of the following:
Not launch off the stairs (or other 'drop-offs')
Be able to work on carpet and wooden floors
Track where it's been and which bits are left to do…
Follow along walls
The best robot vacuum cleaners in the UK pass under beds, chairs and tables
Be able to clean sharp joins like walls
Tackle tricky things like tassles and chair legs
Go to the charger when depleted
Do a lot of other cool stuff – more in a sec…
Entertain cats!
About stairs…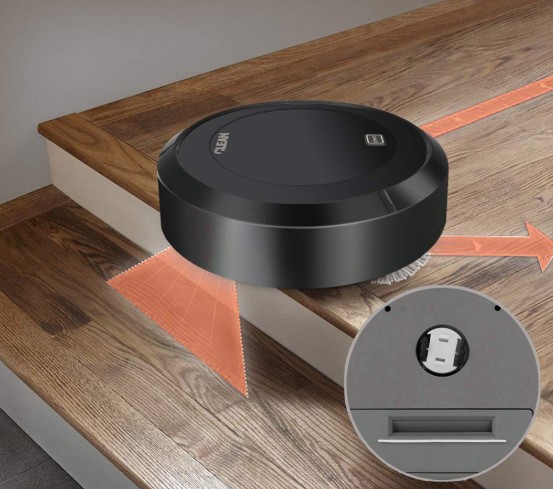 This robot hoover has a sensor to detect edges and drops
When you see videos of robotic vacuum cleaners in the UK they tend to be gliding around some minimalist flat with a glossy floor that's not dirty anyway. Real homes have junk everywhere and also STAIRS. While stairs may be the sworn enemy of the Dalek (OK, I know they can fly now – I'm old school…) They aren't a problem for modern robotic vacuum cleaners.
Robot hoovers have a number of ways of detecting 'stuff' they encounter while cleaning, like cameras, sensors and sometime mechanical little arms that detect steps down, stairs and other little drop offs. So breath easy. Your new servant is not going to end it's brief working life in a pile of bits at the bottom of the stairs.
Clever new robot vacuum tech in the UK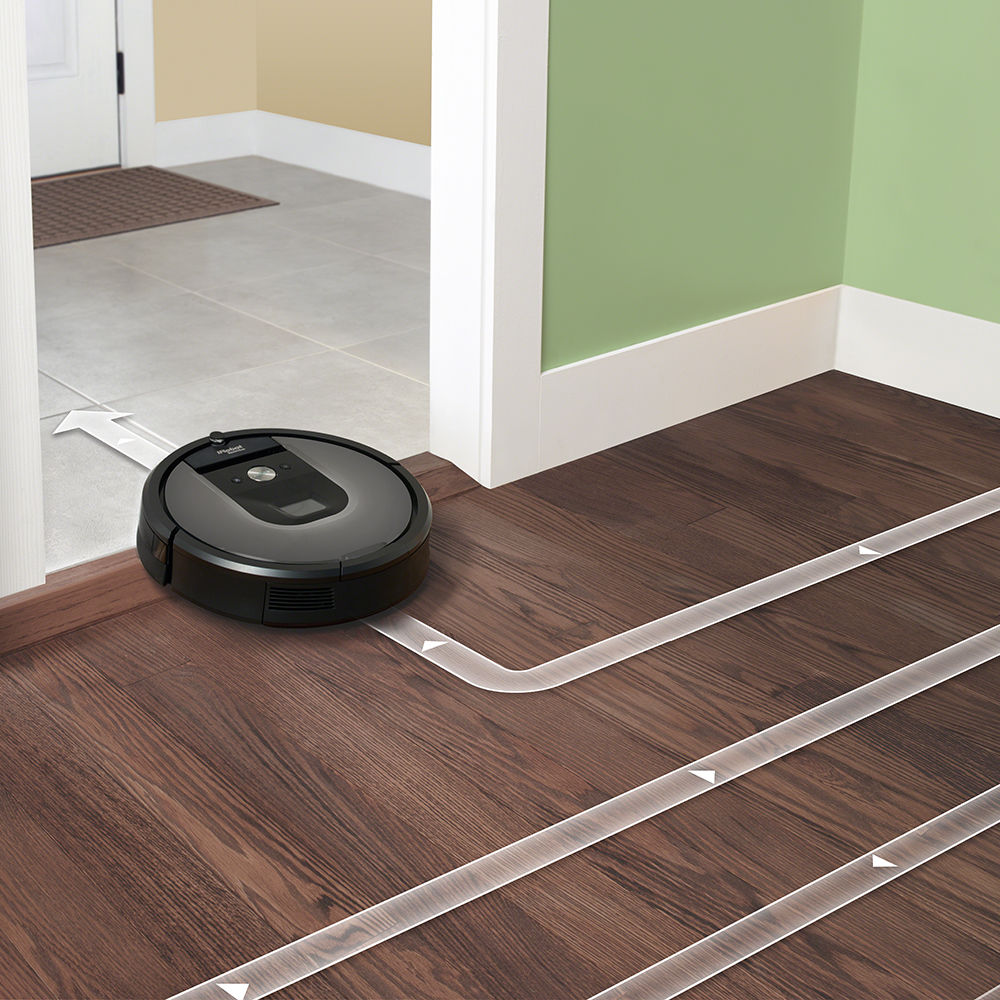 Robot Vacuums should clean every part of your floor
Like everything else tech related, the work of robot vacuum cleaners is always improving. While this will probably be the 'norm' very quickly, one of the new features that's coming out is robot vacuum cleaners that can empty themselves. The iRobot is pioneering this as we speak. Another handy feature that's now very common with these nifty cleaning robots is the ability to control them with a smart phone, or other device, opening up more options you can set to control your vacuum cleaner more easily.
Robot vacuums – are they still really expensive?
If you're wondering how much a GOOD robot vacuum cleaner costs, they're actually not that expensive any more. And the products in general are way better these days too. While you can pay up to £600 for a robotic cleaner, you'll be pushed to spend more than £200 – £250 for a really good one. (With some good budget options in the market today too, costing a lot less!)
What are the 'REALLY GOOD' robot vacuum brands in the UK?
So, there's a healthy number of robo-vacs on the market these days and, according to reviewers and buyers, some of the brands that are at the top of their game are:
Ecovacs – look out for the Deebot cleaner range
iLife – make sexy looking robot vacuums like the V3!
EUFY – Keep an eye on their 'RoboVac' range
Excelvan – Some high quality (and affordable) cleaners
Deik – another really good brand with lower priced models
Proscenic – top quality brand with the 811GB robot cleaner
Eureka – Some beautifully designed robot cleaners with great reviews too
Clymen – Check out their Q8 vacuum cleaner
iRobot – Roomba is the original daddy of robot cleaners. Fab products!
See our Best Roomba Alternatives guide for more.
What are the best robot vacuum UK wise?
OK lets sort the workers from the shirkers here. What's the real deal when it comes to a proper robot vacuum cleaner that's going to keep your floors spotless? Which robot vacuum cleaners are killing it in the reviews? Let's go over the serious contenders for best robotic hoover of the year award right now!
The main we recommend you check out in 2023 at least, are as follows:
iRobot Roomba 671
Proscenic 811GB Robot Vacuum Cleaner
Ecovacs Robotics Deebot N79S
Clymen Q8 Robot Vacuum
Eureka i300 Robot Vacuum
iLife V3s Pro Robotic
Eufy BoostIQ RoboVac
Deik Robot Vacuum Cleaner
#1 – iRobot Roomba 671
This is the main robot vacuum cleaner people buy and easily the best robot vacuum UK home owners can buy. It's got the highest sales in the country and the new versions are packed with clever tech to get your floors seriously clean. You can even hook it up with Alexa and control it with your voice. With 3 stages of cleaning and even different brushed depending on the surface, this is one smart cookie alright. This little robot vacuum cleaner is really obsessed with DIRT and can detect more dirty areas that need more work.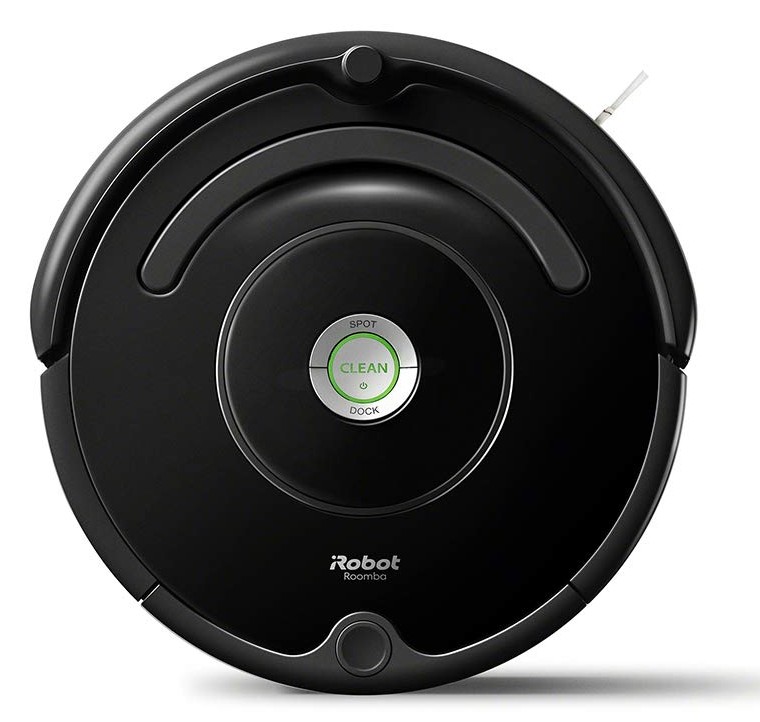 Quick look features
Ridiculously advanced tech in the new version
3-step cleaning process gets rid of all the muck!
Detects dirt (yuk) and focuses more time on dirtier areas
Can be controlled via Alexa
---
#2 – Proscenic 811GB Robot Vacuum Cleaner
Best Robot Vacuum UK has for Alexa integration
Definitely check out the 811 from Proscenic it's one of the  has to offer. As well as being a bit of a looker (well, for a robot hoover) this little gadget packs some serious cleaning power. As well as sucking all the dust, fluff and hair from your floors, it also has a water tank and will 'mop' away while you do other stuff. It connects to your smart phone, where you can set things like the kind of cleaning you'd like it to do. It's got all kinds of sensory tech to stop it getting stuck or falling down stairs too.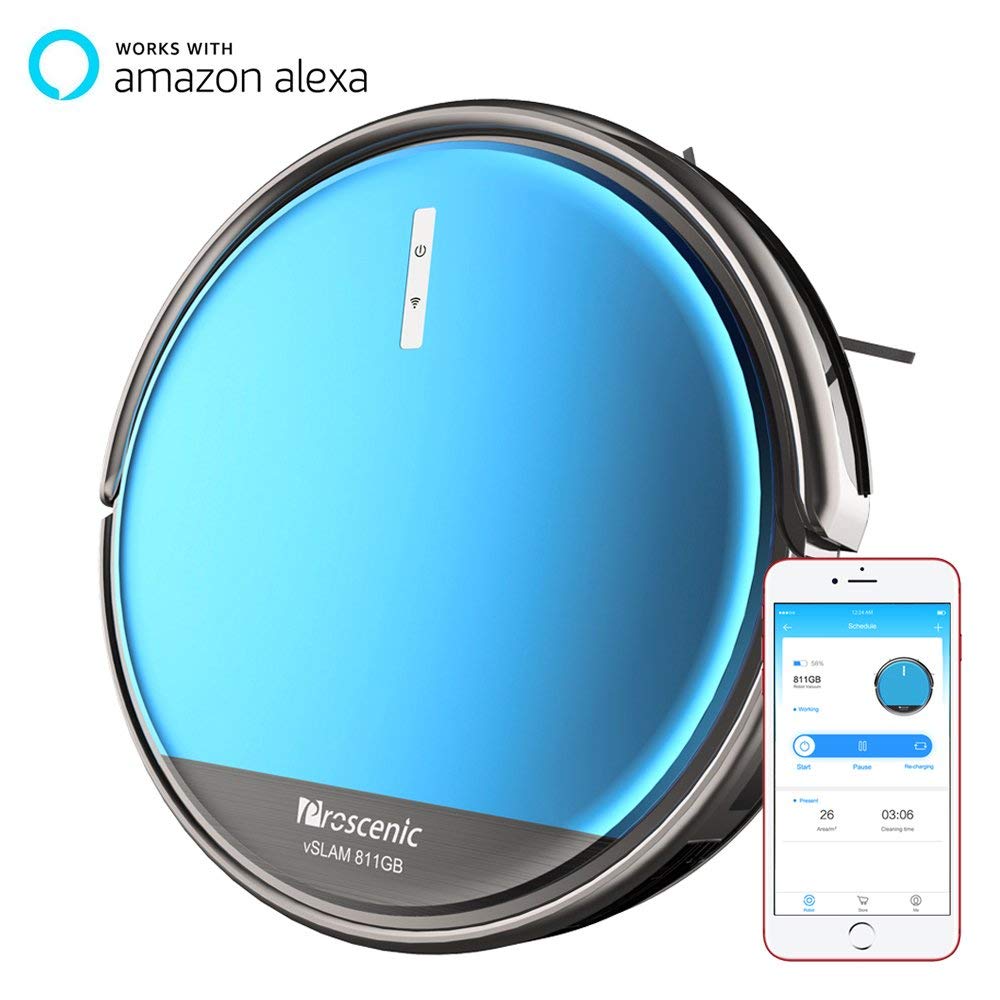 Quick look features
Connects over WiFi to your smartphone
Supports Amazon Alexa voice control
Water tank mops floors too
Loads of handy cleaning modes
Automatically docks
---
#3 – Ecovacs Robotics DEEBOT N79S
The Deeobot is another recommended UK vacuum robot that makes light work of keeping your floors clean. It's got a similar 3-step cleaning process to the Roomba vacuum, which does make a difference to floors and carpet. The battery on this unit will last a good 100 minutes but you won't have to charge it when that's up. This cleaner returns to it's charger for a well earned rest, before heading off again.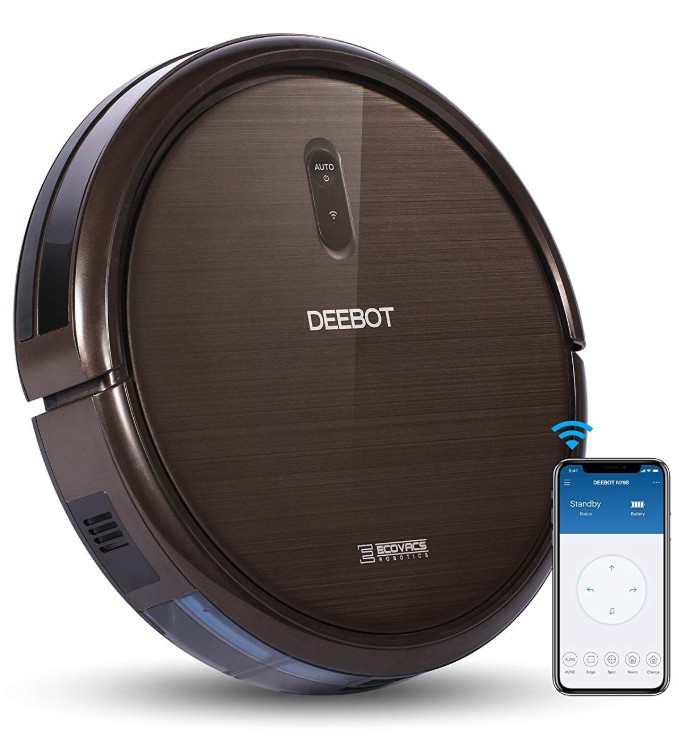 Quick look features
Smart app and voice controls
Auto clean with 4 cleaning modes for any job
3 stage cleaning process
anti-drop and anti-collision
100 minute lifetime battery with auto return
---
#4 – Clymen Q8 Robot Vacuum
If you had the time to read instructions, you probably wouldn't need a robot vacuum cleaner. What makes the Clymen the best robot vacuum UK users can buy? For starters, it's up and running with one press of a button. It's got a water tank in it too, which will give relevant floors a good mop. And this cleaner has an excellent idea – a UV light nukes germs as it goes. This cleaner gets rid of 99% of nasty allergens in your home, pollen and dust particles. It's also easy on the eye.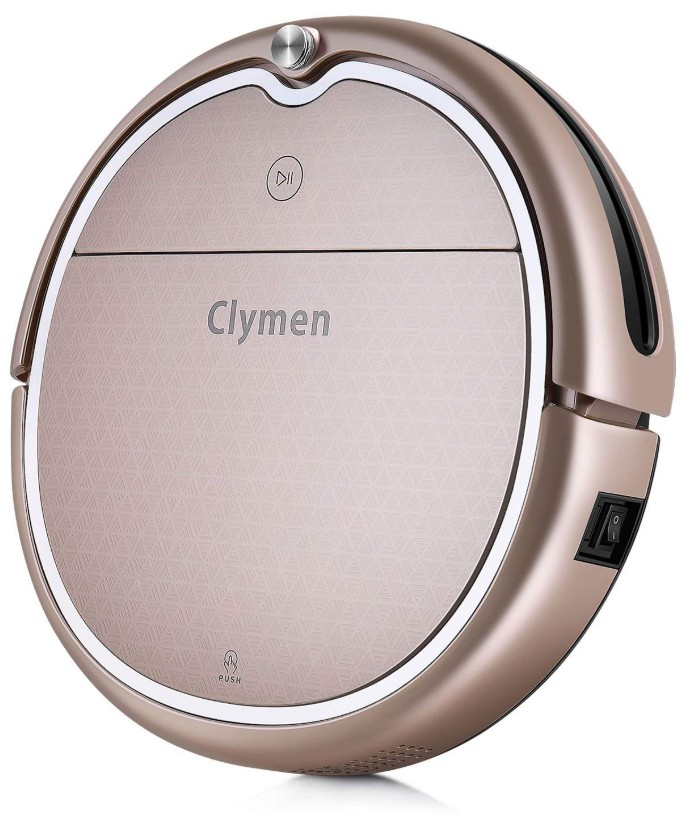 Quick look features
UV light kills germs
Gets rid of 99% of allergens
Water tank for smart mopping
Great with pets and children
Press one button to go
---
#5 – Eureka i300 Robot Vacuum
One thing that's hard to get a measure of when you're shopping online for a new robot vacuum cleaner is how much noise they make. The Eureka i300 is one of the models that's designed to keep it down and won't ruin a good nap, or a favorite TV show. But that doesn't mean it's a wimp either. No sir. A powerful vacuum cleans your home and offers a bevvy of handy programs to get your floors ship shape in no time.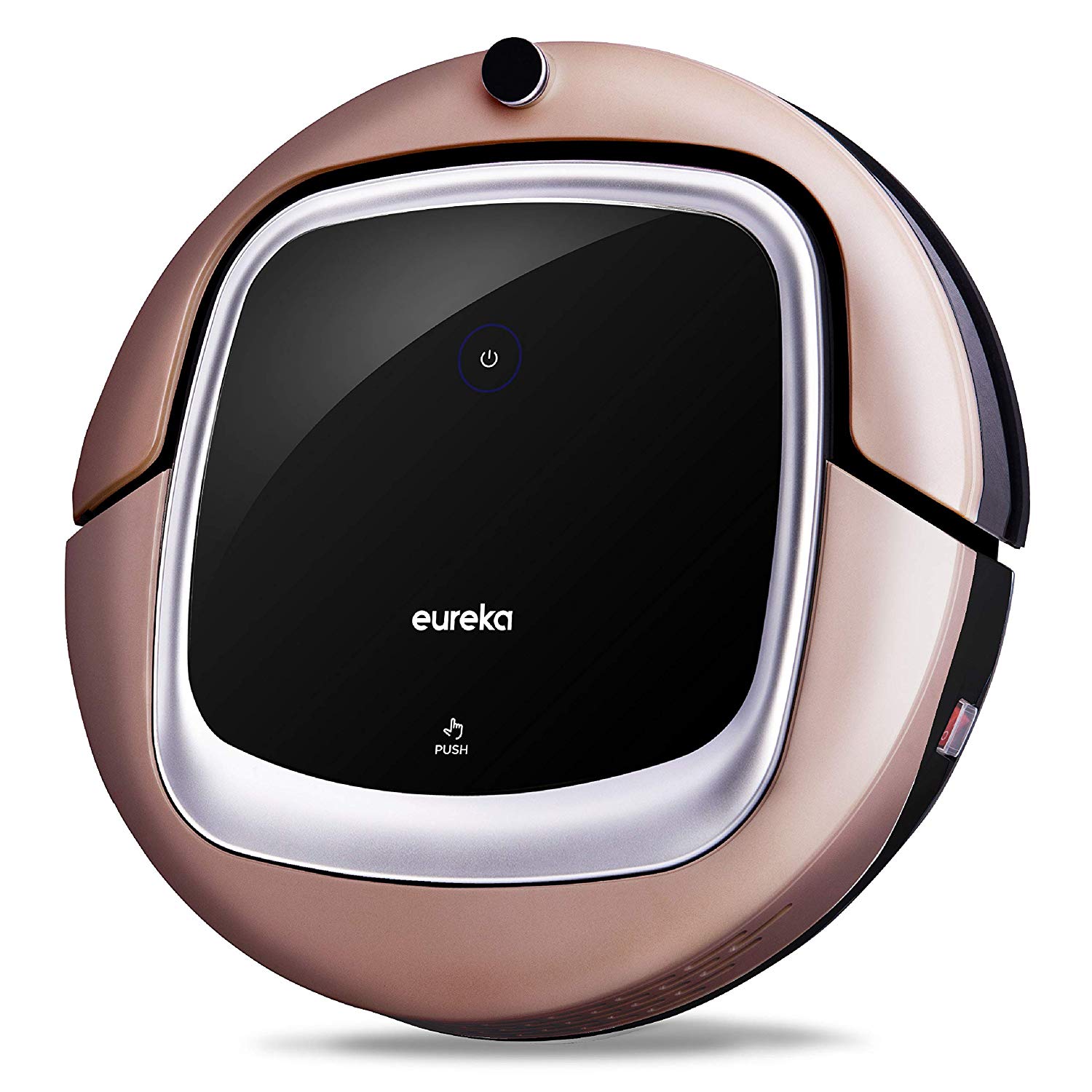 Quick look features
Quiet cleaning with low noise level
Powerful suction
Great for hard floors or carpet
One-button start
Lots of useful cleaning modes
---
#6 – iLife V3s Pro Robotic
As the owner of a large messy Labrador, I know how much hair a pet can shed in the home. You just get finished hoovering and BOOM there's hair again in no time. Well the cool thing about a robot vacuum cleaner is it will constantly be on the prowl for dirt and pet hair. The iLife V3 has been designed with pet owners in mind and is ruthless on cat and dog hair. It's got a whopping 2 hours charge and auto-docks when it needs re-fueling. Oh and it's one of the cheaper vacuums on the market too!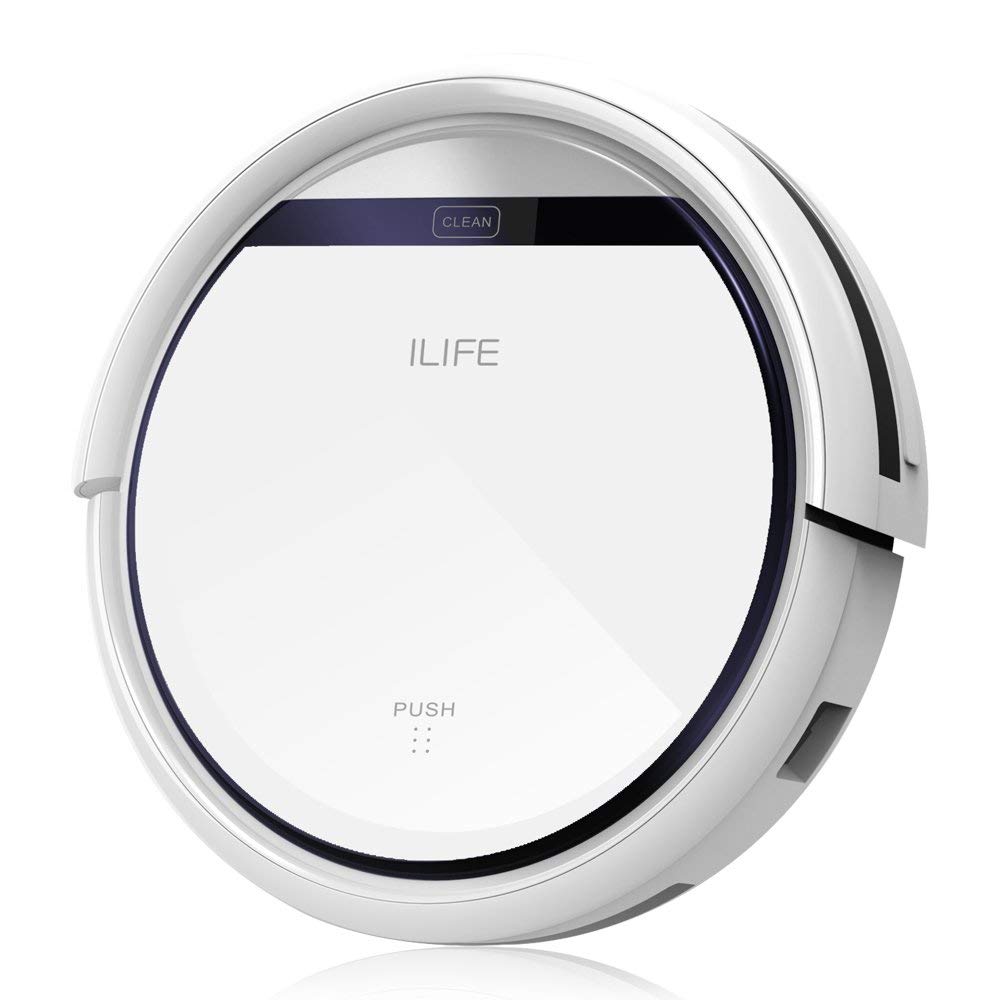 Quick look features
Auto docks and charges
It's really quiet
Designed with pet owners in mind
Loads of options for cleaning programs you can set easily
2 hour battery
---
#7 – Eufy BoostIQ RoboVac
The Eufy Boost IQ is another slim line robotic cleaner that makes light work of cleaning floors, rugs and carpets while you get on with other stuff in your day. It's always nice to come home to a clean home! One of the things that sets this awesome little sweeper aside from the competitors is that it comes with strips you can use to zone off no go areas. A good example might be a child's play area – where hoovering up a lego figure might result in some erm… problems, shall we say.
Quick look features
Set boundaries using included strips
One of the more quiet cleaners in UK
Charges itself up when depleted
Cleans hard floors up to medium pile carpets
Really good customer reviews
---
#8 – Deik Robot Vacuum Cleaner
Looking for a big sucker for a little price? Take a look at this budget price robotic hoover from Deik. It's got lots of the features you'll find in the more expensive brands while being able to somehow keep the price down. They've also worked on the suction (what a strange thing to say…) making sure it's extremely powerful and can deal with pet furn and all those yucky allergens.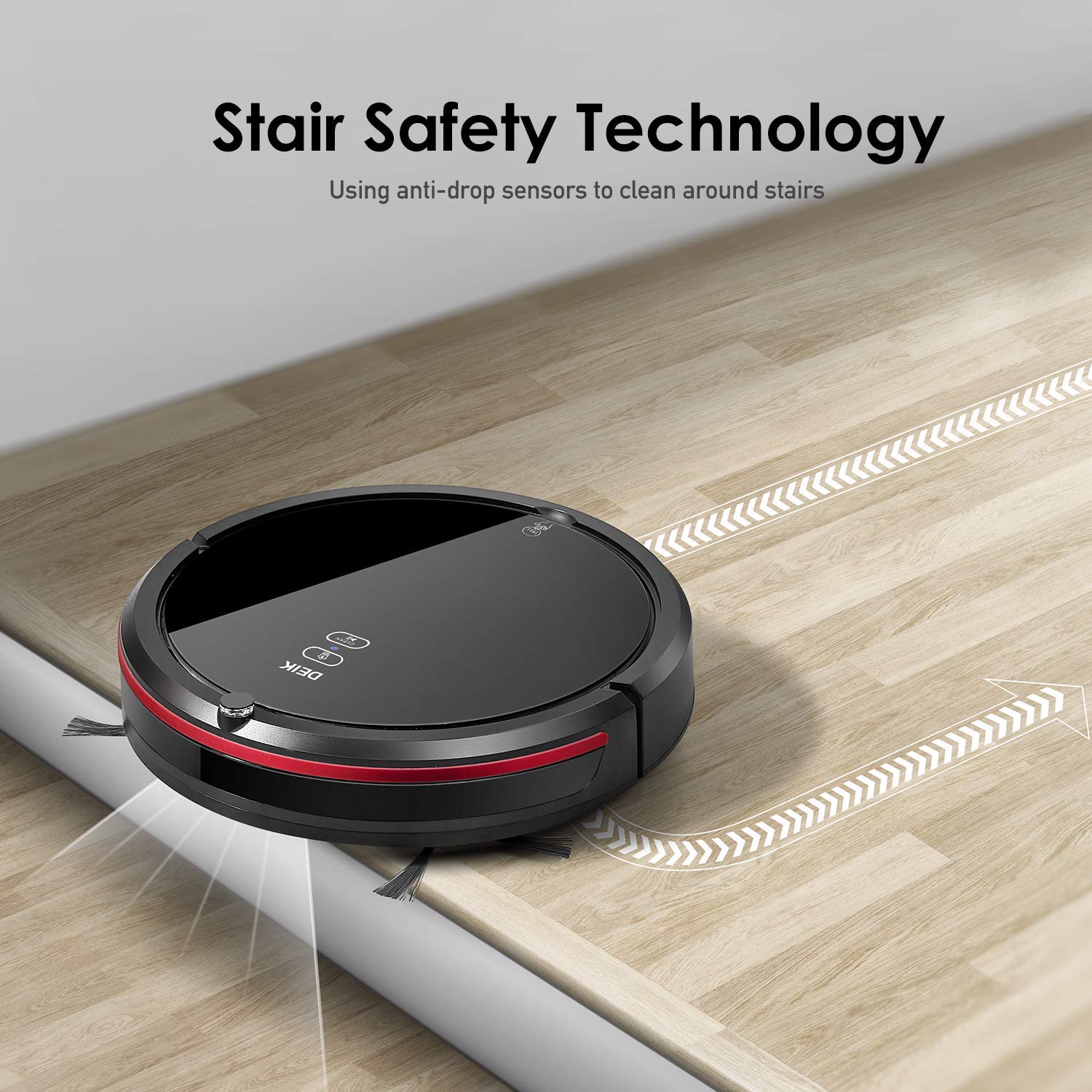 Quick look features
Self-charging
Drop off sensor (detects where a floor ends)
Anti-spill dustbin
High suction deals with Allergens & pet fur
In conclusion
Thanks for checking out our best robot vacuum UK guide. Hopefully you found a robotic hoover to do your 'dirty work' and save some time to do more important stuff than hoovering.
References & further reading