One of the best choices for your smart home is an Alexa-compatible soundbar.
The lounge is the heart of most homes, and many families settle down around the TV at the end of the day. A soundbar with built-in Alexa support integrates into your smart home setup and lets you control everything effortlessly, just by speaking to your television.
On top of this, a smart soundbar means you can place your Echo or other Alexa device somewhere else in your house, spreading your smart coverage at a little extra cost.
Finally, as modern TVs get slimmer and less obtrusive, the larger speakers built into a smart soundbar will enhance the sound of anything run through your TV and sound systems.
Top Pick
We love this compact soundbar: The #1 smart soundbar for 2023 is the Sonos Beam Compact. It just sounds amazing, especially at this cheaper price and reduced size! What Hi-Fi also awarded this 5 stars and Amazon user reviews agree with us too.
The Best Soundbars with Alexa Support
Best General Soundbar: Sonos Beam Compact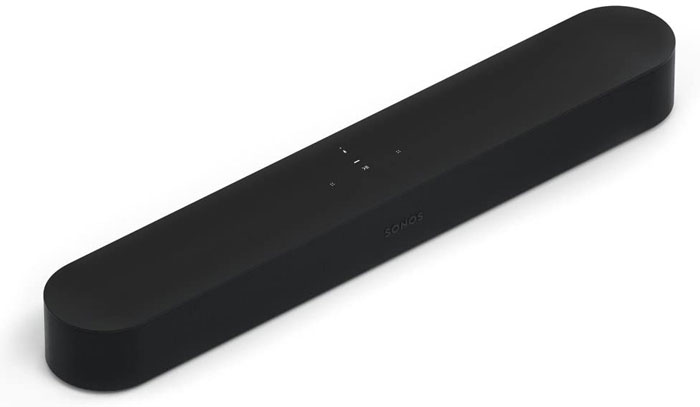 The Beam is Sonos' smaller, cheaper, more approachable soundbar. It's a much more approachable product than their old Playbar and sits at about half the price of the Arc, which is also on our list.
Sitting at just 65cm wide, and a comparatively light 2.8kg (6.17lb,) the Beam is a light and easy bar to fit into your home set-up. Controls are incredibly simple, with a top-mounted set of touch buttons, and an at a glance LED that can show you whether the soundbar is on, muted, and linked.
It's very pretty, with a rounded, modern design that comes in black or white. Because of the size, the Beam will also easily fit into any home without issue, unlike some of the bigger bars on this list, and has the option for a linked Sonos sub, though this is quite expensive.
Connections are handled through a digital optical connector, or a single HDMI connection with options for HDMI ARC, but there is no Atmos, unlike on the bigger Arc.
The sound quality is excellent, as you would expect from a Sonos bar, with four big drivers, three radiators, and one tweeter. There are no vertical drivers, with everything positioned around the edges of the bar. The only real downside is that sound can get a little harsh on the highest levels, but unless you're trying to shake your next-door neighbour's house down, this really won't matter.
Voice control is handled through a set of five mics, and this can link into Alexa, but also through Google assist and the app. You can also use the Beam as a multiroom speaker and for streaming from any of the big names.
For the price, you're paying and the size of the soundbar, the Beam offers impressive quality, especially when you factor in that it will comfortably fit almost anywhere.
Sound quality might not be as high or as crisp as some of the most expensive models out there, but for most people, who just want a good soundbar for film nights and football, with Alexa built-in, this comes highly recommended.
---
Best Budget Soundbar: Polk React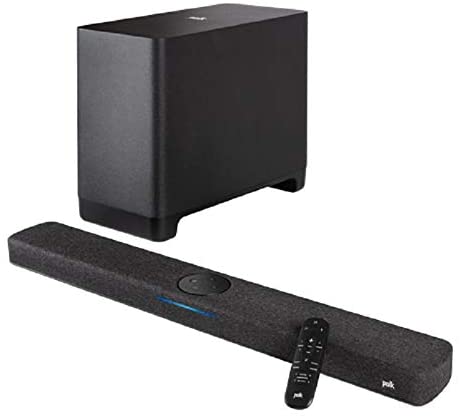 Finding a simple soundbar that's going to link into your smart home set-up and isn't going to empty your wallet can be surprisingly difficult, but the Polk React might be the right option for a lot of homes.
The React gives you Alexa support straight out of the box, using a four mic set up for seamless pickup, without drops. It can link into your home speaker systems, letting you use other devices for multiroom streaming, and happily also broadcasts to phones and other devices without issue.
Mounting is simple, with options for either wall mounts built-in or sitting it on furniture, and despite the lower price point, this comes with full HDMI ARC functionality, letting you connect to newer TVs with a single cable.
It's a reasonable 89cm across and weighs in at a light 2.9kg (6.39lbs.) Slightly, unfortunately, it's not quite as good-looking as some of the other options, but the black facade will fade into almost any set-up without issue. It's just not going to stand out as others might.
One big advantage with React is how easy it is to upgrade your set-up after your purchase, easily accepting surround sound speakers, and a subwoofer. Both of which are available from Polk, but third-party options will also work.
Currently sitting at over £100 cheaper than anything put out by Sonos, and some of the other bigger brands, the React is a decent little soundbar that's perfectly situated in price and features for the vast majority of homes.
£119.00 at Amazon
Price last checked: 29th Nov 2023 - 06:29
---
Best High End Soundbar: Sonos Arc

A replacement to Sonos' old Playbar soundbar design, the Arc is the next competitor in Sonos's home theatre range. But does it do enough to justify the cost and the fact that it's double the cost of the Beam, our top pick?
In a word. Yes.
It's worth addressing what the Arc is aimed at. It's a big bar, at 114cm across, which put it slightly wider than the average 49 inch TV. With that in mind, this should be considered the crowning glory of a home cinema system that's topped off with a TV that's around 55 inches or bigger.
The Arc gives you options for both furniture mounting, or wall mountings, though you will have to buy a wall bracket for the second option. Despite being so big, the Arc seems smaller, probably because of the attractive curved profile, but you will have to bear in mind space when you're mounting this thing.
When connecting it to your TV, you have the option of an optical adapter, but most people will be using HDMI adapters, preferably using ARC (audio return channel) to reduce cable connections down to one. Where the Arc stands out from the Beam, and from a lot of cheaper soundbars, is Dolby Atmos.
For any who don't know, Atmos is the next step in surround sound, adding verticality to your films and programs, for a real cinema experience. More streaming services are adding Atmos coverage all the time, so it's worth investing now as the service builds up momentum.
In terms of sound, this is something else, delivering bass rumbles that hit you in the chest, full directional soundscapes, and Sonos' Trueplay technology even accounts for the shape of your room when it's setting up.
At this point, it seems almost incidental to mention that the Arc links to Alexa because of course, it does. And as long as your TV is relatively new, it will link full voice controls to that, too, as well as anything else you want to link it to.
The verdict is simple. The Sonos Arc is a titan in the soundbar sphere, and it looks set to stay that way for a while. We know as well as anyone that technology marches on, but if we were looking for a soundbar that offered some of the best performance on the market, as well as being basically future proof for the next few years, we know what we'd be buying.
£679.99 at Amazon
Price last checked: 29th Nov 2023 - 06:28
---
What to look for when buying a soundbar
Mic quality
At first glance, mic quality might not sound particularly important for a soundbar, but once the volume is cranked up on a film, it can be surprisingly difficult for it to pick up your voice commands.
Our reviews will point out when a soundbar has a particularly good, or bad, soundbar.
Connectivity
Obviously, every soundbar here has the capability to connect to Alexa, letting you link it into your smart home setup.
Other options include the option to stream sound via Bluetooth to other devices, letting you continue listening on a phone or tablet if you dip into the kitchen to make a drink or dinner, or multi-room systems which let you broadcast sound throughout your entire home; perfect for music at parties.
Build
It's important to buy a soundbar that's suited to your TV. An average bar weighs in at around 2.5 to 3kg and sits at around 90cm across. This puts it at a point where it can fit under any normal flatscreen without issue and isn't heavy enough not to be wall-mounted.
Installation tends to run in one of two ways. Wall mountings, which generally require an extra piece of wall mounting gear or bracket screws, or simply sitting it on furniture. Manufacturers have their recommendations, but we would always recommend wall mounting if possible.
Sound Quality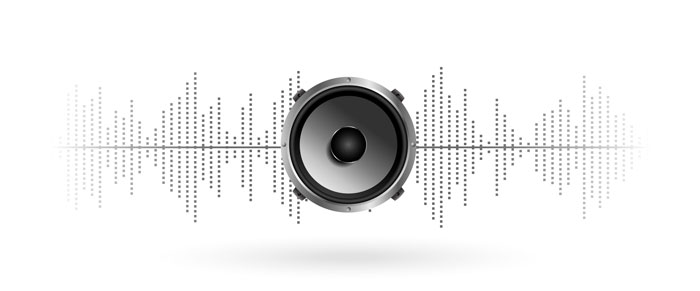 A soundbar is being bought for the sound, so it stands to reason that you should pay particular attention to it.
Your soundbar will deliver sound through three things.
Drivers do the heavy lifting when it comes to generating sound. They're the part that most people would think of as a speaker, the cone-shaped section that the sound is created by. More drivers are generally a good thing, but also important is the quality of the driver, and the size.
Tweeters handle the upper range of the sound spectrum, hence the name. Most good soundbars will have a single tweeter, also called a treble speaker.
Radiators aren't actually a speaker. Instead, they sit behind the speakers to catch the reverberating sound and reflect it back into your room, adding another layer of depth.