While smart lights such as Philips Hue range always seem to grab the lime light, they're not the only smart light in town! This week I got the chance to review one of the more popular alternative Wifi bulbs on the market – the Novostella smart lights.
Check Current Amazon UK Price
What are Novostella bulbs?
Novostella's smart bulbs are light bulbs that fit regular light sockets (both A19 bayonet and B22 screw fittings). They connect to your home router and are controlled by smart phone or virtual assistants, including Google Assistant and Amazon Alexa.
Novostella bulbs features
Before we get into the review and find out if these smart bulbs kick the butt of the Philip's Huge lights, here's a quick run down of what they do.
They use RGBCW – and can turn any one of 16 million colours
You can also alter their temperature and saturation tuned.
The smart phone app you'll need to download is Smart Life, which lets you fully control the lights
They're great for Amazon Echo light control (but work with other assistants like Google Home.
You can use voice commands to turn lights on / off (and do a lot of other cool things)
Energy rating A+
They are 7w, but emit an equivalent light to a regular 60w bulb.
Set schedules for when the bulbs come on using voice or app.
Control different room's bulbs
Add groups of bulbs to each room, and control those groups individually
They come with plenty of preset programs like shine, meeting, rainbow and meeting
The pack comes with 3 light bulbs
You don't need a hub – they use your existing WiFi router
Their electricity use when turned off is minimal

(unlike some smart lights).
7w or 9w version – which is the best?
There's two very similar products for these smart bulbs – the 7 and 8 watt versions. I'd definitely recommend getting the higher watt version. It's a tiny bump in price and wattage, but a significant level up in how bright they can go. While you can always dim them down, you can't make the 7w ones any brighter. Just something to think about.
9w version at Amazon – the best one
What I like about the Novostella Bulbs
A well designed app that's easy to use… and does loads of awesome stuff
The Smart life app lets you do the following things:
Remotely control your smart bulbs from anywhere
Add and control multiple light bulbs at once
Connect multiple smart devices
Automatically start/stop working based on anything from current temperature, location or time.
Let other family members control the lights
The ability to control your smart lights when you're not home is a plus for home security and being able to schedule them to come on at certain times is also extremely useful.
You don't need a hub
There's really no need to have a hub for these smart lights. You can connect as many as you want too very easily without mucking around too much with settings. The app is easy enough to use and whether you're only planning on getting 3, or will eventually fill every possible room with them (send me a pic of this, if you do…) the system works well.
Kids love 'em
My kids use Alexa more than I do I think. One of the best things you can do is get Alexa to play some tunes and set some crazy multi-coloured disco lights on the go. As well as creating a nice serene mood, the Novostella bulbs can also do multi-coloured disco effects that the little ones will love. They come with 8 lighting scenes you can play with.
Good value for money
Depending on where you buy your Novostella bulbs, the 3 pack represents decent value for money. This lets you get smart lighting in at least three rooms and costs under the £50 mark (at the time of writing). You can always expand your smart lighting later with another set or two.
The light is bright
This is subjective I guess, but for me I think this light is bright. There's a few reviews on Amazon who didn't find the light bright enough, and a lot, like me who do.
Works great with Alexa and Google Assistant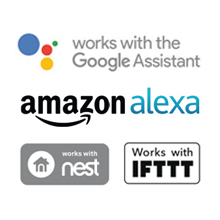 There's a number of Alexa voice commands you can give these smart bulbs. Here's some of the more common ones:
"Find all my Hue lights."
"Turn on the living room light."
"Turn off all the lights."
"Make my kitchen brighter."
"Turn down the bedroom light to 50%."
"Lower the desk lamp please."
"Dim the lights."
"Brighten the lights in the living room to 100%."
Two year warranty
It's not often you get a lengthy warranty like this with a product – especially light bulbs! The Novostella warranty is for a whopping 2 years. Another thing I've been really impressed with is their customer support. It definitely sets them aside from other companies and it's good to know if you have a problem you can ask. They're very active on the Amazon questions – so it could be worth asking there if you have a query.
Things I
don't like

about the Novostella lights
2.4Hgz WiFi only
One thing I have seen confuse a lot of people, understandably so, is that they won't work with a 5ghz Wifi setup. If your router is set to this by default, you might have to change it to 2.4ghz. Hopefully you won't encounter this, but it's worth considering. And a bit of a techy thing you woudln't expect from a smart bulb, to be honest.
They do heat up
Not sure this is a bad thing, necessarily, but these bulbs do emit a certain heat level.
Conclusion – should you buy the Novostella lights
Despite it's price, the Novostella smart bulb is a brilliant light for home automation. It's easy to install, offers a wide range of colours, and temperature and the app does everything you'd need. Alexa integration is spot on and you can start with a few and grow when you want to. It's hard to think of something you couldn't setup, especially if you get into IFTTT. All this without a hub. A seriously good alternative to the Philips Hue.
Highly Recommended
References, resources and further reading
There's a super-handy quick setup guide for these smart bulbs here:
The Novostella smart light supports IFTTT – if you've no clue what that is, it's well worth looking into. 
While you'll want to download it on your smart phone, you can peak at the Smart Life App online, and check out reviews / pics here.