Kospet's watch caught my eye when I first saw it but it was only recently I got to review this Apple-esque smart watch. Built on Android's 5.1 OS, and offering something for sports, personal organization and health, I was interested to see how a smart watch that costs less than the big players would perform.
Let's find out!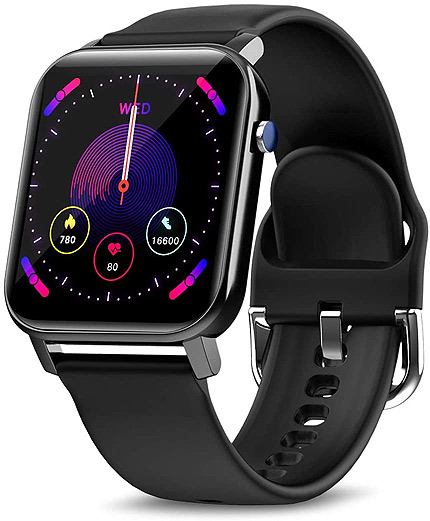 What has the Kospet watch got to offer?
This watch has an impressive set of specs, many of which you might not expect from a sub £100 watch. Here's a run down of some of the main 'selling points' for Kospet's watch:
Connects to your smartphone with Bluetooth
Colour 1.4" TFT touch screen
Built in HD camera (photo and video)
Get texts, calls and emails to your watch, via the phone
IP68 water proofing
Works with Android and Apple iOS
The actual watch's operating system is Android 5.1
Fitness features: track steps, heart rate & calories
(Proper heart rate sensor and pedometer built in)
Has a built in GPS to track things like how far you have run
You can download and install apps
Google stuff like maps, weather and reminders
Charge it in around 2-3 hours (charger included)
'Ping' your watch and find it, if it gets lost
30 days money back – any reason
1 year warranty (if anything goes wrong)
Check Current Amazon UK Price
What I like about the Kospet watch
There's a lot of good points to this watch. I don't want to harp on about a zillion little things I liked, so here's the major things I think most people will enjoy with this watch.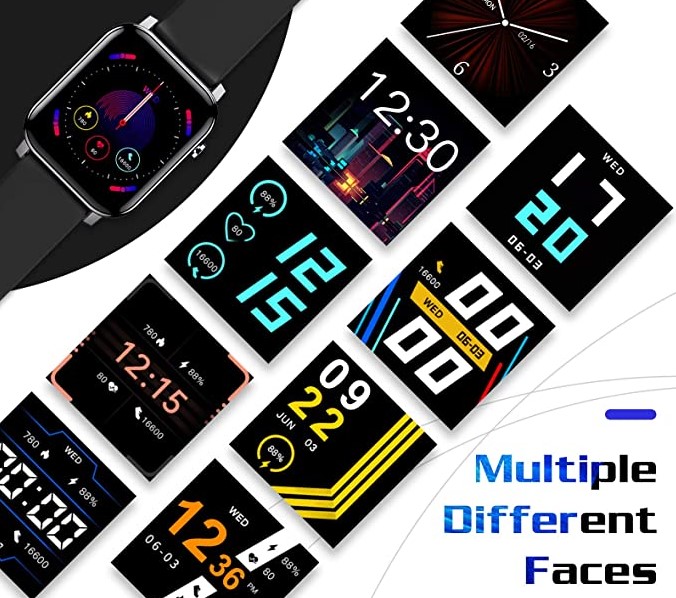 It's got a premium feel to it
First up: packaging. I like things that come with nice, shiny packaging. Not some cheap, bashed in box. I'm happy to report that the Kospet smart watch arrives in a neat, well packaged box.
The packaging is well put together and has a quality feel about it. As such, it's a good choice if you're buying for someone else. (Bet you can't resist having a go yourself. You know… just to 'check it works'.
The Kospet smartwatch itself also feels 'reassuringly expensive', and not some flimsy cheap toy. Everything from the screen to the strap feels well-made and like a serious product. It's also good that it's got the IP68 waterproofing. You don't have to worry washing your hands, or that a few drops of water are going to break it.
Overall, very happy with the build quality, especially at this price point!
---
The screen is bright and crisp
If, like me, you've ever been disappointed with the quality of a colour screen then you'll probably want to know what the Kospet's display is like.
As an initial impression, it's extremely bright, the colours pop and it looks nice and sharp. You can zoom out on google maps, for example, and see the streets, text and everything else in HD.
I'm notoriously picky when it comes to displays and very sensitive to things like pixelation and and kind of blurring. So I'm pleased to say this looks like a high quality, well made screen. It's a 1.4" TFT colour screen that works outdoors, in different lighting conditions. It seems to be very good with various viewing angles too. You can view things from a wider angle (if you want to for some reason).
The changeable watch faces you can choose from are worthy of a mention too. It's a lot of fun picking one, and it's likely you'll never struggle to find one when you fancy a change.
A great quality screen that's bright and works outdoors.
---
The fitness features are awesome
If you do any kind of fitness or gym stuff, then Kospet's smart watch has some features that you're going to love.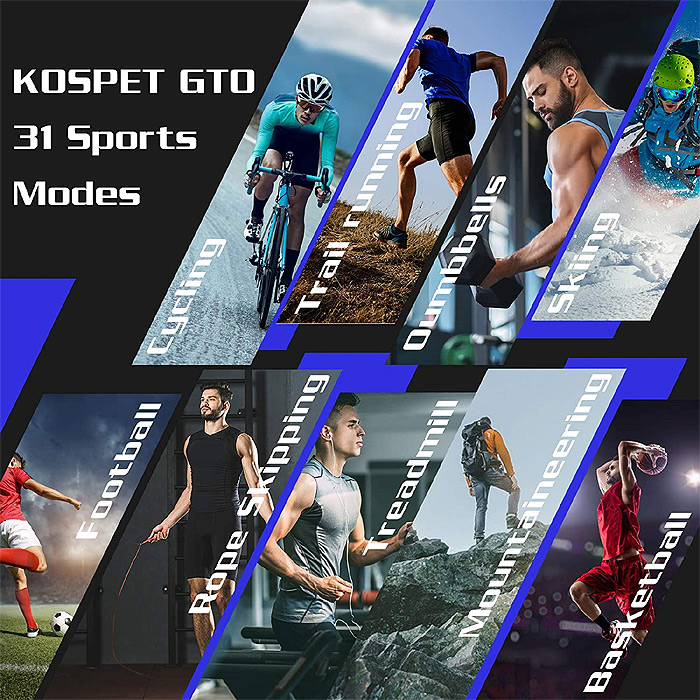 The built-in GPS matches your position with Google maps and can track things like your route on a run, or how far you've cycled. Anything you do while wearing the watch is recorded. You can analyse these reports later, to check your progress.
Aside from GPS tracking, there's a proper heart rate tracker, on the reverse of the watch, that can be used to add an extra layer of data to your training.
Even if you're not looking for a sporty companion, the pedometer tracks how many steps you've done during the day. Regardless what you do, you can see things like how many calories you've burned off.
A fitness tracker watch for anyone into training, or wanting to get into shape
---
The phone features are easy to use
I'm guessing a lot of people will be buying this watch to use in conjunction with their phone. While there's a sim card slot in the watch itself, you don't need to use that just to get texts and other info from your phone.
If you pair the Kospet watch over Bluetooth to your phone, you can get just as much info. Texts, emails, incoming calls. The lot.
The range is also good too and it's SO NICE not to have to lug the phone upstairs, downstairs. My smart phone gets bigger all the time. It's nice to have all the basics on the watch. It also means you won't miss any calls if that one time you're not next to your phone. There is a downside to this, but I'll cover that in a bit…
I've got an Android phone and, even though this is built on Android, it works just as well on Apple phone too. So don't think you're excluded here iPhone users.
Phone integration is very well done
---
Good standby and quick charge time
So what's the battery like on the Kospet watch? You're getting Kospets decent allrouder, the Pure cobalt polymer lithium battery which has a standard capacity of 170mAh. This nets you around 15 days use or almost 2 months stand by time.
Not too shabby for a full fledged smart watch. For charge time you're looking at around the 3 hour mark.
Sadly, there's no 30 minute fast charge option but at this price point, we can live with this.
Check Current Amazon UK Price
---
What's not so good about this smart watch?
Now we come to the nitty gritty! The awful truths! In actual fact, there's nothing especially awful with this smart watch. No real 'gotchas'. And one of the things that's cool is they offer a 30 day money back guarantee (as well as the 1 year warranty). Anyway, on with the bad…
Having it connected via Bluetooth drains the battery faster
I'm no Bluetooth expert so I can't explain why this is, but if you have your phone and Kospet connected all the time can drain the battery faster. It's by no means a deal-breaker but there's a different to how long you'll get from that two-hour charge depending on if you're running Bluetooth or not. You will be doing more charging if you have it connected a lot.
Review Verdict – should you buy the Kospet Smart watch?
In all honesty I struggled to find any major negatives with Kospet's bluetooth smart watch. It's beautifully made, with a bright and colourful display. The OS is fast and responsive and the hardware like GPS, heart-rate and pedometer make it a good choice for fitness fans.
The features are comparable to much more expensive smart watches and the smart phone integration is top notch. This is a great, lower priced alternative to something like Apple's flagship watch. Highly recommended.
Click here to check prices on Amazon
Kospet Sources, resources and further reading
Find out more about Google's Wear OS and other smart watch goodies.
Wondering just how waterproof IP68 is? Check out the official chart here.
Another popular Kospet Watch is the Kospet Prime. You can check out a review of it here