Why slave over a hot stove when you can get robot to do it for you? Aside from being an interesting talking point in your new smart home, getting yourself a smart cooking gadget actually has some very practical uses. This guide will go over everything you need to know about these smart kitchen gadgets and then help you find the best smart cooker for you.
Top Pick
TL;DR: The Redmond Smart Cooker is a fantastic multi-cooker. It's easy-to-use and makes light work of everything from fries to sous-vide. In terms of features and quality, you can't go wrong.
Smart cookers are saving time and money
You might love these clever kitchen gadgets
One place you'll find a lot of cool new gadgets in any smart home is in the kitchen. Everything from dishwashers to fridge freezers can now be connected to the WiFi and controlled with some app or other. This guide focuses on the exciting new world of smart cookers. What are they? Do you really need them? Which ones are the best ones to buy?
What is a smart cooker?
When I first heard of these kitchen gadgets, I was in the camp of why on earth do I need to connect my cooker to the WiFi? But, as I learned more about them, I started to think "OK … maybe that sounds like a good idea…"
A smart cooker is a modern cooking pot which uses advanced technology to give you more control over your cooking and be able to work more efficiently.
You'll need to connect your new smart cooking pot to your home WiFi network and then download an app to your phone. Apps are available on both Android and iOS operating systems and will behave the same on both. Once connected, you'll be able to do all kinds of clever things with your cooker that people could only ever dream of in the past.
There's a great video here that goes over the basics of what a type of smart cooker can do and what you might use one for.
Smart cookers are generally 'multi-cookers' – meaning they can cook a huge range of things. Everything from rice, casseroles, steamed vegetables, cakes, curries is possible with this kitchen gadget!
What's the point in connecting a cooker to your WiFi?
So you've done your research and found the best smart cooker in the world – so what can you do with it? While features vary a bit from manufacturer to another, here's some handy common tasks you can pull off with a smart cooker:
Control your cooker from anywhere in the world
Be able to get precise cooking, especially for meat
Get alerted if anything is over-cooking
Have your meal ready when you get home
Set timers more accurately and easily
Change settings remotely
Control your cooker from anywhere in the world!
Don't worry though. You're not tied to using your phone. If you want to do it the 'old way' by using the built-in panel, most smart cookers have comprehensive panels to control your cooking with. But in all honesty, once you've used the app, you'll likely find it's much easier and more convenient. And don't forget to cook safely too.
What other things can a smart cooker do?
Depending on which product you go for (more in-depth on that in a moment…) here's some other advanced things some of the top Wifi cookers are capable of.
Link up with your Alexa
Analyze the calorie content of dishes
3D heating is a clever new tech that heats food evenly
Intelligently keep food warm for 24 hours
Let you know when your meal is ready
A word on bluetooth vs WiFi and smart cookers
If you're wondering what the difference between a cooker that uses Wi-fi and one that uses bluetooth then it's all down to distance! A bluetooth cooker has a connection range of a matter of feet, depending on the device  etc. As the smart cooker is connected to the Wi-fi, you could technically get access to it from anywhere in the world.
I'm not sure why anyone would really want to access their cooker from that far away, but it is technically possible. Realistically, you will probably use the smart phone app when you're away from the home over shorter distances. Some possible uses for a smart cooker would be…
You're at work and want to set the cooker for arriving home
Going shopping but need to keep an eye on your cooker
Working out and you'd like to start the food cooking while you're at the gym
What are the best smart cookers 2023?
If you like the sound of one of these awesome kitchen cooking gadgets and are wondering what are the best buys on the market, this next bit's for you. Below you'll find a quick 'n' dirty guide to the best smart cookers up for grabs in 2023. I'll cover each ones highlights and what jobs it does best.
The main we recommend you check out in 2023 are as follows:
Redmond Smart Multi Cooker
Tefal Cook4me Plus
Anova Culinary Sous Vide Precision Cooker
Joule Sous Vide by ChefSteps
#1 – Redmond Smart Multi Cooker
Lots of people swear by this product and claim it's the number one smart cooker available in the UK at the moment. The Redmond smart multi-cooker is packed with cool features like it's built in menus which you just click on and let the cooker do the rest.
With a few exceptions you can make pretty much anything you can think of with this cooker – from pasta to more advanced dishes. The remote access app lets you cook dinner while you're at work and way more. Bake, steam, reheat and much more.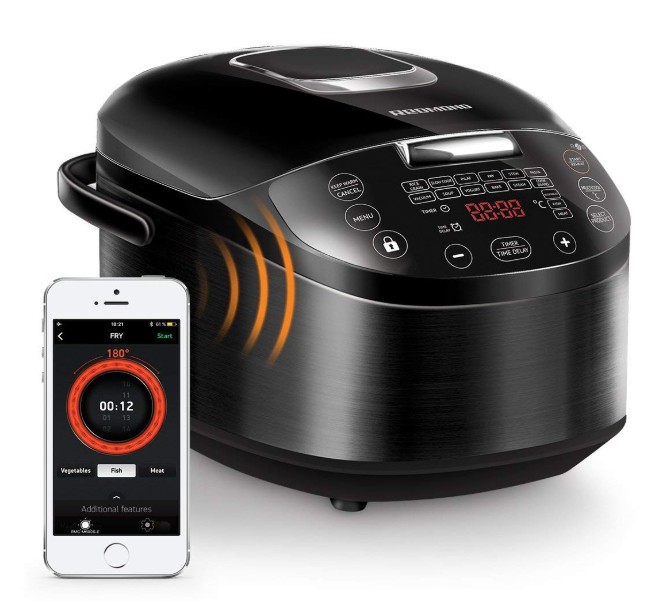 Quick look features
Full remote control via the free app
Keep warm function up to 24 hours
20 automatic programs
3D heating
LED display
---
#2 – Tefal Cook4me Plus
This is the recommended cooker to get if you're not interested in spending hours cooking something to eat.
Once you download the app you'll be able to quickly find something to cook, with many of the meals available for the Cook4Me Plus taking a matter of minutes to complete. If you like the idea of spending less time cooking and more time having fun or entertaining your guests, then this is the cooker for you. The whopping 6 liter capacity bowl means that you have enough space to cook for larger number of people if you need to.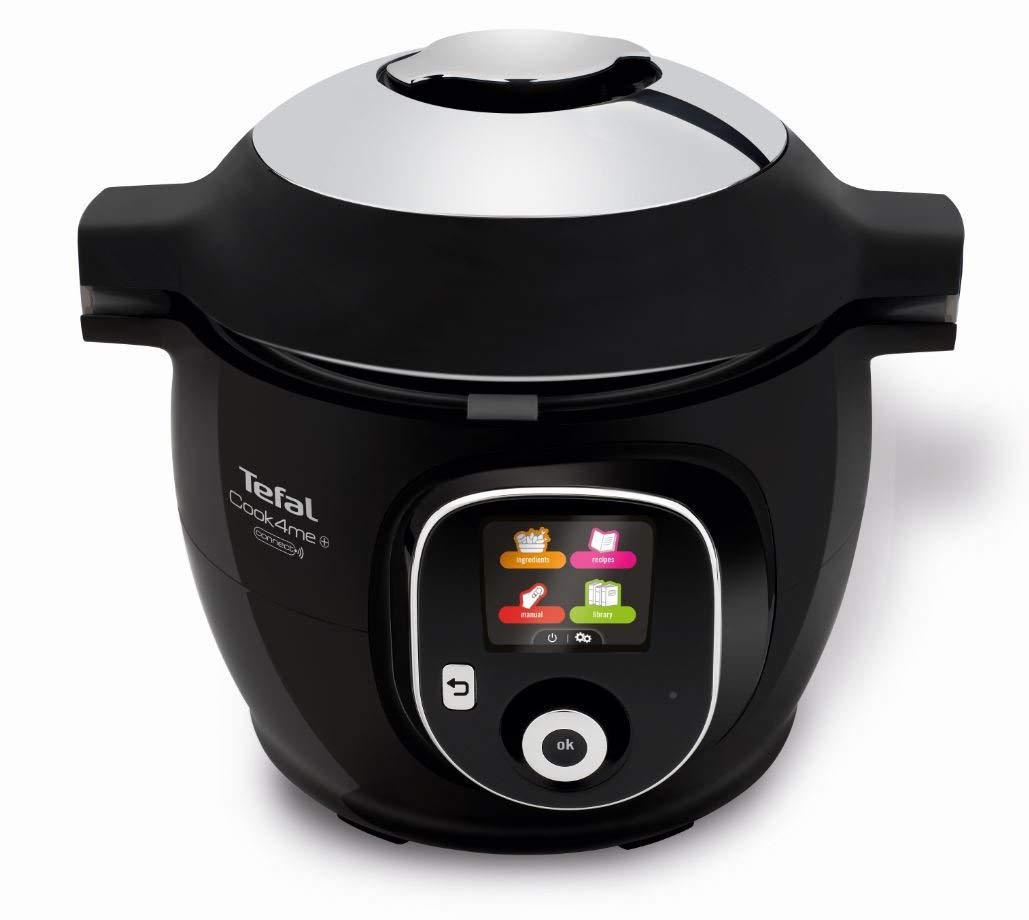 Quick look features
Choose from lots of yummy meals quickly
Interactive LCS screen
App has cooking steps with 1000s of pictures and videos
Easy to use
Large 6l capacity cooking
Cooks lots of meals in matter of minutes
---
#3 – Anova Culinary Sous Vide Precision Cooker

If you've not seen one of these style smart cookers before, you might be thinking, "what on earth am I looking at?" Well what you're looking at IS a smart cooker. Rather than put food into it, you put the device into the food. Using a combination of this cooking gadget and your smart phone, you can rustle up restaurant quality grub as easy as can be.
You just pick one of the 1000+ available recipes and follow instructions. The smart phone and Anova Sous Vide does the hard work and the results are exactly the same each time. It works with any old cooking pot you have and gives pro results each time. Nice!
Quick look features
Cooks restaurant quality food easily
Precision cooker gives the same result each time
Easy to use
Cook with your phone!
1000+ recipes
---
#4 – Joule Sous Vide by ChefSteps
Looking about as unlike a cooker as you could get comes the Joule Sous Vide (from ChefSteps). Like the one above, this smart cooker is submersed in a pot with the ingredients and intelligently cooks your meals precisely. It aims to take the guess work out of cooking and prevent under or over cooked food. It's controlled by your app and is made to be easy to use.
Once hooked up to your phone with either Wi-fi or Bluetooth, you get to pick a meal and get full instructions on what you'll need. The rest is really down to the Sous Vide. It's about as futuristic a smart cooker as you're going to get and is very popular with buyers looking to get some great food from their smart kitchen!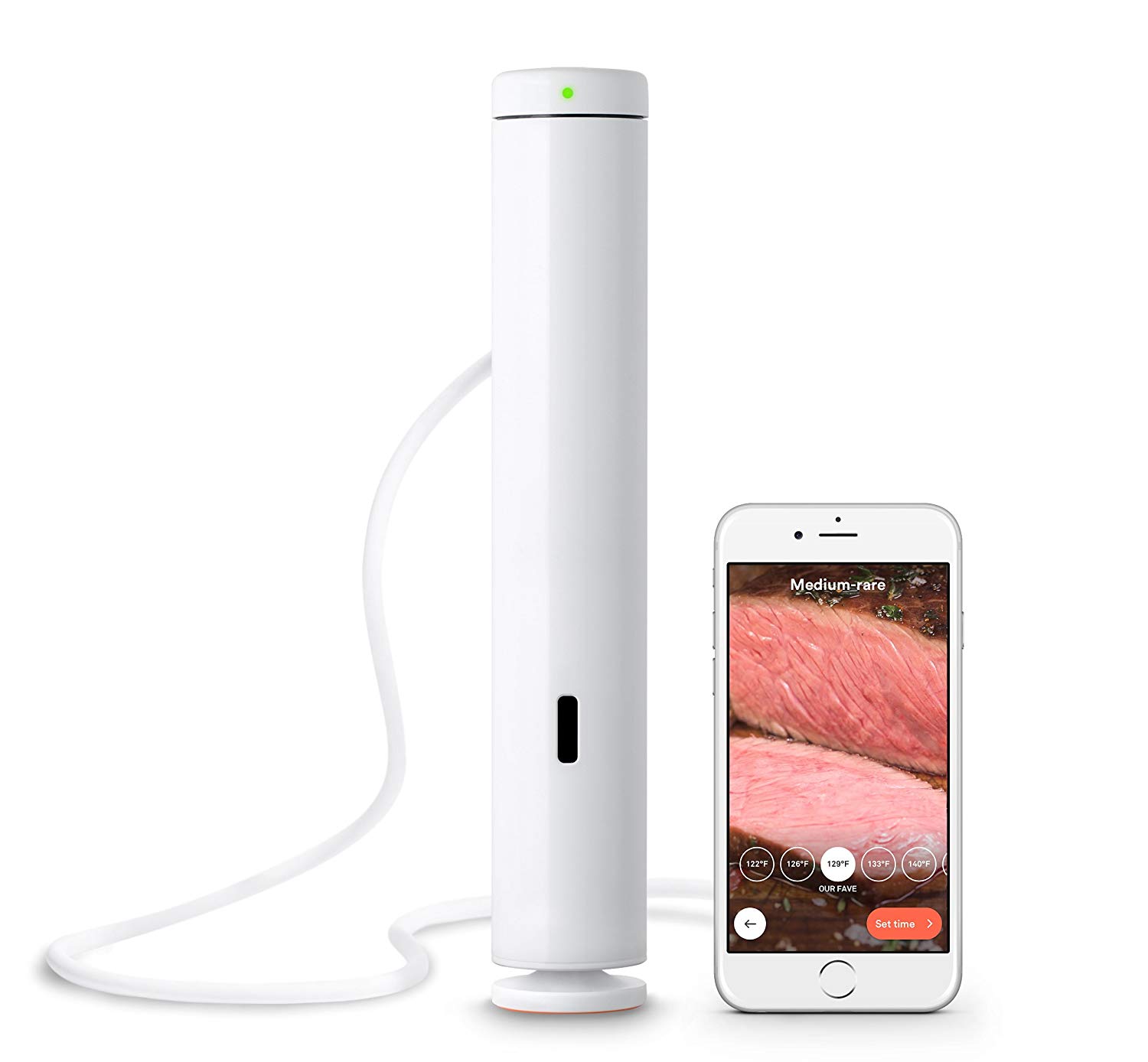 Quick look features
This smart cooker is small and easy to store
Perfect results each time
Works with either WiFi or Bluetooth
Connects to your phone
Cook with a simple-to-use app
---
Thanks for checking out this guide
Thanks for visiting and reading this guide to the UK's best smart cookers for 2023. Which one do you think is the top product? Let us know in the comments.